This Is Rock 'n' Roll Radio # 1080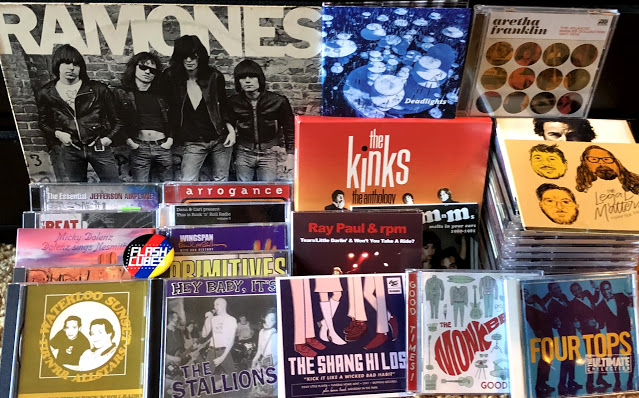 There's a certain formula in place when programming a weekly music show. It doesn't have to be formal–it certainly isn't formal in our square-peg case–but it's a recognition that there are marks you want to hit. We have favored artists, from The Kinks to The Muffs, though there isn't any individual act guaranteed play on each week's show. We almost always have some new releases we'd like to pound pleasantly into your ears, and a shifting mix of sounds both familiar and obscure (and all points in between) to keep things poppin', and to keep things interesting. We want rock 'n' roll, power pop, soul, bubblegum, R & B, punk, garage, maybe some ska, maybe some classic country, maybe, well, whatever strikes us. In the moment.
The specifics vary. We want the hits that listeners crave hearing. We want the unexpected stuff that makes folks proclaim What was THAT, and how can I own it? We want it all. Having it all is the divine right of pop fans. Supplying it all is the sacred charge of DJs.
And besides: it's fun.
Following a formula isn't the same as being formulaic. Twenty weeks shy of our 1100th show, TIRnRR is somehow still fresh, still invigorating, still a compelling listen. The Best Three Hours Of Radio On The Whole Friggin' Planet. In the past, we've told you about our two-step formula for great rock 'n' roll radio, but it's worth repeating now. STEP ONE: Know which rock 'n' roll records are the great ones. STEP TWO: Play those. It's simple. And it works every time.
NEXT WEEK: the debut of a brand-new collaboration between two of our Fave Raves prompts the need for us to spotlight TWO Featured Performers. For now (and for the 1080th time), this is what rock 'n' roll radio sounded like on a Sunday night in Syracuse this week.
This Is Rock 'n' Roll Radio with Dana & Carl airs Sunday nights from 9 to Midnight Eastern, on the air in Syracuse at SPARK! WSPJ 103.3 and 93.7 FM, and on the web at http://sparksyracuse.org/ You can read all about this show's long and weird history here: Boppin' The Whole Friggin' Planet (The History Of THIS IS ROCK 'N' ROLL RADIO). TAX DEDUCTIBLE DONATIONS are always welcome.The many fine This Is Rock 'n' Roll Radio compilation albums are still available, each full of that rockin' pop sound you crave. A portion of all sales benefit our perpetually cash-strapped community radio project:
Volume 1: download
Volume 2: CD or download
Volume 3: download
Volume 4: CD or download
Waterloo Sunset–Benefit For This Is Rock 'n' Roll Radio: CD or download

PS: SEND MONEY!!!! We need tech upgrades like Elvis needs boats. Spark Syracuse is supported by listeners like you. Tax-deductible donations are welcome at
http://sparksyracuse.org/support/

You can follow Carl's daily blog Boppin' (Like The Hip Folks Do) at
https://carlcafarelli.blogspot.com/
TIRnRR # 1080: 6/6/2021
TIRnRR FRESH SPINS! Tracks we think we ain't played before are listed in bold
THE RAMONES: Do You Remember Rock 'n' Roll Radio? (Rhino, End Of The Century)
—
IRENE PEÑA: This Cigarette (Big Stir, single)
BILL LLOYD: Nothing Comes Close (DB, Feeling The Elephant)
P. P. ARNOLD: Different Drum (Ear Music, The New Adventures Of…P. P. Arnold)
THE JAYNETTS: Sally Go Round The Roses (Columbia, single)
ANNY CELSI: Empty Hangers (Futureman, VA: This Is Rock 'n' Roll Radio, Volume 3)
AMY RIGBY: Like Rasputin (Signature Sounds, Little Fugitive)
—
DEADLIGHTS: Carefree (n/a, Deadlights)
MONDELLO: Sherilyn (n/a, Hello, All You Happy People)
JUICE NEWTON: Reason To Believe (Cleopatra, VA: An All Star Tribute To Cher)
THEE HEADCOATEES: Teenage Kicks (Sympathy For The Record Industry, Punk Girls)
ARETHA FRANKLIN: I Say A Little Prayer (Atlantic, The Atlantic Singles Collection 1967-1970)
MATTHEW SWEET & SUSANNA HOFFS: (What's So Funny 'Bout) Peace, Love & Understanding?(Edsel, The Best Of Under The Covers)
—
THE CHELSEA CURVE: Don't Look Down (Red On Red, single)
ARROGANCE: Praying Mantis (Gaff Music, The 5′ 11″ Album)
POP CO-OP: Joe Public (The TM Collective, VA: The Rutles: A Tribute)
THE RUTLES: Shangri-La (EMI, Archaeology)
THE KINKS: Shangri-La (Sanctuary, The Anthology 1964-1971)
TIR'N'RR ALLSTARS: Waterloo Sunset (Kool Kat Musik, VA: Waterloo Sunset–Benefit For This Is Rock 'n' Roll Radio)
—
RAY PAUL & RPM: Won't You Take A Ride (Permanent Press, single)
MICHAEL CARPENTER: Girlfriend (Futureman, VA: Altered Sweet)
THE CHECKERED HEARTS: My Best Friend's Girl (ChicaneryChick, Joystick)
THE MnM'S: He's A Rebel (Burger, Melts In Your Ears 1980-1981)
THE LEGAL MATTERS: Light Up The Sky (Futureman, Chapter Three)
WINGS: Getting Closer (Capitol, Wingspan)
—
THE FLASHCUBES: Sold Your Heart [live]
THE SENSATIONAL ALEX HARVEY BAND: Giddy Up Ding Dong (Spectrum, Shout: The Essential Alex Harvey)
CHI COLTRANE: Thunder And Lightning (Legacy, VA: Rock Artifacts Vol. 1)
AL GREEN: I Want To Hold Your Hand (The Right Stuff, Green Is Blues)
THE MEMBERS: Working Girl (Arista, Uprhythm, Downbeat)
THE BEAT: Work-A-Day World (Wagon Wheel, The Beat)
—
THE SPEED OF SOUND: Replicant (Big Stir, single)
THE APPLES IN STEREO: That's Something I Do (spinART, Velocity Of Sound)
THE PRIMITIVES: Crash (RCA, Lovely)
THE ALLAH-LAS: Holding Pattern (Mexican Summer, LAHS)
THE FOUR TOPS: Reach Out I'll Be There (Motown, The Definitive Collection)
JEFFERSON AIRPLANE: Come Up The Years (RCA, The Essential Jefferson Airplane)
—
MICKY DOLENZ: Grand Ennui (7a, Dolenzs Sings Nesmith)
SPARKS: Lawnmower (BMG, A Steady Drip, Drip, Drip)
COLD EXPECTATIONS: Summer Dress (Red On Red, single)
KOMEDA: Boogie Woogie/Rock 'n' Roll (Minty Fresh, The Genius Of Komeda)
THE MONKEES: You Bring The Summer (Rhino, Good Times!)
BRUCE SPRINGSTEEN: Girls In Their Summer Clothes (Columbia, Magic)
—
KID GULLIVER: Forget About Him (Red On Red, single)
KELLEY RYAN: The Church Of Laundry (single)
JET BLACK BERRIES: Pipes Of Pan (Bug, Postmodern Ghosts)
WIRE: Mannequin (Pinkflag, Pink Flag)
THE STALLIONS: Why (Junk, Hey Baby It's The Stallions!)
THE CHORDS: Maybe Tomorrow (Captain Mod, So Far Away)
THE SHANG HI LOS: Sway Little Player (Rum Bar, Kick It Like A Wicked Bad Habit)
THE MUFFS: I Get It (Cherry Red, Whoop Dee Doo)
—
THE RAMONES: Blitzkrieg Bop (Rhino, Ramones)
THE REPLACEMENTS: Fox On The Run (Sire, For Sale)