This Is Rock 'n' Roll Radio # 1071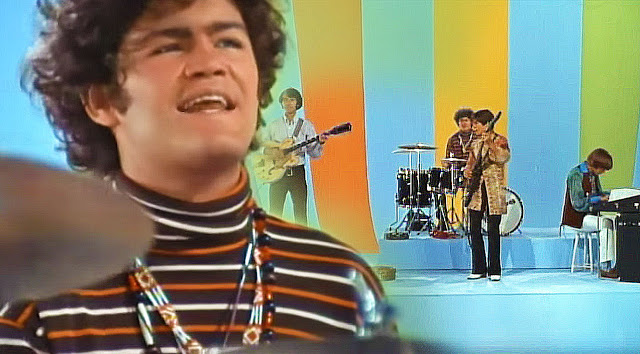 Sing with us now in the style of Harry Belafonte:
MODERNA! MODERNA! MODERNA! Me get Shot 2 and pray my arm don't swell up. All together now!
I've done my little part to help achieve herd immunity. Dana's already done his part, too. The masks stay on. The hands stay clean. The social distance remains about the same as my height, give or take; if I can fall forward and hit you in my descent, you're too damned close. We all still have a way to go before things get back to where they once belonged. But we'll get there. I can see bright lights off in the distance. Another Pleasant Valley Sunday, but in a good way. We need a change of scenery.
We'll get there. And here's some music for the journey. This is what rock 'n' roll radio sounded like on a Sunday night in Syracuse.
This Is Rock 'n' Roll Radio with Dana & Carl airs Sunday nights from 9 to Midnight Eastern, on the air in Syracuse at SPARK! WSPJ 103.3 and 93.7 FM, and on the web at http://sparksyracuse.org/ You can read all about this show's long and weird history here: Boppin' The Whole Friggin' Planet (The History Of THIS IS ROCK 'N' ROLL RADIO). TAX DEDUCTIBLE DONATIONS are always welcome.The many fine This Is Rock 'n' Roll Radio compilation albums are still available, each full of that rockin' pop sound you crave. A portion of all sales benefit our perpetually cash-strapped community radio project:
Volume 1: download
Volume 2: CD or download
Volume 3: download
Volume 4: CD or download
Waterloo Sunset–Benefit For This Is Rock 'n' Roll Radio: CD or download
PS: SEND MONEY!!!! We need tech upgrades like Elvis needs boats. Spark Syracuse is supported by listeners like you. Tax-deductible donations are welcome at
http://sparksyracuse.org/support/
You can follow Carl's daily blog Boppin' (Like The Hip Folks Do) at
https://carlcafarelli.blogspot.com/
TIRnRR # 1071: 4/4/2021
TIRnRR FRESH SPINS! Tracks we think we ain't played before are listed in bold

THE RAMONES: Do You Remember Rock 'n' Roll Radio? (Rhino, End Of The Century)
—
MOTT THE HOOPLE: Roll Away The Stone (Columbia, The Ballad Of Mott)
XTC: Respectable Street (Virgin, Upsy Daisy Assortment)
THE ARMOIRES: Great Distances (Big Stir, Incognito)
THE KINKS: Holiday In Waikiki (Essential, Face To Face)
ROBERTA FLACK: Killing Me Softly With His Song (Rhino, The Very Best Of Roberta Flack)
CHRIS VON SNEIDERN: Annalisa (Heyday, Sight & Sound)
—
THE ARMOIRES: Senses Working Overtime (Big Stir, Incognito)
MICHAEL CARPENTER: Girlfriend (Futureman, VA: Altered Sweet)
ALLAN KAPLON: Every Single Day (n/a, Notes On A Napkin)
FOUNTAINS OF WAYNE: Radiation Vibe (Atlantic, Fountains Of Wayne)
POP CO-OP: Persistence Of Memory (Futureman, Factory Settings)
JOSIE & THE PUSSYCATS: 3 Small Words (Play-Tone, VA: Josie and the Pussycats OST)
—
MARVIN GAYE: I Heard It Through The Grapevine (Motown, VA: Hitsville USA)
SKY: One Love (Zen, Don't Hold Back)
THE KNACK: Your Number Or Your Name (Rhino, Proof: The Very Best Of The Knack)
THE LINDA LINDAS: Claudia Kishi (single)
CAT STEVENS: Matthew And Son (Rhino, VA: The British Invasion: The History Of British Rock Vol. 8)
THE MUFFS: Really Really Happy (Five Foot Two, Really Really Happy)
—
IRENE PEÑA: Always Running On (Big Stir, single)
TOM PETTY & THE HEARTBREAKERS: Rockin' Around (With You) (MCA, Tom Petty & the Heartbreakers)
PHIL SEYMOUR: Let Her Dance (The Right Stuff, Precious To Me)
MR. ENCRYPTO: Rock 'n' Roll Is Killing Me (Loudly) (Silent Bugler, Secret Identity Crisis)
CONWAY TWITTY: It's Only Make Believe (Mercury, The Best Of Conway Twitty Volume One: Rockin' Years)
BUILT TO SPILL: Mountain Top (Ernest Jenning Record Company, Built To Spill Plays The Songs Of Daniel Johnston)
—
KAI DANZBERG: Only You (Big Stir, single)
THE JAM: But I'm Different Now (Polydor, Direction Reaction Creation)
OTIS REDDING: (Sittin' On) The Dock Of The Bay (Rhino, Otis!)
GAME THEORY: Laurel Canyon (Reprise) [solo demo] (Omnivore, Across The Barrier Of Sound)
THE MONKEES: Pleasant Valley Sunday (Rhino, Pisces, Aquarius, Capricorn & Jones, Ltd.)
RICHARD HELL & THE VOIDOIDS: The Kid With The Replaceable Head [single version] (Omnivore, Destiny Street Complete)
—
BEEBE GALLINI: Nobody Loves The Hulk (Rum Bar, Pandemos)
THE GROOVIE GHOULIES: The Spell Is On (Lookout!, Fun In The Dark)
EVIE SANDS: Don't Look Back Don't Look Down (R-Spot, Get Out Of Your Own Way)
THE GREENHORNES: The End Of The Night (V2, Sewed Souls)
THE LEGAL MATTERS: Light Up The Sky (Futureman, Chapter Three)
HOLLY GOLIGHTLY: Overtaking (Damaged Goods, God Don't Like It)
—
THE HUMAN SWITCHBOARD: (Say No To) Saturday's Girl (Bar/None, Who's Landing In My Hangar?)
THE ENGLISH BEAT: Click Click (IRS, I Just Can't Stop It)
TOOTS & THE MAYTALS: Pressure Drop (Island, Time Tough)
THE GO-BETWEENS: Was There Anything I Could Do? (Beggars Banquet, 16 Lovers Lane)
THE GOLD NEEDLES: Have You Ever Loved Somebody (Jem, What's Tomorrow Ever Done For You?
)THE BEAT: There She Goes (Wagon Wheel, The Beat)
—
KID GULLIVER: Boy In A Bubble (Red On Red, single)
AMY RIGBY: Stop Showing Up In My Dreams (Koch, The Sugar Tree)
WONDERMINTS: You Need Love (New Sounds, Kaleidoscopin')
ANTON BARBEAU WITH THE BEVIS FROND: Sweet Creature, What's Your Name? (Woronzow, King Of Missouri)
THE GREAT OUTDOORS: Day Job (single)
CHARLIE ROBBINS: Heart Says Go (Blue Wave, VA: History Of Syracuse Music Volume 14)
—
DEAR STELLA: Time Machine (dearstella.bandcamp.com, Time Zones)
ATHENSVILLE: Head Start (athensville.com, Undressing Minds For Show)
HERMAN'S HERMITS: I'm Henry VIII, I Am (EMI, Singles Collection +)
THE BRIAN JONESTOWN MASSACRE: This Is Why You Love Me (Tee Pee, Tepid Peppermint Wonderland)
P. P. ARNOLD: The First Cut Is The Deepest (Sequel, The First Cut)
MARY LOU LORD: She Had You (Work, Got No Shadow)
THE RASPBERRIES: Go All The Way (RPM, Power Pop Volume One)
WRECKLESS ERIC: Whole Wide World [BBC version] (Hux, Almost A Jubilee: 25 Years At The BBC [With Gaps])