This Is Rock 'n' Roll Radio # 990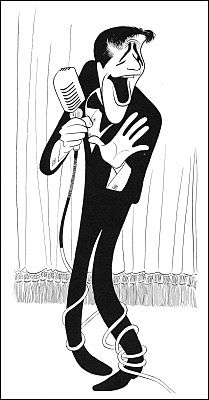 Even if the Labor Day weekend ain't quite it what it used to be without Jerry Lewis, we still have music to play. New music from The Rubinoos! New music from Redd Kross! New music from The Well Wishers! Our labor of love is to mix all of this with the best of what was, is, and will be, and then call it a radio show. And not just any radio show; The Best Three Hours Of Radio On The Whole Friggin' Planet! We can't say ol' Jerry would be proud of us–he'd regard much of this as noise, and cry out FLAAAAAAAAAAAYvinnnnnn!–but we do what we can. This is what rock 'n' roll radio sounded like on a Sunday night in Syracuse this week.
This Is Rock 'n' Roll Radio with Dana & Carl, Sunday nights from 9 to Midnight Eastern, on the air in Syracuse on SPARK! WSPJ-LP 103.3 and 93.7 FM, and on the web at http://sparksyracuse.org/
Fans of pop music will want to check out Waterloo Sunset–Benefit For This Is Rock 'n' Roll Radio, a new pop compilation benefiting SPARK! Syracuse, the home of This Is Rock 'n' Roll Radio with Dana & Carl. TIR'N'RR Allstars–Steve Stoeckel, Bruce Gordon, Joel Tinnel, Stacy Carson, Eytan Mirsky, Teresa Cowles, Dan Pavelich, Irene Peña, Keith Klingensmith, and Rich Firestone–offer a fantastic new version of The Kinks' classic "Waterloo Sunset." That's supplemented by eleven more tracks (plus a hidden bonus track), including previously-unreleased gems from The Click Beetles, Eytan Mirsky, Pop Co-Op, Irene Peña, Michael Slawter (covering The Posies), and The Anderson Council (covering XTC), a new remix of "Infinite Soul" by The Grip Weeds, and familiar TIRnRR Fave Raves by Vegas With Randolph, Gretchen's Wheel, The Armoires, and Pacific Soul Ltd. Oh, and that mystery bonus track? It's exquisite. You need this. You're buying the digital download from Futureman and/or the CD from Kool Kat Musik.

PS: SEND MONEY!!!! We need tech upgrades like Elvis needs boats. Spark Syracuse is supported by listeners like you. Tax-deductible donations are welcome at 
http://sparksyracuse.org/support/
You can follow Carl's daily blog Boppin' (Like The Hip Folks Do) at 
https://carlcafarelli.blogspot.com/
Get MORE Carl! Check out the fourth and latest issue of the mighty Big Stir magazine at bigstirrecords.com/magazine
Hey, Carl's writin' a book! The Greatest Record Ever Made! (Volume 1) will contain 100 essays (and then some) about 100 songs (plus bonus tracks!), each one of 'em THE greatest record ever made. An infinite number of songs can each be the greatest record ever made, as long as they take turns. Updated initial information can be seen here.
Our most recent compilation CD This Is Rock 'n' Roll Radio, Volume 4 is available from Kool Kat Musik! 29 tracks of irresistible rockin' pop, starring Pop Co-Op, Ray Paul, Circe Link & Christian Nesmith, Vegas With Randolph Featuring Lannie Flowers, The Slapbacks, P. Hux, Irene Peña, Michael Oliver & the Sacred Band Featuring Dave Merritt, The Rubinoos, Stepford Knives, The Grip Weeds, Popdudes, Ronnie Dark, The Flashcubes, Chris von Sneidern, The Bottle Kids, 1.4.5., The Smithereens, Paul Collins' Beat, The Hit Squad, The Rulers, The Legal Matters, Maura & the Bright Lights, Lisa Mychols, and Mr. Encrypto & the Cyphers. You gotta have it, so order it at https://tinyurl.com/ycnly8oz Digital download version (minus The Smithereens' track) now available at https://tinyurl.com/ycauy9xt
TIRnRR # 990: 9/1/19
This Is Rock 'n' Roll Radio FRESH SPINS! (tracks we think we ain't played before) are listed in bold
THE RAMONES: Do You Remember Rock 'n' Roll Radio? (Rhino, End Of The Century)
—
THE RUBINOOS: Phaedra (Yep Roc, From Home)
GRAHAM PARKER & THE RUMOUR: Local Girls (Spectrum, The Very Best Of Graham Parker & the Rumour)
THE SUPREMES: The Happening (Motown, DIANA ROSS & THE SUPREMES: The Ultimate Collection)
IAN HUNTER: Cleveland Rocks (EMI, The Best Of Ian Hunter)
TIR'N'RR ALLSTARS: Waterloo Sunset (Kool Kat Musik, VA: Waterloo Sunset–Benefit For This Is Rock 'n' Roll Radio)
WARREN ZEVON: Poor Poor Pitiful Me (Rhino, Genius)
—
THE WELL WISHERS: Grace & Glory (thewellwishers.bandcamp.com, The Lost Soundtrack)
CREEDENCE CLEARWATER REVIVAL: Green River (Fantasy, Green River)
ANNY CELSI: Sideways Rain (Ragazza, Kaleidoscope Heart: 12 Golden Hits)
SAM COOKE: Little Red Rooster (RCA, Night Beat)
THE STRANGLERS: Skin Deep (EMI, Peaches)
THE VELVET UNDERGROUND: Beginning To See The Light (Verve, The Best Of The Velvet Underground)
—
JOHN LARSON & THE SILVER FIELDS: Girl In The Band (Shiny Fly, Glimpses)
MONDELLO: Heather Martin (www.mondello.bandcamp.com, Hello, All You Happy People)
PAUL REVERE & THE RAIDERS: Good Thing (Columbia, VA: Once Upon A Time…In Hollywood OST)
THE SLITS: Instant Hit (MOJO, VA: Island Radicals)
THE PRETTY THINGS: Midnight To Six Man (Fontana, Get A Buzz)
THE WHO: The Kids Are Alright (MCA, My Generation)
—
REDD KROSS: Fighting (Merge, Beyond The Door)
SLUMBERJET: [Theme From] Our Street (n/a, World Of Sound)
SLY & THE FAMILY STONE: Everybody Is A Star (Epic, Greatest Hits)
CREEDENCE CLEARWATER REVIVAL: Commotion (Fantasy, Live At Woodstock)
IN DEED: What Once Was (Big Stir, Everest)
THE BANGLES: Want You (Omnivore, Ladies And Gentlemen…The Bangles!)
—
THE TWEEDS: I Need That Record (Big Beat, VA: Come On Let's Go!)
THE SPORTS: Who Listens To The Radio? (Salvo, VA: Born Stiff)
THE BROTHERS STEVE: We Got The Hits (n/a, # 1)
NICK LOWE: Cruel To Be Kind (Yep Roc, Quiet Please…)
THE ANDERSON COUNCIL: Lads & Lasses (Jem, Worlds Collide)
BUFFALO SPRINGFIELD: Sit Down I Think I Love You (Rhino, Buffalo Springfield)
—
THE CLICK BEETLES: If Not Now Then When (Futureman, VA: Waterloo Sunset–Benefit For This Is Rock 'n' Roll Radio)
THE BEATLES: She Said She Said (Apple, Revolver)
THE JAM: Start! (Polydor, Direction Reaction Creation)
THE KINKS: David Watts (Sanctuary, The Ultimate Collection)
THE HONEYCOMBS: Have I The Right? (Rhino, VA: The British Invasion: The History Of British Rock, Vol. 1)
THE RUBINOOS: Honey From The Honeycombs (Yep Roc, From Home)
—
STAG: Pied Piper Blues (themightystag.com, Electric Mistress)
THE FEELIES: Louie, Louie (Jerden, VA: History Of Northwest Rock Vol. III)
DEAN LANDEW: Dance All Night (deanlandew.bandcamp.com, Dean Landew 2019)
THE POSIES: I'm Looking Through You (MOJO, VA: Beatlemania/Volume 1)
SCREEN TEST: End Of The Line (single)
THE CRYAN' SHAMES: If I Needed Someone (MOJO, VA: Beatlemania/Volume 1)
—
THE ARMOIRES: Appalachukrania (Big Stir, Zibaldone)
THE SMALL FACES: I Feel Much Better (Sanctuary, Ultimate Collection)
ARTHUR ALEXANDER: Everyday I Have To Cry Some (Razor & Tie, The Ultimate Arthur Alexander)
SAM COOKE: Lost And Lookin' (RCA, Night Beat)
THE MONKEES: Birth Of An Accidental Hipster (Rhino, Good Times!)
XTC: Earn Enough For Us (Virgin, Upsy Daisy Assortment)
THE RAMONES: I Wanna Be Sedated (Rhino, Road To Ruin)
THE BYRDS: Mr. Tambourine Man (Columbia, The Essential Byrds)
ELVIS COSTELLO & THE ATTRACTIONS: (What's So Funny 'Bout) Peace, Love And Understanding (Rykodisc, Armed Forces)
BIG STAR: September Gurls (Ardent, # 1 Record/Radio City)
THE BEAU BRUMMELS: Woman (Sundazed, Volume 4)