This Is Rock 'n' Roll Radio # 1087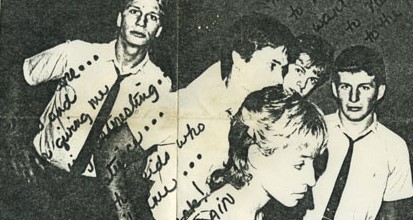 This week's edition of This Is Rock 'n' Roll Radio with Dana & Carl is presented in memory of singer Dian Zain. Dian is best remembered as the lead singer of the Most from 1979-1980, a group which also included Flashcubes guitarist Paul Armstrong. I can't add anything more to the memorial I wrote for Dian last week; all that's left is for us to play the music, and to remember.
Remember the dance.
Remember the energy.
Remember the bright, bright lights.
This is what rock 'n' roll radio sounded like on a Sunday night in Syracuse this week.
IN JUST FOUR WEEKS: On August 22nd, a time-honored tradition of solid sweat continues, with THE TENTH ANNUAL DANA'S FUNKY SOUL PIT! Bring your own. We'll bring ours.
This Is Rock 'n' Roll Radio with Dana & Carl airs Sunday nights from 9 to Midnight Eastern, on the air in Syracuse at SPARK! WSPJ 103.3 and 93.7 FM, and on the web at http://sparksyracuse.org/ You can read all about this show's long and weird history here: Boppin' The Whole Friggin' Planet (The History Of THIS IS ROCK 'N' ROLL RADIO). TAX DEDUCTIBLE DONATIONS are always welcome.
The many fine This Is Rock 'n' Roll Radio compilation albums are still available, each full of that rockin' pop sound you crave. A portion of all sales benefit our perpetually cash-strapped community radio project:
Volume 1: download
Volume 2: CD or download
Volume 3: download
Volume 4: CD or download
Waterloo Sunset–Benefit For This Is Rock 'n' Roll Radio: CD or download
PS: SEND MONEY!!!! We need tech upgrades like Elvis needs boats. Spark Syracuse is supported by listeners like you. Tax-deductible donations are welcome at
http://sparksyracuse.org/support/
You can follow Carl's daily blog Boppin' (Like The Hip Folks Do) at
https://carlcafarelli.blogspot.com/
TIRnRR # 1087: 7/25/2021
TIRnRR FRESH SPINS! Tracks we think we ain't played before are listed in bold
THE RAMONES: Do You Remember Rock 'n' Roll Radio? (Rhino, End Of The Century)
—
THE MOST: Let's Go Out Tonight (unreleased)
THE CYRKLE: The Words (Grapefruit, VA: Good As Gold)
GLADYS KNIGHT & THE PIPS: I Heard It Through The Grapevine (Curb, Greatest Hits)
PAGLIARO: Some Sing Some Dance (Grapefruit, VA: Good As Gold)
JOE JACKSON: It's Different For Girls (A & M, Stepping Out)
SPARKS: I Wish I Looked A Little Better (BMG, Past Tense)
—
KEROSENE STARS: Where Have You Been? (Big Stir, single)
THE VANDALIAS: Sky High (Big Beat, VA: Rockets Of Love!)
SORROWS: Play This Song (On The Radio) (Big Stir, Love Too Late…The Real Album)
FANNY: Hey Bulldog (Grapefruit, VA: Good As Gold)
WILLIE MAE "BIG MAMA" THORNTON: Hound Dog (Sony, VA: Nowhere Boy OST)
SKY: Rockin' Me Yet (Zen, Don't Hold Back)
—
RICH WILLIAMS: Oil And Water (n/a, Ordinary Person)
THE PRIMITIVES: Thru' The Flowers (RCA, Lovely)
VEGAS WITH RANDOLPH: Lake Paradise (single)
THE FALL: No Bulbs 3 (Beggars Banquet, 50,000 Fall Fans Can't Be Wrong)
THE EQUALS: I Can See, But You Don't Know (Ice, First Among Equals)
FIRE TOWN: I Could Be The One (Big Beat, VA: Rockets Of Love!)
—
THE MOST: I'm Not The Liar (unreleased)
THE FLASHCUBES: You For Me (Northside, Flashcubes On Fire [digital version])
THE FLASHCUBES WITH MIMI BETINIS: Baby It's Cold Outside (Big Stir, single)
THE TEXTONES: Vacation (Big Beat, single)
RICHARD X. HEYMAN: Vacation (Big Beat, VA: Rockets Of Love!)
THE GO-GO'S: Vacation (IRS, Vacation)
—
THE PEPPERMINT KICKS: Hey Fanzine! (Rum Bar, The Peppermint Kicks)
THE ALLAH-LAS: Tell Me (What's On Your Kind) (innovative Leisure, Allah-Las)
THE TEMPTATIONS: (I Know) I'm Losing You (Motown, Gold)
POLLY NILES: I Am A Child (Cherry Red, Sunshine In My Rainy Day Mind)
STEVE STOECKEL: Birds (Big Stir, single)
AMY RIGBY: The Trouble With Jeanie (Signature Sounds, Little Fugitive)
—
ROBIN LANE & THE CHARTBUSTERS: Don't Cry (Blixa Sounds, Many Years Ago)
MARTHA & THE MUFFINS: Echo Beach (Virgin, Metro Music)
THE BEATLES: Lucy In The Sky With Diamonds (Apple, Sgt. Pepper's Lonely Hearts Club Band)
MARY LOU LORD: Some Jingle Jangle Morning (Sony, Mind The Gap)
JOHNNY JOHNSON & THE BANDWAGON: Mr. Tambourine Man (Kent, Breaking Down The Walls Of Heartbreak)
THE BEAT: There She Goes (Wagon Wheel, The Beat)
—
MIKE BROWNING: Picture Book (n/a, Class Act)
FOUNTAINS OF WAYNE: Better Things (Rykodisc, VA: This Is Where I Belong)
WAR: Low Rider (Hip-O, Icon 2: The Hits & More)
HOLLY GOLIGHTLY: Box Elder (Damaged Goods, Singles Round-Up)
THE CHELSEA CURVE: A Better Way (Red On Red, single)
THE COOLIES: Blueberry Crumble (Wicked Cool, Uh-Oh! It's…The Coolies)
—
THE ANDERSON COUNCIL: I'd Love Just Once To See You (Jem, VA: Jem Records Celebrates Brian Wilson)
SHOES: The Things You Do (Elektra, Tongue Twister)
STOECKEL & PEÑA: Why (Big Stir, single)
THE GO-BETWEENS: Was There Anything I Could Do? (Beggars Banquet, Bellavista Terrace)
HAYLEY & THE CRUSHERS: Jacaranda (Rum Bar, Fun Sized)
THE KINKS: Misty Water (Universal, The Village Green Preservation Society)
DEAN LANDEW: David's Ford (single)
CELIA & THE MUTATIONS: Mony Mony (Cherry Red, VA: 1977: The Year Punk Broke)
—
THE MOST: Rockerfeller (Out Of Print, VA: From The City That Brought You…Absolutely Nothing)
THE LINDA LINDAS: Claudia Kishi (single)
THE BYRDS: Time Between (Columbia, Younger Than Yesterday)
THE BEVIS FROND: I Can't Get Into Your Scene (Woronzow, Bevis Through The Looking Glass)
THE SUPREMES: Stop! In The Name Of Love (Motown, DIANA ROSS & THE SUPREMES: Anthology)
THE MUFFS: No Holiday (Omnivore, No Holiday)
THE TREND: Band Aid (Hate, Batman Live At Budokan)
DIAN ZAIN/THE MOST: Take A Chance (Northside, single)
—
THE MOST: Best Of Me [live] (unreleased)
WRECKLESS ERIC: Rags AndTatters (Salvo, Hits, Misses, Rags & Tatters)