This Is Rock 'n' Roll Radio # 1086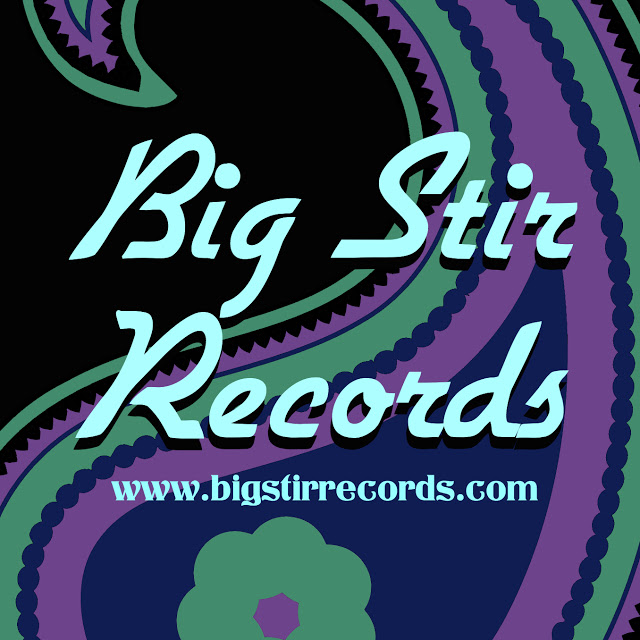 In the history of your ongoing hit parade and the hit machine behind it, there have been good guys and bad guys (and in-between guys). Among the good guys are Rex Broome and Christina Bulbenko, curators and commandants of the fab SoCal imprint Big Stir Records. With Irene Peña overseeing the Big Stir Singles series, these combined forces provide superpure pop for right-now people. Big Stir is but one of a whole bunch of good-guy labels performing this service for us, alongside names (and friends) like Kool Kat Musik, Futureman, Rum Bar, Red On Red, Jem, JAM, SpyderPop, and other worthies too numerous to mention, but each doing laudable work and each deserving of our appreciation and support. Music is pretty near THE most fun thing to spend money on, and I'm happy to spend my money with the good guys.
A flurry of recent and near-future Big Stir releases prompted special attention. On July 30th, Big Stir will release "Baby It's Cold Outside," a brand-new recording by Syracuse's own power pop powerhouse the Flashcubes, collaborating with Mimi Betinis on a cover of that power pop classic originally done by Mimi's combo Pezband. Holy Rickenbacker, but if a track ever had TIRnRR demographic written all over it, it'd be this one.
So we asked permission to premiere "Baby It's Cold Outside" on this week's show. Granted! And in that process, another imminent new Big Stir single release fell into our greedy hands, with a fab new track by our friend and idol Steve Stoeckel. Well! We'll open the show with those two! Awright! And we'll throw in Big Stir's recent archival single from Popsicko, and..oh! Big Stir has a new single from classic pop heroes Sorrows! Gotta play that, too!
And at that point we figured, what the hell, we should thread a bunch of previous Big Stir releases throughout the playlist. So we gathered up Big Stir-related tracks by Irene Peña, the Armoires (with Rex and Christina themselves), Anton Barbeau, Dolph Chaney, the Brothers Steve, Lannie Flowers, Nick Frater, Jim Basnight, In Deed, Stoeckel & Peña, and the Forty Nineteens. We woulda thrown in the Click Beetles, the Walker Brigade, Popdudes, the Bablers, the Corner Laughers, Trip Wire, Vegas with Randolph, the GoAllTheWays, and about a gazillion other Big Stir all-stars if time allowed. But we've played 'em all. And we'll play 'em again.
With all of that going on, we still made room on the playlist for new releases from Ed Ryan, Lisa Mychols and Super 8, Lucas Aaron, and the Peppermint Kicks, plus proven Fave Raves from the Coasters through the Linda Lindas, Kelley Ryan through the Ramones, the Five Stairsteps through the Grip Weeds. See, we wanna be good guys, too. Just like our friends at Big Stir Records. This is what rock 'n' roll radio sounded like on a Sunday night in Syracuse this week.
IN JUST FIVE WEEKS: On August 22nd, The Tenth Annual DANA'S FUNKY SOUL PIT! Get down. Get funky. Get DANA!!
This Is Rock 'n' Roll Radio with Dana & Carl airs Sunday nights from 9 to Midnight Eastern, on the air in Syracuse at SPARK! WSPJ 103.3 and 93.7 FM, and on the web at http://sparksyracuse.org/ You can read all about this show's long and weird history here: Boppin' The Whole Friggin' Planet (The History Of THIS IS ROCK 'N' ROLL RADIO). TAX DEDUCTIBLE DONATIONS are always welcome.The many fine This Is Rock 'n' Roll Radio compilation albums are still available, each full of that rockin' pop sound you crave. A portion of all sales benefit our perpetually cash-strapped community radio project:
Volume 1: download
Volume 2: CD or download
Volume 3: download
Volume 4: CD or download
Waterloo Sunset–Benefit For This Is Rock 'n' Roll Radio: CD or download
PS: SEND MONEY!!!! We need tech upgrades like Elvis needs boats. Spark Syracuse is supported by listeners like you. Tax-deductible donations are welcome at
http://sparksyracuse.org/support/

You can follow Carl's daily blog Boppin' (Like The Hip Folks Do) at
https://carlcafarelli.blogspot.com/
TIRnRR # 1086: 7/18/2021
TIRnRR FRESH SPINS! Tracks we think we ain't played before are listed in bold

THE RAMONES: Do You Remember Rock 'n' Roll Radio? (Rhino, End Of The Century)
—
THE FLASHCUBES WITH MIMI BETINIS: Baby It's Cold Outside (Big Stir, single)
STEVE STOECKEL: Birds (Big Stir, single)
THE BYRDS: So You Want To Be A Rock 'n' Roll Star (Columbia, Younger Than Yesterday)
POLLY NILES: East Virginia (Cherry Red, Sunshine In My Rainy Day Mind–The Lost Album)
THE EVERLY BROTHERS: Mama Tried (Rhino, Heartaches & Harmonies)
PAUL McCARTNEY: Who Cares (Capitol, Egypt Station)
—
ED RYAN: Maybe I'm Dreaming (n/a, Don't Follow Where They Lead)
THE PRODUCERS: What's He Got? (Big Beat, VA: Rockets Of Love!)
DOLPH CHANEY: My Good Twin (Big Stir, This Is Dolph Chaney)
THE GRIP WEEDS: You're So Good To Me (Jem, VA: Jem Records Celebrates Brian Wilson)
LISA MYCHOLS & SUPER 8: Pet Sounds (Story) (Jem, VA: Jem Records Celebrates Brian Wilson)
THE CHECKERED HEARTS: My Best Friend's Girl (Die Laughing, Joystick)
—
POPSICKO: Nastassja (Big Stir, single)
BILL LLOYD: I Went Electric [reset 2014 version] (n/a, A Selection Of Power Pop 1985-2020)
THE COASTERS: Yakety Yak (Warner Platinum, Yakety Yak)
THE ZOMBIES: She's Coming Home (Big Beat, Zombie Heaven)
THE RAMONES: Judy Is A Punk (Sire, Loco Live)
THE BROTHERS STEVE: We Got The Hits (Big Stir, # 1)
—
LUCAS AARON: Hanging Around Again (Kool Kat Musik, Domino)
RAY PAUL: Pretty Flamingo (Permanent Press, Whimsicality)
ANTON BARBEAU: One Of Her Super Powers (Big Stir, Oh The Joys We Live For)
THEE HEADCOATS: I'm A Gamekeeper (Damaged Goods, The Kids Are All Square-This Is Hip + Girlsville)
SORROWS: Teenage Heartbreak (Pavillion, Teenage Heartbreak)
PETE DONNELLY: This Is Pop (Futureman, VA: Garden Of Earthly Delights)
—
SORROWS: Christabelle (Big Stir, single)
ELVIS COSTELLO: Less Than Zero (Rykodisc, My Aim Is True)
STEVIE WONDER: Higher Ground (Motown, The Definitive Collection)
TOMMY TUTONE: 867-5309/Jenny (Big Beat, VA: Rockets Of Love!)
THE GUESS WHO: Rain Dance (RCA, Greatest Hits)
THE VIPERS: Tears (Only Dry) (Rhino, VA: Children Of Nuggets)
—
THE PEPPERMINT KICKS: Hey Fanzine! (Rum Bar, The Peppermint Kicks)
THE SHANG HI LOS: Sway Little Player (Rum Bar, Kick It Like A Wicked Bad Habit)
IN DEED: What Once Was (Big Stir, Everest)
ED JAMES: Shiver & Shake (Futureman, VA: This Is Rock 'n' Roll Radio, Volume 1)
OTIS REDDING: Pounds And Hundreds (Rhino, Otis!)
RICHARD HELL & THE VOIDOIDS: I Gotta Move (Omnivore, Destiny Street Complete)
—
THE FLASHCUBES: It's You Tonight (Big Beat, VA: Rockets Of Love!)
TIM ANTHONY: Maryellen (Futureman, VA: This Is Rock 'n' Roll Radio, Volume 2)
MIMI BETINIS: Love Is Just A Thin Veneer (n/a, All That Glitters)
THE B.A.R.: Katie's Shoes (Futureman, VA: This Is Rock 'n' Roll Radio, Volume 2)
THE ARMOIRES: Great Distances (Big Stir, Incognito)
THE FIRE APES: Hey Kate (Futureman, VA: This Is Rock 'n' Roll Radio, Volume 2)
—
STOECKEL & PEÑA: Why (Big Stir, single)
THE MONOCHROME SET: He's Frank (Slight Return) (Cherry Red, VA: Harmony In My Head)
THE CHELSEA CURVE: A Better Way (Red On Red, single)
BRAM TCHAIKOVSKY: Sara Smiles (Cherry Red, VA: Harmony In My Head)
THE FIVE STAIRSTEPS: We Must Be In Love (Buddha, The First Family Of Soul)
NIKKI & THE CORVETTES: He's A Mover (Bomp, Nikki & the Corvettes)
JIM BASNIGHT: This Is Where I Belong (Big Stir, VA: Big Stir Singles: The Sixth Wave)
THE TEXTONES: Vacation (Big Beat, single)
—
LANNIE FLOWERS: My Street [Nashville version] (Big Stir, single)
BASH & POP: Anything Could Happen (Fat Possum, Anything Could Happen)
THE FORTY NINETEENS: It's The Worst Thing I Could Do (Big Stir, New Roaring Twenties)
THE LINDA LINDAS: Never Say Never (n/a, The Linda Lindas)
IRENE PEÑA: One More Night (Big Stir, single)
MYRACLE BRAH: Eight Miles High (Not Lame, VA: Full Circle)
NICK FRATER: Let's Hear It For Love (Big Stir, Fast & Loose)
KELLEY RYAN: The Church Of Laundry (single)
—
THE MONKEES: Band 6 (Rhino, Headquarters)