This Is Rock 'n' Roll Radio # 1077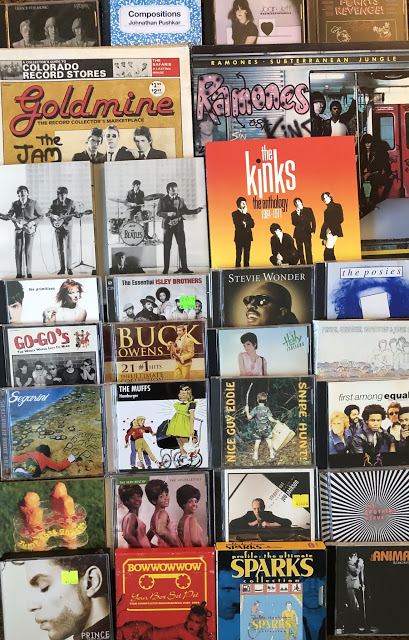 From The Ramones through The Beatles, with an encore from The Kinks. Open big. Keep hitting. Throw in some Motown and some Buck Owens, a generous mix of old and new, establishing the hits as we define them. "Leave The Light On" by Andrea Gillis is a hit record. "I Hope It Wouldn't Rain Tomorrow" by The Bablers is a hit record. Johnathan Pushkar, Jim Trainor, The Chelsea Curve, Pop Co-Op, Kevin Robertson, Bob Fenster and the Windows, and Harmonic Dirt all have current hits, Caddy, Tamar Berk, and Old Town Crier have minty-fresh Picks T' Click, and everything that ever was a hit is still a hit. The Jam. The Isley Brothers. Holly and the Italians. Prince. The Go-Go's. Bow Wow Wow. The Monkees. True hits are eternal. What's cool once is cool forever.
We play the hits. If these aren't all hits elsewhere, that's not our problem…because they all should be hits, everywhere. We know the hits. And we know what hits we need to play as we build The Best Three Hours Of Radio On The Whole Friggin' Planet. The format's simple. Open big. Keep hitting. The hits just keep on coming. This is what rock 'n' roll radio sounded like on a Sunday night in Syracuse this week.
This Is Rock 'n' Roll Radio with Dana & Carl airs Sunday nights from 9 to Midnight Eastern, on the air in Syracuse at SPARK! WSPJ 103.3 and 93.7 FM, and on the web at http://sparksyracuse.org/ You can read all about this show's long and weird history here: Boppin' The Whole Friggin' Planet (The History Of THIS IS ROCK 'N' ROLL RADIO). TAX DEDUCTIBLE DONATIONS are always welcome.The many fine This Is Rock 'n' Roll Radio compilation albums are still available, each full of that rockin' pop sound you crave. A portion of all sales benefit our perpetually cash-strapped community radio project:
Volume 1: download
Volume 2: CD or download
Volume 3: download
Volume 4: CD or download
Waterloo Sunset–Benefit For This Is Rock 'n' Roll Radio: CD or download

PS: SEND MONEY!!!! We need tech upgrades like Elvis needs boats. Spark Syracuse is supported by listeners like you. Tax-deductible donations are welcome at
http://sparksyracuse.org/support/

You can follow Carl's daily blog Boppin' (Like The Hip Folks Do) at
https://carlcafarelli.blogspot.com/
TIRnRR # 1077: 5/16/2021TIRnRR FRESH SPINS! Tracks we think we ain't played before are listed in bold

THE RAMONES: Do You Remember Rock 'n' Roll Radio? (Rhino, End Of The Century)
—
THE RAMONES: In The Park (Rhino, Subterranean Jungle)
THE V.I.P.'S: I Believe (Cherry Red, VA: 1978: The Year The UK Turned Day-Glo)
STEVIE WONDER: Signed, Sealed, Delivered I'm Yours (Motown, The Definitive Collection)
THE LA'S: Timeless Melody (London, The La's)
ANDREA GILLIS: Leave The Light On (Red On Red, single)
KOMEDA: More Is More (Minty Fresh, The Genius Of Komeda)
—
TAMAR BERK: Skipping The Cracks (n/a, The Restless Dreams Of Youth)
PYLON: Volume (New West, Gyrate)
THE MONKEES: The Door Into Summer (Rhino, Pisces, Aquarius, Capricorn & Jones. Ltd.)
LEW LEWIS: Win Or Lose (Stiff, Save The Wail)
THE MYNAH BIRDS: I Got You (In My Soul) (Motown, VA: Motown Unreleased: 1966)
HOLLY GOLIGHTLY: In You (Damaged Goods, Singles Round-Up)
—
OLD TOWN CRIER: I Might Get Lost (n/a, I'm Longing For You Honey In Middleboro, Mass.)
AMY RIGBY: Til The Wheels Fall Off (Signature Sounds, Til The Wheels Fall Off)
POP CO-OP: Joe Public (The TM Collective, VA: The Rutles: A Tribute)
THE PRIMITIVES: Out Of Reach (RCA, Lovely)
THE CRAWLING KING SNAKES: Philadelphia Baby (Varese Sarabande, VA: Porky's Revenge OST)
GITOGITO HUSTLER: Silent Man (Gearhead, Love & Roll)
—
CADDY: Cost Of Love (Kool Kat Musik, Detours And Dead Ends)
ANY TROUBLE: Playing Bogart (Stiff, Where Are All The Nice Girls)
THE EQUALS: I Can See, But You Don't Know (Ice, First Among Equals)
BOW WOW WOW: Go Wild In The Country (Cherry Red, Your Box Set Pet)
THE ANIMALS: Baby Let Me Take You Home (Abkco, Retrospective)
BASH & POP: Anything Could Happen (Fat Possum, Anything Could Happen)
—
THE BABLERS: I Hope It Wouldn't Rain Tomorrow (Big Stir, Psychadilly Circus)
UTOPIA: I Just Want To Touch You (Rhino, Deface The Music)
BUCK OWENS & HIS BUCKAROOS: Tall Dark Stranger (Rhino, 21 # 1 Hits)
HARMONIC DIRT: Blue Moon Atlas (harmonicdirt.com, Rhode Island Street)
NICE GUY EDDIE: Never Saw The Sun (n/a, Snipe Hunt!)
SPARKS: I Like Girls (Rhino, Profile)
—
KEVIN ROBERTSON: Love's Blue Yonder (Big Stir, single)
BOB FENSTER & THE WINDOWS: You're Doing It Wrong (Whirled Music, The Whole In The Pieces)
THE VELVELETTES: He Was Really Sayin' Somethin' (Motown, The Very Best Of The Velvelettes)
THE BROTHERS STEVE: We Got The Hits (Big Stir, # 1)
THE CHELSEA CURVE: All In Time (Red On Red, single)
THE POSIES: I May Hate You Sometimes (PopLlama, Failure)
—
SEGARINI: Gotta Have Pop (Bullseye, Gotta Have Pop)
HOLLY & THE ITALIANS: I Wanna Go Home (Wounded Bird, The Right To Be Italian)
SUGAR SNOW: Prettiest Middle Of Nowhere (n/a, Sugar Snow)
THE ACTION: I'll Keep Holding On (RHINO, VA: The British Invasion: The History Of British Rock, Vol. 3)
PRINCE: I Could Never Take The Place Of Your Man (Warner Brothers, The Hits/The B-Sides)
THE WHAT FOUR: I'm Gonna Destroy That Boy (Ace, VA: Destroy That Boy! More Girls With Guitars)
—
THE GO-GO'S: We Got The Beat (IRS, The Whole World Lost Its Head)
THE JAM: All Around The World (Polydor, Direction Reaction Creation)
JIM TRAINOR: Heaven Descending (Futureman, Staring Down The Sun)
JOEY RAMONE: What A Wonderful World (Sanctuary, Don't Worry About Me)
JOHNATHAN PUSHKAR: Any Second Now (Jem, Compositions)
ERMA FRANKLIN: I Don't Want No Mama's Boy (Real Gone Music, VA: Honeybeat)
VINCE MELOUNEY: No Good Without You (VM Music, single)
RICHARD HELL & THE VOIDOIDS: Lowest Common Denominator (Omnivore, Destiny Street Complete)
—
JOAN JETT: Bad Reputation (Blackheart, Bad Reputation)
THE MUFFS: Rock And Roll Girl (Sympathy For The Record Industry, Hamburger)
HE HARRISONICS: Holly Goes Away (n/a, Love Songs For All Occasions)
THE BETHS: I'm Not Getting Excited (Carpark, Jump Rope Gazers)
JOE JACKSON: One More Time (A & M, Steppin' Out)
GAME THEORY: Idiot Son [band demo] (Omnivore, Across The Barrier Of Sound)
THE ISLEY BROTHERS: It's Your Thing (Epic, The Essential Isley Brothers)
THE BEATLES: I Should Have Known Better (Apple, A Hard Day's Night)
—
THE KINKS: I Took My Baby Home (Sanctuary, The Anthology 1964-1971)