This Is Rock 'n' Roll Radio # 1070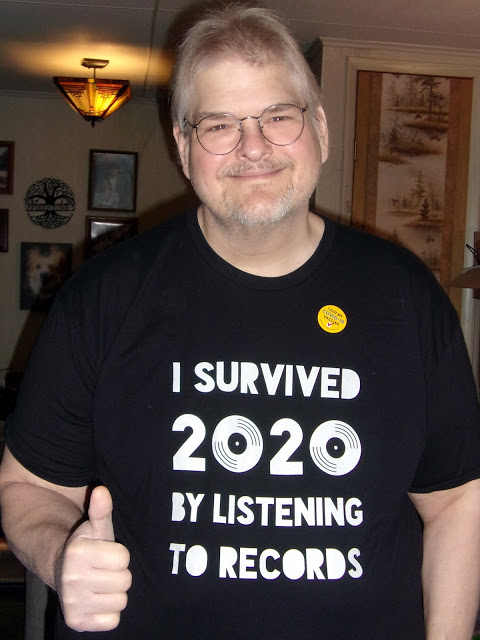 It would be an exaggeration to say that Rich Firestone saved our radio station. But Reechie sure did us an awful lot of good with his weekly show Radio Deer Camp, which celebrates its first anniversary today. For years, both Dana and I have wished that Rich would be able to do a show on this station; Rich and his wife Kathy Firestone had been in-person guest hosts of TIRnRR a couple of times, and Rich programmed and recorded the first-ever remote edition of TIRnRR one Sunday back in 2017. Man, remember when radio by remote was a novelty? Those were the days!
Anyway. Because necessity is Frank Zappa (or however the saying goes), it took a global pandemic to prompt weekly Reechie radio. A year ago, when it became clear that none of our local Syracuse programmers (us included) would be doing shows in the studio any time soon, Dana drafted Rich to do something, just to ensure SPARK's airwaves wouldn't have to be all reruns all the time. Rich stepped up bigtime with Radio Deer Camp, a destination radio show that offers The Best Two Hours Of Radio On The Whole Friggin' Planet. Radio Deer Camp has occupied that 5 to 7 pm Eastern time slot on our station ever since, and SPARK is better for it. Furthermore, RDC inspired TIRnRR to begin programming remotely, and some other SPARK shows have also followed suit. Rich Firestone led the way.
So, did Rich Firestone save our radio station? Close enough. He has certainly made it better. We thank Rich, Kathy, and RDC's producer Harry for their efforts. Now, c'mon guys: would it hurt you to play some ABBA every once in a while? Well…either way, TIRnRR salutes you. And this is what rock 'n' roll radio sounded like on a Sunday night in Syracuse this week.
This Is Rock 'n' Roll Radio with Dana & Carl airs Sunday nights from 9 to Midnight Eastern, on the air in Syracuse at SPARK! WSPJ 103.3 and 93.7 FM, and on the web at http://sparksyracuse.org/ You can read all about this show's long and weird history here: Boppin' The Whole Friggin' Planet (The History Of THIS IS ROCK 'N' ROLL RADIO). TAX DEDUCTIBLE DONATIONS are always welcome.The many fine This Is Rock 'n' Roll Radio compilation albums are still available, each full of that rockin' pop sound you crave. A portion of all sales benefit our perpetually cash-strapped community radio project:
Volume 1: download
Volume 2: CD or download
Volume 3: download
Volume 4: CD or download
Waterloo Sunset–Benefit For This Is Rock 'n' Roll Radio:  CD or download

PS: SEND MONEY!!!! We need tech upgrades like Elvis needs boats. Spark Syracuse is supported by listeners like you. Tax-deductible donations are welcome at
http://sparksyracuse.org/support/

You can follow Carl's daily blog Boppin' (Like The Hip Folks Do) at 
https://carlcafarelli.blogspot.com/
TIRnRR # 1070: 3/28/2021
TIRnRR FRESH SPINS! Tracks we think we ain't played before are listed in bold

THE RAMONES: Do You Remember Rock 'n' Roll Radio? (Rhino, End Of The Century)
—
RICH FIRESTONE: If The Sun Doesn't Shine (thememusictribute.bandcamp.com, THE TM COLLECTIVE: Green Thoughts)
WRECKLESS ERIC: Kilburn Lane (Fire, 12 O'Clock Stereo)
LES HANDCLAPS: Surfin' Barista (Handclaps, Sessions: Brooklyn)
HARRY NILSSON: Everybody's Talkin' (RockBeat, VA: The Wrecking Crew)
THE SMITHEREENS: Green Thoughts (Capitol, Green Thoughts)
THE JAM: Away From The Numbers (Polydor, Direction Reaction Creation)
THE TWEAKERS: Super Secret Mystery Track (Futureman, VA: This Is Rock 'n' Roll Radio, Volume 3 [expanded edition])
—
ALLAN KAPLON: Notes On A Napkin (n/a, Notes On A Napkin)
ATHENSVILLE: Head Start (athensville.com, Undressing Minds For Show)
THE BUSBOYS: Boys Are Back In Town (Rattlesnsake Venom, The Best Of The BusBoys)
THE VIBRATORS: Bad Time [1977] (Cherry Red, VA: 1977: The Year Punk Broke)
THE ADDRISI BROTHERS: We've Got To Get It On Again (Collectables, We've Got To Get It On Again)
THE CLIQUE: Superman (Varese Sarabande, The Clique)
—
BEEBE GALLINI: Nobody Loves The Hulk (Rum Bar, PANDEMOS)
CELIA & THE MUTATIONS: Mony Mony (Cherry Red, VA: 1977: The Year Punk Broke)
HERB ALPERT & THE TIJUANA BRASS: Mexican Road Race (A & M, SRO)
TOMMY ROE: Dizzy (Varese Sarabande, VA: Bubblegum Classics Volume Two)
THE CHAMBERS BROTHERS: Wake Up (Columbia, Time Has Come: The Best Of The Chambers Brothers)
THE ASSOCIATION: Windy (Rhino, Just The Right Sound)
—
THE STAN LAURELS: I'm Only Sleeping (Big Stir, single)
PROFESSOR MORRISON'S LOLLIPOP: You Got The Love (Craft, VA: The Land Of Sensations & Delights)
STONEWALL JACKSON: Me And You And A Dog Named Boo (Columbia, Me And You And A Dog Named Boo)
THE LAUGHING GRAVY: Vegetables (Craft, VA: The Land Of Sensations & Delights)
TAVARES: Free Ride (EMI, The Best Of Tavares)
THE REZILLOS: I Wanna Be Your Man (Sensible, single)
—
THE BEATLES: Thank You, Girl (Capitol, The Beatles' Second  Album)
THE COUNT BISHOPS: I Need You (Ace, The Count Bishops)
HOLLY GOLIGHTLY: Time Will Tell (Damaged Goods, Truly She Is None Other)
MARY LOU LORD: Some Jingle Jangle Morning (Work, Mind The Gap)
THE GOLD NEEDLES: Have You Ever Loved Somebody (Jem, What's Tomorrow Ever Done For You?)
AMY RIGBY: Wait Til I Get You Home (Koch, The Sugar Tree)
—
TOMMY RAY: Beer Wine And Whiskey (Kool Kat Musik, Handful Of Hits)
THE RINGS: I Wanna Be Free (Chiswick, single)
URIAH HEEP: Easy Livin' (Sanctuary, The Ultimate Collection)
HAL BLAINE: The Beat Goes On (RockBeat, VA: The Wrecking Crew)
STAR COLLECTOR: Stranger (Renting Space In My Head) (Clockwise, Game Day)
THE STRANGLERS: London Lady (Parlophone, Rattus Norvegicus)
—
THE MONKEES: Sunny Girlfriend [acoustic remix of master vocal] (Rhino Handmade, Headquarters Sessions)
THE ANSWER: I'll Be In (White Whale, single)
THE GREAT OUTDOORS: Day Job (single)
THE BEVIS FROND: In Another Year (Rubric, Bevis Through The Looking Glass)
THE JIVE FIVE: What Time Is It (Collectables, Their Greatest Hits)
SAM COOKE: Another Saturday Night (Abkco, Portrait Of A Legend)
—
DOLPH CHANEY: Pleasant Under Glass (Big Stir, This Is Dolph Chaney)
KID GULLIVER: Forget About Him (Red On Red, single)GOSPEL SWAMPS: Great Distances (Big Stir, single)
SMOKESTACK LIGHTNIN': Got A Good Love (Craft, VA: The Land Of Sensations & Delights)
THE RUTLES: Ouch! (Rhino, The Rutles)
THE SMALL FACES: Shake (Deram, The Anthology 1965-1967)
—
STEVE STOECKEL & HIS THIS IS ROCK 'N' ROLL RADIO ALL-STARS: I Could Be Good For You (Futureman, VA: This Is Rock 'n' Roll Radio, Volume 3)
KELLEY RYAN: The Church Of Laundry (single)
THE HARRISONICS: Holly Goes Away (harrisonics.basndcamp.com, Love Songs For All Occasions)
MOTÖRHEAD: Motörhead (Sanctuary, The Best Of Motörhead)
THE RECORDS: Paint Her Face (Virgin, Smashes, Crashes & Near-Misses)
THE BOYS: I Don't Care (Cherry Red, VA: 1977: The Year Punk Broke)
THE RAMONES: I Don't Wanna Walk Around With You (Rhino, Ramones)
THE BEATLES: I Should Have Known Better (Apple, A Hard Day's Night)
BADFINGER: Baby Blue (Apple, Straight Up)
BIG STAR: September Gurls (Ardent, # 1 Record/Radio City)
BARNEY RUBBLE & THE FLINTSTONE CANARIES: The Soft Soap Jingle (from The Flintstones TV series)