This Is Rock 'n' Roll Radio # 1059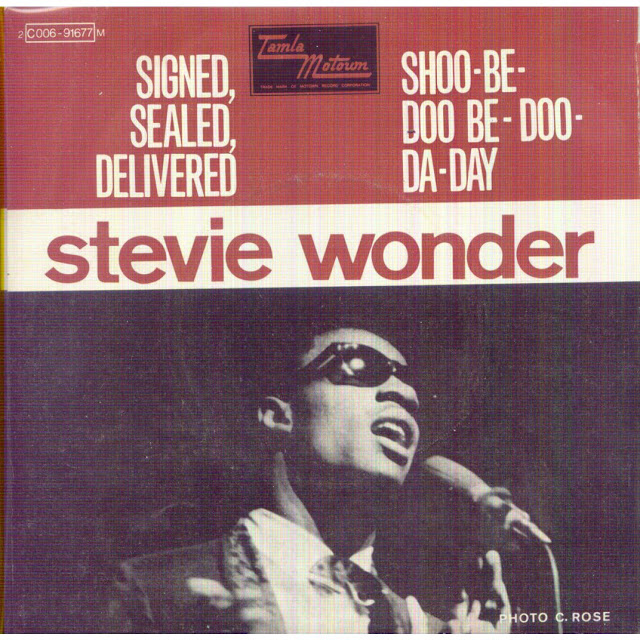 Signed, sealed, delivered–it's yours: another collection of rockin' pop music on the radio, blithely mixing eras and styles because it's all pop music. It stands together as one. That idea appeals to me: Standing together as one.
You like a different sound? That's all right. I'll have a listen. Maybe I'll learn something, or maybe it'll leave me cold, and I'll just go back to digging what I dig. The process of discovery includes finding things that aren't your thing. But it also includes the opportunity for revelation. Where would I be if no one had ever turned me on to specific music, specific artists, that I either didn't know or didn't properly appreciate? I'd be poorer for that lack. There is so much out there. There is so, so much out there.
We won't all like the same things. We won't. But there may be overlap. There may even be a common ground where we can dance. We can hear what we need to hear, not just what we want to hear. We can groove individually. We can stand together. We've got to stand together.
This is what rock 'n' roll radio sounded like on a Sunday night in Syracuse this week.
This Is Rock 'n' Roll Radio with Dana & Carl airs Sunday nights from 9 to Midnight Eastern, on the air in Syracuse at SPARK! WSPJ 103.3 and 93.7 FM, and on the web at http://sparksyracuse.org/ You can read all about this show's long and weird history here: Boppin' The Whole Friggin' Planet (The History Of THIS IS ROCK 'N' ROLL RADIO). TAX DEDUCTIBLE DONATIONS are always welcome.The many fine This Is Rock 'n' Roll Radio compilation albums are still available, each full of that rockin' pop sound you crave. A portion of all sales benefit our perpetually cash-strapped community radio project:
Volume 1: download
Volume 2: CD or download
Volume 3: download
Volume 4: CD or download
Waterloo Sunset–Benefit For This Is Rock 'n' Roll Radio: CD or download
PS: SEND MONEY!!!! We need tech upgrades like Elvis needs boats. Spark Syracuse is supported by listeners like you. Tax-deductible donations are welcome at
http://sparksyracuse.org/support/
You can follow Carl's daily blog Boppin' (Like The Hip Folks Do) at
https://carlcafarelli.blogspot.com/
Hey, Carl's writin' a book! The Greatest Record Ever Made! (Volume 1) will contain 165 essays about 165 songs, each one of 'em THE greatest record ever made. An infinite number of songs can each be the greatest record ever made, as long as they take turns. Updated initial information can be seen here. My weekly video series The Greatest Record Ever Made! on YouTube has posted my rants about The Ramones' "Do You Remember Rock 'n' Roll Radio?," Badfinger's "Baby Blue," Baron Damon and the Vampires' "The Transylvania Twist," Chuck Berry's "Promised Land," Dusty Springfield's "I Only Want To Be With You," The Sex Pistols' "God Save The Queen," Elvis Presley's "Heartbreak Hotel," and Big Mama Thornton's "Hound Dog," Patti Smith's "Gloria," The Monkees' "Riu Chiu," Eytan Mirsky's "This Year's Gonna Be Our Year," and Little Richard's "The Girl Can't Help It."
TIRnRR # 1059: 1/10/2021TIRnRR FRESH SPINS! Track we think we ain't played before are listed in bold

THE RAMONES: Do You Remember Rock 'n' Roll Radio? (Rhino, End Of The Century)
—
STEVIE WONDER: Signed, Sealed, Delivered I'm Yours (Motown, The Definitive Collection)
EYTAN MIRSKY: (I Just Wanna Be) Your Steve McQueen (M-Squared, Was It Something I Said?)
GRAHAM PARKER: Don't Let It Break You Down (RCA, The Best Of Graham Parker 1988-1991)
HOLLY GOLIGHTLY: Directly From My Heart (Damaged Goods, My First Holly Golightly Album)
GERRY & THE PACEMAKERS: You'll Never Walk Alone (EMI, The Best Of Gerry & the Pacemakers)
THE JAM: The Bitterest Pill (Polydor, Direction Reaction Creation)
—
KEN SHARP: Liquid Mercury (single)
CLOCKWORK FLOWERS: Sour Grapes (theclockworkflowers.com, Assorted Gemstones)
EMMYLOU HARRIS: Luxury Liner (Rhino, Luxury Liner)
THE NERVES: One Way Ticket (Alive, One Way Ticket)
THE TRAMMPS: Hold Back The Night (Ripete, VA: The Beach Music Anthology Box Set)
THE CURE: Boys Don't Cry (Elektra, Boys Don't Cry)
—
SUGAR SNOW: She Goes On (n/a, Woodface Reimagined)
SQUEEZE: Cool For Cats (A & M, The Squeeze Story)
MARSHALL CRENSHAW: T.M.D. (Razor & Tie, # 447)
TAJ MAHAL: Ain't That A Lot Of Love (Abkco, VA: The Rolling Stones Rock And Roll Circus)
LINDA RONSTADT: I Can't Let Go (Rhino, Greatest Hits 1 & 2)
DEE DEE WARWICK: You're No Good (History Of Soul, VA: Down In The Basement–Soul From New York 2)–
IRENE PEÑA: Tonight We Fly (Futureman, VA: Action Now: 20/20 Re-Envisioned)
SHOES: The Things You Do (Elektra, Tongue Twister)
BENNY SPELLMAN: Fortune Teller (EMI, VA: Crescent City Soul)
TITUS TEE TURNER: Stick And Stones (History Of Soul, VA: Down In The Basement–Soul From New York 2)
THE BEATLES: Leave My Kitten Alone (Apple, Anthology 1)
NATALIE SWEET: Lip Service (Rum Bar, Oh, By The Way…It's Natalie Sweet)
—
THE SKELETONS: Mad Old Lady (Hightone, Nothing To Lose)
KING COLEMAN: Down In The Basement (History Of Soul, VA: Down In The Basement–Soul From New York 2)
ARIELLE EDEN: Sagittarius (single)
THE WHITE STRIPES: Hotel Yorba (Legacy, Greatest Hits)
PETULA CLARK: You're The One (BMG, Ultimate Petula Clark)
MARY LOU LORD: Aim Low (Kill Rock Stars, Mary Lou Lord/Sean Na Na)
—
GEOFF PALMER & LUCY ELLIS: They Don't Know (Rum Bar, Your Face Is Weird)
KID GULLIVER: Forget About Him (Red On Red, single)
THE DAVE CLARK FIVE: Catch Us If You Can (Hollywood, The History Of The Dave Clark Five)
THE CLASH: I Fought The Law (Epic, The Essential Clash)
THE BOBBY FULLER FOUR: Another Sad And Lonely Night (Del-Fi, Never To Be Forgotten)
THE BANGLES: Hero Takes A Fall (Columbia, All Over The Place)–
THE FLASHCUBES: Hey Miss Betty (Northside, Flashcubes Forever)
THE BEATLES: I Feel Fine (Apple, Past Masters)
SLOAN: The Good In Everyone (The Enclave, One Chord To Another)
THE ROLLING STONES: Happy (Rolling Stones, Exile On Main Street)
LITTLE RICHARD: The Girl Can't Help It (Specialty, The Georgia Peach)
THE OUTLETS: Knock Me Down (Rhino, VA: DIY: Mass Ave)
—
BILL LLOYD: I Went Electric (ESD, Set To Pop)
THIN LIZZY: Whiskey In A Jar (Mercury, Dedication)
KATRINA & THE WAVES: Red Wine And Whiskey (Bongobeat, The Original Recordings 1983-1984)
THE HUMBUGS: She's Not Sad (Oddvious, She's Not Sad)
THE BROTHERS STEVE: Songwriter (Big Stir, # 1)
THE BOOBYTRAPS: Sha Lala (Off The Hip, The Boobytraps)
—
THE KINKS: You Can't Stop The Music (Velvel, A Soap Opera)
THE REVILLOS: Motorbike Beat (Captain Oi!, Rev Up)
THE JACKSON FIVE: I'll Be There (Motown, VA: Hitsville USA)JIGSAW: Sky High (Taragon, The Very Best Of Jigsaw)
THE CLICK BEETLES: Hey Renee (Big Stir, single)THE RECORDS: Teenarama (Virgin, Smashes, Crashes And Near-Misses)
THE HONEYBEES: You Need Us (from Gilligan's Island)
THE RAMONES: I Don't Want To Grow Up (Rhino, Weird Tales Of The Ramones)
ELVIS COSTELLO & THE ATTRACTIONS: You Belong To Me (Rykodisc, This Year's Model)