This Is Rock 'n' Roll Radio # 1056: The 22nd Annual THIS IS ROCK 'N' ROLL RADIO Christmas Show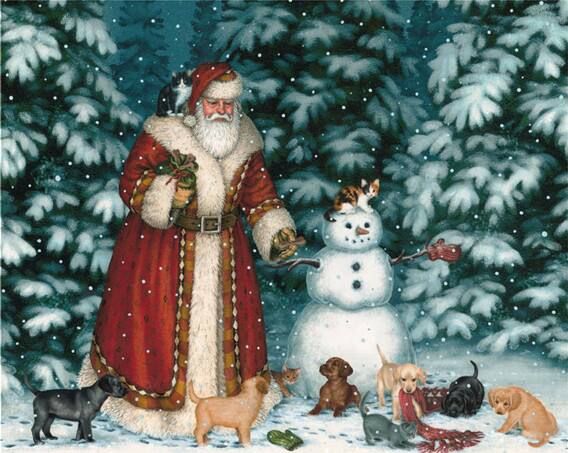 Father Christmas sighed.
He was a saint, but he was in many ways still as human as any of us. It had been such a long, difficult year. He could feel the pain of so, so many, of the children and the grown-up children alike, all over this world of wonder. Pain. Fear. Despair. The chilling gray of uncertainty. He knew the magic of hope. He embraced the redemptive power of faith. And yet he understood that even the belief in something better might not be enough to cast sufficient light into the darkness.
He also knew that the magic–of hope, of faith, of belief, of light itself–was often the only resource one could summon. The magic could fuel courage, and be fueled by courage in turn. The magic could draw strength from love, and fortify love with strength.
It wasn't about the toys. It was never really about the toys. It was always about striving to be better, kinder, to be good rather than evil, nice rather than naughty. He still believed. He would always believe.
That ache in his shoulder, that heaviness in his chest–did he suffer those mundane ailments a century ago? Did he feel them last year? He couldn't remember, and he decided it didn't matter anyway. He had a job to do.
Father Christmas rose from his chair. He wiped away the stray tear that stung his eye, and he hoisted his sack over his back. The damned thing got heavier every year. But he stood, determined and resolute. He was a symbol; he knew his importance and he knew his limitations. He didn't have Playstations, nor playthings of any kind. No His and Hers sports cars, no Beatles records, not even a fruitcake. The material gifts would be given and received outside of his provenance. His sack was filled with the magic itself: the wishes, the dreams, the prayers for brighter days, and the will to make days brighter to the best of our mortal ability.
As he boarded his sleigh, Father Christmas thought back once again to the words of Robert Frost, the words he recalled every year as he began his miracle trek around the globe:
I have promises to keep, and miles to go before I sleep.
He would not fail. His belief would see him through.
This has been a year unlike any other. We join Father Christmas in believing in brightness ahead, in songs to be sung, in loved ones to be cherished. We have miles to go. But we'll get there together.
Whatever season you celebrate, we wish you strength and magic. Happy Christmas from Dana and Carl.
The 22nd Annual This Is Rock 'n' Roll Radio Christmas Show
JOHN & YOKO: Happy Xmas (War Is Over) (Capitol, The John Lennon Collection)
—
NICK PIUNTI & THE COMPLICATED MEN: Christmas Morning (Jem, single)
MICHAEL CARPENTER: Wake Me Up When It's Christmas Time (Vandalay, VA: Christmas Without Cancer)
THE IDEA: It's About That Time (Black Vinyl, Yuletunes)
THE BEATLES: 1963 Christmas Message
MARVIN GAYE: Purple Snowflakes (Motown, VA: Christmas In The City)
TINA SUGANDH: White Christmas (Hollywood, VA: Christmas With The Kranks OST)
SIMON & GARFUNKEL: 7 O'Clock News/Silent Night (Columbia, Old Friends)
—
KARLA KANE: The Halsway Carol (Big Stir, single)
CARLA THOMAS: Gee Whiz, It's Christmas (Atlantic, VA: The Complete Stax-Volt Singles 1959-1968)
CHARLEY PRIDE: Santa And The Kids (RCA, single)
THE BEATLES: 1964 Christmas Message
IKE & TINA TURNER: Merry Christmas Baby (Rhino, VA: The Best Of Cool Yule)
POP CO-OP: Christmas Eyes (single)
THE ELVIS BROTHERS: Rock-A-Billy Christmas (Vandalay, VA: Hi-Fi Christmas Party Volume 2)
—
BERK/LEHANE: An Irishman For Christmas (Red On Red, single)
THE POGUES FEATURING KIRSTY MacCOLL: Fairytail Of New York (Rhino, VA: Just Can't Get Enough: New Wave Xmas)
THE BEATMAS: Mary's Boy Child (Kick Music, Xmas!)
THE BEATLES: 1965 Christmas Message
THE SOUL STIRRERS: Christmas Means Love (Checker, single)
BIBI FARBER WITH THE MICHAEL LYNCH ORCHESTRA: Gonna Ask Santa Claus (michaellynchmusic.bandcamp.com)
SKEETER DAVIS: Santa Claus Is Comin' To Town (Camden, VA: Christmas Country)
—
IRENE PEÑA: Will You Turn Up (For Christmas) (Big Stir, VA: Big Stir Singles–The Yuletide Wave)
THE VINCE GUARALDI TRIO: Skating (Fantasy, A Charlie Brown Christmas)
CHRISTOPHER GREY: I Can't Sleep On Christmas Eve (Volunteer, VA: Ho Ho Ho Spice)
THE BEATLES: 1966 Christmas Message
FOUNTAINS OF WAYNE: The Man In The Santa Suit (Virgin, Out-Of-State Plates)
ANNY CELSI: Christmas In The Pines (Ragazza, January)
THE KINKS: Father Christmas (Arista, single)
—
THE JAC [featuring The Christmas Crew]: Won't Be Leaving Home For Christmas (joealgeri.bandcamp.com)
THE DARKNESS: Christmas Time (Rhino, The Platinum Collection)
ROTARY CONNECTION: Christmas Love (Cadet Concept, Peace)
THE BEATLES: 1967 Christmas Message
EMERSON, LAKE & PALMER: I Believe In Father Christmas (PolyGram, VA: A Rock 'n' Roll Christmas)
THE SLINGSBY HORNETS: (Just Another) Friday Night (theslingsbyhornets1.bandcamp.com)
QUINT [FEATURING KAREN BASSET]: Bows Of Holly [Theme Song From The Film Beaus Of Holly] (n/a, Yes, It's Christmas)
—
THE DECIBELS: Christmas Wish (Kool Kat Musik, VA: A Kool Kat Kristmas Vol. 3)
BUCK OWENS: All I Want For Christmas Is My Daddy (Capitol, single)
MARGO GURYAN: I Don't Intend To Spend Christmas Without You (Oglio, 25 Demos)
THE BEATLES: 1968 Christmas Message
HE PRETENDERS: 2000 Miles (Sire, The Singles)
SI CRANSTOUN: A Christmas Twist (Galley Music, single)
DEAN LANDEW: Holiday Bash (deanlandew.bandcamp.com)
—
LAURIE BIAGINI: Can't Wait For Christmas (single)
BOOKER T & THE MG'S: Jingle Bells (Stax, In The Christmas Spirit)
RICHARD X. HEYMAN: I Can't Wait (Turn-Up, single)
THE BEATLES: 1969 Christmas Message
KIM WESTON: Wish You A Merry Christmas (Motown, VA: Merry Christmas From Motown)
THE MONKEES: Riu Chiu [TV version] (Rhino, Pisces, Aquarius, Capricorn & Jones, Ltd.)
GEORGE HARRISON: Ding Dong, Ding Dong (Dark Horse, Dark Horse)
THE SPONGETONES: Carol Of The Guitars (Loaded Goat, Mersey Christmas)