This Is Rock 'n' Roll Radio # 1040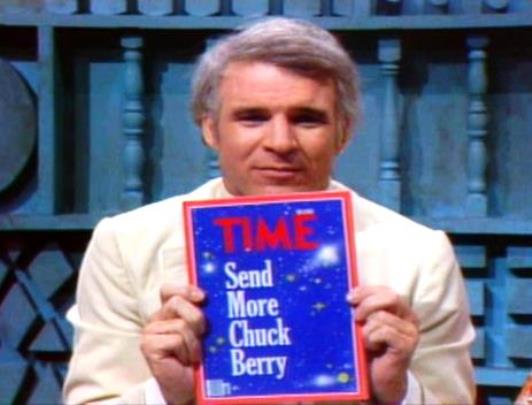 Send more Chuck Berry!
That Saturday Night Live line was inspired by NASA's launch of the Voyager probes in 1977, each containing a gold record meant to introduce extraterrestrials to the sound of Earth and its culture. The disc included a snippet of Chuck Berry's "Johnny B. Goode," prompting SNL's writers to suggest that intelligent aliens who heard this could only offer one plausible response: send more Chuck Berry.

That was also the inspiration for my recently-published short story "Guitars Vs. Rayguns," a foul-mouthed, three-chord comedy about a rock 'n' roll bar band playing their music at dives across the galaxies. Hijinks ensue.

The story drops gratuitous mentions of 27 essential rockin' pop acts. For this week's show, we played all 27 of 'em, offering a glimpse at the sort of material my planet-hopping combo likes to cover.

I hate to complain. No really, I do. But I tell ya, we just wanna play some rock 'n' roll on every distant planet, and a fight's gotta break out at every gig. Every. Single. Gig. Doesn't matter what planet we're playing. It's like space cowboys figure "Battle of the Bands" has to be literal. I've gone through more drummers than Spinal Tap….
(The story also name-checks Bettie Page, Ronnie Spector, Ursula Andress, P. P. Arnold, Suzi Quatro, Marie Antoinette, Cloris Leachman, and Playboy's Misses February, albeit in a slightly different context than it cites The Ramones and Otis Redding. In space, no one can see you blush.)

To supplement that interstellar soundtrack, we also paid tribute to the late Walter Lure of The Heartbreakers, and played oodles of additional essentials from The Who, The Donnas, Ian Hunter, Joan Armatrading, Bow Wow Wow, and more.

Send more Chuck Berry? We gotcha taken care of, you lovely aliens, you. This is what rock 'n' roll radio sounded like on a Sunday night stardate in Syracuse this week.
This Is Rock 'n' Roll Radio with Dana & Carl airs Sunday nights from 9 to Midnight Eastern, on the air in Syracuse at SPARK! WSPJ 103.3 and 93.7 FM, and on the web at http://sparksyracuse.org/ You can read all about this show's long and weird history here: Boppin' The Whole Friggin' Planet (The History Of THIS IS ROCK 'N' ROLL RADIO). TAX DEDUCTIBLE DONATIONS are always welcome.

The many fine This Is Rock 'n' Roll Radio compilation albums are still available, each full of that rockin' pop sound you crave. A portion of all sales benefit our perpetually cash-strapped community radio project:

Volume 1: download
Volume 2: CD or download
Volume 3: download
Volume 4: CD or download
Waterloo Sunset–Benefit For This Is Rock 'n' Roll Radio: CD or download
PS: SEND MONEY!!!! We need tech upgrades like Elvis needs boats. Spark Syracuse is supported by listeners like you. Tax-deductible donations are welcome at
http://sparksyracuse.org/support/
You can follow Carl's daily blog Boppin' (Like The Hip Folks Do) at
https://carlcafarelli.blogspot.com/

Hey, Carl's writin' a book! The Greatest Record Ever Made! (Volume 1) will contain 165 essays about 165 songs, each one of 'em THE greatest record ever made. An infinite number of songs can each be the greatest record ever made, as long as they take turns. Updated initial information can be seen here.

TIRnRR # 1040: 8/30/2020

Songs played by the fictional band in "Guitars Vs. Rayguns" are listed in bold
THE RAMONES: Do You Remember Rock 'n' Roll Radio? (Rhino, End Of The Century)
—
CHUCK BERRY: Johnny B. Goode (MCA, The Anthology)
THE GREAT SOCIETY: Someone To Love (Sundazed, Born To Be Burned)
PRINCE: When You Were Mine (Warner Brothers, The Hits/The B-Sides)
THE ROLLING STONES: Factory Girl (Abkco, Beggars Banquet)
THE GRIP WEEDS: Strange Bird (Kool Kat Musik, VA: This Is Rock 'n' Roll Radio, Volume 4)
THE EASYBEATS: Friday On My Mind (Retroactive, Gonna Have A Good Time)
—
JOHNNY THUNDERS & THE HEARTBREAKERS: One Track Mind (Jungle, L.A.M.F.)
THE DEAD BOYS: Sonic Reducer (Sire, Young, Loud And Snotty)
DAVID BOWIE: Suffragette City (Virgin, Best Of Bowie)
IGGY POP: It's My Life (Cleopatra, Psychphonic Medicine)
THE SUPREMES: You Keep Me Hangin' On (Motown, DIANA ROSS & THE SUPREMES: The Ultimate Collection)
HOLY HOLY: The Man Who Sold The World (Maniac Squat, single)
—
POP CO-OP: No Man's Land (Futureman, Factory Settings)
THE MOODY BLUES: Tuesday Afternoon (Forever Afternoon) (Deram, Days Of Future Passed)
LARRY WILLIAMS: She Said Yeah (Brownsville, Larry Williams Said Yeah!)
RICK SPRINGFIELD: The Man That Never Was (Roswell, VA: Sound City: Real To Reel)
THE CRICKETS: T Shirt (CBS, T-Shirt)
PAUL McCARTNEY: Cut Me Some Slack (Roswell, VA: Sound City: Real To Reel)
—
THE ISLEY BROTHERS: It's Your Thing (Epic, The Essential Isley Brothers)
MICK RONSON: Growing Up And I'm Fine (RCA, Slaughter On 10th Avenue)
THE RAMONES: Judy Is A Punk (Rhino, Ramones)
IAN HUNTER: Dandy (Proper, Fingers Crossed)
ARETHA FRANKLIN: Respect (Atlantic, The Atlantic Singles Collection 1967-1970)
CROSBY, STILLS, NASH & YOUNG: Deja Vu (Atlantic, Deja Vu)
—
THE BEATLES: I Saw Her Standing There (Capitol, Meet The Beatles)
THE DONNAS: Dancing With Myself (Rykodisc, VA: Mean Girls OST)
DUSTY SPRINGFIELD: I Only Want To Be With You (Mercury, The Very Best Of Dusty Springfield)
THE WHO: Substitute (MCA, The Very Best Of The Who)
THE BAY CITY ROLLERS: Wouldn't You Like It (Arista, The Definitive Collection)
THE ENGLISH BEAT: Mirror In The Bathroom (G-Feet, Keep The Beat)
—
THE FLASHCUBES: When We Close Our Eyes (Northside, Brilliant)
CHARLIE ROBBINS: Heart Says Go (Blue Wave, VA: History Of Syracuse Music, Volume 14)
LITTLE RICHARD: The Girl Can't Help It (Specialty, The Georgia Peach)
BOW WOW WOW: I Want Candy (Sony, VA: Pure…Alternative 80s)
THE EVERLY BROTHERS: Gone, Gone, Gone (Warner Brothers, Walk Right Back)
DR. FEELGOOD: I Don't Mind (Rhino, VA: Classic Punk)
—
SMOKEY ROBINSON & THE MIRACLES: The Tears Of A Clown (Motown, VA: Hitsville USA)
JOAN ARMATRADING: Me Myself I (A & M, Greatest Hits)
THE SMALL FACES: What'cha Gonna Do About It (Deram, The Decca Anthology 1965-1967)
THE MUFFS: On My Own (Omnivore, No Holiday)
RICK JAMES: Super Freak (Motown, Icon)
MARY LOU LORD: Driven Away (Rubric, Speeding Motorcycle)
—
THE KINKS: You Still Want Me (Sanctuary, The Anthology 1964-1971)
THE ROMANTICS: What I Like About You (Nemperor, The Romantics)
SLY & THE FAMILY STONE: Everyday People (Epic, Greatest Hits)
THE CURE: Friday I'm In Love (Polydor, Greatest Hits)
BIG STAR: I'm In Love With A Girl (Ardent, # 1 Record/Radio City)
SUGAR: If I Can't Change Your Mind [solo acoustic mix] (Rykodisc, single)
SAM & DAVE: Soul Man (Atlantic, VA: The Complete Stax/Volt Singles 1959-1968)
THE JAM: All Around The World (Polydor, Direction Reaction Creation)
OTIS REDDING: Pounds And Hundreds [LBS + 100s] (Rhino, Otis!)
MAKIN' TIME: Feels Like It's Love (RPM, Rhythm!)
KISS: Shout It Loud (Mercury, The Very Best Of KISS)
THE STRANGLERS: No More Heroes (A & M, Peaches)
THE SEX PISTOLS: C'mon Everybody (Warner Brothers, The Great Rock 'n' Roll Swindle)