This Is Rock 'n' Roll Radio # 1027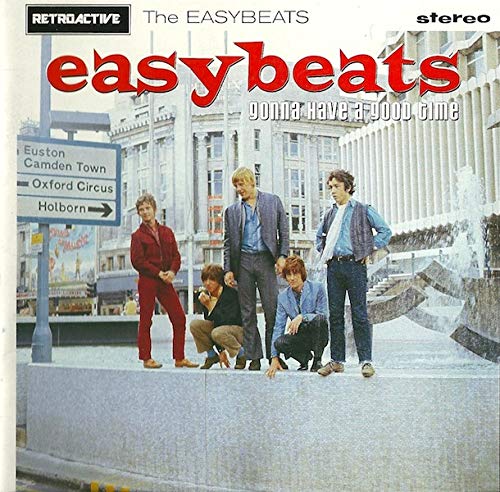 Good times. We do wish for good times.

When times aren't good, there is an understandable inclination to look back and wish that things could be like they used to be. Nostalgia is comforting, but at least partially illusion. Our selective memories do not provide an accurate depiction of what really was; the fish-eye lens of personal recollection distorts and omits much of what might have affected other people we knew, and others we never knew. We may exaggerate the glow of happiness, downplay the darkness, accentuate the positive. There was some good in the good old days. There was also quite a lot of bad in those very same days.
This Is Rock 'n' Roll Radio does not exist in a bubble. We're aware of chaos all around us, from the ravages of a pandemic to the ongoing horror of systemic racism. Black lives matter. As a middle-aged (and then some) suburban white guy, I'm not qualified to embellish that. Black lives matter.
But TIRnRR is just a willfully-frivolous weekly radio show. We're not designed to address society's ills in any meaningful way. Sometimes our anger–with how what is falls bitterly short of what should be–permeates our attitude, guides our playlist. More often, we play our pop songs for three hours, and then return to the real world. And we do our best to make it better.
We did a fantastic show this week. We commemorated the fourth anniversary of The Monkees' 2016 Good Times! album, we played great new music from Vegas With Randolph, Nick Piunti and the Complicated Men, Ken Sharp, The Jangle Band, Duncan Reid and the Big Heads, and Captain Wilberforce, and we skipped blithely from the '50s through this battered 21st century in search of good times. And we found them, if only in the moment. 
But it feels like there should be an asterisk next to the playlist, denoting that sure, yeah, good times!, but only if we close our eyes and dream. Only if we can close our eyes and dream.
I guess that's okay for a short respite. As long we remember to open our eyes, and to keep them open when we have to. Dream into reality. Make something happen. 
Vote. 
There will be no good times if we don't.
This is what rock 'n' roll radio sounded like on a Sunday night in Syracuse this week.
This Is Rock 'n' Roll Radio with Dana & Carl airs Sunday nights from 9 to Midnight Eastern, on the air in Syracuse at SPARK! WSPJ 103.3 and 93.7 FM, and on the web at http://sparksyracuse.org/ You can read all about this show's long and weird history here: Boppin' The Whole Friggin' Planet (The History Of THIS IS ROCK 'N' ROLL RADIO). TAX DEDUCTIBLE DONATIONS are always welcome.

The many fine This Is Rock 'n' Roll Radio compilation albums are still available, each full of that rockin' pop sound you crave. A portion of all sales benefit our perpetually cash-strapped community radio project:
PS: SEND MONEY!!!! We need tech upgrades like Elvis needs boats. Spark Syracuse is supported by listeners like you. Tax-deductible donations are welcome at 
http://sparksyracuse.org/support/
You can follow Carl's daily blog Boppin' (Like The Hip Folks Do) at 
https://carlcafarelli.blogspot.com/

Hey, Carl's writin' a book! The Greatest Record Ever Made! (Volume 1) will contain 134 essays about 134 songs, each one of 'em THE greatest record ever made. An infinite number of songs can each be the greatest record ever made, as long as they take turns. Updated initial information can be seen here.
TIRnRR # 1027: 5/31/2020
TIRnRR FRESH SPINS! Tracks we think we ain't played before are listed in bold.

THE RAMONES: Do You Remember Rock 'n' Roll Radio? (Rhino, End Of The Century)
—
THE MONKEES: Good Times (Rhino, Good Times!)
MONDELLO: Sherilyn (mondello.bandcamp.com, Hello, All You Happy People)
THE MAIN INGREDIENT: Everybody Plays The Fool (Rhino, VA: Can You Dig It?)
ARETHA FRANKLIN: Dr. FeelGood (Atlantic, The Atlantic Singles Collection 1967-1970)
BUZZED MEG: Love's Made A Fool Of You (# 9, VA: Our Favorite Texan)
BUDDY HOLLY: Rave On (MCA, The Buddy Holly Collection)
—
VEGAS WITH RANDOLPH: N.S.A. (vegaswithrandolph.bandcamp.com)
MATTHEW SWEET & SUSANNA HOFFS: You're So Vain (Shout Factory, The Best Of Under The Covers)
KISS: Calling Dr. Love (Mercury, Rock And Roll Over)
SUN DRAGON: So You Want To Be A Rock 'n' Roll Star (Cherry Red, VA: Looking At The Pictures In The Sky)
THE VAPOUR TRAILS: Why Wonder Why (Futureman, Golden Sunshine)
JOAN ARMATRADING: Me Myself I (A & M, Greatest Hits)
—
NICK PIUNTI & THE COMPLICATED MEN: Upper Hand (Jem, Downtime)
THE EASYBEATS: Friday On My Mind (Retroactive, Gonna Have A Good Time)
KEN SHARP: The Kids Are Alright (kensharp.bandcamp.com)
THE WALKER BROTHERS: No Regrets (Universal, No Regrets)
EARTH, WIND & FIRE: Boogie Wonderland (Columbia, The Eternal Dance)
LES HANDCLAPS: Let's Go To The Beach (Handclaps, Sessions: Brooklyn)
—
THE MONKEES: Birth Of An Accidental Hipster (Rhino, Good Times!)
WRECKLESS ERIC: Take The Cash (K.A.S.H.) (Salvo, Hits, Misses, Rags & Tatters)
POP CO-OP: Persistence Of Memory (Futureman, Factory Settings)
SCOTT WALKER: Black Sheep Boy (Fontana, Scott 2)
MARYKATE O'NEIL: I'm Ready For My Luck To Turn Around (71, 1-800-Bankrupt)
MANNIX: Highway Lines (Futureman, VA: This Is Rock 'n' Roll Radio, Volume 3)
—
THE JANGLE BAND: So Long (joealgeri.bandcamp.com, The Metro Hotel EP)
HARMONIC DIRT: Maybe (harmonicdirt.com, Anthracite)
CHUCK BERRY: Carol (MCA, The Anthology)
JETHRO TULL: Aeroplane (Cherry Red, VA: Looking At The Pictures In The Sky)
THE BOYS: The First Time [alternate version] (Cherry Red, VA: Harmony In My Head)
THE FALL: Victoria (Beggars Banquet, 50,000 Fall Fans Can't Be Wrong)
—
DUNCAN REID & THE BIG HEADS: Your Future Ex Wife (LBH, Don't Blame Yourself)
BASH & POP: Anything Could Happen (Fat Possum, Anything Could Happen)
LESLEY GORE: California Nights (Mercury, It's My Party)
SKEETER DAVIS: I Can't Stay Mad At You (Real Gone Music, VA: Honeybeat)
THE WALKER BRIGADE: Fallout (Big Stir, VA: Big Stir Singles–The Sixth Wave)
THE MO-DETTES: White Mice (Rhino, VA: DIY: Starry Eyes)
—
CAPTAIN WILBERFORCE: I'm The Fool (Kool Kat Musik, When The Dust Just Won't Settle)
MARY LOU LORD: Driven Away (Rubric, Speeding Motorcycle)
THE MONKEES: Me & Magdalena (Rhino, The Mike & Micky Show)
THE HEARTBREAKERS: Blank Generation (Cleopatra, Yonkers Demo 1976)
JAMES BROWN: Please, Please, Please (UTV, The 50th Anniversary Collection)
ERMA FRANKLIN: I Don't Want No Mama's Boy (Real Gone Music, VA: Honeybeat)
—
THE MONKEES: Terrifying (Rhino, Good Times! [digital edition])
BUFFALO SPRINGFIELD: Burned (Rhino, Buffalo Springfield)
MICHAEL CARPENTER & MICHAEL OLIVER: It Only Hurts When I Breathe (single)
THE WHAT FOUR: I'm Gonna Destroy That Boy (Ace, Destroy That Boy)
JUSTINE & THE UNCLEAN: Vengeance (Rum Bar, single)
GIA MATEO: If You Can't Say Anything Nice (Real Gone Music, VA: Honeybeat)
THE RAMONES: Swallow My Pride (Rhino, Leave Home)
HOLLY GOLIGHTLY: Time Will Tell (Damaged Goods, Truly She Is None Other)
THE TONY JACKSON GROUP: Fortune Teller (Castle, Watch Your Step!)
THE BEE GEES: Spicks & Specks (Festival, Brilliant From Birth)
THE KINKS: All Day And All Of The Night (Sanctuary, The Ultimate Collection)
THE MUFFS: On My Own (Omnivore, No Holiday)
THE EMOTIONALS: Cheat On Me (Native, Personal Pleasure)