This Is Rock 'n' Roll Radio # 1011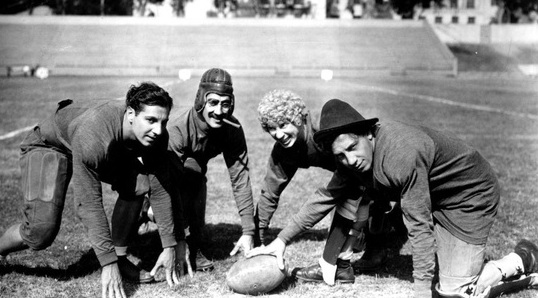 Actually, I like football.

I don't really follow it, at least as far as the NFL goes. I check in throughout the season to see how the Buffalo Bills are doing; in the (perhaps unlikely) event the Bills ever make it back to the Super Bowl again, I'll probably skip participating in This Is Rock 'n' Roll Radio that night, stay home, and yell at my TV on behalf of this team I don't really follow. The Super Bowl isn't otherwise a big thing for me, but I understand its appeal, and I'm happy for those who love it. It's good to do something you love.

Sports. I'm okay with sports. I follow the Syracuse University football team (disappointing season, but we'll get 'em next year). SU Men's Basketball is up there with superheroes and rockin' pop music in the pantheon of my obsessions, and in baseball I kinda root for the New York Yankees from afar, without watching many games. I've never been interested in the Olympics, but I know that many folks love the Olympics, just as many love lots of things that don't matter much to me: reality TV, polka, the Oscars, dog shows, Game Of Thrones, karaoke, soccer, licorice, wrestling, foreign films, horror movies, etc. In turn, you may or may not share my enthusiasm for the Tony Awards, musical theater, comic books, bubblegum records, KISS, pulp paperbacks, Mighty Taco, Gilmore Girls, punk, the Marvel Cinematic Universe, Shakespeare In The Park, sketching Batman, or, y'know, writing stuff. Hell, I even occasionally enjoy parts of the GRAMMYs, which might make me something like a pariah in my peer group (if I had a peer group).

We dig what we dig. It's our right. 

Sunday night, I watched the first half of the Super Bowl before heading into the studio; I'll watch the half-time show on my DVR Monday night. For now, we have the serious business of putting on a radio show. There's new music from Screen Test, The Forty Nineteens, Richard Turgeon, The Armoires, and Rattanson, a newly-reissued treat from The Real Impossibles, a farewell to Gang Of Four guitarist Andy Gill, and a proud selection of other things we dig. It's good to do something you love. Go, team, go! This is what rock 'n' roll radio sounded like on a Sunday night in Syracuse this week.
This Is Rock 'n' Roll Radio with Dana & Carl airs Sunday nights from 9 to Midnight Eastern, on the air in Syracuse at SPARK! WSPJ 103.3 and 93.7 FM, and on the web at http://sparksyracuse.org/ You can read about our history here. TAX DEDUCTIBLE DONATIONS are always welcome.
The many fine This Is Rock 'n' Roll Radio compilation albums are still available, each full of that rockin' pop sound you crave. A portion of all sales benefit our perpetually cash-strapped community radio project:
PS: SEND MONEY!!!! We need tech upgrades like Elvis needs boats. Spark Syracuse is supported by listeners like you. Tax-deductible donations are welcome at 
http://sparksyracuse.org/support/
You can follow Carl's daily blog Boppin' (Like The Hip Folks Do) at 
https://carlcafarelli.blogspot.com/

Hey, Carl's writin' a book! The Greatest Record Ever Made! (Volume 1) will contain 125 essays about 125 songs, each one of 'em THE greatest record ever made. An infinite number of songs can each be the greatest record ever made, as long as they take turns. Updated initial information can be seen here.

TIRnRR # 1011: 2/2/2020
This Is Rock 'n' Roll Radio FRESH SPINS! (tracks we think we ain't played before) are listed in bold

THE RAMONES: Do You Remember Rock 'n' Roll Radio? (Rhino, End Of The Century)
—
THE WEEKLINGS: In The Moment (Jem, 3)
BUDDY HOLLY: Rave On (MCA, The Buddy Holly Collection)
THE JACKSON FIVE: I'll Be There (Motown, VA: Hitsville USA)
GANG OF FOUR: We Live As We Dream, Alone (V2, Return The Gift)
THE MONKEES: For Pete's Sake (Rhino, Headquarters)
THE GO-BETWEENS: Was There Anything I Could Do? (Beggars Banquet, Bellavista Terrace)
—
SCREEN TEST: Runnin' With The Bad Guys (unreleased)
THE CLASH: London Calling (Epic, The Singles)
THE DARLING BUDS: Let's Go Round There (Columbia, Pop Said…)
BONZO DOG DOO DAH BAND: Death Cab For Cutie (BGO, Gorilla)
THE B-52'S: 52 Girls (Rhino, Nude On The Moon)
GANG OF FOUR: I Found That Essence Rare (Infinite Zero, Entertainment! & Yellow EP)
—
THE FORTY NINETEENS: Tell Me (Big Stir, single)
THE OUTLETS: Knock Me Down (Rhino, VA: DIY: Mass Ave)
SLY & THE FAMILY STONE: Stand! (Epic, Greatest Hits)
RADIO BIRDMAN: New Race (Feel, VA: Tales from The Australian Underground Vol. 2)
THE DAVE CLARK FIVE: Glad All Over (Hollywood, The History Of The Dave Clark five)
SQUEEZE: Another Nail For My Heart (A & M, Singles–45's And Under)
—
RICHARD TURGEON: Running For Your Life (richardturgeon.bandcamp.com, single)
AMY RIGBY: Dancing With Joey Ramone (Signature Sounds, Little Fugitive)
THE TRAGICALLY HIP: Small Town Bringdown (MCA, The Tragically Hip)
THE HOLLIES: Carrie Anne (Epic, Epic Anthology)
STEVIE WONDER: I Believe (When I Fall In Love It Will Be Forever) (Tamla, Talking Book)
THE SOFT BOYS: I Wanna Destroy You (Rhino, VA: Children Of Nuggets)
—
KISS: Anything For My Baby (Mercury, Dressed To Kill)
SWEET: Love Is Like Oxygen (RCA, Action)
THE REAL IMPOSSIBLES: Cherry Cherry (Rum Bar, It's About Time)
THE BEATLES: Tomorrow Never Knows (Apple, Revolver)
BLUE OYSTER CULT: This Ain't The Summer Of Love (Columbia, Workshop Of The Telescopes)
THE STOOGES: 1969 (Virgin, IGGY POP: A Million In Prizes)
—
THE ARMOIRES: Pushing Forty (Big Stir, single)
THE WHO: The Kids Are Alright (MCA, My Generation)
THE MUFFS: On My Own (Omnivore, No Holiday)
GANG OF FOUR: At Home He's A Tourist (Infinite Zero, Entertainment! & Yellow EP)
RATTANSON: Kiss This Year Goodbye (Kool Kat Musik, I'd Much Rather Be With The Noise)
WARREN ZEVON: Lawyers, Guns And Money (Rhino, Genius)
—
PAUL COLLINS: Glittering Gold (Kool Kat Musik, VA: For The Record–A Tribute To John Wicks)
TEENAGE FANCLUB: Pet Rock (DGC, Bandwagonesque)
BLAINE CAMPBELL: Small Town Girl (blainecampbell.bandcamp.com, Under The Tidal Wave)
KING CRIMSON: Cat Food (Ace, VA: Jon Savage's 1969-1971)
TIN TIN: Toast And Marmalade (Atco, Tin Tin)
THE BEE GEES: Spicks And Specks (Festival, Brilliant From Birth)
—
BEN VAUGHN: Hold Your Peace (Sound Asleep, VA: Hit The Hay Vol. 11)
LES HANDCLAPS: Surfin' Barista (Handclaps, Sessions: Brooklyn)
THE KINKS: Dedicated Follower Of Fashion (Sanctuary, The Ultimate Collection)
MARY LOU LORD: Driven Away (Rubric, Speeding Motorcycle)
ROB MARTINEZ: All I Ever Wanted (Karma Frog, Maybe Miss America)
BASH & POP: Anything Could Happen (Fat Possum, Anything Could Happen)
JOHNNY JOHNSON & HIS BANDWAGON: Blame It (On The Pony Express) (Kent, Breakin' Down The Walls Of Heartache)
GANG OF FOUR: To Hell With Poverty (Warner Brothers, A Brief History Of The Twentieth Century)
CHUCK BERRY: In-Go (Moochin' About, VA: The Greatest Instrumentals 1934-1962)