This Is Rock 'n' Roll Radio # 1009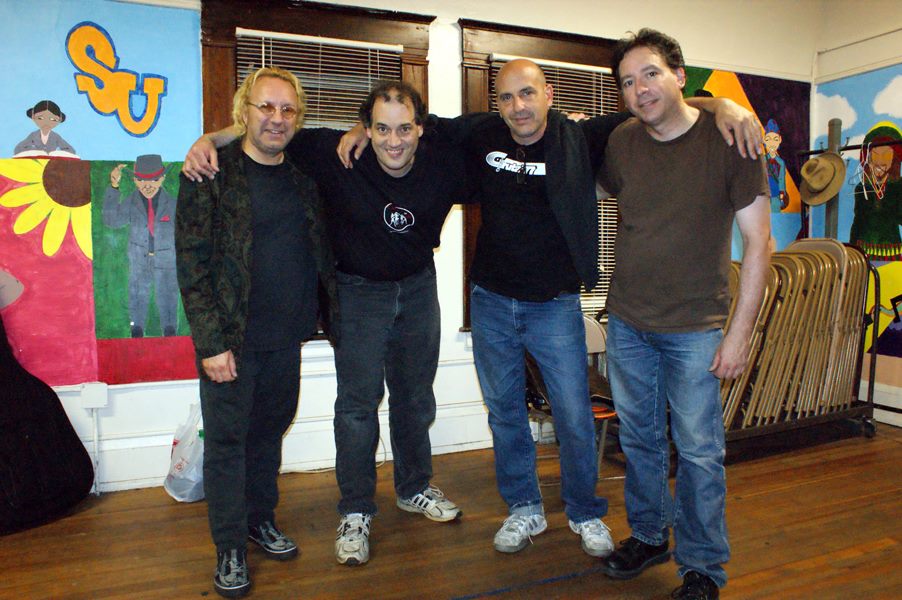 I don't want to grow up.

We're told we have no choice in this matter. That is not entirely true. Sure, we have responsibilities, bills to pay, promises to keep. We get sick. We age. The precedent set by humans throughout recorded history strongly suggests we will die. Someday. No one gets out of life alive.

But growing up? Not in the contract. Not if we don't want it there.

As I write this on another Sunday night in the studio, I am 60 years and two days old. I don't want to grow up. For whatever empirical chronology the calendar claims with smug impunity, whatever nagging aches my bones endure, my mind insists I'm still that kid I'll always be: plucking new comic books off the spinner rack, singing along with frothy, catchy pop music on the radio, reading pulp fiction, head in the clouds, imagining, dreaming, stars in my eyes at the sight of the girl I love. I'm not gonna suddenly change now, no matter how many decades I've accumulated.

I mean, could you imagine trying to do This Is Rock 'n' Roll Radio if I were a…[shudder] GROWN-UP? Nope. Ain't happenin'. Turn your transistor up, loud and distorted. We got a radio show to do here.

And this week's radio show is dedicated to the memory of John Wicks, the wonderful artist we lost over a year ago. John established his pop legend as lead singer with the unforgettable British groups Kursaal Flyers and The Records in the '70s; he was a stellar guy, loved by all who knew him. A superb new compilation called For The Record–A Tribute To John Wicks gathers twelve songs John had written or co-written but not finished recording before his death in 2018. The world needed to hear these songs, so John's friend (and ours) Rich Rossi called on some of John's other friends to make it so. Produced by Jamie Hoover, the result is one of the best tributes I've ever heard, one of the most sincere rock 'n' roll love letters ever crafted. It's a pure thrill to listen, a pure thrill to play. That thrill will never grow old.

And it sure as hell isn't going to grow up. Neither am I. This is what rock 'n' roll radio sounded like on a Sunday night in Syracuse this week.
This Is Rock 'n' Roll Radio with Dana & Carl airs Sunday nights from 9 to Midnight Eastern, on the air in Syracuse at SPARK! WSPJ 103.3 and 93.7 FM, and on the web at http://sparksyracuse.org/ You can read about our history here. TAX DEDUCTIBLE DONATIONS are always welcome.
The many fine This Is Rock 'n' Roll Radio compilation albums are still available, each full of that rockin' pop sound you crave. A portion of all sales benefit our perpetually cash-strapped community radio project:
Volume 1: download
Volume 3: download
Waterloo Sunset–Benefit For This Is Rock 'n' Roll Radio:  CD or download
PS: SEND MONEY!!!! We need tech upgrades like Elvis needs boats. Spark Syracuse is supported by listeners like you. Tax-deductible donations are welcome at 
http://sparksyracuse.org/support/
You can follow Carl's daily blog Boppin' (Like The Hip Folks Do) at 
https://carlcafarelli.blogspot.com/

Hey, Carl's writin' a book! The Greatest Record Ever Made! (Volume 1) will contain 100 essays (and then some) about 100 songs (plus bonus tracks!), each one of 'em THE greatest record ever made. An infinite number of songs can each be the greatest record ever made, as long as they take turns. Updated initial information can be seen here.

TIRnRR # 1009: 1/19/2020
This Is Rock 'n' Roll Radio FRESH SPINS! (tracks we think we ain't played before) are listed in bold

THE RAMONES: Do You Remember Rock 'n' Roll Radio? (Rhino, End Of The Century)
—
THE RAMONES: I Don't Want To Grow Up (Radioactive, Adios Amigos!)
EDDIE & THE HOT RODS: Do Anything You Wanna Do (Rhino, Classic Punk)
THE GRIP WEEDS: Give Me Some Of Your Ways [loud version] (Ground Up, Giant On The Beach)
JUPITER AFFECT: Loved One's Lies (eggBERT, Instructions For The Two Ways Of Becoming Alice)
RAY PAUL: The Sun Sets Over London Town (Kool Kat Musik, VA: For The Record–A Tribute To John Wicks)
THE BEVIS FROND: Gig Bag (Fire, We're Your Friends, Man)
—
PAUL COLLINS: Glittering Gold (Kool Kat Musik, VA: For The Record–A Tribute To John Wicks)
THE HOLLIES: King Midas In Reverse (Epic, Epic Anthology)
ANTON BARBEAU: Jingle Jangle (Big Stir, Kenny Vs. Thrust)
THE WHO: I Can't Explain (MCA, My Generation)
THE CONTOURS: It's So Hard Being A Loser (Motown, The Very Best Of The Contours)
NIRVANA: Molly's Lips (DGC, Incesticide)
—
KEN SHARP: Break Down The Walls (Jefighter, 1301 Highland Avenue)
MARY LOU LORD: His Lamest Flame (Rubric, Live City Sounds)
DON DIXON: Money & A Fu Manchu (Kool Kat Musik, VA: For The Record–A Tribute To John Wicks)
AMY RIGBY: From philiproth@gmail To rzimmerman@aol.com (Southern Domestic, The Old Guys)
SLY & THE FAMILY STONE: Stand! (Epic, Greatest Hits)
BASH & POP: Anything Could Happen (Fat Possum, Anything Could Happen)
—
THE RECORDS: Starry Eyes (Virgin, Smashes, Crashes And Near Misses)
KURSAAL FLYERS: Television Generation (Rhino, VA: DIY: Teenage Kicks)
JOHN WICKS & THE RECORDS: Edges Of A Dream (JAM, VA: This Is Rock 'n' Roll Radio, Volume 2)
JOHNNY THUNDERS & THE HEARTBREAKERS: Chinese Rocks (Jungle, L.A.M.F.)
PAUL REVERE & THE RAIDERS: Kicks (Sundazed, Midnight Ride)
THE MONKEES: (I'm Not Your) Steppin' Stone (Rhino, More Of The Monkees)
—
JAMIE HOOVER: Repo Man (Kool Kat Musik, VA: For The Record–A Tribute To John Wicks)
THE BENT BACKED TULIPS: I Think (eggBERT, Looking Through…)
THE WEEKLINGS: 3 (Jem, 3)
THE CLASH: Train In Vain (Epic, Clash On Broadway)
THE BEACH BOYS: Sail On Sailor (Capitol, Good Vibrations)
THE MUFFS: Big Mouth (Warner Brothers, The Muffs)
—
ROB MARTINEZ: All I Ever Wanted (Karma Frog, Maybe Miss America)
THE VASELINES: Jesus Wants Me For A Sunbeam (Sub Pop, Enter The Vaselines)
BILL BERRY: 1-800-Colonoscopy (Kool Kat Musik, VA: For The Record–A Tribute To John Wicks)
HINDU LOVE GODS: Raspberry Beret (Rhino, WARREN ZEVON: Genius)
THE ZOMBIES: This Will Be Our Year (Varese Sarabande, Odessey And Oracle)
THE LEFT BANKE: Pretty Ballerina (Mercury, There's Gonna Be A Storm)
—
JOHN WICKS [FEATURING DAVE NACHMANOFF]: She's All I Need (Kool Kat Musik, VA: For The Record–A Tribute To John Wicks)
THE CATS: Sure He's A Cat (Lovin' You Like You Wouldn't Believe) (Teensville, VA: Men Of The Moment)
THE FLASHCUBES: No Promise (Northside, Bright Lights)
THE RASPBERRIES: I Wanna Be With You (Big Beat, VA: Come On Let's Go!)
CHUCK BERRY: Johnny B. Goode (MCA, The Anthology)
DAVID BOWIE: London Bye Ta Ta (Virgin, Bowie At The Beeb)
—
PETER CASE: In & Out Motel (Kool Kat Musik, VA: For The Record–A Tribute To John Wicks)
ANY TROUBLE: Second Choice (Salvo, VA: Born Stiff)
CARLA OLSON: (The Sordid Tale Of) Elvis Strange (Kool Kat Musik, VA: For The Record–A Tribute To John Wicks)
CHES BONETREES: Everybody Oughtta Meet My Baby (Teensville, VA: Men Of The Moment)
THE RECORDS: Rock And Roll Love Letter (Virgin, Smashes, Crashes And Near Misses)
X-RAY SPEX: Oh Bondage! Up Yours! (Sanctuary, Germfree Adolescents)
PAUL REVERE & THE RAIDERS: Melody For An Unknown Girl (Sundazed, Midnight Ride)