This Is Rock 'n' Roll Radio # 998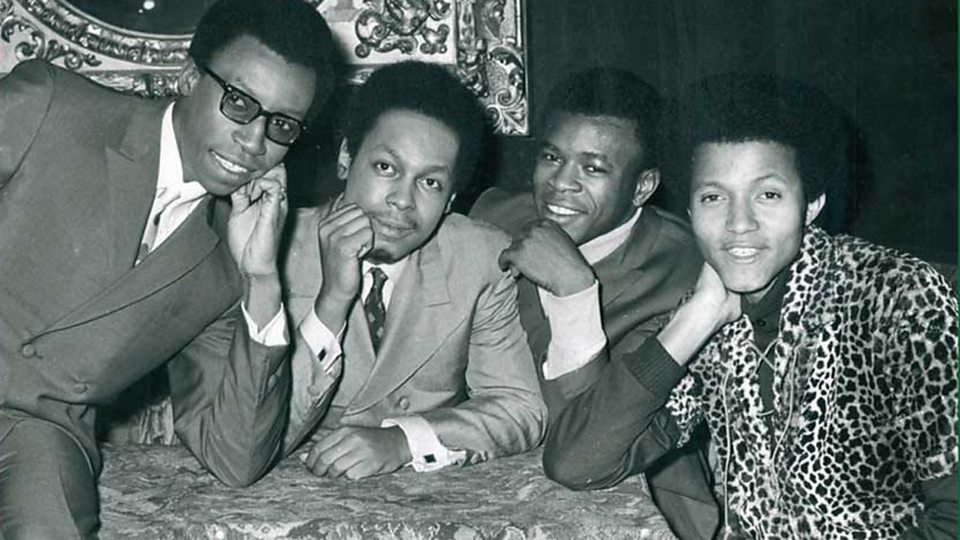 Any record you ain't heard yet is a new record. And if you like it, you don't care if it's old or new, a cover or an original, performed by a tyro or a veteran, and you don't give a damn if it's rock or soul or power pop or country or whatever label a pundit like me affixes to it. You like it. You dig what you wanna dig. And you have a new record to love.

A week ago Sunday, as I was home preparing music for that night's TIRnRR, I heard a song for the first time: "Breakin' Down The Walls Of Heartache" by The Bandwagon. On a whim, I had purchased a CD collection of the best of Johnny Johnson & the Bandwagon; I knew a few Bandwagon tracks–the bubblesoul classic "Blame It (On The Pony Express)," plus unique covers of "Let's Hang On" and "Mr. Tambourine Man"–and thought the group might have cut a few more interesting tracks that I didn't know about. "Breakin' Down The Walls Of Heartache" was the first song on the CD.

I played it. And I flipped out. 

It didn't matter that it was from 1968; it was new, new and exciting. I had a new favorite record. Like we've been saying a lot lately: make new friends, but keep the old.

My 60th birthday is looming in January, and I'm fine with that. It's old to some, not all that old to others. My enthusiasm for pop music remains as pervasive and fulfilling as it has been throughout my life so far, a boundless source of energy and affection. There are still a lot of new records waiting for me, and a lot of old favorites that still feel new. 

For this week's celebration of TIRnRR # 998, we featured the music of The Bandwagon/Johnny Johnson & the Bandwagon/Johnny Johnson & his Bandwagon, alongside new tracks by The Cowsills, Micky Dolenz, The Jellybricks, Nick Frater, West Coast Music Club, Nezrock, and The Speed Of Sound, all blended with familiar friends like The Kinks, Joan Armatrading, Squeeze, Anny Celsi, and Merle Haggard. We congratulated The Smithereens for their induction into The New Jersey Hall Of Fame. We wished a Happy Birthday to Johnathan Pushkar. We played The Beatles' "All You Need Is Love" for the loved ones we have and the loved ones we've lost, but whom we still keep close within our hearts. 

Any record you ain't heard yet is a new record. Any record you love is a friend. Here's to our friends. This is what rock 'n' roll radio sounded like on a Sunday night in Syracuse this week.

NEXT WEEK: fine, the 999th episode of TIRnRR might not be the specific milestone we oughtta trumpet, but I betcha it'll be a really, really good show. And, among other delights, it will include a reprise of some of the first tracks our show ever played by acts we went on to play again 'n' again. It all leads up to what happens IN TWO WEEKS: TIRnRR # 1000! If you don't dig this one, you do not have a pulse. You won't hear anything new, but maybe you'll hear something that's new to you. Old friends and new friends: join us!
This Is Rock 'n' Roll Radio with Dana & Carl, Sunday nights from 9 to Midnight Eastern, on the air in Syracuse on SPARK! WSPJ-LP 103.3 and 93.7 FM, and on the web at http://sparksyracuse.org/
Fans of pop music will want to check out Waterloo Sunset–Benefit For This Is Rock 'n' Roll Radio, a new pop compilation benefiting SPARK! Syracuse, the home of This Is Rock 'n' Roll Radio with Dana & Carl. TIR'N'RR Allstars–Steve Stoeckel, Bruce Gordon, Joel Tinnel, Stacy Carson, Eytan Mirsky, Teresa Cowles, Dan Pavelich, Irene Peña, Keith Klingensmith, and Rich Firestone–offer a fantastic new version of The Kinks' classic "Waterloo Sunset." That's supplemented by eleven more tracks (plus a hidden bonus track), including previously-unreleased gems from The Click Beetles, Eytan Mirsky, Pop Co-Op, Irene Peña, Michael Slawter (covering The Posies), and The Anderson Council (covering XTC), a new remix of "Infinite Soul" by The Grip Weeds, and familiar TIRnRR Fave Raves by Vegas With Randolph, Gretchen's Wheel, The Armoires, and Pacific Soul Ltd. Oh, and that mystery bonus track? It's exquisite. You need this. You're buying the digital download from Futureman and/or the CD from Kool Kat Musik.

(AND you can still get our previous compilation This Is Rock 'n' Roll Radio, Volume 4 on CD from Kool Kat Musik and as a download from Futureman. We live in a world of plenty!)

PS: SEND MONEY!!!! We need tech upgrades like Elvis needs boats. Spark Syracuse is supported by listeners like you. Tax-deductible donations are welcome at 
http://sparksyracuse.org/support/
You can follow Carl's daily blog Boppin' (Like The Hip Folks Do) at 
https://carlcafarelli.blogspot.com/

Hey, Carl's writin' a book! The Greatest Record Ever Made! (Volume 1) will contain 100 essays (and then some) about 100 songs (plus bonus tracks!), each one of 'em THE greatest record ever made. An infinite number of songs can each be the greatest record ever made, as long as they take turns. Updated initial information can be seen here.
TIRnRR # 998: 10/27/19
This Is Rock 'n' Roll Radio FRESH SPINS! (tracks we think we ain't played before) are listed in bold
THE RAMONES: Do You Remember Rock 'n' Roll Radio? (Rhino, End Of The Century)
—
THE BANDWAGON: Breakin' Down The Walls Of Heartache (Kent, Breakin' Down The Walls Of Heartache)
PAUL McCARTNEY: Take It Away (Capitol, Tug Of War)
THE COWSILLS: Won't You Be My Neighbor (BFD, VA: Thank You, Mister Rogers)
ANY TROUBLE: Playing Bogart (Stiff, Where Are All The Nice Girls?)
JOHNNY JOHNSON & HIS BANDWAGON: Mr. Tambourine Man (Kent, Breakin' Down The Walls Of Heartache)
THE KINKS: Misty Water (Reprise, The Great Lost Kinks Album)
—
MICKY DOLENZ: Perfectly Beautiful Day (BFD, VA: Thank You, Mister Rogers)
JOHNATHAN PUSHKAR: The Girl Next Door (Jem, Straighten Up)
JOHNNY JOHNSON & THE BANDWAGON: Honey Bee (Diamond Disc, VA: Northern Soul: Keep The Faith, Vol. 3)
THE FIRST CLASS: Beach Baby (Collectables, Beach Baby)
ANNY CELSI: Sideways Rain (Ragazza, Kaleidoscope Heart: 12 Golden Hits)
MANNIX: Highway Lines (Kool Kat Musik, VA: This Is Rock 'n' Roll Radio, Volume 3)
—
THE BANDWAGON: On The Day We Fall In Love (Kent, Breakin' Down The Walls Of Heartache)
BUFFALO SPRINGFIELD: Sit Down I Think I Love You (Rhino, Buffalo Springfield)
THE MONKEES: Birth Of An Accidental Hipster (Rhino, Good Times!)
THE FABULOUS POODLES: Mirror Star (Sequel, His Masters Choice)
WEST COAST MUSIC CLUB: Sometimes (westcoastmusicclub.bandcamp.com, Sometimes)
SQUEEZE: Annie Get Your Gun (A & M, The Squeeze Story)
—
THE JELLYBRICKS: Corner Of My Eye (Wicked Cool, Some Kind Of Lucky)
SIMON MOREL: Always Greener (WildCat, Record # 2)
JOHNNY JOHNSON & HIS BANDWAGON: Gasoline Alley Bred (Kent, Breakin' Down The Walls Of Heartache)
THE PIXIES: Here Comes Your Man (4AD, Doolittle)
THE KNACK: Your Number Or Your Name (Rhino, Proof: The Very Best Of The Knack)
THE HOLLIES: Look Through Any Window [French lyric version] (EMI, Clarke, Hicks & Nash Years)
—
NICK FRATER: Sunshine After Rain (Kool Kat Musik, Full-Fathom Freight-Train)
THE EASYBEATS: Friday On My Mind (Albert, Absolute Archives)
JOHNNY JOHNSON & THE BANDWAGON: Let's Hang On (Kent, Breakin' Down The Walls Of Heartache)
R.E.M.: Driver 8 (IRS, Fables Of The Reconstruction)
NEZROCK: St. Valentine's Day Massacre (nezrok.bandcamp.com)
THE SUCCESSFUL FAILURES: Because We're Ghosts (FDR, Saratoga)
—
THE SMITHEREENS: Behind The Wall Of Sleep (Capitol, Blown To Smithereens)
WARREN ZEVON: A Certain Girl (Rhino, Genius)
THE SPEED OF SOUND: I See You (Big Stir, single)
SPLIT ENZ: History Never Repeats (A & M, History Never Repeats)
THE BANDWAGON: When Love Has Gone Away (Kent, Breakin' Down The Walls Of Heartache)
CROWDED HOUSE: Don't Dream It's Over (Capitol, Crowded House)
—
THE MIDNIGHT CALLERS: State Of Me (themidnightcallers.com)THE RASPBERRIES: I Wanna Be With You (RPM, Power Pop Volume One)
JIM BASNIGHT: Best Lover In The World (Precedent, Not Changing)
MICHAEL CARPENTER: That's Alright By Me (Not Lame, VA: Full Circle)
JOHNNY JOHNSON & HIS BANDWAGON: In The Bad Bad Old Days (Before You Loved Me) (Kent, Breakin' Down The Walls Of Heartache)
MATTHEW SWEET & SUSANNA HOFFS: Different Drum (Shout Factory, Under The Covers Vol. 1)
—
JOHNNY JOHNSON & HIS BANDWAGON: Sweet Inspiration (Kent, Breakin' Down The Walls Of Heartache)
TOMMY JAMES & THE SHONDELLS: Mirage (Rhino, Anthology)
THE GOALLTHEWAYS: Silly Girl (Big Stir, single)
JOAN ARMATRADING: Me Myself I (A & M, Me Myself I)
MERLE HAGGARD: Mama Tried (Capitol, Hag)
THE NERVES: Walking Out On Love (Alive, One Way Ticket)
JOHNNY JOHNSON & HIS BANDWAGON: Blame It (On The Pony Express) (Kent, Breakin' Down The Walls Of Heartache)
THE BEATLES: All You Need Is Love (Apple, 1)
BUCK OWENS & HIS BUCKAROOS: Buckaroo (Rhino, 21 # 1 Hits)