This Is Rock 'n' Roll Radio # 995, in memory of Kim Shattuck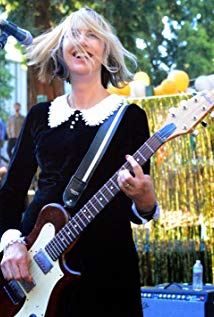 Tonight we share our broken hearts.
I did not know Kim Shattuck. I've been a fan for decades, but we were, at best, casual friends on Facebook. I don't think we ever had a conversation or shared message. Yet news of her death this week at the age of 56–56!–prompted a sadness within me apart from the all-too-familiar ache of having to say goodbye to another one of our heroes.

Why? I guess because she felt to me like someone who was close to all of us, even though she wasn't really. She was an actual part of the lives of a bunch of people I do know–a friend, a loved one–and our sense of loss can't compare to what they're going through. But man, this one hurts. I didn't know her, and it hurts anyway.

You wanna see an illustration of why we love Kim Shattuck? Go to YouTube and watch the video for Derrick Anderson's "When I Was Your Man." Anderson's ably supported here by Vicki and Debbie Peterson (his bandmates in The Bangles) and our Kim. The song and video are irresistible, but Kim especially? She's a bundle of goofy, guileless energy, a nerd and a rock star at the same time, naturally, unconsciously, absolutely. She's not exactly one of us, but she understands us. I refuse to change that into the past tense, at least for tonight.

The Pandoras. The Muffs. The Beards. The Coolies. And one of the greatest screams in all of  rock 'n' roll. All heart, all fire, all go! Kim Shattuck made her indelible mark on this rockin' pop scene we so cherish. Anyone who didn't love her simply wasn't paying attention.

56 years old. Damn you, ALS. Damn you. IN MEMORY OF KIM SHATTUCK–THE ALS ASSOCIATION GOLDEN WEST CHAPTER

The parade of mortality also forced us to bid farewell this week to Ginger Baker of Cream and Barrie Masters of Eddie & the Hot Rods. We played old music, and we played new music. We toasted absent friends. We cursed the darkness, and turned our radio up as loud as we could. It's not all right. But it's what we have. This is what rock 'n' roll radio sounded like on a Sunday night in Syracuse this week.
This Is Rock 'n' Roll Radio with Dana & Carl, Sunday nights from 9 to Midnight Eastern, on the air in Syracuse on SPARK! WSPJ-LP 103.3 and 93.7 FM, and on the web at http://sparksyracuse.org/
Fans of pop music will want to check out Waterloo Sunset–Benefit For This Is Rock 'n' Roll Radio, a new pop compilation benefiting SPARK! Syracuse, the home of This Is Rock 'n' Roll Radio with Dana & Carl. TIR'N'RR Allstars–Steve Stoeckel, Bruce Gordon, Joel Tinnel, Stacy Carson, Eytan Mirsky, Teresa Cowles, Dan Pavelich, Irene Peña, Keith Klingensmith, and Rich Firestone–offer a fantastic new version of The Kinks' classic "Waterloo Sunset." That's supplemented by eleven more tracks (plus a hidden bonus track), including previously-unreleased gems from The Click Beetles, Eytan Mirsky, Pop Co-Op, Irene Peña, Michael Slawter (covering The Posies), and The Anderson Council (covering XTC), a new remix of "Infinite Soul" by The Grip Weeds, and familiar TIRnRR Fave Raves by Vegas With Randolph, Gretchen's Wheel, The Armoires, and Pacific Soul Ltd. Oh, and that mystery bonus track? It's exquisite. You need this. You're buying the digital download from Futureman and/or the CD from Kool Kat Musik.

(AND you can still get our previous compilation This Is Rock 'n' Roll Radio, Volume 4 on CD from Kool Kat Musik and as a download from Futureman. We live in a world of plenty!)
PS: SEND MONEY!!!! We need tech upgrades like Elvis needs boats. Spark Syracuse is supported by listeners like you. Tax-deductible donations are welcome at 
http://sparksyracuse.org/support/
You can follow Carl's daily blog Boppin' (Like The Hip Folks Do) at 
https://carlcafarelli.blogspot.com/

Get MORE Carl! Check out the fourth and latest issue of the mighty Big Stir magazine at bigstirrecords.com/magazine

Hey, Carl's writin' a book! The Greatest Record Ever Made! (Volume 1) will contain 100 essays (and then some) about 100 songs (plus bonus tracks!), each one of 'em THE greatest record ever made. An infinite number of songs can each be the greatest record ever made, as long as they take turns. Updated initial information can be seen here.
TIRnRR # 995: 10/6/19
This Is Rock 'n' Roll Radio FRESH SPINS! (tracks we think we ain't played before) are listed in bold
THE RAMONES: Do You Remember Rock 'n' Roll Radio? (Rhino, End Of The Century)
—
THE MUFFS: Sad Tomorrow (Reprise, Blonder And Blonder)
THE MUFFS: Rock And Roll Girl (Sympathy For The Record Industry, Hamburger)
THE PANDORAS: Dark November (Burger, Hey! It's The Pandoras)
THE MUFFS: Agony (Reprise, Blonder And Blonder)
THE BEARDS: 1000 Years (Sympathy For The Record Industry, Funtown)
THE MUFFS: Crush Me (Omnivore, Happy Birthday To Me)
THE COOLIES: Uh Oh! (Wicked Cool, Uh Oh! It's…The Coolies)
THE MUFFS: That Awful Man (Omnivore,  Happy Birthday To Me)
THE PANDORAS: Just A Picture (Burger, Hey! It's The Pandoras)
THE MUFFS: Kids In America (Sympathy For The Record Industry, Hamburger)
THE MUFFS: Prettier Than Me (Fat Wreck Chords, Alert Today Alive Tomorrow)
THE MUFFS: Saying Goodbye (Warner Brothers, The Muffs)
—
DERRICK ANDERSON: When I Was Your Man (Omnivore,  A World Of My Own)
THE DOWNBEAT 5: Dum Dum Ditty (Wicked Cool, VA: The Coolest Songs In The World! Vol. 8)
SLADE: Mama Weer All Crazee Now (Polydor, Greatest Hits)
BELLE AND SEBASTIAN: Show Me The Sun (Matador, How To Solve Our Human Problems)
THE MUFFS: Everywhere I Go (Warner Brothers, The Muffs)
THE PRESIDENTS OF THE UNITED STATES OF AMERICA: Video Killed The Radio Star (Maverick, VA: The Wedding Singer OST)
—
THE BISHOP'S DAREDEVIL STUNT CLUB: Christine You're Mean (Kool Kat Musik, End Over End)
THE CARS: You're All I've Got Tonight (Elektra, The Cars)
THE MUFFS: You Lie (Sympathy For The Record Industry, Hamburger)
SWEET: Action (RCA, Action)
EDDIE & THE HOT RODS: Quit This Town (Captain Oi!, The Singles Collection)
THE ENGLISH BEAT: Mirror In The Bathroom (IRS, The Beat Goes On)
—
THE SEVEN & SIX: Dreaming With You (the7and6.com, EP # 1)
CREAM: Sweet Wine (Polydor, Those Were The Days)
THE PANDORAS: Stop Pretending (Burger, Hey! It's The Pandoras)
CREAM: What A Bring Down (Polydor, Those Were The Days)
THE RECORDS: Hearts Will Be Broken (Virgin, Smashes, Crashes And Near Misses)
CREAM: Those Were The Days (Polydor, Those Were The Days)
—
KAI DANZBERG: A Fool To Me (Big Stir, Euphoria)
THE REPLACEMENTS: Alex Chilton (Sire, Pleased To Meet Me)
EDDIE & THE HOT RODS: Get Out Of Denver (Captain Oi!, The Singles Collection)
TIM BUCKLEY: Song To The Siren (Rhino, Morning Glory)
THE COOLIES: Glad I Met You (Wicked Cool, Uh Oh! It's…The Coolies)
JOHNATHAN PUSHKAR: Hackensack (Jem, Straighten Up)
—
THE MIDNIGHT CALLERS: State Of Me (themidnightcallers.com)
THE MUFFS: Oh Nina (Reprise, Blonder And Blonder)
THE KINKS: See My Friends (Sanctuary, The Ultimate Collection)
THE STONE PONEYS: Different Drum (Rhino, LINDA RONSTADT: Greatest Hits I & II)
THE COOLIES: Yeah I Don't Know (Wicked Cool, Uh Oh! It's…The Coolies)
BIG BLITZ: Jungle Jim (bigblitzband.com)
—
EDDIE & THE HOT RODS: Do Anything You Wanna Do (Captain Oi!, The Singles Collection)
THE MUFFS: On And On (Reprise, Blonder And Blonder)
THE PANDORAS: See If You Can (Burger, Hey! It's The Pandoras)
DEAN LANDEW: Dance All Night (deanlandew.bandcamp.com, Dean Landew 2019)
THE MUFFS: Blow Your Mind (Fat Wreck Chords, Alert Today Alive Tomorrow)
THE BROTHERS STEVE: We Got The Hits (n/a, # 1)
THE PANDORAS: It's Getting Harder All The Time (Burger, Hey! It's The Pandoras)
THE MUFFS: Lucky Guy [radio remix] (Omnivore,  The Muffs)
THE MUFFS: New Love (Sympathy For The Record Industry, Hamburger)
THE MUFFS: My Crazy Afternoon (Omnivore,  Happy Birthday To Me)
THE MUFFS: Jack Champagne (Fat Wreck Chords, Alert Today Alive Tomorrow)