This Is Rock " Roll Radio # 991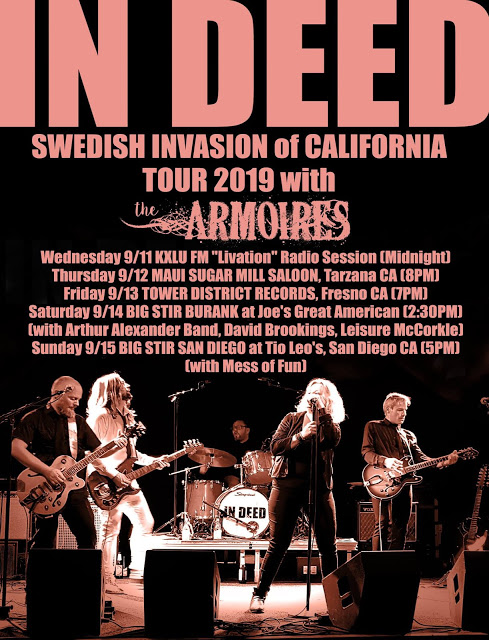 There's always something out there. Something new. It might not be brand new to someone else, but any record you ain't heard yet is a new record. Buddy Holly was new to me in 1973, when I was 13. The Velvet Underground was new to me in the early '80s. The path of discovery and celebration doesn't end, ever. Old stuff. New stuff. Old stuff that's new to you.

In 2019, I discovered another new favorite band: In Deed, from Uppsala, Sweden. They're not new–their debut album At 4000 Meters was released in 2001–but I'd never heard them before, never heard of them before. Rex Broome and Christina Bulbenko decided they wanted their visionary U. S. record label Big Stir to bring the sound of In Deed to American ears. Big Stir made a digital download of the outta-print At 4000 Meters available to DJs to introduce us all to the now sound of In Deed, arranged for the first-ever CD release of the band's more recent second album Everest, and Rex 'n' Christina's own band The Armoires are opening for In Deed on a brief California tour this week. Rex and Christina are believers, and they're spreading the word.

Where would we be without people who keep the faith, people who spread the word? We used to be able to rely on the radio, on the rock press, on friends, on fans. But see, that hasn't changed; we still rely on all of these resources to bring us new sounds. Some of the details have evolved; where once we had Top 40 and/or alternative radio, Phonograph Record Magazine and Trouser Press, and a cousin with Deep Purple cassettes, now we have non-commercial and internet radio, blogs, and…well, we still have our friends, don't we? Friends like Rex and Christina introduced us to In Deed. Thank you, friends.

We try to do our part, too. This week's radio shindig offered new music from Ronnie Dark, P. Hux, and The Midnight Callers, a bunch of old faves and a bunch of new faves. Make new friends, but keep the old. They're both gold. And we played the music of our new friends In Deed, the Featured Performers on this week's edition of This Is Rock 'n' Roll Radio. There's always something out there. Our friends will help us find it all.

NEXT WEEK: NO!!! That's too long to wait for another TIRnRR! We're doing a one-time-only TUESDAY NIGHT EDITION OF THIS IS ROCK 'N' ROLL RADIO, with our special in-studio guests DANNY WILKERSON and LANNIE FLOWERS!. You could miss this, I guess, but why in the world would you want to…?! That's TUESDAY SEPTEMBER 10th from 9 to 11 pm Eastern, with Dana, Carl, Danny & Lannie! And this is what rock 'n' roll radio sounded like on a Sunday night in Syracuse this week.
This Is Rock 'n' Roll Radio with Dana & Carl, Sunday nights from 9 to Midnight Eastern, on the air in Syracuse on SPARK! WSPJ-LP 103.3 and 93.7 FM, and on the web at http://sparksyracuse.org/
Fans of pop music will want to check out Waterloo Sunset–Benefit For This Is Rock 'n' Roll Radio, a new pop compilation benefiting SPARK! Syracuse, the home of This Is Rock 'n' Roll Radio with Dana & Carl. TIR'N'RR Allstars–Steve Stoeckel, Bruce Gordon, Joel Tinnel, Stacy Carson, Eytan Mirsky, Teresa Cowles, Dan Pavelich, Irene Peña, Keith Klingensmith, and Rich Firestone–offer a fantastic new version of The Kinks' classic "Waterloo Sunset." That's supplemented by eleven more tracks (plus a hidden bonus track), including previously-unreleased gems from The Click Beetles, Eytan Mirsky, Pop Co-Op, Irene Peña, Michael Slawter (covering The Posies), and The Anderson Council (covering XTC), a new remix of "Infinite Soul" by The Grip Weeds, and familiar TIRnRR Fave Raves by Vegas With Randolph, Gretchen's Wheel, The Armoires, and Pacific Soul Ltd. Oh, and that mystery bonus track? It's exquisite. You need this. You're buying the digital download from Futureman and/or the CD from Kool Kat Musik.

PS: SEND MONEY!!!! We need tech upgrades like Elvis needs boats. Spark Syracuse is supported by listeners like you. Tax-deductible donations are welcome at 
http://sparksyracuse.org/support/
You can follow Carl's daily blog Boppin' (Like The Hip Folks Do) at 
https://carlcafarelli.blogspot.com/

Get MORE Carl! Check out the fourth and latest issue of the mighty Big Stir magazine at bigstirrecords.com/magazine

Hey, Carl's writin' a book! The Greatest Record Ever Made! (Volume 1) will contain 100 essays (and then some) about 100 songs (plus bonus tracks!), each one of 'em THE greatest record ever made. An infinite number of songs can each be the greatest record ever made, as long as they take turns. Updated initial information can be seen here.
Our most recent compilation CD This Is Rock 'n' Roll Radio, Volume 4 is available from Kool Kat Musik! 29 tracks of irresistible rockin' pop, starring Pop Co-Op, Ray Paul, Circe Link & Christian Nesmith, Vegas With Randolph Featuring Lannie Flowers, The Slapbacks, P. Hux, Irene Peña, Michael Oliver & the Sacred Band Featuring Dave Merritt, The Rubinoos, Stepford Knives, The Grip Weeds, Popdudes, Ronnie Dark, The Flashcubes, Chris von Sneidern, The Bottle Kids, 1.4.5., The Smithereens, Paul Collins' Beat, The Hit Squad, The Rulers, The Legal Matters, Maura & the Bright Lights, Lisa Mychols, and Mr. Encrypto & the Cyphers. You gotta have it, so order it at https://tinyurl.com/ycnly8oz Digital download version (minus The Smithereens' track) now available at https://tinyurl.com/ycauy9xt

TIRnRR # 991: 9/8/19
This Is Rock 'n' Roll Radio FRESH SPINS! (tracks we think we ain't played before) are listed in bold
THE RAMONES: Do You Remember Rock 'n' Roll Radio? (Rhino, End Of The Century)
—
IN DEED: I'm Alright (When I'm With You) (Big Stir, Everest)
SLUMBERJET: [Theme From] Our Street (n/a, World Of Sound)
THE BEAU BRUMMELS: Don't Talk To Strangers (Sundazed, Volume 2)
MONDELLO: Heather Martin (www.mondello.bandcamp.com, Hello, All You Happy People)
POP CO-OP: It Ain't Easy Being A Boy (Silent Bugler, Four State Solution)
THE BROTHERS STEVE: We Got The Hits (n/a, # 1)
—
THE MIDNIGHT CALLERS: Hipster Girl (themidnightcallers.com)
BOB MOULD: Send Me A Postcard (Merge, Sunshine Rock)
IN DEED: Peace & Quiet (Dead Frog, At 4000 Meters)
THE ISLEY BROTHERS: That Lady [Parts 1 & 2] (Epic, The Essential Isley Brothers)
TIR'N'RR ALLSTARS: Waterloo Sunset (Kool Kat Musik, VA: Waterloo Sunset–Benefit For This Is Rock 'n' Roll Radio)
THE O'JAYS: Back Stabbers (Epic, Back Stabbers)
—
P. HUX: Baby Love (parthenonhuxley.com, single)
THE PRETENDERS: Back On The Chain Gang (Sire, The Singles)
IN DEED: Marry Myself [single version] (Big Stir, VA: Big Stir Singles: The Second Wave)
MUDDY WATERS: Mannish Boy (MCA, Electric Mud)
THE PENGWINS: Life After High School (Spyderpop, single)
CREEDENCE CLEARWATER REVIVAL: Commotion (Fantasy, Green River)
—
WILKERSON: Let It Go Tonight (Spyderpop, Wilkerson)
HARMONIC DIRT: Maybe (harmonicdirt.com, Anthracite)
THE DAVE CLARK FIVE: Glad All Over (Hollywood, The History Of The Dave Clark Five)
THE GREAT SOCIETY: Someone To Love (Sundazed, Born To Be Burned)
IN DEED: Break Away (Dead Frog, At 4000 Meters)
THE BEATLES: I'm Looking Through You (Apple, Anthology 2)
—
THE ARMOIRES: Appalachukrainia (Big Stir, Zibaldone)
IN DEED: What Once Was (Big Stir, Everest)
THE KINKS: You Do Something To Me (Rhino, Greatest Hits)
THE BEATLES: It's Only Love (Apple, Anthology 2)
STAG: Pied Piper Blues (themightystag.com, Electric Mistress)
THE FACES: Borstal Boys (Warner Brothers, Ooh La La)
—
RONNIE DARK: Love Will Break Your Heart (3 Records, Sky)
THE VELVET UNDERGROUND: Sunday Morning (Polydor, Peel Slowly And See)
IN DEED: Holy Ground (Big Stir, VA: Big Stir Singles: The Third Wave)
MARY LOU LORD: Right On 'Till Dawn (Rubric, Speeding Motorcycle)
ANNY CELSI: Sideways Rain (Ragazza, Kaleidoscope Heart: 12 Golden Hits)
THE CRICKLE: Place In My Heart (ROIR, VA: Garage Sale)
—
THE MIDNIGHT CALLERS: I Need You (themidnightcallers.com)
DAVID BOWIE: Suffragette City (Virgin, Bowie At The Beeb)
IN DEED: Apologize (Dead Frog, At 4000 Meters)
THE ZOMBIES: Care Of Cell 44 (Big Beat, The Singles Collection)
RICHARD TURGEON: The One That Got Away (Kool Kat Musik, Go Deep)
XTC: The Mayor Of Simpleton (Virgin, Upsy Daisy Assortment)
—
IN DEED: Don't Need, Don't Care (Big Stir, Everest)
THE HIT SQUAD: Best Of Me (Kool Kat Musik, VA: This Is Rock 'n' Roll Radio, Volume 4)
IN DEED: Another Start (Big Stir, Everest)
THE BEATLES: Two Of Us (Apple, Let It Be)
IN DEED: Heart Attack [edit] (Big Stir, Everest)
THE RAMONES: Needles And Pins [early version] (Rhino, Rocket To Russia)
MIKE NICHOLSON: Sleepwalk (New Atlas Digital, Industry)