This Is Rock 'n' Roll Radio # 982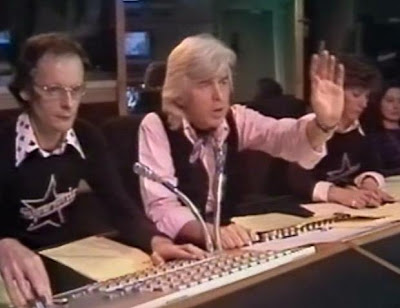 I'm not exactly sure of the year, but it was probably around 1976. If so, I was 16, bored, lonely, outta step. But I was learning about rock 'n' roll, anyway I could. The radio. Rock magazines. LPs and 45s, new and used. Books. Word of mouth. And even television. 

In a broader span of, say, 1973 to 1978, I absorbed every rockin' lesson I could, courtesy of Syracuse's WOLF-AM and WNDR-AM, Rolling Stone, Phonograph Record Magazine, WOUR-FM, WBSU-AM, ABC In Concert, Don Kirshner's Rock Concert, Midnight Special, American Bandstand, CREEM, Bomp!, flea market finds, TV variety shows with Gladys Knight & the Pips and Smokey Robinson & the Miracles, Playboy and Penthouse (which had words in addition to pictures), countless LP liner notes, scattered highfalutin' rock critic ramblings collected in hardcover or soft, my cousin's Deep Purple cassettes, taking a girl to see a presentation of 1960s rock 'n' roll TV clips at Syracuse University, a friend's insistence that I see KISS in concert, another friend accompanying me to see The Flashcubes, a Ramones 45, reruns of The Monkees, and budget matinee screenings of Beatles movies. 

And, in 1976, there was Supersonic.

Supersonic was a British TV showcase for pop acts, usually lip-syncing their hits and wannabe hits. A quick Google check says the show only ran for two seasons. New York City's WPIX aired Supersonic on Saturday afternoons, and cable TV delivered those glittery transmissions to my faraway suburban home in North Syracuse. I had heard the term "glitter rock," but I didn't really know what it meant; if asked at the time, I might have said Alice Cooper was glitter. What did I know? 

It's not that Supersonic was specifically a glitter show–I saw The Hollies on there, fercrissakes–nor did I necessarily come to understand the concept of glitter just by watching Gary Glitter, Slade, Sweet, or The Bay City Rollers on Supersonic. I'm not sure that I can properly articulate it even now. But when I was 16, Supersonic provided a service above and beyond glitter (and I'm not even referring to my first-ever live glimpse of my # 1 rock 'n' roll crush Suzi Quatro); in 1976, Supersonic was concrete evidence of something I suspected but couldn't prove before that: MORE. There was more out there. More rock, more pop, more sounds to liberate my teenage doldrums. More. I would find it. Good luck everybody. Roll Supersonic. The theme song taunted and enticed: Supersonic/She dance too fast for me. But I was gonna find a way to catch up. Punk was just around the corner.

My friend Ken Sharp's fab new single "Rock & Roll Supershow" is a celebration of all things glam UK, so we used that as an excuse to program some classic '70s glam and glitter throughout this week's show. We had some reflected glitter, with covers by The Doughboys (whose new all-covers album Running For Covers should be a compulsory purchase for anyone who claims to love the rock and the roll),The Flashcubes, and 1.4.5., and we had a bunch of shiny chunks of the real deal: Slade, The Rubettes, the divine Suzi Quatro, Mud, Sweet, The Arrows, T. Rex, The Bay City Rollers, 10cc, Roy Wood & Wizzard, Gary Glitter, and Andy Bown's "Supersonic," the title theme from a TV show that fascinated me when I was 16. I regret that we didn't have time for Hello, Roxy Music, Mott the Hoople, or David Bowie, but there's always next week. The path to MORE remains secure in its place.

"More" also means that we did find time for new music from The Brothers Steve (from their fabulous forthcoming debut album # 1), Jim Basnight (non-album Big Stir Records digital B-side), and Johnathan Pushkart (single out TODAY on Jem Records), birthday greetings to Ringo Starr and Vegas With Randolph's Eric Kern, a farewell to Gary Duncan of Quicksilver Messenger Service, and the plethora of delights detailed below. And we played some glam and glitter, inspired by Ken Sharp, and inspired by a TV show I used to watch when I was 16. Boredom be gone. I'm still out of step. I'm not lonely anymore. MORE! This is what rock 'n' roll radio sounded like on a Sunday night in Syracuse this week.
This Is Rock 'n' Roll Radio with Dana & Carl, Sunday nights from 9 to Midnight Eastern, on the air in Syracuse on SPARK! WSPJ-LP 103.3 and 93.7 FM, and on the web at http://sparksyracuse.org/

PS: SEND MONEY!!!! We need tech upgrades like Elvis needs boats. Spark Syracuse is supported by listeners like you. Tax-deductible donations are welcome at 
http://sparksyracuse.org/support/
You can follow Carl's daily blog Boppin' (Like The Hip Folks Do) at 
https://carlcafarelli.blogspot.com/

Hey, Carl's writin' a book! The Greatest Record Ever Made! (Volume 1) will contain 100 essays (and then some) about 100 tracks, plus two bonus instrumentals, each one of 'em THE greatest record ever made. An infinite number of records can each be the greatest record ever made, as long as they take turns. Updated initial information can be seen here: https://carlcafarelli.blogspot.com/2019/06/the-greatest-record-ever-made-updated.html

Our new compilation CD This Is Rock 'n' Roll Radio, Volume 4 is now available from Kool Kat Musik! 29 tracks of irresistible rockin' pop, starring Pop Co-Op, Ray Paul, Circe Link & Christian Nesmith, Vegas With Randolph Featuring Lannie Flowers, The Slapbacks, P. Hux, Irene Peña, Michael Oliver & the Sacred Band Featuring Dave Merritt, The Rubinoos, Stepford Knives, The Grip Weeds, Popdudes, Ronnie Dark, The Flashcubes, Chris von Sneidern, The Bottle Kids, 1.4.5., The Smithereens, Paul Collins' Beat, The Hit Squad, The Rulers, The Legal Matters, Maura & the Bright Lights, Lisa Mychols, and Mr. Encrypto & the Cyphers. You gotta have it, so order it at https://tinyurl.com/ycnly8oz Digital download version (minus The Smithereens' track) now available at https://tinyurl.com/ycauy9xt

TIRnRR # 982: 7/7/19
This Is Rock 'n' Roll Radio FRESH SPINS! (tracks we think we ain't played before) are listed in bold
THE RAMONES: Do You Remember Rock 'n' Roll Radio? (Rhino, End Of The Century)
—
KEN SHARP: Rock & Roll Supershow (kensharp.bandcamp.com, single)
THE CLASH: Clampdown (Epic, The Essential Clash)
ANDY BOWN: Supersonic (GM, single)
RINGO STARR: Early 1970 (Apple, Photograph)
THE DOUGHBOYS: Rock On (Ram, Running For Covers)
THE ROMANTICS: She's Got Everything (Nemperor, The Romantics)
—
THE DOUGHBOYS: Solitary Man (Ram, Running For Covers)
THE NERVES: Hanging On The Telephone (Alive, One Way Ticket)
THE ARROWS: I Love Rock 'n' Roll (EMI, A's & B's & Rarities)
QUICKSILVER MESSENGER SERVICE: Light Your Windows (Rhino, VA: Love Is The Song We Sing)
T BONE BURNETT: Jellico Coal Man (Columbia, VA: Johnny Cash: Forever Words)
THE FLAMIN GROOVIES: I'm Drowning (Rhino, VA: Love Is The Song We Sing)
—
JOHNATHAN PUSHKAR: The Girl Next Door (Jem, single)
MONDELLO: They Say They Don't Believe It (mondello.bandcamp.com, Hello, All You Happy People)
SLADE: Gudbuy T' Jane (Polydor, Greatest Hits)
THE ONLY ONES: Another Girl, Another Planet (Rhino, VA: DIY: Teenage Kicks)
ARETHA FRANKLIN: I Say A Little Prayer (Atlantic, The Atlantic Singles Collection 1967-1970)
RINGO STARR [with BUCK OWENS]: Act Naturally (Apple, Photograph)
—
SUZI QUATRO: I May Be Too Young (Razor & Tie, The Wild One)
LENE LOVICH: Lucky Number (Salvo, VA: Born Stiff)
DEAN LANDEW: Money (deanlandew.bandcamp.com)
THE WAG: Coat Of Arms (thewagband.com, We Carry On)
10cc: Rubber Bullets (Castle, VA: Blockbuster!)
BRUCE WOOLEY & THE CAMERA CLUB: Video Killed The Radio Star (Sony, VA: Pure…Alternative 80s)
—
THE BROTHERS STEVE: We Got The Hits (n/a, # 1)
MARY LOU LORD: Driven Away (Rubric, Speeding Motorcycle)
T. REX: 20th Century Boy (Crimson, The Very Best Of T. Rex)
JIGSAW: Sky High (Renaissance, Anthology)
VEGAS WITH RANDOLPH: Give In To Love (vegaswithrandolph.bandcamp.com)
THE HOLLIES: Dear Eloise (Epic, The Epic Anthology)
—
JIM BASNIGHT: Restless Night (Big Stir, single)
SERGIO MENDES & BRASIL '66: Day Tripper (A & M, Greatest Hits)
JOE SULLIVAN: Time Machine (Futureman, Growing Up Schlockstar)
BRINSLEY SCHWARZ: (What's So Funny 'Bout) Peace, Love And Understanding (Yep Roc, NICK LOWE: Quiet Please…)
SWEET: Wig Wam Bam (Capitol, The Best Of Sweet)
THE BEATLES: I Wanna Be Your Man (Capitol, Meet The Beatles)
—
THE FLASHCUBES: Ball Park Incident (Northside, Flashcubes Forever)
THE MOVE: I Can Hear The Grass Grow (Rhino, VA: Nuggets II)
ROY WOOD & WIZZARD: Green Glass Windows (Disky, The Best Of Roy Wood & Wizzard)
FIRE: Father's Name Was Dad (Rhino, VA: Nuggets II)
THE RUBETTES: Juke Box Jive (Polydor, single)
TOMORROW: My White Bicycle (Rhino, VA: Nuggets II)
—
THE BAY CITY ROLLERS: Money Honey (Arista, The Definitive Collection)
RINGO STARR: It Don't Come Easy (Apple, Photograph)
GARY GLITTER: Doing Alright With The Boys (Rhino, Rock And Roll)
RINGO STARR: I'm The Greatest (Apple, Photograph)
MUD: Tiger Feet (Castle, VA: Blockbuster!)
RINGO STARR: Photograph (Apple, Photograph)
1.4.5.: Rock 'n Roll Part 2 (Northside, 3 Chords & A Cloud Of Dust)