This Is Rock 'n' Roll Radio # 975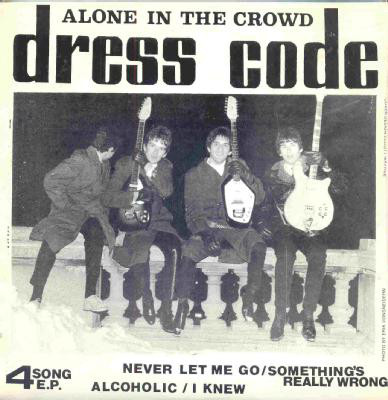 This week, the Central New York music scene mourns yet another bright light with the passing of Eric Mattice. A million years ago, as the late '70s oozed into the early '80s, when the drinking age was 18 and clubs teemed with action, with kids lookin' to bop and with rock 'n' roll groups poised to provide the soundtrack, Eric Mattice played bass in a band. That band included Eric, his guitarist brother Elliott Mattice, their guitarist cousin Norm Mattice, their drummer buddy Steve Martell. The band was called Dress Code, and lemme tell ya, Dress Code looked fantastic.
It's funny that, among all the great things I could say about Dress Code, their fab appearance comes to mind first. They were kids in an era when rock 'n' roll kids worshiped Molly Hatchet and Southern rock, and dressed down to type. But Dress Code hated that stuff. They called their music Northern rock. They wanted to be The Beatles, The Kinks, The Ramones, The Jam, and their own local heroes The Flashcubes. More than anything else, I think they wanted to be The Who. They started by deciding to look the part. Everything else fell into place with that decision.
Guitars, bass, and drums. An appreciation of the British Invasion and punk, of The Easybeats and The Monkees, a dedication to making new music inspired by the coolest sounds we all knew.
I don't believe I ever had an opportunity to meet Eric, Elliott, or Norm, and I only met Steve for the first time at Norm's funeral in 2016. But I was a fan. When Dana and I were putting together the first Bright Lights! Syracuse new wave reunion show in 2014, Dress Code was near the top of our list of acts we wanted to book. I really wish that could have happened. It was not to be.
But I remember Dress Code as an incredible group of true believers, playing because they meant it, playing because it meant something to them. They were electric, exciting, and so much fun to see and hear–to witness–live. And they looked fantastic. That memory of eternal youth endures. I'll cherish it for as long as I draw breath.
This week's TIRnRR celebrated the life of Eric Mattice with spins of all four of the tracks on Dress Code's 1981 Alone In The Crowd EP, plus Chris von Sneidern's musical memoir of the Syracuse scene we all shared, "Insomniac Summer." We added new music from The Gold Needles, Robert Bidney, Carla Olson & Todd Wolfe, and Glen Burtnik's Summer Of Love, some old favorites, some recent favorites, and a familiar dedication inspired by the coolest songs we know. We may not look as good as Dress Code. Who could? But we believe, as they did. That belief will guide us through our sets. Godspeed, Eric Mattice. This is what rock 'n' roll radio sounded like on a Sunday night in Syracuse this week.
PS: SEND MONEY!!!! We need tech upgrades like Elvis needs boats. Spark Syracuse is supported by listeners like you. Tax-deductible donations are welcome at
This Is Rock 'n' Roll Radio with Dana & Carl, Sunday nights from 9 to Midnight Eastern, on the air in Syracuse on SPARK! WSPJ-LP 103.3 and 93.7 FM, and on the web at http://sparksyracuse.org/
You can follow Carl's daily blog Boppin' (Like The Hip Folks Do) at
https://carlcafarelli.blogspot.com/
Hey, Carl's writin' a book! The Greatest Record Ever Made will contain 100 essays (and then some) about 100 tracks, plus one bonus instrumental, each one of 'em THE greatest record ever made. An infinite number of records can be the greatest record ever made, as long as they take turns. Updated initial information can be seen here: https://carlcafarelli.blogspot.com/2019/05/the-greatest-record-ever-made-and-other.html
Our new compilation CD This Is Rock 'n' Roll Radio, Volume 4 is now available from Kool Kat Musik! 29 tracks of irresistible rockin' pop, starring Pop Co-Op, Ray Paul, Circe Link & Christian Nesmith, Vegas With Randolph Featuring Lannie Flowers, The Slapbacks, P. Hux, Irene Peña, Michael Oliver & the Sacred Band Featuring Dave Merritt, The Rubinoos, Stepford Knives, The Grip Weeds, Popdudes, Ronnie Dark, The Flashcubes, Chris von Sneidern, The Bottle Kids, 1.4.5., The Smithereens, Paul Collins' Beat, The Hit Squad, The Rulers, The Legal Matters, Maura & the Bright Lights, Lisa Mychols, and Mr. Encrypto & the Cyphers. You gotta have it, so order it at https://tinyurl.com/ycnly8oz Digital download version (minus The Smithereens' track) now available at https://tinyurl.com/ycauy9xt
TIRnRR # 975: 5/19/19
This Is Rock 'n' Roll Radio FRESH SPINS! (tracks we think we ain't played before) are listed in bold
THE RAMONES: Do You Remember Rock 'n' Roll Radio? (Rhino, End Of The Century)
—
DRESS CODE: Never Let Me Go (Semaphore, Alone In The Crowd)
THE ZOMBIES: I Love You (Big Beat, Zombie Heaven)
TEGAN & SARA: Walking With A Ghost (Sire, So Jealous)
POP CO-OP: If Everything Was Easy (Silent Bugler, Four State Solution)
THE DARLING BUDS: The Other Night (Columbia, Pop Said…)
THE WHO: Out In The Street (MCA, My Generation)
—
THE GOLD NEEDLES: Sunset Girl (Jem, Through A Window)
NICK LOWE: Cruel To Be Kind (Yep Roc, Quiet Please…)
THE LOUD FAMILY: We're For The Dark (Copper, VA: Come And Get It)
JOE JACKSON: Is She Really Going Out With Him? (A & M, Look Sharp!)
CHRIS VON SNEIDERN: Insomniac Summer (Kool Kat Musik, VA: This Is Rock 'n' Roll Radio, Volume 4)
THE TREND: Electric Chair (Dayson, single)
—
THE PERNICE BROTHERS: Working Girls (Sunlight Shines) (Ashmont, The World Won't End)
THE MONKEES: You Told Me (Rhino, Headquarters)
MATERIAL ISSUE: Kim The Waitress (Mercury, Freak City Soundtrack)
CARLA OLSON: It's Too Late (Sunset Blvd, Rubies And Diamonds)
ROGER McGUINN: Someone To Love (Arista, Back To Rio)
CARLA OLSON & TODD WOLFE: Long Road Back (Red Parlor, The Hidden Hills Sessions)
—
THE COWSILLS: Make The Music Flow (Cowchip, Captain Sad And His Ship Of Fools/II X II)
ELVIS COSTELLO & THE ATTRACTIONS: (I Don't Want To Go To) Chelsea (Rhino, The Very Best Of Elvis Costello & the Attractions)
DEL SHANNON: Runaway (Rhino, Greatest Hits)
THE BEATLES: Rain (Capitol, single)
DRESS CODE: I Knew (Semaphore, Alone In The Crowd)
THE JAM: The Modern World (Rhino, VA: DIY: The Modern World)
—
ROBERT BIDNEY: Signs Of Life (n/a, Rush Of Hope)
THE CLASH: I Fought The Law (Epic, The Essential Clash)
THE O'JAYS: Put Your Hands Together (Epic, Love Train)
DAVID BOWIE: Hang On To Yourself (Virgin, Bowie At The Beeb)
GLEN BURTNIK'S SUMMER OF LOVE: To Sir, With Love (Jem, Live Love)
SIMON & GARFUNKEL: Cecilia (Columbia, Greatest Hits)
—
THE KINKS: Till The End Of The Day (Sanctuary, The Ultimate Collection)
THE SMALL FACES: E Too D (Sanctuary, Ultimate Collection)
THE FLASHCUBES: No Promise (Northside, Bright Lights)
THE BEVIS FROND: I Got Eyes In The Back Of My Head (Rubric, Inner Marshland)
THE BUZZCOCKS: Ever Fallen In Love (IRS, Singles Going Steady)
XTC: Making Plans For Nigel (Rhino, VA: Classic Punk)
—
PEZBAND: Back In The Middle (Jem, Cover To Cover)
DRESS CODE: Alcoholic (Semaphore, Alone In The Crowd)
THE EASYBEATS: Sorry (Rhino, VA: Nuggets II)
THE ENGLISH BEAT: Mirror In The Bathroom (IRS, What Is Beat?)
THE ARMOIRES: Responsible (Reuptake) (Big Stir, Side Three)
THE ZOMBIES: Just Out Of Reach (Big Beat, Zombie Heaven)
—
THE RAMONES: Blitzkrieg Bop (Rhino, Ramones)
HINDU LOVE GODS: Raspberry Beret (Rhino, WARREN ZEVON: Genius)
JIM BASNIGHT: Best Lover In The World (Precedent, Not Changing)
MARY LOU LORD: Driven Away (Rubric, Speeding Motorcycle)
CHUCK BERRY: Johnny B. Goode (MCA, The Anthology)
THE HIT SQUAD: Best Of Me (Kool Kat Musik, VA: This Is Rock 'n' Roll Radio, Volume 4)
KISS: Shout It Out Loud (Mercury, The Very Best Of KISS)
THE ZOMBIES: Tell Her No (Big Beat, Zombie Heaven)
THE BOBBY FULLER FOUR: Never To Be Forgotten (Del-Fi, Never To Be Forgotten)
DRESS CODE: Something's Really Wrong (Semaphore, Alone In The Crowd)
THE SHADOWS: Wonderful Land (Scamp, Shadows Are Go!)