This Is Rock 'n' Roll Radio # 974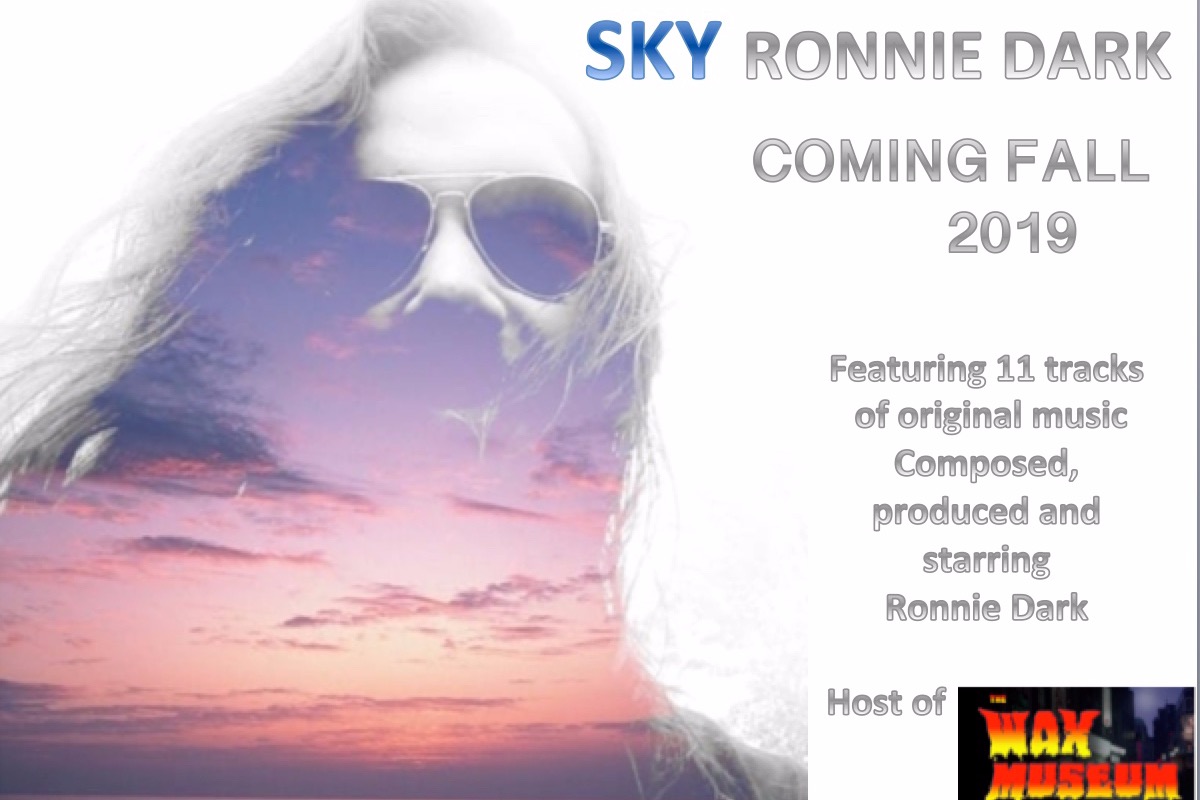 Ronnie Dark has a dream.
Ronnie's a music fan. He's a record collector, and a musician himself. He's the host of a great weekly radio show called The Wax Museum with Ronnie Dark, and he favors the sound of vinyl. Ronnie's own music has appeared on CDs in the past, and two of his tracks have appeared on This Is Rock 'n' Roll Radio compilation CDs. But Ronnie has a dream. Ronnie wants to hear his music on vinyl.
Very soon, Ronnie's dream will come true.
Due out in Fall of 2019, the new Ronnie Dark album Sky will be released on vinyl, finally achieving Ronnie's lifelong dream of hearing his music played back on his favorite format. Wanna give him a hand in that? We recommend a quick stop at the Sky GoFundMe page. Meanwhile, TIRnRR is proud to be the second radio show in the known universe (after The Wax Museum) to play "Whatever Happened To My Blue Sky," the first single from Ronnie Dark's forthcoming vinyl LP Sky. What good is radio if it can't make dreams come true?
We make our radio dreams come true each week by playing great stuff, like new music from The Armoires, Jonny Magus & the Bursting Bubbles, and Amoeba Teen, mixed in with more pop delights and present. We paid tribute to the late Susan Beschta (aka Susan Springfield) via spins of her band The Erasers, we honored requests for Nancy Sinatra, The Mosquitos, and Sparks, we served up the TIRnRR debut of Arthur Nasson, and we even had a brand-new TIRnRR bumper ID from peerless Fave Raves Pop Co-Op, teasing new Pop Co-Op music soon to be. We're livin' the dream. This is what rock 'n' roll radio sounded like on a Sunday night in Syracuse this week.
PS: SEND MONEY!!!! We need tech upgrades like Elvis needs boats. Spark Syracuse is supported by listeners like you. Tax-deductible donations are welcome at
This Is Rock 'n' Roll Radio with Dana & Carl, Sunday nights from 9 to Midnight Eastern, on the air in Syracuse on SPARK! WSPJ-LP 103.3 and 93.7 FM, and on the web at http://sparksyracuse.org/
You can follow Carl's daily blog Boppin' (Like The Hip Folks Do) at
https://carlcafarelli.blogspot.com/
Hey, Carl's writin' a book! The Greatest Record Ever Made will contain 100 essays (and then some) about 100 tracks, plus one bonus instrumental, each one of 'em THE greatest record ever made. An infinite number of records can be the greatest record ever made, as long as they take turns. Updated initial information can be seen here: https://carlcafarelli.blogspot.com/2019/05/the-greatest-record-ever-made_8.html
Our new compilation CD This Is Rock 'n' Roll Radio, Volume 4 is now available from Kool Kat Musik! 29 tracks of irresistible rockin' pop, starring Pop Co-Op, Ray Paul, Circe Link & Christian Nesmith, Vegas With Randolph Featuring Lannie Flowers, The Slapbacks, P. Hux, Irene Peña, Michael Oliver & the Sacred Band Featuring Dave Merritt, The Rubinoos, Stepford Knives, The Grip Weeds, Popdudes, Ronnie Dark, The Flashcubes, Chris von Sneidern, The Bottle Kids, 1.4.5., The Smithereens, Paul Collins' Beat, The Hit Squad, The Rulers, The Legal Matters, Maura & the Bright Lights, Lisa Mychols, and Mr. Encrypto & the Cyphers. You gotta have it, so order it at https://tinyurl.com/ycnly8oz Digital download version (minus The Smithereens' track) now available at https://tinyurl.com/ycauy9xt
TIRnRR # 974: 5/12/19
This Is Rock 'n' Roll Radio FRESH SPINS! (tracks we think we ain't played before) are listed in bold
THE RAMONES: Do You Remember Rock 'n' Roll Radio? (Rhino, End Of The Century)
—
RONNIE DARK: Whatever Happened To My Blue Sky (n/a, Sky)
THE BEACH BOYS: I Can Hear Music (Capitol, Good Vibrations0
POP CO-OP: You Don't Love Me Anymore (Kool Kat Musik, VA: This Is Rock 'n' Roll Radio, Volume 4)
POP CO-OP: If Everything Was Easy (Silent Bugler, Four State Solution)
NANCY SINATRA: These Boots Are Made For Walkin' (EMI, The Essential Nancy Sinatra)
TRACEY ULLMAN: (I'm Always Touched By Your) Presence, Dear (Salvo, Move Over Darling)
—
THE ARMOIRES: Responsible (Reuptake) (Big Stir, Side Three)
THE UNDERTONES: Jump Boys (Castle, The Undertones)
THELMA HOUSTON: Jumpin' Jack Flash (Dunhill, Sunshower)
AU PAIRS: We're So Cool (Sanctuary, Playing With A Different Sex)
THE MOSQUITOS: That Was Then, This Is Now (Valhalla, That Was Then, This Is Now)
THE MONKEES: Me & Magdalena [Version 2] (Rhino, Good Times! [digital version])
—
THE MOSQUITOS: You Don't Give A Hang About Me
THE DUKES OF STRATOSPHEAR: Vanishing Girl (Rhino, VA: Children Of Nuggets)
HAROLD MELVIN & THE BLUE NOTES: Everybody's Talkin' (Philadelphia International, VA: Let's Clean Up The Ghetto)
THE ERASERS: I Won't Give Up (O2, VA: Ork Records: New York, New York)
SPARKS: Tips For Teens (Rhino, Profile)
THE ERASERS: It Was So Funny (The Song That They Sung) (O2, VA: Ork Records: New York, New York)
—
JONNY MAGUS & THE BURSTING BUBBLES: Intergalactic Superlove (jonnymagustheburstingbubbles.bandcamp.com, single)
CLOCKWORK FLOWERS: Hope And Glory (theclockworkflowers.com, Colours Vol. 4 Green)
JONI MITCHELL: Free Man In Paris (Reprise, Hits)
GIRLS AT OUR BEST!: Getting Nowhere Fast (Cherry Red, Pleasure)
ELTON JOHN & KIKI DEE: Don't Go Breaking My Heart (Castle, VA: Blockbuster!)
THE GREAT! SOCIETY: Someone To Love (Sundazed, Born To Be Burned)
—
RAY PAUL: How Do You Know? (Kool Kat Musik, Bloody Rubbish)
THE KURSAAL FLYERS: Girls That Don't Exist (On The Beach, Hit Records)
THE FOUR TOPS: Walk Away Renee (Motown, The Ultimate Collection)
10cc: The Things We Do For Love (Spectrum, I'm Not In Love)
ARETHA FRANKLIN: I Say A Little Prayer (Atlantic, The Atlantic Singles Collection 1967-1970)
MARVIN GAYE & TAMMI TERRELL: Ain't No Mountain High Enough (Motown, VA: Hitsville USA)
—
AMOEBA TEEN: (Coming On) Stronger (Big Stir, Medium Wave)
THE EASYBEATS: Friday On My Mind (Rhino, VA: Nuggets II)
THE CLINGERS: Gonna Have A Good Time (251, 1967-1971)
THE NERVES: Hanging On The Telephone (Alive, One Way Ticket)
THE EVERLY BROTHERS: Gone, Gone, Gone (Warner Brothers, Walk Right Back)
THE REMAINS: Don't Look Back (Rhino, VA: Nuggets)
—
THE MORNING LINE: Nostradamus (Kool Kat Musik, North)
LIBRARIANS WITH HICKEYS: Until There Was You (librarianswithhickeys.wordpress.com, single)
THE GO-GO'S: Vacation (Edsel, Vacation)
THE BANGS: Call On Me (Omnivore, THE BANGLES: Ladies And Gentlemen…The Bangles!)
JIM BASNIGHT: Best Lover In The World (Precedent, Not Changing)
THE WAG: Coat Of Arms (thewagband.com, We Carry On)
—
THE MOBERLYS: I Return (Precedent, Sexteen)
THE RUBINOOS: I Wanna Be Your Boyfriend (Castle, Everything You Always Wanted To Know About The Rubinoos)
ARTHUR NASSON: All I Seem To Hear (arthurnasson.com, Whack Mythology)
THE FLASHCUBES: It's You Tonight (Northside, Bright Lights)
THE JAM: In The City (Polydor, Direction Reaction Creation)
THE MUFFS: Rock And Roll Girl (Sympathy For The Record Industry, Hamburger)
EDDIE COCHRAN: Somethin' Else (Razor & Tie, Somethin' Else)
THE RAMONES: She's The One (Rhino, Road To Ruin)
THE KINKS: All Day And All Of The Night (Sanctuary, The Ultimate Collection)
THE BEATLES: Tomorrow Never Knows (Capitol, Revolver)
JOHNNY & THE HURRICANES: Reveille Rock (Varese Sarabande, The Very Best Of Johnny & the Hurricanes)