This Is Rock 'n' Roll Radio # 966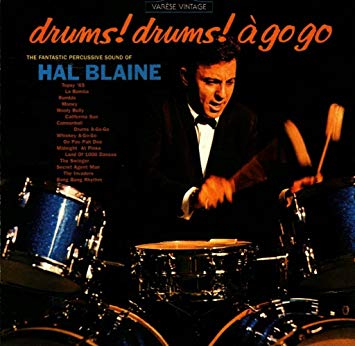 Was the late Hal Blaine pop music's all-time greatest drummer? Very possibly so. And the accolade doesn't come just because of the sheer volume of his body of work, though that certainly doesn't hurt his case; in our lives as pop fans, we've probably heard Blaine more often than we heard Ringo and Bernard Purdie combined. That's not exaggeration; that's just how much work Hal Blaine did on so many records we all know.
Blaine didn't get all those gigs just because he was available; he was good. He was great. "On Drums: Hal Blaine" is a terrific video on YouTube, well worth 11:17 of your time. That video starts with this credit: "35,000 Tracks, One Drummer." Those tracks include unforgettable classics by The Beach Boys, The Mamas & the Papas, The Byrds, The 5th Dimension, The Monkees, Ike & Tina Turner, Love, The Everly Brothers, Paul Revere & the Raiders, Simon & Garfunkel, Tommy Roe, The Association, Nancy Sinatra, Frank Sinatra, Dean Martin, Elvis Presley, Roy Orbison, Herb Alpert & the Tijuana Brass, The Grass Roots, The Vogues, Glen Campbell, Sonny & Cher, The Carpenters, The Crystals, Barbra Streisand, and so many more that this isn't even a thumbnail introduction to a perfunctory partial list. Hal Blaine is responsible for the single most iconic drum intro in rockin' pop history, the majestic boom-boomboom-chuk-boom-boomboom-chuk of "Be My Baby" by The Ronettes. If you loved pop music in the '60s and '70s, then Hal Blaine was a part of your life. He always will be.
There was a brief temptation to turn the entirety of this week's show over to Hal Blaine's legacy. We could have done that, and it would have been epic. But you could do that, too. You have the records. You know the songs. You will listen to them forever and ever, and we'll listen right along with you. Tonight, we'll play a few of those songs ourselves, alongside works by other musicians, new and old. This is pop music. This is the beat. Hal Blaine has left this mortal world behind. He left us a gift. The beat goes on.
This Is Rock 'n' Roll Radio with Dana & Carl, Sunday nights from 9 to Midnight Eastern, on the air in Syracuse on The Spark WSPJ-LP 103.3 and 93.7 FM, and on the web at http://sparksyracuse.org/
Spark Syracuse is supported by listeners like you. Tax-deductible donations are welcome at http://sparksyracuse.org/support/
You can follow Carl's daily blog Boppin' (Like The Hip Folks Do) at
https://carlcafarelli.blogspot.com/
Our new compilation CD This Is Rock 'n' Roll Radio, Volume 4 is) now available from Kool Kat Musik! 29 tracks of irresistible rockin' pop, starring Pop Co-Op, Ray Paul, Circe Link & Christian Nesmith, Vegas With Randolph Featuring Lannie Flowers, The Slapbacks, P. Hux, Irene Peña, Michael Oliver & the Sacred Band Featuring Dave Merritt, The Rubinoos, Stepford Knives, The Grip Weeds, Popdudes, Ronnie Dark, The Flashcubes, Chris von Sneidern, The Bottle Kids, 1.4.5., The Smithereens, Paul Collins' Beat, The Hit Squad, The Rulers, The Legal Matters, Maura & the Bright Lights, Lisa Mychols, and Mr. Encrypto & the Cyphers. You gotta have it, so order it at https://tinyurl.com/ycnly8oz Digital download version (minus The Smithereens' track) now available -at https://tinyurl.com/ycauy9xt
TIRnRR # 966: 3/17/19
This Is Rock 'n' Roll Radio FRESH SPINS! (tracks we think we ain't played before) are listed in bold
*Tracks with an asterisk feature Hal Blaine
THE RAMONES: Do You Remember Rock 'n' Roll Radio? (Rhino, End Of The Century)
—
*THE RONETTES: Be My Baby (Phil Spector, VA: Wall Of Sound)
THE ENGLISH BEAT: Mirror In The Bathroom (IRS, What Is Beat?)
THE WELL WISHERS: Feelin Fine (thewellwishers.bandcamp.com, single)
CLOCKWORK FLOWERS: Luminous Spinning Discs (theclockworkflowers.com, Colours Vol. 4 Green)
DICK DALE & THE DEL-TONES: Miserlou (Ace, VA: The Birth Of Surf)
THE RAMONES: Surfin' Bird (Rhino, Rocket To Russia)
—
THE KEYS: Femforce Theme (Zero Hour, Grand Reopening)
THE WAG: She's A Devil (thewagband.com, We Carry On)
*THE CARPENTERS: We've Only Just Begun (A & M, Singles 1969-1981)
STIFF LITTLE FINGERS: Alternative Ulster (Rhino, VA: Punk & New Wave Smash Hits)
*SONNY: Laugh At Me (Time-Life, VA: Classic Rock 1965: Blowin' Your Mind)
THE KINKS: I'm Not Like Everybody Else (Sanctuary, The Ultimate Collection)
—
THE STALLIONS: Why (Junk, Hey Baby, It's The Stallions)
THE UNDERTONES: Jimmy, Jimmy (Rykodisc, The Undertones)
*DINO, DESI & BILLY: She's So Far Out She's In (Sundazed, The Rebel Kind)
HARMONIC DIRT: Maybe (n/a, Anthracite)
*HERB ALPERT & THE TIJUANA BRASS: A Taste Of Honey (A & M, Whipped Cream & Other Delights)
DONOVAN: Mellow Yellow (Sony, Super Hits)
—
*THE MONKEES: A Little Bit Me, A Little Bit You (Colgems, single)
THE WHO: The Ox (MCA, My Generation)
*NANCY SINATRA: Drummer Man (EMI, The Essential Nancy Sinatra)
THE UNDERTONES: Jump Boys (Sanctuary, The Undertones)
JIM BASNIGHT: Best Lover In The World (Precedent, Not Changing)
WRECKLESS ERIC & AMY RIGBY: Do You Remember That (Southern Domestic, A Working Museum)
—
CHUCK BERRY: Sweet Little Sixteen (MCA, The Anthology)
THE ROLLING STONES: Not Fade Away (Virgin, Forty Licks)
*SIMON & GARFUNKEL: The Boxer (Columbia, Old Friends)
HUSKER DU: Don't Want To Know If You Are Lonely (Rhino, VA: Classic Punk)
*THE PARTRIDGE FAMILY: Somebody Wants To Love You (Razor & Tie, The Partridge Family Album)
PSYCHEDELIC FURS: Pretty In Pink (Sony, VA: Pure…Alternative 80s)
—
*THE T-BONES: No Matter What Shape (Your Stomach's In) (BGO, No Matter What Shape [Your Stomach's In]/Sippin' 'N Chippin')
THE UNDERTONES: Get Over You (Sanctuary, The Undertones)
*TOMMY ROE: Dizzy (Varese Sarabande, VA: Bubblegum Classics Volume Two)
THE ARCHIES: Sugar, Sugar (Varese Sarabande, VA: 25 All-Time Greatest Bubblegum Hits)
*THE BEACH BOYS: Wouldn't It Be Nice (Capitol, Pet Sounds)
JOSIE & THE PUSSYCATS: You've Come A Long Way Baby (Rhino Handmade, Stop, Look, & Listen)
—
*IKE & TINA TURNER: River Deep, Mountain High (Phil Spector, VA: Wall Of Sound)
ASTROPUPPEES: Over Her Head (Manatee, Little Chick Tsunami)
*GLEN CAMPBELL: Guess I'm Dumb (Capitol, THE HONEYS: The Honeys Collection)
THE UNDERTONES: Here Comes The Summer [original version] (Sanctuary, The Undertones)
*THE 5TH DIMENSION: Aquarius/Let The Sun Shine In (The Flesh Failures) (Arista, The Ultimate 5th Dimension)
COTTON MATHER: My Before And After (Copper, Kontiki)
—
*THE BYRDS: Mr. Tambourine Man (Columbia, Mr. Tambourine Man)
BIG STAR: September Gurls (Big Beat, VA: Thank You Friends)
*THE MAMAS & THE PAPAS: Go Where You Wanna Go (MCA, All The Leaves Are Brown)
THE UNDERTONES: Male Model (Sanctuary, The Undertones)
*[?]PAUL REVERE & THE RAIDERS: Kicks (Sundazed, Midnight Ride)
THE MERRYMAKERS: I'll Feel A Whole Lot Better (Not Lame, VA: Full Circle)
*THE SUPREMES: The Happening (Time-Life, VA: Classic Rock 1967: The Beat Goes On)
HOLE: Heaven Tonight (Geffen, Celebrity Skin)
*NEAL HEFTI: Batman Theme (Varese Sarabande, VA: Batmania)
THE BEATLES: Hey Bulldog (Apple, Yellow Submarine Songtrack)
*SONNY & CHER: The Beat Goes On (Time-Life, VA: Classic Rock 1967: Shakin' All Over)
THE UNDERTONES: Teenage Kicks (Sanctuary, The Undertones)
*HAL BLAINE: Topsy '65 (Dunhill, Drums! Drums! A Go Go)
NOTE: A few sources list "Kicks" by Paul Revere & the Raiders among Hal Blaine's session work. Blaine did work with the Raiders on several occasions, but Raiders lead singer Mark Lindsay is positive that the group's drummer Mike "Smitty" Smith laid down the beat on "Kicks." I'm inclined to believe Lindsay on this one. So, just pretend we played "Indian Reservation" or "Him Or Me–What's It Gonna Be" this week instead of "Kicks."