This Is Rock 'n' Roll Radio # 951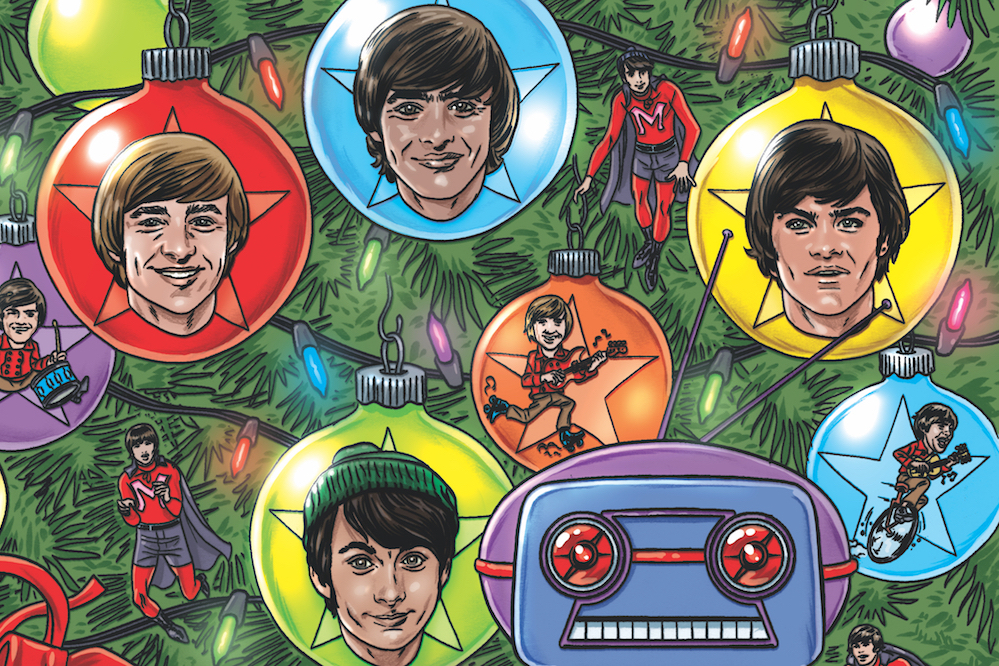 I'm a cork on the ocean
We play the music, in tribute to our dreams, to our friends, to our best imagined versions of ourselves. Plus, y'know, so's we can dance with our dates. We remember those who have moved on. We celebrate those around us who achieve milestones, benchmarks, and brass rings. We look to the times that have been festive in our past, and hope we can connect with that festive spirit yet again.
I'm a rock in a landslide
The holiday season can be difficult for many. Hell, every day can be difficult. But feelings of disconnection from all that might be light become even more focused when the lights shine brightest on so many, and don't seem to shine at all for others. There is no cure for this. There is no light than can dispel all darkness.
I'm a leaf on a windy day
Pretty soon I'll be blown away
But little things can help. We remember. We celebrate. We play the music. Maybe we dance.
This week's casual exercise in defying the dark celebrated our pal Steve Stoeckel on his retirement (and thanks to intrepid TIRnRR listener Michael Mitsch for comin' up with that concept). We remembered the late Tim Marks on his birthday weekend (with our broadcast beams aimed straight for Michigan, and his love for our listener and friend Dominique King). And we acknowledged the coming of–one hopes–a season of light with our first Christmas spins of the year. The Monkees' new album Christmas Party came out in October, but I didn't even break the seal on the CD until Thanksgiving night; I refuse to listen to Christmas music before Black Friday at the earliest. The wait was worth it for "House Of Broken Gingerbread," a willfully angst-laden Yuletune told from the view of a child of divorced parents, written by novelist Michael Chabon and producer Adam Schlesinger and sung with gusto by the mighty Micky Dolenz. Lovely new holiday offerings from The JAC and The Forty Nineteens stuffed our stocking properly, at least by the standards of November. We'll have a couple of more Christmas tracks to debut next week.
These things I'll be until I die
We play records. We're here every week. We're here for us, and we're here for you. Turn it up. You're among friends.
NEXT WEEK: our Featured Act will be our friends Vegas With Randolph. And this is what rock 'n' roll radio sounded like on a Sunday night in Syracuse this week. We'll leave a light on. Always.
This Is Rock 'n' Roll Radio with Dana & Carl, Sunday nights from 9 to Midnight Eastern, on the air in Syracuse on The Spark WSPJ-LP 103.3 and 93.7 FM, and on the web at http://sparksyracuse.org/
Spark Syracuse is supported by listeners like you. Tax-deductible donations are welcome at http://sparksyracuse.org/support/
You can follow Carl's daily blog Boppin' (Like The Hip Folks Do) at
https://carlcafarelli.blogspot.com/
Our new compilation CD This Is Rock 'n' Roll Radio, Volume 4 is now available from Kool Kat Musik! 29 tracks of irresistible rockin' pop, starring Pop Co-Op, Ray Paul, Circe Link & Christian Nesmith, Vegas With Randolph Featuring Lannie Flowers, The Slapbacks, P. Hux, Irene Peña, Michael Oliver & the Sacred Band Featuring Dave Merritt, The Rubinoos, Stepford Knives, The Grip Weeds, Popdudes, Ronnie Dark, The Flashcubes, Chris von Sneidern, The Bottle Kids, 1.4.5., The Smithereens, Paul Collins' Beat, The Hit Squad, The Rulers, The Legal Matters, Maura & the Bright Lights, Lisa Mychols, and Mr. Encrypto & the Cyphers. You gotta have it, so order it at https://tinyurl.com/ycnly8oz Digital download version (minus The Smithereens' track) now available at https://tinyurl.com/ycauy9xt
TIRnRR # 951: 11/25/18
THE RAMONES: Do You Remember Rock 'n' Roll Radio? (Rhino, End Of The Century)
—
THE MONKEES: House Of Broken Gingerbread (Rhino, Christmas Party)
NICK LOWE: So It Goes (Yep Roc, Quiet Please…)
THE MC5: Shakin' Street (Rhino, The Big Bang!)
XTC: Respectable Street (Virgin, Upsy Daisy Assortment)
THE BEACH BOYS: 'Til I Die (Capitol, Sunflower/Surf's Up_
BUFFALO SPRINGFIELD: Sit Down I Think I Love You (Rhino, Buffalo Springfield)
—
THE STEVE STOECKEL RETIREMENT PARTY SET!
THE RAMONES: It's Not My Place (In The 9 To 5 World) (Rhino, Pleasant Dreams)
DAVE BRUBECK QUARTET: Take Five (Columbia, Time Out)
THE VOGUES: Five O'Clock World (Varese Sarabande, The Best Of The Vogues)
THE VENTURES: Hawaii Five-O (EMI, Walk–Don't Run)
MICHAEL MITSCH & LAGANSLOVE: Freedom (unreleased)
THE SPONGETONES: Goodbye (Black Vinyl, Oh Yeah!)
Congratulations, Steve!
—
CAR CITY: Soul Jam (n/a, Car City)
RAY PAUL: I Need Your Love Tonight (Kool Kat Musik, VA: This Is Rock 'n' Roll Radio, Volume 4)
KISS: Detroit Rock City (Mercury, The Best Of KISS)
SWEET: Ballroom Blitz (Capitol, The Best Of Sweet)
SMOKEY ROBINSON & THE MIRACLES: The Tears Of A Clown (Motown, VA: Hitsville, USA)
THE JAM: Down In The Tube Station At Midnight (Polydor, Direction Reaction Creation)
—
POPDUDES: I'm Stone In Love With You (Pop Geek Heaven, Maximum Rock Stupidity)
TELEVISION: Elevation (Elektra, Marquee Moon)
SIMON & GARFUNKEL: For Emily, Whenever I May Find Her (Columbia, Old Friends)
THE FACES: Ooh La La (Warner Brothers, Ooh La La)
THE SEX PISTOLS: Pretty Vacant (Virgin, Kiss This)
THE DAMNED: Smash It Up (Part 2) (Sanctuary, Smash It Up)
—
VEGAS WITH RANDOLPH: She's An Intellectual (Caged Giant, Legs & Luggage)
GRAHAM PARKER & THE RUMOUR: Mercury Poisoning (Spectrum, The Very Best Of Graham Parker & The Rumour)
THE JAC: December (joealgeri.bandcamp.com)
THE JOHNNY POPSTAR LUV EXPLOSION: Lizzy The Supermarket Drag Queen (n/a, Lizzy The Supermarket Drag Queen)
BOB SEGER & THE LAST HEARD: East Side Story (Hideout, single)
LULU: The Boat That I Row (Rhino, From Crayons To Perfume)
—
THE DRIFTERS: On Broadway (Atlantic, All-Time Greatest Hits & More)
MERRY CLAYTON: Gimme Shelter (Columbia, VA: 20 Feet From Stardom OST)
THE MOODY BLUES: Tuesday Afternoon (Forever Afternoon) (Deram, Days Of Future Passed)
HINDU LOVE GODS: Raspberry Beret (Rhino, WARREN ZEVON: Genius)
LISA MYCHOLS: He's Got Me Dreaming (Strataplastic, Sugar)
WARREN ZEVON: Poor Poor Pitiful Me (Rhino, Genius)
—
THE FORTY NINETEENS: It's Christmas Time Again (thefortynineteens.bandcamp.com)
THE BEATLES: I Feel Fine (Capitol, single)
HOT NUN: Livin' A Dirty Mind (n/a, Born To Blaze)
THE BEATLES: Komm, Gib Mir Deine Hand (Apple, Past Masters)
BUCK OWENS & HIS BUCKAROOS: Who's Gonna Mow Your Grass (Rhino, 21 # 1 Hits)
THE BEATLES: Sie Liebt Dich (Swan, single)
—
THE BOB SEGER SYSTEM: 2 + 2 = ? (Capitol, single)
DR. FEELGOOD: I Don't Mind (Rhino, VA: Classic Punk)
THE KINKS: Better Things (Sanctuary, The Ultimate Collection)
THE CLASH: I Fought The Law (Epic, Clash On Broadway)
EYTAN MIRSKY: This Year's Gonna Be Our Year (M-Squared, Year Of The Mouse)
THE STRANGLERS: No More Heroes (Rhino, Classic Punk)
SIMON & GARFUNKEL: Homeward Bound (Columbia, Old Friends)
BIG STAR: I'm In Love With A Girl (Stax, The Best Of Big Star)
THE GO-GO'S: Surfing And Spying (IRS, Return To The Valley Of The Go-Go's)