This Is Rock 'n' Roll Radio # 944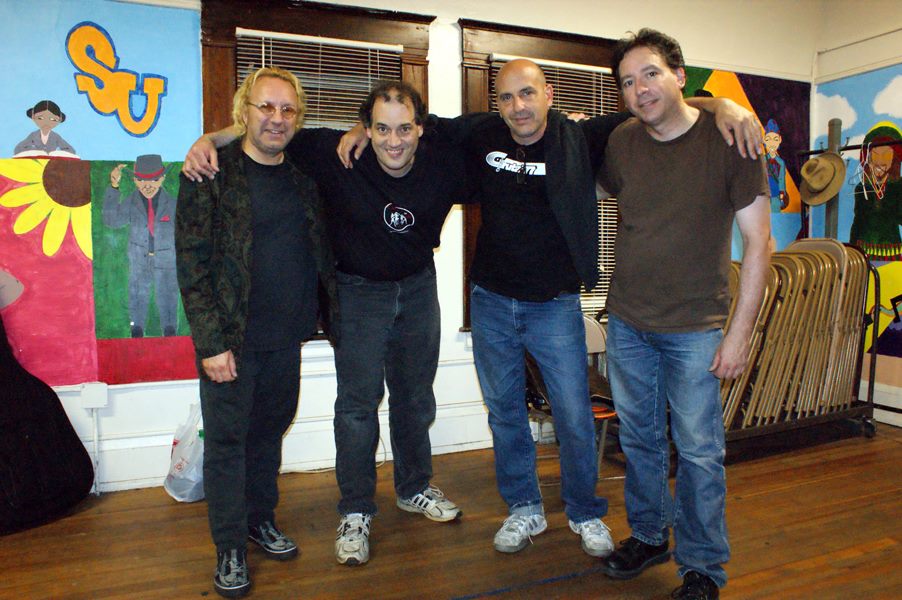 As young fans, we listen to the music we hear on the radio. We listen to the records we play, the records our friends play, the sounds we absorb and adore. Sometimes, if we're lucky, we may get to meet some of the people who make this divine music. If we're really, really lucky, our musical heroes won't turn out to be dicks in real life.
Dana and I were really, really lucky to meet John Wicks.
John came to Syracuse on June 11, 2009, for a special Thursday night edition of This Is Rock 'n' Roll Radio. He was here with Paul Collins (another hero we were really, really lucky to meet), and we were just delighted to meet these guys, to talk with these guys, and to consider them friends of TIRnRR.
TIRnRR lost a friend this week, as John Wicks passed following his long battle with pancreatic cancer. We are saddened and angry, and we shake our fists at the sky. John was a great, great talent, and just the nicest guy you could imagine. Hearts will be broken tonight. We played some music by John Wicks to dry the tears in our starry eyes. We also played new music from some other friends: Ronnie Dark, Michael Oliver, and the above-mentioned Paul Collins. And we celebrated the fact that one of my literary heroes, Michael Chabon, just bought a copy of our most recent TIRnRR compilation. Um–YEAH!!
When the show was over, as Dana and I packed up to leave, we paused for a moment in the common room outside our tiny studio. It's the room where John Wicks and Paul Collins played and chatted on TIRnRR in 2009. This week, as Sunday night became Monday morning, Dana and I gazed at that spot where John and Paul had stood, we raised our bottles, and offered a silent toast. Here's to our friends, absent and present. We remain really, really lucky. This is what rock 'n' roll radio sounded like on a Sunday night in Syracuse this week.
This Is Rock 'n' Roll Radio with Dana & Carl, Sunday nights from 9 to Midnight Eastern, on the air in Syracuse on The Spark WSPJ-LP 103.3 and 93.7 FM, and on the web at http://sparksyracuse.org/
Spark Syracuse is supported by listeners like you. Tax-deductible donations are welcome at http://sparksyracuse.org/support/
You can follow Carl's daily blog Boppin' (Like The Hip Folks Do) at
https://carlcafarelli.blogspot.com/
Our new compilation CD This Is Rock 'n' Roll Radio, Volume 4 is now available from Kool Kat Musik! 29 tracks of irresistible rockin' pop, starring Pop Co-Op, Ray Paul, Circe Link & Christia-n Nesmith, Vegas With Randolph Featuring Lannie Flowers, The Slapbacks, P. Hux, Irene Peña, Michael Oliver & the Sacred Band Featuring Dave Merritt, The Rubinoos, Stepford Knives, The Grip Weeds, Popdudes, Ronnie Dark, The Flashcubes, Chris von Sneidern, The Bottle Kids, 1.4.5., The Smithereens, Paul Collins' Beat, The Hit Squad, The Rulers, The Legal Matters, Maura & the Bright Lights, Lisa Mychols, and Mr. Encrypto & the Cyphers. You gotta have it, so order it at https://tinyurl.com/ycnly8oz Digital download version (minus The Smithereens' track) now available at https://tinyurl.com/ycauy9xt
TIRnRR # 944: 10/7/18
THE RAMONES: Do You Remember Rock 'n' Roll Radio? (Rhino, End Of The Century)
—
JOHN WICKS & THE RECORDS: Edges Of A Dream (JAM Recordings, VA: This Is Rock 'n' Roll Radio, Volume 2)
HARMONIC DIRT: Maybe (n/a, Anthracite)
THE O'JAYS: For The Love Of Money (Sony, VA: A Tribute To Black Entertainers)
THE BEATLES: Two Of Us (Apple, Let It Be…Naked)
THE DAMNED: Wait For The Blackout (Sanctuary, Smash It Up)
KURSAAL FLYERS: Television Generation (Rhino, VA: DIY: Teenage Kicks)
—
MICHAEL OLIVER: I.O.U. (unreleased)
GENE CLARK: That's Alright By Me (Omnivore, Gene Clark Sings For You)
TALKING HEADS: Once In A Lifetime (Rhino, The Best Of Talking Heads)
THE HOLLIES: King Midas In Reverse (EMI, Clarke, Hicks & Nash Years)
THE RECORDS: Hearts Will Be Broken (Vigin, Smashes, Crashes And Near Misses)
TOM PETTY & THE HEARTBREAKERS: American Girl (MCA, Greatest Hits)
—
THE RECORDS: Darlin (DeMilo, VA: Smiles, Vibes, & Harmony)
SEAWEED: Go Your Own Way (Chaos, single)
LISA MYCHOLS: Go All The Way (Zero Hour, VA: Power Pop Unplugged)
THE SHOCKING BLUE: Harley Davidson (Repertoire, Singles A's And B's)
SLY & THE FAMILY STONE: Everyday People (Epic, Greatest Hits)
DAVE EDMUNDS: From Small Things (Big Things One Day Come) (Sony, Here Comes The Weekend)
—
PAUL COLLINS: Kind Of Girl (Alive, Out Of My Head)
THE REPLACEMENTS: Bastards Of Young (Sire, For Sale)
THE RECORDS: Paint Her Face (Virgin, Smashes, Crashes And Near Misses)
BUDDY HOLLY: Peggy Sue (MCA, The Buddy Holly Collection)
P. HUX: This Is The One (Nine 18, This Is The One)
T. REX: 20th Century Boy (Crimson, The Very Best Of T. Rex)
—
JOHN WICKS & THE RECORDS: That Girl Is Emily (Kool Kat Musik, Rotate)
MOTT THE HOOPLE: Golden Age Of Rock 'n' Roll (Columbia, Greatest Hits)
THE KINKS: All Day And All Of The Night (Sanctuary, The Ultimate Collection)
THE GLADIOLAS: Little Darlin' (Rhino, VA: The Best Of Excello Records, Vol. 2)
MICHAEL OLIVER & GO, DOG, GO!: Sometimes Sunshine (n/a, Pop And Circumstances)
MICHAEL OLIVER: Up To You (unreleased)
—
THE SLAPBACKS: Make Something Happen (Kool Kat Musik, VA: This Is Rock 'n' Roll Radio, Volume 4)
THE RECORDS: Teenarama (On The Beach, The Records/Shades In Bed)
RONNIE DARK: Never My Love (unreleased)
THE TROGGS: Love Is All Around (Fontana, Archeology)
THE GRIP WEEDS: Vibrations (Jem, Trip Around The Sun)
THE BEATLES: I've Just Seen A Face (Capitol, Rubber Soul)
—
JOHN WICKS & THE RECORDS: We Can Work It Out (Kool Kat Musik, Rotate)
MARSHALL CRENSHAW & CHRISTINE OHLMAN: Cruel To Be Kind (Telarc, VA: Labour Of Love)
THE RECORDS: Hearts In Her Eyes (Virgin, Smashes, Crashes And Near Misses)
BRAM TCHAIKOVSKY: Girl Of My Dreams (Rhino, VA: DIY: Starry Eyes)
THE RECORDS: The Same Mistakes (Virgin, Smashes, Crashes And Near-Misses)
SQUEEZE: Pulling Mussels (From The Shell) (Love, Spot The Difference)
JOHN WICKS & THE RECORDS: Rising Stars (Kool Kat Musik, Rotate)
THE UNDERTONES: Teenage Kicks (Rykodisc, The Undertones)
THE RECORDS: Starry Eyes (Virgin, Smashes, Crashes And Near Misses)
THE PYRAMIDS: Penetration (Ace, VA: The Birth Of Surf)