Everyone's Invited # 120 – 10/07/18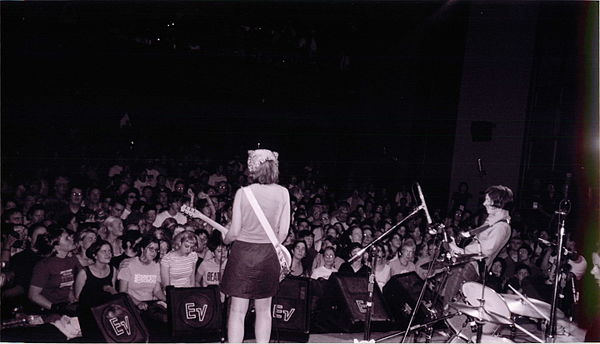 Punk rock, ethereal electrowave-pop, repeating band names, Twin Peaks-inspired tunes, AND an indie label spotlight on Yo Yo Recordings.  Each week EVERYONE'S INVITED overloads the airwaves, but there's room for you too.  Sunday evenings from 7-9pm ET on 103.3 and 93.7 FM or online right here.
Steinways – Arena Rock
The Framed – Disposition of Desperation
Radio Buzzkills – I Got Fired
Alice Bag – 77
Ghoti Hook – Seasons
Powerchords – Bad Guys
Odd Robot – Honestly I'm Tired
Smoking Popes – I Need You Around
Cocteau Twins – Cherry Coloured Funk
Fangs – Vintage Undertaker
Kikagaku Moyo – Fluffy Kosmisch
Eyeless In Gaza – The Feeling's Mutual
Gothic Archies – In The Reptile Room
Pkew Pkew Pkew – Let's Order A Pizza
Bad Cop/Bad Cop – Womanarchist
Lala Lala – Spy
Agar Agar – Gigi Song
Django Django – Default
Candy Isle – Special Agent
Happy Mondays – Harmony
__________________________________________________
Indie Label Spotlight on Yo Yo Recordings!!!
Burl – Hollowed Out Log
Mountain Goats – Narakaloka
Little Red Car Wreck – House Fire
The Cannanes And Steward – Mirage
Sleater-Kinney – Banned From The End Of The World (live)
Go Sailor – Fine Day For Sailing
Microphones – Ocean
Rebecca Pearcy – Poppies
Blairmailer – Wyona
Modest Mouse – Dirty Fingernail (live)
Kicking Giant – Lucky
Space Ballerinas – Strawberry Child
David Rovics – Whoever Wins In November
Kickball – Party
Tummy Ache – Usurp Me
Cub – Your Bed (live)
Lois Maffeo – Shame The Bells
Beck – The World May Loose It's Motion
Mirah – 1982 (Atari)
Fitz Of Depression – I'm The Man
Dennis Driscoll – I Will Always Love You