This Is Rock 'n' Roll Radio # 942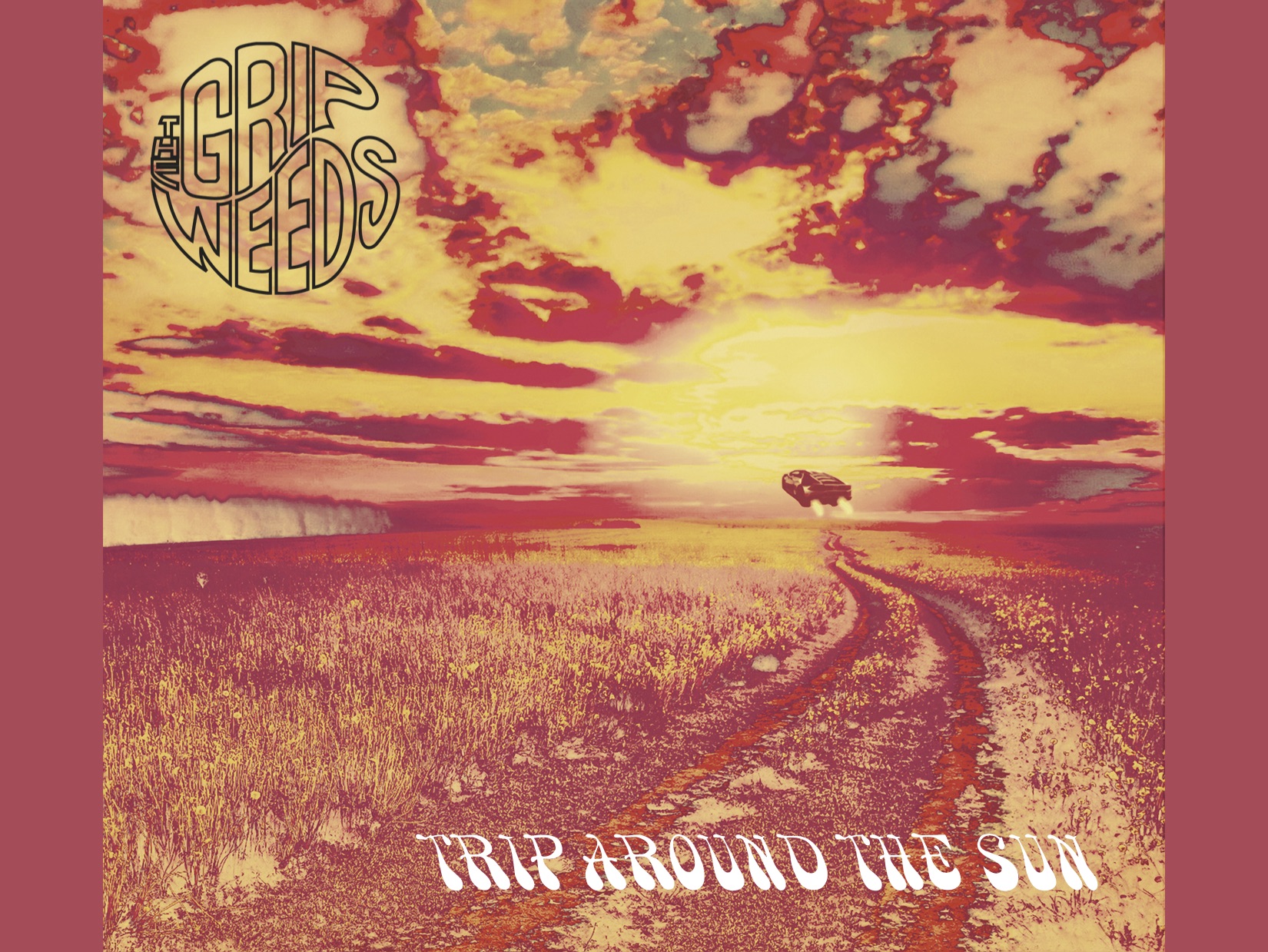 When presented with an opportunity to play new music from The Grip Weeds, the superior rockin' pop radio show's path is suddenly set and secure. We love The Grip Weeds, so it's really sayin' something when we say Trip Around The Sun may be their very best long-player to date. The album is due October 19th from the mighty 'n' legendary Jem Records, and it's available for preorder right now from your favorite songsellers. In hyping it for Amazon, intrepid TIRnRR listener Rich Firestone wrote this fluent sellspeak:
New Jersey's The Grip Weeds release their seventh studio album Trip Around The Sun, their second for Jem Records, and the follow-up to their acclaimed 2015 release How I Won The War. The Grip Weeds turn in the most varied collection of songs in their decades-long history. Echoes of sunshine pop ( Vibrations ), psychedelic garage rock ( Mr. Nervous ), biting social commentary ( Casual Observer (To A Crime) ), vintage folk rock ( Truth Behind The Lie ), and the riff-driven rock of the epic title cut, all with The Grip Weeds trademark melodic songwriting, powerful guitars and rhythm, and close harmony vocals. A fine place for new fans to discover what longtime fans have always known: The Grip Weeds are a timeless band with a new album made for these times.
Reechie TESTIFIES! Dana & Carl can only add: GET IT, you lot!
To build a better radio show, we supplemented minty-fresh Grip Weeds with new music from Eric Stracener & the Frustrations and from Dana Countryman featuring Scott McPherson, and our prerequisite slam-bang-WOW from across the decades of rockin' pop music. What path shall the superior rockin' pop radio take? Just follow us, man–we know the way. This is what rock 'n' roll radio sounded like on a Sunday night in Syracuse this week.
This Is Rock 'n' Roll Radio with Dana & Carl, Sunday nights from 9 to Midnight Eastern, on the air in Syracuse on The Spark WSPJ-LP 103.3 and 93.7 FM, and on the web at http://sparksyracuse.org/
Spark Syracuse is supported by listeners like you. Tax-deductible donations are welcome at http://sparksyracuse.org/support/
You can follow Carl's daily blog Boppin' (Like The Hip Folks Do) at
https://carlcafarelli.blogspot.com/
Our new compilation CD This Is Rock 'n' Roll Radio, Volume 4 is now available from Kool Kat Musik! 29 tracks of irresistible rockin' pop, starring Pop Co-Op, Ray Paul, Circe Link & Christia-n Nesmith, Vegas With Randolph Featuring Lannie Flowers, The Slapbacks, P. Hux, Irene Peña, Michael Oliver & the Sacred Band Featuring Dave Merritt, The Rubinoos, Stepford Knives, The Grip Weeds, Popdudes, Ronnie Dark, The Flashcubes, Chris von Sneidern, The Bottle Kids, 1.4.5., The Smithereens, Paul Collins' Beat, The Hit Squad, The Rulers, The Legal Matters, Maura & the Bright Lights, Lisa Mychols, and Mr. Encrypto & the Cyphers. You gotta have it, so order it at https://tinyurl.com/ycnly8oz
TIRnRR # 942: 9/23/18
THE RAMONES: Do You Remember Rock 'n' Roll Radio? (Rhino, End Of The Century)
—
THE GRIP WEEDS: Vibrations (Jem, Trip Around The Sun)
HARMONIC DIRT: Maybe (n/a, Anthracite)
SLY & THE FAMILY STONE: Hot Fun In The Summertime (Epic, Greatest Hits)
SLY JOHNSON: Take Me To The River (EMI, VA: Soul Classics Vol. 6)
THE STEVE DEATON THREE: Tall Dark Stranger (Plowhandle, The Steve Deaton Three)
THE CRYAN' SHAMES: If I Needed Someone (Sony, Sugar And Spice)
—
ERIC STRACENER & THE FRUSTRATIONS: Levee (ericstracener.bandcamp.com, Levee)
DAVE BERRY: Don't Give Me No Lip Child (Decca, The Collection)
PATTI SMITH: Gloria (Arista, Horses)
THE WHO: The Good's Gone (MCA, My Generation)
FOOLS FACE: Stand Up (Talk, Tell America)
THE SMITHEREENS: Strangers When We Meet (Capitol, Blown To Smithereens)
—
PAUL McCARTNEY: Get Started (Capitol, Egypt Station)
THE POSIES: I'm Looking Through You (MOJO, VA: Beatlemania Volume 1)
THE RUTLES: It's Looking Good (Rhino, The Rutles)
THE DUKES OF STRATOSPHEAR: Vanishing Girl (Rhino, VA: Children Of Nuggets)
SMOKEY ROBINSON & THE MIRACLES: The Tears Of A Clown (Motown, VA: Hitsville USA)
THE MONKEES: A Little Bit Me, A Little Bit You (Rhino, 50)
—
DANA COUNTRYMAN FEATURING SCOTT McPHERSON: You're Still Number One (danacountryman.com, single)
THE BUZZCOCKS: Ever Fallen In Love (IRS, Singles Going Steady)
LYRES: Help You, Ann (Matador, On Fyre)
THE EXPLODING HEARTS: (Making) Teenage Faces (Dirtnap, Shattered)
THE GRIP WEEDS: Strange Bird (Kool Kat Musik, VA: This Is Rock 'n' Roll Radio, Volume 4)
THE GRIP WEEDS: After The Sunrise (Jem, Trip Around The Sun)
—
PoP: Warhol's Promise (p-o-p.bandcamp.com, 3)
THE OUTLETS: Knock Me Down (Rhino, VA: DIY: Mass Ave)
CHUCK BERRY: Carol (MCA, The Anthology)
THE RONETTES: Be My Baby (Sony, Playlist)
BUCK OWENS & HIS BUCKAROOS: Who's Gonna Mow Your Grass (Rhino, 21 # 1 Hits)
THE ROLLING STONES: Get Off Of My Cloud (Virgin, Forty Licks)
—
THE BOB SEGER SYSTEM: 2 + 2 = ? (Capitol, single)
THE BEVIS FROND: Lights Are Changing (Rhino, VA: Children Of Nuggets)
JOHNNY JOHNSON & THE BANDWAGON: Blame It On The Pony Express (Varese Sarabande, VA: Soulful Pop)
EDISON LIGHTHOUSE: Love Grows (Where My Rosemary Goes) (Varese Sarabande, VA: 25 All-Time Greatest Bubblegum Hits)
THE RAMONES: Teenage Lobotomy (Rhino, Rocket To Russia)
HOLE: Heaven Tonight (Geffen, Celebrity Skin)
—
IRENE PEÑA: Must've Been Good (Kool Kat Musik, VA: This Is Rock 'n' Roll Radio, Volume 4)
MARY LOU LORD: Aim Low (Kill Rock Stars, Mary Lou Lord/Sean Na Na)
ATHANOR: Magic In Me (Kool Kat Musik, Hills Of The Universe)
THE MERRYMAKERS: I'll Feel A Whole Lot Better (Not Lame, VA: Full Circle)
EYDIE GORME: Blame It On The Bossa Nova (Real Gone Music, Blame It On The Bossa Nova)
THE GROOVIE GHOULIES: Carly Simon (Lookout, VA: Lookout! Freakout!)
—
THE GRIP WEEDS: She Tries (Jem, Trip Around The Sun)
KENNY HOWES & THE YEAH!: Sheila, She (Tall Boy, Until Dawn)
PAUL McCARTNEY: Who Cares (Capitol, Egypt Station)
THE ORGONE BOX: World Revolves (Minus Zero, The Orgone Box)
P. P. ARNOLD: The First Cut Is The Deepest (Immediate, The First Cut)
AMY RIGBY: Dancing With Joey Ramone (Signature Sounds, Little Fugitive)
THE KINKS: All Day And All Of The Night (Sanctuary, The Ultimate Collection)
ASTROPUPPES: Over Her Head (Manateem Little Chick Tsunami)
THE BEACH BOYS: Pet Sounds (Capitol, Pet Sounds)