This Is Rock 'n' Roll Radio # 938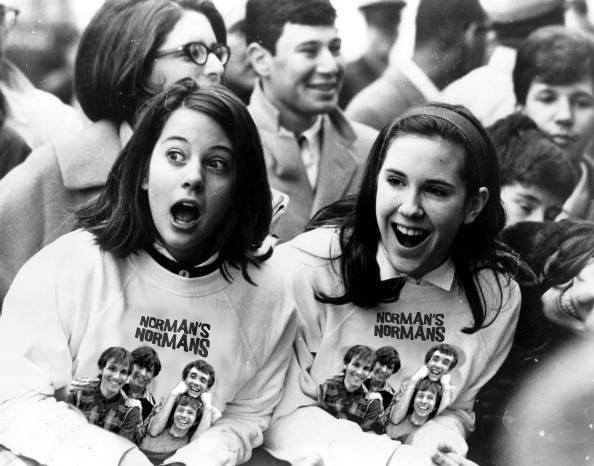 Pop music has no expiration date. It shouldn't, anyway; a great rock 'n' roll song from the '50s sounded just terrific to me the first time I heard it, when I was a pre-teen in the early '70s and the Top 40 format of Syracuse's WOLF-AM was broad enough to introduce me to Chuck Berry. I'm always looking for sounds, new and old, to fill my ongoing soundtrack. Gotta hear the old stuff. Gotta hear new stuff. It's what drives me every day, and it's what drives This Is Rock 'n' Roll Radio with Dana & Carl.
Sometimes "new stuff" ain't exactly new, just new to you. This week's TIRnRR included two older tracks I heard for the first time recently: The Swing Set's ultrafab "Trying To Get You Out Of My Mind," a mid '80s winner that ultrafab Rochester DJ Mike Murray pointed out for me; and "9-9-9!," a track by a fictitious British Invasion combo called Norman's Normans, as heard in their 2013 movie Ripped! (a sheer hoot of a Herman's Hermits pastiche I'll be discussing in a near-future blog post). GEAR! We also had actual brand-new music from The Turnback (an album which our friends on The Wax Museum With Ronnie Dark over on WVOA-FM also played earlier the same evening), Addison Love, PoP, and Badass Mother Fuzzers. Throw in some old, throw in some recent, throw out your preconceptions, and throw yourself into the giddy, timeless pleasure of pop music. Just like The Carpenters, throw your sadness away. Only yesterday? Only always. This is what rock 'n' roll radio sounded like on a Sunday night in Syracuse this week.
This Is Rock 'n' Roll Radio with Dana & Carl, Sunday nights from 9 to Midnight Eastern, on the air in Syracuse on The Spark WSPJ-LP 103.3 and 93.7 FM, and on the web at http://sparksyracuse.org/
Spark Syracuse is supported by listeners like you. Tax-deductible donations are welcome at http://sparksyracuse.org/support/
You can follow Carl's daily blog Boppin' (Like The Hip Folks Do) at
https://carlcafarelli.blogspot.com/
Our new compilation CD This Is Rock 'n' Roll Radio, Volume 4 is now available from Kool Kat Musik! 29 tracks of irresistible rockin' pop, starring Pop Co-Op, Ray Paul, Circe Link & Christia-n Nesmith, Vegas With Randolph Featuring Lannie Flowers, The Slapbacks, P. Hux, Irene Peña, Michael Oliver & the Sacred Band Featuring Dave Merritt, The Rubinoos, Stepford Knives, The Grip Weeds, Popdudes, Ronnie Dark, The Flashcubes, Chris von Sneidern, The Bottle Kids, 1.4.5., The Smithereens, Paul Collins' Beat, The Hit Squad, The Rulers, The Legal Matters, Maura & the Bright Lights, Lisa Mychols, and Mr. Encrypto & the Cyphers. You gotta have it, so order it at https://tinyurl.com/ycnly8oz
TIRnRR # 938: 8/26/18
THE RAMONES: Do You Remember Rock 'n' Roll Radio? (Rhino, End Of The Century)
—
ADDISON LOVE: Wee & Nancy Lee (Big Stir, Thoughts On Lunch?)
PoP: New Again (p-o-p.bandcamp.com, 3)
CHUCK BERRY: Johnny B. Goode (MCA, The Anthology))
THE BEACH BOYS: Darling (Capitol, Good Vibrations)
THE RED BUTTON FEATURING PETER NOONE: Ooh Girl (Jem, single)
HARMONIC DIRT: Maybe (n/a, Anthracite)
—
NORMAN'S NORMANS: 9-9-9! (normansnormans.bandcamp,com, Music From Ripped!)
WEST COAST REVIVAL: Feelin' Alright (Zealous, VA: Soul Sides Volume Two: The Covers)
THE HUMAN LEAGUE: (Keep Feeling) Fascination (EMI, VA: Living In Oblivion The 80's Greatest Hits Volume 3)
BOBBY ANGELLE: Too Much For You (MOJO, VA: Raw Soul)
WILKERSON: Let It Go Tonight (SpyderPop, single)
MARLENA SHAW: Liberation Conversation (MOJO, VA: Chess Classics)
—
THE TURNBACK: Untitled So Far (Kool Kat Musik, Spinning The Earth In Reverse)
THE PSYCHEDELIC FURS: Pretty In Pink (Columbia, Talk Talk Talk)
THE CARPENTERS: Only Yesterday (A & M, Singles 1969-1981)
MUDDY WATERS: Tom Cat (Chess, Electric Mud)
THE DANDY WARHOLS: We Used To Be Friends (Capitol, Welcome To The Monkey House)
BLONDIE: X-Offender (Chrysalis, Blondie)
—
BADASS MOTHER FUZZERS: Gonna Get You (badassmotherfuzzers.bandcamp.com, single)
WHITE STRIPES: Fell In Love With A Girl (Warner Brothers, White Blood Cells)
THE PANDORAS: Just A Picture (Burger, Hey! It's The Pandoras)
SHONEN KNIFE: Top Of The World (A & M, VA: If I Were A Carpenter)
SMOKEY ROBINSON & THE MIRACLES: The Tears Of A Clown (Motown, VA: Hitsville USA)
PUFFY AMIYUMI: Love So Pure (Bar/None, Nice)
—
THE SWING SET: Trying To Get You Out Of My Mind (Peppermint, single)
THE GANTS: I Wonder (Rhino, VA: Nuggets)
THE FLESHTONES: For A Smile (Yep Roc, Wheel Of Talent)
THE HOOCHIE COOCHIES: I'm A Boy (No Smoke, VA: Zulu Stomp!!)
THE BOOKENDS: Laugh Or Cry (Otto Raw, Far Away But Around)
THE OUTLETS: Knock Me Down (Rhino, VA: DIY: Mass Ave)
—
THE FLASHCUBES: No Promise (Northside, Bright Lights)
THE HIT SQUAD: Best Of Me (Kool Kat Musik, VA: This Is Rock 'n' Roll Radio, Volume 4)
HERMAN'S HERMITS: Mrs. Brown You've Got A Lovely Daughter (EMI, Single Collection +)
THE BEATLES: Hey Jude [live]
DEAN LANDEW: After Work (deanlandew.bandcamp.com)
THE BEATLES: Revolution [promo video version]
—
SEX CLARK FIVE: Quasar (Records To Russia, Mrs. Von Braun You've Got A Lovely Daughter)
JOEY RAMONE & GENERAL JOHNSON: Rockaway Beach (Rhino Forward, VA: Godchildren Of Soul)
THE DAVE CLARK FIVE: Any Way You Want It (Hollywood, The History Of The Dave Clark Five)
R.E.M.: It's The End Of The World As We Know It (And I Feel Fine) (IRS, …And I Feel Fine)
THE KINKS: You Really Got Me (Sanctuary, The Ultimate Collection)
THE BEVIS FROND: Now You Know (Fire, Bevis Through The Looking Glass)
GRETCHEN'S WHEEL: Plans (Futureman, Black Box Theory)
PoP: Warhol's Promise (p-o-p.bandcamp.com, 3)
THE MONKEES: Birth Of An Accidental Hipster (Rhino, Good Times!)
THE LA'S: There She Goes (Rhino, VA: Children Of Nuggets)
THE LAMBRETTAS: Da-a-a-ance (MCA, Beat Boys In The Jet Age)
ARETHA FRANKLIN: Niki Hoeky (Rhino, Lady Soul)
NORMAN'S NORMANS: Come With Me (Beam Trip) (normansnormans.bandcamp.com, Music From Ripped!)