This Is Rock 'n' Roll Radio # 935: Dana's Funky Soul Pit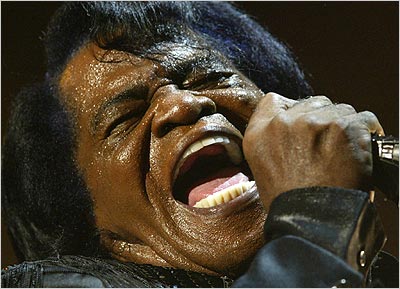 Once again, the time had come to make Sunday sweat.
It was the right weather for it, for sure. The muggy air in Syracuse felt like a full metal straitjacket, two sizes too small, twenty degrees too hot, a dozen shades too far gone to sit right. It was hot, and not the cool kind of hot. Only radio could possibly save us. I brought cold water. And Dana…
…Well. Dana brought the noise. The funk. The soul. The R 'n' B. And all was right with the world. Welcome to the sixth annual edition of DANA'S FUNKY SOUL PIT. Turn that noise UP. The time has come to dance this heat, and repeat. This is what rock 'n' roll radio sounded like on a Sunday night in Syracuse this week.
Take it, Dana.
This Is Rock 'n' Roll Radio with Dana & Carl, Sunday nights from 9 to Midnight Eastern, on the air in Syracuse on The Spark WSPJ-LP 103.3 and 93.7 FM, and on the web at http://sparksyracuse.org/
Spark Syracuse is supported by listeners like you. Tax-deductible donations are welcome at http://sparksyracuse.org/support/
You can follow Carl's daily blog Boppin' (Like The Hip Folks Do) at
https://carlcafarelli.blogspot.com/
Our new compilation CD This Is Rock 'n' Roll Radio, Volume 4 is now available from Kool Kat Musik! 29 tracks of irresistible rockin' pop, starring Pop Co-Op, Ray Paul, Circe Link & Christian Nesmith, Vegas With Randolph Featuring Lannie Flowers, The Slapbacks, P. Hux, Irene Peña, Michael Oliver & the Sacred Band Featuring Dave Merritt, The Rubinoos, Stepford Knives, The Grip Weeds, Popdudes, Ronnie Dark, The Flashcubes, Chris von Sneidern, The Bottle Kids, 1.4.5., The Smithereens, Paul Collins' Beat, The Hit Squad, The Rulers, The Legal Matters, Maura & the Bright Lights, Lisa Mychols, and Mr. Encrypto & the Cyphers. You gotta have it, so order it here.
TIRnRR # 935: 8/5/18 DANA'S FUNKY SOUL PIT
THE RAMONES: Do You Remember Rock 'n' Roll Radio? (Rhino, End Of The Century)
—
JAMES BROWN: Gut Bucket (MOJO, VA: James Brown's Funky Summer)
CURTIS MAYFIELD: Freddie's Dead (Charly, VA: The Original Funk Soul Brothers And Sisters!)
THE ISLEY BROTHERS: Twist And Shout (Epic, The Essential Isley Brothers)
THE OHIO PLAYERS: Fire (Mercury, Gold)
BOOTSY COLLINS: Bootzilla (PolyGram, VA: Cosmic Funk)
THE TEMPTATIONS: Psychedelic Shack (Motown, Gold)
—
GEORGE CLINTON: Do Fries Go With That Shake? (PolyGram, VA: Cosmic Funk)
JOAN ARMATRADING: Me Myself I (A & M, Track Record)
NINA SIMONE: Save Me (Bluebird, VA: Flying Funk)
SHIRLEY BASSEY: Goldfinger (Capitol, VA: Best Of Bond…James Bond)
MERRY CLAYTON: Gimme Shelter (Columbia, VA: 20 Feet From Stardom OST)
NITE-LITERS: Afro Strut (Bluebird, VA: Flying Funk)
—
MARVIN GAYE & TAMMI TERRELL: Ain't No Mountain High Enough (Motown, MARVIN GAYE: Gold)
MARTHA & THE VANDELLAS: (Love Is Like A) Heat Wave (Motown, The Best Of Martha Reeves & the Vandellas)
THE RONETTES: I Can Hear Music (Sony, Playlist)
SAM & DAVE: Hold On, I'm A Comin' (Rhino, Soothe Me)
THE FLARES: Foot Stompin' (MCA, VA: Hairspray OST)
RICHARD BERRY & THE PHAROAHS: Louie Louie (Ace, VA: Love That Louie)
—
WILSON PICKETT: Soul Dance Number Three (Rhino, A Man And A Half)
EDDIE FLOYD: Knock On Wood (Charly, VA: This Is Soul)
THE FIVE DU-TONES: Shake A Tail Feather (MCA, VA: Hairspray OST)
OTIS REDDING: Respect [live] (Atlantic, The King Of Soul)
OTIS REDDING: Mr. Pitiful (Atlantic, The King Of Soul)
OTIS REDDING: (Sittin' On) The Dock Of The Bay (Atlantic, The King Of Soul)
—
THE ISLEY BROTHERS: It's Your Thing (Epic, The Essential Isley Brothers)
EARTH, WIND & FIRE: September (Apace, Best Of Earth, Wind & Fire)
THE COMMODORES: Machine Gun (Capitol, VA: Boogie Nights OST)
BIG MAMA THORNTON: Hound Dog (MCA, Hound Dog)
LITTLE EVA: The Locomotion (EMI, VA: Girl Crazy!)
IKE & TINA TURNER: River Deep Mountain High (EMI, VA: Girl Crazy!)
—
SLY & THE FAMILY STONE: Dance To The Music (Epic, Higher!)
THE MAIN INGREDIENT: Black Seeds Keep On Growing (RCA, Everybody Plays The Fool)
PARLIAMENT: Tear The Roof Off The Sucker (Give Up The Funk) (Rhino, VA: In Yo' Face The History Of Funk Vol. 4)
WILD CHERRY: Play That Funky Music (Rhino, VA: In Yo' Face The History Of Funk Vol. 3)
THE METERS: Cissy Strut (Rhino, VA: In Yo' Face The History Of Funk Vol. 1/2)
JUDY CLAY: Sister Pitiful (Rhino, VA: Atlantic Sisters Of Soul)
—
THE MARVELETTES: Please Mr. Postman (Motown, The Best Of The Marvelettes)
JACKIE WILSON: (Your Love Keeps Lifting Me) Higher And Higher (Rhino, VA: Billboard Top R & B Hits–1967)
THE STAPLE SINGERS: I'll Take You There (Rhino, VA: In Yo' Face The History Of Funk Vol. 1)
CARLA THOMAS: B.A.B.Y. (Charly, VA: This Is Soul)
GLORIA JONES: Tainted Love (EMI, VA: Girl Crazy!)
AL WILSON: The Snake (Charly, VA: This Is Soul)
—
AL GREEN: I Want To Hold Your Hand (The Right Stuff, Green Is Blues)
SLY JOHNSON: Take Me To The River (EMI, VA: Soul Classics Vol. 6)
STEVIE WONDER: Uptight (Everything's Alright) (Motown, VA: Hitsville USA)
FONTELLA BASS: Rescue Me (Charly, VA: This Is Soul)
SHARON CASH: Fever (Zealous, VA: Soul Sides Volume Two: The Covers)
LAURA LEE: What A Man (Rhino, VA: Atlantic Soul Sisters)
ETTA JAMES: Tell Mama (MOJO, VA: Southern Soul)
THE ESQUIRES: Get On Up (Rhino, VA: Billboard Top R & B Hits–1967)
THE POINTER SISTERS: Don't Try To Take The Fifth (Rhino, VA: Atlantic Soul Sisters)
P. P. ARNOLD: Angel Of The Morning (Immediate, The First Cut)
BOOKER T & THE MG'S: Time Is Tight (Rhino, The Very Best Of Booker T & the MG's)