This Is Rock 'n' Roll Radio # 932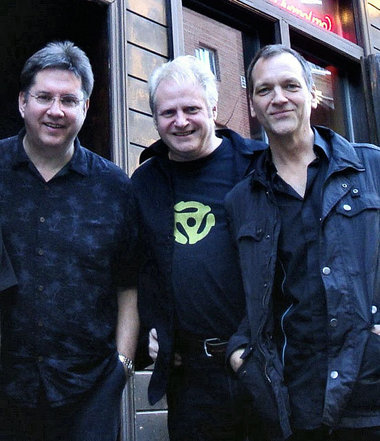 This week's extravaganza was fortified with new music from Sex Clark Five, Lannie Flowers, Richard Turgeon, and Michael Slawter, and the world premiere of a track from the new Screen Test CD Through The Past, Brightly. Swept away by the giddy, we also served up a brand new Harry Nilsson cover by that Dynamic Duo of Steve Stoeckel & Rich Firestone. All this, and requests for Paul Westerberg, Buck Owens & His Buckaroos, The Damned, X, Wreckless Eric, and The Beatles, and a fresh proclamation that "I'm Gonna Make You Love Me" by The Jayhawks is The Greatest Record Ever Made. It's good to have The Best Three Hours Of Radio On The Whole Friggin' Planet. This is what rock 'n' roll radio sounded like on a Sunday night in Syracuse this week.
This Is Rock 'n' Roll Radio with Dana & Carl, Sunday nights from 9 to Midnight Eastern, on the air in Syracuse on The Spark WSPJ-LP 103.3 and 93.7 FM, and on the web at http://sparksyracuse.org/
Spark Syracuse is supported by listeners like you. Tax-deductible donations are welcome at http://sparksyracuse.org/support/
You can follow Carl's daily blog Boppin' (Like The Hip Folks Do) at
https://carlcafarelli.blogspot.com/
Our new compilation CD This Is Rock 'n' Roll Radio, Volume 4 is now available from Kool Kat Musik! 29 tracks of irresistible rockin' pop, starring Pop Co-Op, Ray Paul, Circe Link & Christian Nesmith, Vegas With Randolph Featuring Lannie Flowers, The Slapbacks, P. Hux, Irene Peña, Michael Oliver & the Sacred Band Featuring Dave Merritt, The Rubinoos, Stepford Knives, The Grip Weeds, Popdudes, Ronnie Dark, The Flashcubes, Chris von Sneidern, The Bottle Kids, 1.4.5., The Smithereens, Paul Collins' Beat, The Hit Squad, The Rulers, The Legal Matters, Maura & the Bright Lights, Lisa Mychols, and Mr. Encrypto & the Cyphers. You gotta have it, so order it here.
TIRnRR # 932: 7/15/18
THE RAMONES: Do You Remember Rock 'n' Roll Radio? (Rhino, End Of The Century)
—
THE JAYHAWKS: I'm Gonna Make You Love Me (Columbia, Smile)
THE MONKEES: Me And Magdalena [Version 2] (Rhino, Good Times! [digital edition])
THE HANDCUFFS: Somebody Somewhere (OOFL, Electroluv)
PAUL WESTERBERG: Love Untold (Rhino, Besterberg)
THE DAMNED: Drinking About My Baby (Sanctuary, Smash It Up)
BILLY BREMNER: Loud Music In Cars (BMG, VA: Greatest Ever Alternative 80s)
—
SCREEN TEST: Notes From Trevor (Northside, Through The Past, Brightly)
CHARLIE ROBBINS: Heart Says Go (Blue Wave, VA: History Of Syracuse Music Volume 14)
IRENE PEÑA: Must've Been Good (Kool Kat Musik, VA: This Is Rock 'n' Roll Radio, Volume 4)
THE SLAPBACKS: Make Something Happen (Kool Kat Musik, VA: This Is Rock 'n' Roll Radio, Volume 4)
SCREEN TEST: Fresh As A Daisy (Northside, Through The Past, Brightly)
SPLIT ENZ: I Got You (A & M, History Never Repeats)
—
RICHARD TURGEON: Be My Wife (Kool Kat Musik, Lost Angeles)
JULIAN COPE: World Shut Your Mouth (BMG, VA: Greatest Ever Alternative 80s)
SLY & THE FAMILY STONE: Everybody Is A Star (Epic, Greatest Hits)
WRECKLESS ERIC: Whole Wide World (Stiff, Wreckless Eric)
BUCK OWENS & HIS BUCKAROOS: Who's Gonna Mow Your Grass (Rhino, 21 # 1 Hits)
THE BEATLES: All Together Now (Apple, Yellow Submarine Songtrack)
—
SEX CLARK FIVE: Rainbow Sunshine (Pop Geek Heaven, VA: International Pop Overthrow Vol. 21)
THE BYRDS: Eight Miles High (Columbia, 5D)
X: 4th Of July (Elektra, See How We Are)
GEORGE HARRISON: Wah Wah (Apple, All Things Must Pass)
STEVE STOECKEL & HIS THIS IS ROCK 'N' ROLL RADIO ALL-STARS: He And She (unreleased)
PAUL McCARTNEY & WINGS: No Words (Capitol, Band On The Run)
—
STEVE STOECKEL & RICH FIRESTONE: I Guess The Lord Must Be In New York City (unreleased)
THE 5th DIMENSION: Up, Up And Away (Sony, VA: Pure…Psychedelic Rock)
THE SMITHEREENS: It Don't Come Easy (Sunset Blvd, Covers)
MOBY GRAPE: Omaha (Sony, VA: Pure…Psychedelic Rock)
THE BEACH BOYS: That's Why God Made The Radio (Capitol, That's Why God Made The Radio)
NEW ORDER: Ceremony [alternate version] (Rhino, Movement)
—
MICHAEL SLAWTER: Mick In '69 (Futureman, Last Call For Breaking Hearts)
THE JAM: All Around The World (Polydor, Direction Reaction Creation)
THE KINKS: Dedicated Follower Of Fashion (Sanctuary, The Ultimate Collection)
ANY TROUBLE: Second Choice (Salvo, VA: Born Stiff)
SLADE: Cum On Feel The Noize (Polydor, Greatest Hits)
CHRIS DIFFORD: Fat As A Fiddle (Salvo, VA: Born Stiff)
—
LANNIE FLOWERS: The One (Spyderpop, single)
JONA LEWIE: You Will Always Find Me In The Kitchen At Parties (BMG, VA: Greatest Ever Alternate 80s)
THE BAY CITY ROLLERS: I Only Want To Be With You (Arista, The Definitive Collection)
THE CARS: Just What I Needed (Elektra, The Cars)
THE JIVE FIVE: What Time Is It (Collectables, Their Greatest Hits)
JOHNNY THUNDERS & THE HEARTBREAKERS: One Track Mind (Jungle, L.A.M.F.)
HERMAN'S HERMITS: A Must To Avoid (EMI, Single Collection +)
THE SEX PISTOLS: God Save The Queen [demo] (Rhino, VA: DIY: Anarchy In The UK)
GRETCHEN'S WHEEL: Plans (Futureman, Black Box Theory)
THE CYRKLE: Red Chair Fade Away (Sony, VA: Pure…Psychedelic Rock)
ABBA: So Long (Polydor, More ABBA Gold)
WARREN ZEVON: A Certain Girl (Rhino, Genius)
SANDY NELSON: And Then There Were Drums (Moochin About, VA: The Greatest Instrumentals 1934-1962)