This Is Rock 'n' Roll Radio # 924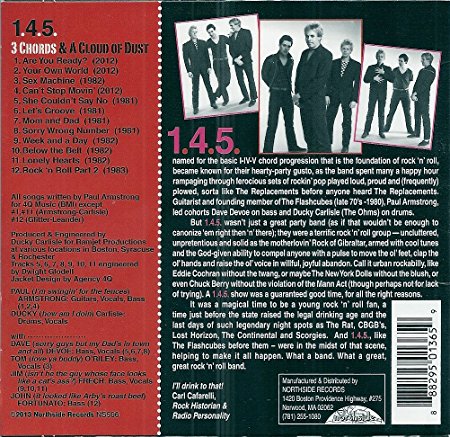 I first saw 1.4.5. in the summer of 1980 at The Poor House North, a bar in the Syracuse suburb of Liverpool, New York. It was a weird night. I had graduated from college in May, and decided to stay in Brockport with my girlfriend Brenda. We were back in Syracuse for a visit, and we saw that Paul Armstrong's new band 1.4.5. was playing on a bill with Screen Test, another new band comprised of PA's former partners in The Flashcubes (Gary Frenay, Arty Lenin, and Tommy Allen). Given the acrimonious split of the original 'Cubes lineup the year before, I was surprised that the two acts were sharing a bill. I was a fan of all of them, and I couldn't miss this.
Alas, there were complications getting there in time for the show. We were going with my friend Jay, with whom I'd gone to see my first Flashcubes show in early 1978. Another friend of ours had decided it was time to leave her home in North Syracuse, California on her mind. So we all stopped for a sumptuous dinner at Pudgies Pizza, the other patrons radiating the familiar scorn of the righteous gazing upon the misfits. We dropped our friend off at a budget motel, where she would hole up before taking the next step in her journey to the greener pastures of Anywhere Else. She was 19. We all wished her our best. We wouldn't speak again for another four years. Greener pastures proved elusive.
By the time Jay, Brenda, and I got to The Poor House North, we'd missed the opening set by The Dead Ducks Band. The perils of bein' a pal! But we were there in time for The Works, Screen Test, and 1.4.5. It was a magnificent night of rockin' pop music, culminating in an on-stage reunion of the original Flashcubes, Paul once again joining his once and future mates for a romp through his signature 'Cubes tune "Got No Mind." And all was right with the world.
I can't convey how much I loved this period in Syracuse music. I don't mean just the brief heyday of The Flashcubes, but also all that followed in the early '80s. Maybe the feeling is given an added patina by my absence from it; living in Brockport, the bright lights and starry nights of Syracuse noise seemed so far away, out of my reach. Syracuse wasn't exactly a teeming metropolis, but it was a city, and there was a lot more happening there than in the little village of Brockport. I'd made a choice to pursue my own vision of greener pastures. It was the right decision. But I missed the music of my homeland, even from a mere two-and-a-half hour bus ride away. It might as well have been measured in light years.
Still, I did make it back to Syracuse a few times, and I saw Screen Test and 1.4.5. any time I had an opportunity to do so. Man, they were such great groups, both of them. I saw them together one more time, on my last-ever visit to The Jab up at Syracuse University, a show which again culminated in a united performance of "Got No Mind." I saw Screen Test at The Firebarn. I saw 1.4.5. at Squires East. And that was probably it. The time slipped away from me, irrevocably. I knew it was special. And I could not hang on to it, no matter how hard I tried. The drinking age changed. The clubs closed. Bands broke up, or moved on. Maturity beckoned.
Yeah. Screw that.
Somewhere in there, I kinda sorta grew up a little bit nonetheless. But I was never so foolish as to relinquish my appreciation of what I'd experienced, my conviction in the sheer wonder of what I'd heard. Nothing has changed that, and nothing ever will.
This Friday, May 25th, 1.4.5. will return to Syracuse for a show at Funk 'N Waffles, on a bill with 61 Ghosts, The Mickey Brown Band, and The Johnny Thunders Orchestra. On This Is Rock 'n' Roll Radio, we celebrated the music of our Featured Act 1.4.5., along with new music from Lisa Mychols, Diamond Hands, Marc Jonson, Jerry Hull, and Disconnected Genius, and the transcendent buzz of The Romantics, The Sensational Alex Harvey Band, The Dave Clark Five, KISS, Ian Hunter, The Smithereens, Apples In Stereo, Iggy & the Stooges, The Kinks, The O'Jays, April Wine, The Monkees, Johnny Thunders, Sly & the Family Stone, and The Beatles. It never does get old. Let's groove! Greener pastures await. This is what rock 'n' roll radio sounded like on a Sunday night in Syracuse this week.
This Is Rock 'n' Roll Radio with Dana & Carl, Sunday nights from 9 to Midnight Eastern, on the air in Syracuse on The Spark WSPJ-LP 103.3 and 93.7, and on the web at http://sparksyracuse.org/
Spark Syracuse is supported by listeners like you. Tax-deductible donations are welcome at http://sparksyracuse.org/support/
You can follow Carl's daily blog Boppin' (Like The Hip Folks Do) at
https://carlcafarelli.blogspot.com/
Our new compilation CD This Is Rock 'n' Roll Radio, Volume 4 is now available from Kool Kat Musik! 29 tracks of irresistible rockin' pop, starring Pop Co-Op, Ray Paul, Circe Link & Christian Nesmith, Vegas With Randolph Featuring Lannie Flowers, The Slapbacks, P. Hux, Irene Peña, Michael Oliver & the Sacred Band Featuring Dave Merritt, The Rubinoos, Stepford Knives, The Grip Weeds, Popdudes, Ronnie Dark, The Flashcubes, Chris von Sneidern, The Bottle Kids, 1.4.5., The Smithereens, Paul Collins' Beat, The Hit Squad, The Rulers, The Legal Matters, Maura & the Bright Lights, Lisa Mychols, and Mr. Encrypto & the Cyphers. You gotta have it, so order it here.
TIRnRR # 924: 5/20/18
THE RAMONES: Do You Remember Rock 'n' Roll Radio? (Rhino, End Of The Century)
—
1.4.5.: Let's Groove (Northside, 3 Chords & A Cloud Of Dust)
APRIL WINE: Wanna Rock (Disky, April Wine)
THE ROMANTICS: In The Nighttime (Nemperor, Strictly Personal)
THE SENSATIONAL ALEX HARVEY BAND: Giddie Up A Ding Dong (Windsong, BBC Radio 1 Live In Concert)
THE DAVE CLARK FIVE: Glad All Over (Hollywood, The History Of The Dave Clark Five)
THE SEARCHERS: Hearts In Her Eyes (Sire, The Searchers)
—
PCPD: Underworld (Futureman, VA: Back In Time)
ALTERED IMAGES: Happy Birthday (Sony, VA: New Wave Classics Of The 70's & 80's)
1.4.5.: Are You Ready? (Northside, 3 Chords & A Cloud Of Dust)
RITCHIE VALENS: Come On, Let's Go (Flashback, La Bamba And Other Hits)
KISS: Detroit Rock City (Mercury, The Very Best Of KISS)
IAN HUNTER: All The Way From Memphis [live] (EMI, The Best Of Ian Hunter)
—
LISA MYCHOLS: He's Got Me Dreaming (n/a, Sugar)
THE ZOMBIES: She's Not There (Big Beat, Zombie Heaven)
THE O'JAYS: For The Love Of Money (Sony, VA: A Salute To Black Entertainers)
SLY & THE FAMILY STONE: Thank You (Falletinme Be Mice Elf Agin) (Epic, Higher!)
1.4.5.: Sorry Wrong Number (Northside, 3 Chords & A Cloud Of Dust)
THE MONKEES: You Told Me (Rhino, Headquarters)
—
MARC JONSON: Smash (marcjonson.com, single)
THE SMITHEREENS: Behind The Wall Of Sleep (Capitol, Blown To Smithereens)
1.4.5.: Below The Belt (Northside, 3 Chords & A Cloud Of Dust)
DAVID BOWIE: Fashion [single version] (Rhino, VA: Up. Down. Turn Around)
JOHNNY THUNDERS: In Cold Blood (New Rose, In Cold Blood)
RICHARD HELL & THE VOIDOIDS: Down At The Rock 'n' Roll Club (Sire, Blank Generation)
—
1.4.5.: Your Own World (Kool Kat Musik, VA: This Is Rock 'n' Roll Radio, Volume 4)
THE CHOIR: If These Are Men (Omnivore, Artifact)
THE FLASHCUBES: Got No Mind [live] (Northside, Bright Lights)
APPLES IN STEREO: Strawberryfire (spinART, Her Wallpaper Reverie)
BILLY RILEY & THE LITTLE GREEN MEN: Red Hot (Rhino, VA: The Sun Story)
FRANKIE FORD: Sea Cruise (Scotti Brothers, VA: The Best Of Ace Records: The Pop Hits)
—
DIAMOND HANDS: Now Or Never (Kool Kat Musik, Diamond Hands II)
THE WHO: Substitute (Decca, Meaty Beaty Big And Bouncy)
1.4.5.: Can't Stop Movin' (Northside, 3 Chords & A Cloud Of Dust)
IGGY & THE STOOGES: I Got A Right (Easy Action, Heavy Liquid)
DISCONNECTED GENIUS: Just Stay Don't Go (n/a, Nirvikalpa Meow)
LOU REED: Walk On The Wild Side (Columbia, VA: 20 Feet From Stardom OST)
—
THE BOB SEGER SYSTEM: 2 + 2 = ? (Capitol, single)
LOVE: 7 And 7 Is (Rhino, VA: Nuggets)
JERRY HULL: Supercharged Chassis (n/a, single)
THE ROLLING STONES: Happy (Virgin, Forty Licks)
1.4.5.: Mom And Dad (Northside, 3 Chords & A Cloud Of Dust)
GEN X: Dancing With Myself (Chrysalis, single)
—
THE HIT SQUAD: Best Of Me (Kool Kat Musik, VA: This Is Rock 'n' Roll Radio, Volume 4)
THE MO-DETTES: White Mice (Rhino, VA: DIY: Starry Eyes)
THE KINKS: Tired Of Waiting For You (Sanctuary, The Ultimate Collection)
APRIL WINE: Roller (Disky, April Wine)
KASENETZ-KATZ SUPER CIRCUS: I'm In Love With You (Buddah, Quick Joey Small)
BIG STAR: I'm In Love With A Girl (Stax, The Best Of Big Star)
1.4.5.: She Couldn't Say No (Northside, 3 Chords & A Cloud Of Dust)
THE BEATLES: Hey Bulldog (Apple, Yellow Submarine Songtrack)
1.4.5.: Rock 'n Roll Part 2 (Northside, 3 Chords & A Cloud Of Dust)