SHUFFLIN' THROUGH THE SIXTIES #52 (Halloween Special)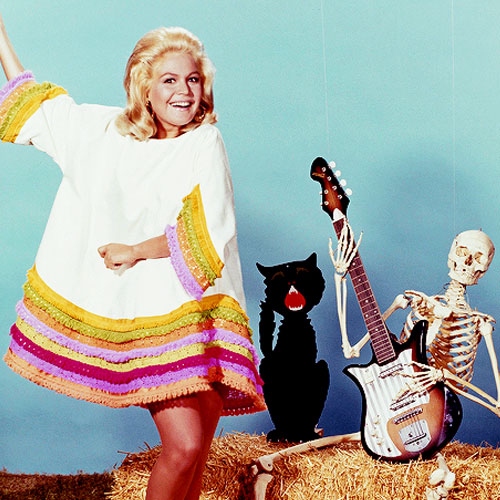 This week's episode of SHUFFLIN' THROUGH THE SIXTIES added to the cauldron a sprinkle or two of spookiness and a few dashes of good old-fashioned fun. In case you missed it, check out the full playlist below.

Episodes of this 1960s-themed musical program premiere at 7 p.m. Eastern on Wednesdays, but you can catch it again during the following time slots: 3 to 4 a.m. on Thursdays; 11 to midnight on Fridays; 3 to 4 p.m. on Sundays; and 2 to 3 a.m. the ensuing Tuesdays.
_____________________________________
PLAYLIST (10/27/21)
01. "SYMPATHY FOR THE DEVIL" • THE ROLLING STONES
02. "THEME TO THE ADDAMS FAMILY" • VIC MIZZY
03. "SEASON OF THE WITCH" • DONOVAN
04. "SHE PUT A HEX ON YOU" • THEM
05. "FRANKENSTEIN TWIST" • THE CRYSTALS
06. "HAUNTED HOUSE" • JUMPIN' GENE SIMMONS
07. "WICKED ANNABELLA" • THE KINKS
08. "THE MUMMY'S BALL" • THE VERDICTS
09. "I WANT CANDY" • THE STRANGELOVES
10. "BLACK MAGIC WOMAN" • FLEETWOOD MAC
11. "PEOPLE ARE STRANGE" • THE DOORS
12. "BAD MOON RISING" • CREEDENCE CLEARWATER REVIVAL
13. "I'M THE WOLFMAN" • ROUND ROBIN
14. "MONSTER SURFING TIME" • THE DEADLY ONES
15. "SPOOKY" • CLASSICS IV
16. "I PUT A SPELL ON YOU" • THE ALAN PRICE SET
17. "LI'L RED RIDING HOOD" • SAM THE SHAM & THE PHARAOHS
18. "EGYPTIAN SHUMBA" • THE TAMMYS
19. "THE PROPHECY OF DANIEL & JOHN THE DIVINE" • THE COWSILLS