THIS IS ROCK 'N' ROLL RADIO # 1098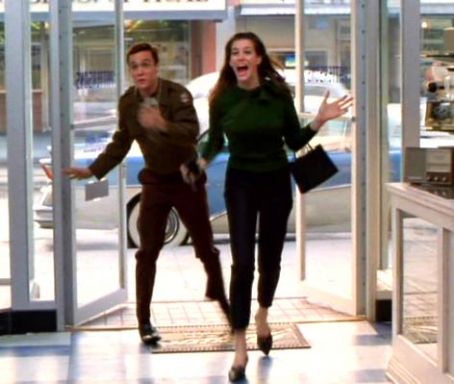 There are a few things in life that are perfect. Most of them involve music.
The above thought occurred to me last week, after I watched the extraordinary musical Come From Away, a work of boundless spirit and emotional impact, an expression of relentless wonder from start to finish. Wonder. That also applies to a little motion picture called That Thing You Do!
That Thing You Do! opened in theaters 25 years ago this month. It's my all-time favorite movie, edging out my previous favorite flick A Hard Day's Night. Music and movies. It occurs to me that I first saw both films within about a mile of each other, the Beatles' film at the North Drive-In in Cicero, NY in 1964, and teen sensations the Wonders at Cicero Cinema 13 in 1996. The drive-in closed in the '80s, and is now (blasphemy!) the site of a Wal-Mart. Cicero Cinema 13 had just opened in September of 1996, and That Thing You Do! may have been the first of many films I saw there. It too faded into that great Bijou in the sky in 2005. The building that housed it is now part of a car dealership. Roll credits!
I never tire of That Thing You Do! The film is loaded with heart and ingenuity, performed by charismatic players, stacked with quotable lines, and propelled by an irresistible title song that was crafted by the late, great Adam Schlesinger. I have owned the movie on VHS, on DVD, a deluxe version on DVD, and a deluxe version on Blu-ray. If there had been a paperback novelization, I would have bought that, and I'm very open to the idea of buying books about the making of the movie. In the mean time, The Ringer recently posted a fabulous and detailed oral history of That Thing You Do!, which I recommend to anyone with an interest in Erie, PA's phenomenal fictional pop combo the Wonders.
And still, when I'm flipping channels on TV, if I happen upon That Thing You Do!, I watch it through to the end. Again. It's…snappy. Perfect wonder, every time.
There are a few things in life that are perfect. Most of them involve music. It's that thing we do. The wonder renews. This is what rock 'n' roll radio sounded like on a Sunday night in Syracuse this week.
IN TWO WEEKS: THIS IS ROCK 'N' ROLL RADIO # 1100!
This Is Rock 'n' Roll Radio with Dana & Carlairs Sunday nights from 9 to Midnight Eastern, on the air in Syracuse at SPARK! WSPJ 103.3 and 93.7 FM, and on the web at http://sparksyracuse.org/ You can read all about this show's long and weird history here: Boppin' The Whole Friggin' Planet (The History Of THIS IS ROCK 'N' ROLL RADIO).
TAX DEDUCTIBLE DONATIONS are always welcome.The many fine This Is Rock 'n' Roll Radio compilation albums are still available, each full of that rockin' pop sound you crave. A portion of all sales benefit our perpetually cash-strapped community radio project:
Volume 1: download
Volume 2: CD or download
Volume 3: download
Volume 4: CD or download
Waterloo Sunset–Benefit For This Is Rock 'n' Roll Radio: CD or download

PS: SEND MONEY!!!! We need tech upgrades like Elvis needs boats. Spark Syracuse is supported by listeners like you. Tax-deductible donations are welcome at
http://sparksyracuse.org/support/

You can follow Carl's daily blog Boppin' (Like The Hip Folks Do) at
https://carlcafarelli.blogspot.com/
TIRnRR # 1098: 10/10/2021
TIRnRR FRESH SPINS! Tracks we think we ain't played before are listed in bold
THE RAMONES: Do You Remember Rock 'n' Roll Radio? (Rhino, End Of The Century)
—
THE WONDERS: That Thing You Do! (Play-Tone, VA: That Thing You Do! OST)
THE BEATLES: A Hard Day's Night (Apple, A Hard Day's Night)
THE WELL WISHERS: Wonderful Life (single)
THE ON AND ONS: Vanishing Act (Citadel, Back For More)
THE BROKEN HEARTS: Tuesday Evening Girl (Paisley Pop, Want One?)
THE KINKS: I'm In Disgrace (Velvel, Schoolboys In Disgrace)
—
CHRIS CHURCH: Dumb It Up (Big Stir, Backwards Compatible)
THE LINDA LINDAS: Oh! (single)
JOHNNY JOHNSON & HIS BANDWAGON: Gasoline Alley Bred (Kent, Breakin' Down The Walls Of Heartache)
PILOT: Penny In My Pocket (Renaissance, Anthology)
THE SPONGETONES: Nightsong (Gadfly, Odd Fellows)
THE MONKEES: As We Go Along (Rhino, Music Box)
—
KEN SHARP: Hellcat (single)
FREEDY JOHNSTON: Two Lovers Stop (Elektra, This Perfect World)
RUFUS & CARLA: 'Cause I Love You (Atlantic, VA: The Complete Stax/Volt Singles 1959-1968)
TINY TIM: Great Balls Of Fire (Now Sounds, The Complete Singles Collection [1966-1970])
AMOS MILBURN: Down The Road Apiece (EMI, Down The Road Apiece)
AMY RIGBY: Stop Showing Up In My Dreams (Koch, The Sugar Tree)
—
THE CRUSHING VIOLETS: Sugar Cookie Sunday (n/a, A Dream Without Color)
SHOES: The Things You Do (Elektra, Tongue Twister)
SOLOMON BURKE: Everybody Needs Somebody To Love (Rhino, The Very Best Of Solomon Burke)
THE REPLACEMENTS: Another Girl, Another Planet (Reprise, All For Nothing/Nothing For All)
IRENE PEÑA: One More Night (Big Stir, single)
LES HANDCLAPS: Je Pense Encore A Toi (Handclaps, Sessions: Brooklyn)
—
COLD EXPECTATIONS: In The Padlocked Night (Red On Red, single)
PACIFIC SOUL LTD.: We Go High (Karma Frog, The Dance Divine)
EVIE SANDS: Another Night (R-Spot, Get Out Of Your Own Way)
DAVE EDMUNDS: Queen Of Hearts (Rhino, The Anthology)
DERRICK ANDERSON: When I Was Your Man (Omnivore, A World Of My Own)
THE MUFFS: On My Own (Omnivore, No Holiday)
—
THE EMBRYOS: You Can Be A Mystery (Kool Kat Musik, National Absurdatory)
LYRES: You Won't Be Sad Anymore (Matador, Lyres Lyres)
THE ISLEY BROTHERS: Got To Have You Back (Motown, Greatest Hits And Rare Classics)
ANY TROUBLE: Playing Bogart (Stiff, Where Are All The Nice Girls?)
THE CLINGERS: Gonna Have A Good Time (Area 251, The Clingers 1967-1971)
THE FLATMATES: I Could Be In Heaven (Cherry Red, Potpourri)
—
SWEDISH MAGAZINES: You Never Wanted It (Rubber, I Wish Life Could Be…)
MAKIN' TIME: Feels Like It's Love (Big Beat, Rhythm!)
THE COCKTAIL SLIPPERS: Be The One (Wicked Cool, Shout It Out Loud!)
THE COWSILLS: She Said To Me (JAM, VA: This Is Rock 'n' Roll Radio, Volume 2)
THE FOUR TOPS: It's The Same Old Song (Motown, The Ultimate Collection)
SQUEEZE: Another Nail In My Heart (A & M, The Squeeze Story)
—
CHRIS CHURCH: Something Completely (Big Stir, Limitations Of Source Tape)
THE JAM: Absolute Beginners (Polydor, Direction Reaction Creation)
RONNIE SPECTOR & THE E STREET BAND: Say Goodbye To Hollywood (Cleveland International, VA: Cleveland International Records 1977-1983)
THE WHO: The Kids Are Alright (MCA, My Generation)
PRINCE: Hot Summer (NPG, Welcome 2 America)
BIG STAR: September Gurls (Ardent, # 1 Record/Radio City)
THE RAMONES [with DEBBIE HARRY]: Go Lil Camaro Go (Sire, Halfway To Sanity)
THE MOTIONS: For Another Man (Rhino, VA: Nuggets II)
THE SMITHEREENS: Nobody Lives Forever (Entertainment One, 2011)
GRAHAM PARKER & THE RUMOUR: Discovering Japan (Spectrum, The Very Best Of Graham Parker & the Rumour)
THE PORTUGAL JAPAN: Boy Meets Girl (Dionysus, VA: Innocence Is Bliss)
BASH & POP: Anything Could Happen (Fat Possum, Anything Could Happen)
—
THE PLEASERS: Lies (Lost Moment, Thamesbeat)