This Is Rock 'n' Roll Radio # 1097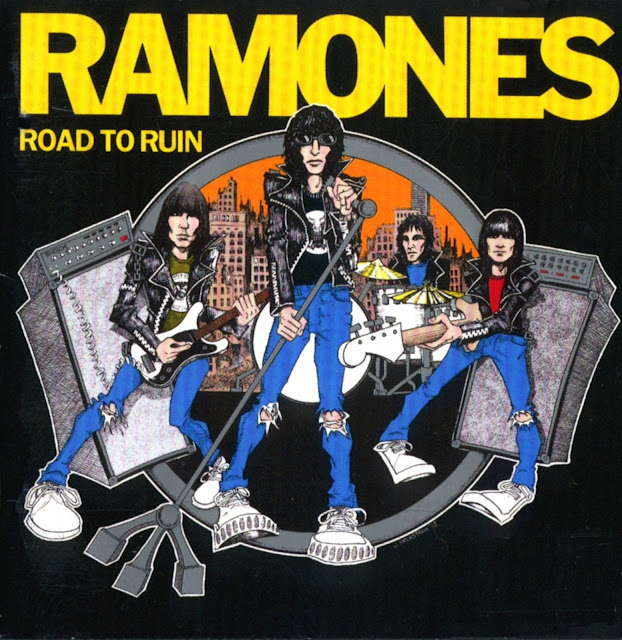 Like our patron saints the Ramones, we just want to have something to do. A radio show on Sunday nights? Yeah, that sounds like something to do.
As This Is Rock 'n' Roll Radio continues its stumble toward our 1100th show, the alchemy that creates each playlist remains both a fascination and an enigma. I mean, that's what it is to us, and we're the ones slappin' this thing together every week. From the outside looking in, I don't know whether it seems like we're following some grand design or just making a big mess. From the inside, though, it's as simple as always: I play a record, Dana plays a record, and leaden airwaves turn to gold. Alchemy in action!
Whatever it is–and I don't intend to ever fully understand it–I think it works. We ain't kiddin' when we call this The Best Three Hours Of Radio On The Whole Friggin' Planet. From the 1950s through the week after next, we have songs for you. Don't think about it. Turn it up, and feel it. Creating gold is its own reward.
IN JUST THREE WEEKS: Hey, on October 24th? We've got that above-hyped THIS IS ROCK 'N' ROLL RADIO # 1100! That's the culmination of a lot of alchemy. And this is what rock 'n' roll radio sounded like on a Sunday night in Syracuse this week.
This Is Rock 'n' Roll Radio with Dana & Carlairs Sunday nights from 9 to Midnight Eastern, on the air in Syracuse at SPARK! WSPJ 103.3 and 93.7 FM, and on the web at http://sparksyracuse.org/ You can read all about this show's long and weird history here: Boppin' The Whole Friggin' Planet (The History Of THIS IS ROCK 'N' ROLL RADIO).
TAX DEDUCTIBLE DONATIONS are always welcome.The many fine This Is Rock 'n' Roll Radio compilation albums are still available, each full of that rockin' pop sound you crave. A portion of all sales benefit our perpetually cash-strapped community radio project:
Volume 1: download
Volume 2: CD or download
Volume 3: download
Volume 4: CD or download
Waterloo Sunset–Benefit For This Is Rock 'n' Roll Radio: CD or download

PS: SEND MONEY!!!! We need tech upgrades like Elvis needs boats. Spark Syracuse is supported by listeners like you. Tax-deductible donations are welcome at
http://sparksyracuse.org/support/

You can follow Carl's daily blog Boppin' (Like The Hip Folks Do) at
https://carlcafarelli.blogspot.com/
TIRnRR # 1097: 10/3/2021
TIRnRR FRESH SPINS! Tracks we think we ain't played before are listed in bold
THE RAMONES: Do You Remember Rock 'n' Roll Radio? (Rhino, End Of The Century)
—
THE RAMONES: I Just Want To Have Something To Do (Radioactive, We're Outta Here!)
THEE HEADCOATEES: Strychnine (Damaged Goods, The Sisters Of Suave)
HE DIXIE CUPS: Iko Iko (Varese Sarabande, The Complete Red Bird Recordings)
LULU: The Boat That I Row [live] (London Calling, LULU & THE LUVVERS: Live On Air 1965-1969)
PRINCE: Hot Summer (NPG, Welcome 2 America)
ELVIS COSTELLO & THE ATTRACTIONS AND PABLO LÓPEZ: Mentira (Lip Service) (Universal, Spanish Model)
—
KID GULLIVER: Stupid Little Girl (Red On Red, Kismet)
KELLEY RYAN: The Church Of Laundry (single)
TINA TURNER: The Acid Queen (Polydor, VA: Tommy OST)
GUIDED BY VOICES: Glad Girls (Matador, The Best Of Guided By Voices: Human Amusements At Hourly Rates)
THE DAVE CLARK FIVE: Glad All Over (Hollywood, The History Of The Dave Clark Five)
ALLAH-LAS: Could Be You (Mexican Summer, Calico Review)
—
IRENE PEÑA: In This Room (Big Stir, single)
JIGSAW: Who Do You Think You Are (Renaissance, Anthology)
THE ROMANTICS: National Breakout (Nemperor, National Breakout)
THE TREMELOES: Here Comes My Baby (Sequel, Good Times)
LESLIE ODOM, JR.: Good Times (Abkco, VA: One Night In Miami OST)
THE SMALL FACES: Tin Soldier (Snapper, The Definitive Collection)
—
IAN M BAILEY: I'm Not The Enemy (Kool Kat Musik, Songs To Dream Along To)
THE DUKES OF STRATOSPHEAR: Vanishing Girl (Rhino, VA: Children Of Nuggets)
THE TEMPTATIONS: I Can't Get Next To You (Motown, Gold)
HARMONIC DIRT: Passport (n/a, Blame The Horizon)
THE CRUSHING VIOLETS: A Groovy Kind Of Love (n/a, A Dream Without Color)
THE NASHVILLE RAMBLERS: The Trains (Rhino, VA: Children Of Nuggets)
—
THE ON AND ONS: Better Every Day (Citadel, Back For More)
UTOPIA: One World (Big Beat, VA: Come On Let's Go!)
GLADHANDS: Forget All About It (Big Deal, La Di Da)
HELLO HELEN: Fall's Far Away (Futureman, VA: This Is Rock 'n' Roll Radio, Volume 1)
DUSTY SPRINGFIELD: Don't Forget About Me (Rhino, Dusty In Memphis)
EARL-JEAN: I'm Into Something Good (Rhino, VA: One Kiss Can Lead To Another)
—
GAVIN EIMERMAN: Losing Ground (single)
HE IDEA: She Has A Way (Not Lame, VA: Full Circle)
AGONY AUNTS: Me Being Maximum (Mystery Lawn Music, Greater Miranda)
LETTERS TO CLEO: Cruel To Be Kind (Big Beat, VA: Girls Go Power Pop)
THE FLASHCUBES WITH MIMI BETINIS: Baby It's Cold Outside (Big Stir, single)
THE MUFFS: Everywhere I Go (Warner Brothers, The Muffs)
—
SMITT E. SMITTY & THE FEZTONES: Tall Man Dreams (single)
THE SHANG HI LOS: Sway Little Player (Rum Bar, Kick It Like A Wicked Bad Habit)
THE AMPLIFIER HEADS: GlamOrama (Rum Bar, SaturnalienS)
BRUCE WOOLEY & THE CAMERA CLUB: Video Killed The Radio Star (Epic, English Garden)
THE COASTERS: Yakety Yak (Rhino, Yakety Yak)
SINCEROS: Take Me To Your Leader (Sony, VA: New Wave Hits Of The 70's & 80's)
—
THE CHELSEA CURVE: 7000 Hours (Red On Red, single)
PYLON: Read A Book (New West, Gyrate)
THE MONKEES: You Just May Be The One (Rhino, Headquarters)
THE REPLACEMENTS: Waitress In The Sky(Sire, Tim)
THE BROTHERS STEVE: Next Aquarius (Big Stir, Dose)
WRECKLESS ERIC: Rough Kids (Salvo, Hits, Misses, Rags & Tatters)
—
THE YOUNG RASCALS: Good Lovin' (Rhino, THE RASCALS: Anthology: 1965-1972)
THE DONNAS: Kids In America (Bulletproof, VA: Nancy Drew OST)
T. REX: Born To Boogie (Hip-O, 20th Century Boy)
SPARKS: Tips For Teens (Rhino, Profile)
CHUCK BERRY: Johnny B. Goode (MCA, The Anthology)
SIOUXSIE & THE BANSHEES: Hong Kong Garden (Rhino, VA: DIY: The Modern World)
COLIN HAY: Waterloo Sunset (Compass, I Just Don't Know What To Do With Myself)
THE BEATLES: Two Of Us (Apple, Let It Be…Naked)
—
THE RAMONES: R.A.M.O.N.E.S. (Radioactive, We're Outta Here!)
THE NUTLEY BRASS: I Wanna Be Sedated (Sanctuary, The Ramones Songbook)