This Is Rock 'n' Roll Radio # 1095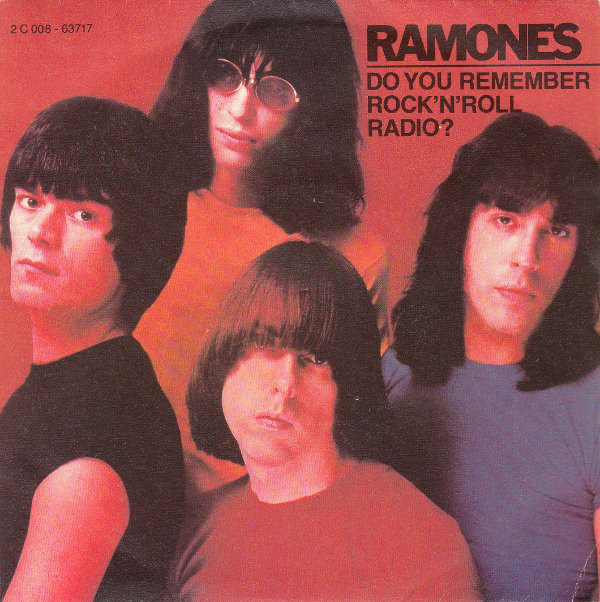 As This Is Rock 'n' Roll Radio with Dana & Carl approaches its 1100th show in just five weeks from now, and as we near the 30th anniversary of the first pre-TIRnRR Dana & Carl shows that aired from January to June of 1992, I continue to look at each week's playlist and say to myself:
I really, really like what we're doing here.
This isn't so much the sin of pride as it is an expression of how much we adore rockin' pop music. Having an opportunity to play records on the radio, in a format that we alone define, remains the best gig ever. We close our eyes, and imagine we're one of the great Top 40 AM stations of my youth, backed by 50,000 watts of irresistible hitmakin' power. We play the hits. But the hits aren't decided by consultants or market research, and they honor no calendar, respect no boundary of genre beyond playing what and where we wanna be. A record's a hit if we say it's a hit.
The feeling's infectious. We still love it. We hope you do, too.
Yeah, I'm unashamed to say this again: I really, really like what we're doing here. Check out our playlist, and you'll understand why. This is what rock 'n' roll radio sounded like on a Sunday night in Syracuse this week.
This Is Rock 'n' Roll Radio with Dana & Carl airs Sunday nights from 9 to Midnight Eastern, on the air in Syracuse at SPARK! WSPJ 103.3 and 93.7 FM, and on the web at http://sparksyracuse.org/ You can read all about this show's long and weird history here: Boppin' The Whole Friggin' Planet (The History Of THIS IS ROCK 'N' ROLL RADIO). TAX DEDUCTIBLE DONATIONS are always welcome.The many fine This Is Rock 'n' Roll Radio compilation albums are still available, each full of that rockin' pop sound you crave. A portion of all sales benefit our perpetually cash-strapped community radio project:
Volume 1: download
Volume 2: CD or download
Volume 3: download
Volume 4: CD or download
Waterloo Sunset–Benefit For This Is Rock 'n' Roll Radio: CD or download

PS: SEND MONEY!!!! We need tech upgrades like Elvis needs boats. Spark Syracuse is supported by listeners like you. Tax-deductible donations are welcome at
http://sparksyracuse.org/support/
You can follow Carl's daily blog Boppin' (Like The Hip Folks Do) at
https://carlcafarelli.blogspot.com/
TIRnRR # 1095: 9/19/2021
TIRnRR FRESH SPINS! Tracks we think we ain't played before are listed in bold

THE RAMONES: Do You Remember Rock 'n' Roll Radio? (Rhino, End Of The Century)
—
NELSON BRAGG: Glorious Days (Steel Derrick, Gratitude Blues)
ELVIS COSTELLO & THE ATTRACTIONS AND CAMI: La Chica De Hoy [This Year's Girl] (Universal, Spanish Model)
PRINCE: Yes (NPG, Welcome 2 America)
ATHENSVILLE: Head Start (n/a, Undressing Minds For Show)
THE LINDA LINDAS: No Clue (n/a, The Linda Lindas)
THE BANGLES: Mary Street (Omnivore, Ladies And Gentlemen…The Bangles!)
—
DANNY MALONE: You Were So Warm (unreleased)
THE BENT BACKED TULIPS: I Think (eggBERT, Looking Through…)
THREE DOG NIGHT: It's For You (MCA, Celebrate: The Three Dog Night Story 1965-1975)
LULU & THE LUVVERS: A Little Bit Me, A Little Bit You (London Calling, Live On Air 1965-1969)
CHUCK BERRY: Jamaica Farewell (Universal, Chuck Berry In London)
BOW WOW WOW: Go Wild In The Country (Cherry Red, Your Box Set Pet)
—
THE WEEKLINGS: Mona Lisa (Jem, In Their Own Write)
BRAM TCHAIKOVSKY: Used To Be My Used To Be (Cherry Red, Strange Men, Changed Men)
FOXY: Hot Number (Hot Productions, Get Off: The Best Of Foxy)
THE BREAKAWAYS: Little Suzy (Bomp!, Walking Out On Love–The Lost Sessions)
LANNIE FLOWERS: Running (Big Stir, Home)
THE CHARMS: Top Down (Red Car, Charmed, I'm Sure)
—
DANNY WILKERSON: Let It Go Tonight (Big Stir, Wilkerson)
CHRIS VON SNEIDERN: Lonely Tonight (Futureman, VA: This Is Rock 'n' Roll Radio, Volume 1)
THE SPONGETONES: One More Day (Loaded Goat, Too Clever By Half)
CHET ATKINS: I Feel Fine (RCA, Chet Atkins Picks On The Beatles)
STEVIE WONDER: We Can Work It Out (Motown, Greatest Hits Vol. 2)
THE BEATLES: I Should Have Known Better (Apple, A Hard Day's Night)
—
RICH ARITHMETIC: You Are Always Right (Optional Art, single)
THE DARLING BUDS: Hit The Ground (Columbia, Pop Said…)
PAUL REVERE & THE RAIDERS: Louisiana Redbone (Sundazed, Alias Pink Puzz)
DAVE EDMUNDS: Get Out Of Denver (Swan Song, Get It)
THE WELL WISHERS: Wonderful Life (single)
DEAN LANDEW: David's Ford (single)
—
THE SPEED OF SOUND: Shadow Factory (Big Stir, Museum Of Tomorrow)
THE DOWNBEAT 5: Dum Dum Ditty (Rum Bar, Victory Motel)
THE PEPPERMINT KICKS: Hey Fanzine! (Rum Bar, The Peppermint Kicks)
HARMONIC DIRT: Passport (n/a, Blame The Horizon)
BLACK FLAG: Rise Above (SST, Damaged)
THE EXPLODING HEARTS: (Making) Teenage Faces (Dirtnap, Shattered)
—
RUMBLE STRIP: Checkin' Out (n/a, Let's Roll)
EYTAN MIRSKY: I Just Wanna Be (Your Steve McQueen) (M-Squared, Was It Something I Said?)
T.S.O.L.: Come Into My Nightmare (Hurley, Life, Liberty And The Pursuit Of Free Downloads)
THE GO-BETWEENS: Bye Bye Pride (Beggars Banquet, Bellavista Terrace)
THE MONKEES: Love Is Only Sleeping (Rhino, Pisces, Aquarius, Capricorn & Jones, Ltd.)
THE GOLD NEEDLES: Billy Liar (Jem, What's Tomorrow Ever Done For You?)
—
THE DAYLILIES: The Cat Inside The Window (Red On Red, single)
SYLVAIN SYLVAIN: It's Love (Wounded Bird, Syl Sylvain and the Teardrops)
BILL LLOYD: Satellite (Big Stir, Working The Long Game)
THE MUFFS: I Wish That Could Be You (Honest Don's, Alert Today Alive Tomorrow)
MIKE BROWNING: I'll Never Find Another You (n/a, Class Act)
THE KINKS: Come On Now (Essential, Kinda Kinks)
THE BUSBOYS: Minimum Wage (Rattlesnake Venom, The Best Of The BusBoys)
THE PRIMITIVES: Don't Want Anything To Change (Cherry Red, Lovely)
—
THE RAVES: Any Way You Can (Kool Kat Musik, Past Perfect Tense)
THE HUMBUGS: She's Not Sad (Oddvious, Twist The Truth)
WAR: Low Rider (Hip-O, Icon 2: The Hits & More)
IGGY POP: Pumpin' For Jill (Arista, Party)
SWEDISH MAGAZINES: Bottles & Barstools (Rubber, single)
THE JAM: David Watts [single mix] (Polydor, About The Young Idea)
THE CHELSEA CURVE: A Better Way (Red On Red, single)
TIR'N'RR ALLSTARS: Waterloo Sunset (Kool Kat Musik, VA: Waterloo Sunset–Benefit For This Is Rock 'n' Roll Radio)
—
THE MIDNIGHT CALLERS: Child Of Nature (Jem, VA: Jem Records Celebrates John Lennon)