This Is Rock 'n' Roll Radio # 1094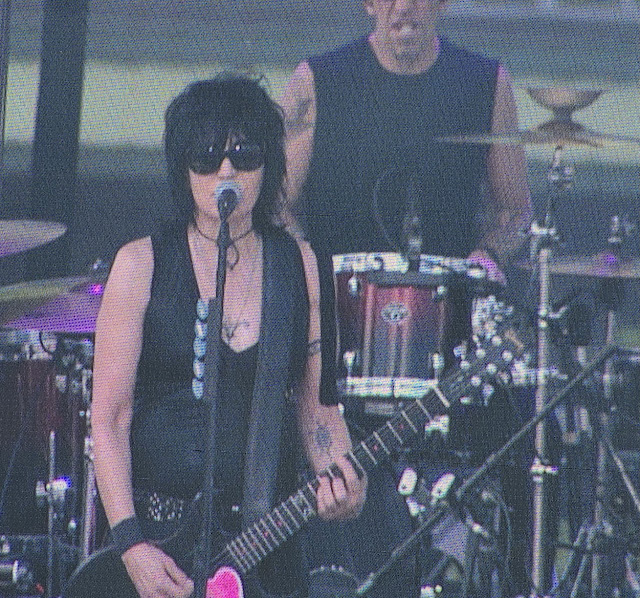 On Labor Day, I accompanied my family to the New York State Fair to see an outdoor performance by Joan Jett and the Blackhearts. It was only my second live music event since the start of the shutdown in early 2020. I first saw Jett in 1978, when her old group the Runaways played a show in Syracuse with the Ramones and the Flashcubes. I saw Jett and the Blackhearts in Buffalo in the mid '80s, and I saw them with my lovely wife Brenda (also at the State Fair) in, I think, 2014.
But this year's Labor Day performance was our daughter Meghan's first opportunity to see Joan Jett, a figure she views as iconic, an artist she's long wanted to experience in person. Although Meghan shares my passion for music, our tastes don't intersect all that much. But Joan Jett? We all love rock 'n' roll. We all love Joan Jett. We had to see this together.
And Joan Jett did not disappoint. Jett and her band of Blackhearts know how to put on a rock show, fast 'n' energetic, playing all the hits and fave raves, even one great non-LP B-side ("Oh Woe Is Me") for the faithful (like me). They opened big–"Victim Of Circumstance," "Bad Reputation," "Do You Wanna Touch Me?," "Cherry Bomb," bam-bam-BAM!–and kept right on hitting, rockers and ballads, from the days of the Runaways through the first decades of this 21st century. Meghan was pleased. Brenda was pleased. I was pleased.
The family that rocks together. Years ago, Meghan and I agreed that when she gets married, our father-daughter dance would have to be Joan Jett's "Bad Reputation." Obviously.
In real life, there is perhaps no greater super power than the ability to shrug off the disapproval of others. Dig what you dig. Love who you love. Be who you want to be, not whatever some gray they want you to be. Don't give a damn about your reputation.
That's the first paragraph of the Joan Jett chapter in my eventual book The Greatest Record Ever Made! (Volume 1). And now, Meghan is planning her wedding for 2023. On that happy evening, if fate allows, she and I will dance to the music of Joan Jett. And I don't really care if you think I'm strange; I ain't gonna change.
This week, we opened the radio show with Jett's "Fresh Start." The song comes from the documentary Bad Reputation (a film Brenda, Meghan, and I watched together), and the Blackhearts also played it in their set at the State Fair this year. There's an inherent appeal to a fresh start, as long as we retain the lessons and the good of what came before. Dig what you dig. Love what you love. And don't give a damn about your reputation. This is what rock 'n' roll sounded like on a Sunday night in Syracuse this week.
This Is Rock 'n' Roll Radio with Dana & Carl airs Sunday nights from 9 to Midnight Eastern, on the air in Syracuse at SPARK! WSPJ 103.3 and 93.7 FM, and on the web at http://sparksyracuse.org/ You can read all about this show's long and weird history here: Boppin' The Whole Friggin' Planet (The History Of THIS IS ROCK 'N' ROLL RADIO). TAX DEDUCTIBLE DONATIONS are always welcome.The many fine This Is Rock 'n' Roll Radio compilation albums are still available, each full of that rockin' pop sound you crave. A portion of all sales benefit our perpetually cash-strapped community radio project:
Volume 1: download
Volume 2: CD or download
Volume 3: download
Volume 4: CD or download
Waterloo Sunset–Benefit For This Is Rock 'n' Roll Radio: CD or download

PS: SEND MONEY!!!! We need tech upgrades like Elvis needs boats. Spark Syracuse is supported by listeners like you. Tax-deductible donations are welcome at
http://sparksyracuse.org/support/

You can follow Carl's daily blog Boppin' (Like The Hip Folks Do) at
https://carlcafarelli.blogspot.com/
TIRnRR # 1094: 9/12/2021
TIRnRR FRESH SPINS! Tracks we think we ain't played before are listed in bold
THE RAMONES: Do You Remember Rock 'n' Roll Radio? (Rhino, End Of The Century)
—
JOAN JETT & THE BLACKHEARTS: Fresh Start (Legacy, Bad Reputation OST)
THE LINDA LINDAS: Never Say Never (n/a, The Linda Lindas)
THE JACKSON FIVE: The Love You Save (Motown, VA: Hitsville USA)
BETTYE LAVETTE I Still Want To Be Your Baby (Take Me Like I Am) (ANTI-, The Scene Of The Crime)
EMMYLOU HARRIS: Luxury Liner (Warner Brothers, Luxury Liner)
HARMONIC DIRT: Passport (n/a, Blame The Horizon)
—
DOUBLEPLUSPOP: Coincide (Kool Kat Musik, Too Loud + Too Fast + Too Much)
THE SHANG HI LOS: Sway Little Player (Rum Bar, Kick It Like A Wicked Bad Habit)
THE AMERICAN BREED: Bend Me, Shape Me (Varese Sarabande, Bend Me, Shape Me)
LITTLE JUNIOR PARKER: The Outside Man (Beast Retro, Love Ain't Nothin' But A Business Goin' On)
THE EQUALS: Softly Softly (Ice, First Among Equals)
BRYAN FERRY: Let's Stick Together (Atlantic, BRYAN FERRY & ROXY MUSIC: Street Life)
—
THE WELL WISHERS: Wonderful Life (single)
CIRCE LINK & CHRISTIAN NESMITH: I'm On Your Side (Futureman, VA: This Is Rock 'n' Roll Radio, Volume 4)
BILL LLOYD: Satellite (Big Stir, Working The Long Game)
THEE HEADCOATEES: I Gotta Move (Damaged Goods, The Sisters Of Suave)
THE SUPREMES: I Hear A Symphony (Motown, DIANA ROSS & THE SUPREMES: The Ultimate Collection)
LULU: Heatwave (RPM, Shout! The Complete Decca Recordings)
—
IT'S KARMA IT'S COOL: Coffee Cup Circles (single)
BILLY BREMNER: The Creature From The Black Lagoon (Cherry Red, VA: Surrender To The Rhythm)
E-I-E-I-O: Andy Warhol's Dead But I'm Not (Frontier, That Love Thang)
SNIFF 'N' THE TEARS: Driver's Seat (Cherry Red, VA: Surrender To The Rhythm)
THE CHELSEA CURVE: Inconceivable (Red On Red, single)
CHRIS SPEDDING: Bedsit Girl (Cherry Red, Surrender To The Rhythm)
—
RUMBLE STRIP: Adam West (n/a, Let's Roll)
SEX CLARK FIVE: She Collides With Me (Records To Russia, Strum & Drum!)
JOAN ARMATRADING: Eating The Bear (A & M, Walk Under Ladders)
SQUEEZE: Annie Get Your Gun (A & M, The Squeeze Story)
THE KINKS: Who'll Be The Next In Line (Sanctuary, The Anthology 1964-1971)
THE PRETENDERS: Kid (Sire, The Singles)
—
EVIE SANDS: Another Night (R-Spot, Get Out Of Your Own Way)
THE FLIES: I'm Not Your Stepping Stone [demo] (Cherry Red, VA: A Slight Disturbance In My Mind)
MICKY DOLENZ: Different Drum (7a, Dolenz Sings Nesmith)
THE MONKEES: You Told Me (Rhino, Headquarters)
ARIELLE EDEN: Sagittarius (single)
THE YACHTS: I Can't Stay Long (Cherry Red, Suffice To Say)
—
DANA COUNTRYMAN: Let's Keep Dancin' (Sterling Swan, Pop Scrapbook)
ALEX HARVEY & HIS SOUL BAND: Bo Diddley Is A Gun Slinger (Universal, Shout: The Essential Alex Harvey)
VELOCITY GIRL: I Can't Stop Smiling (Rhino, VA: Poptopia! Power Pop Classics Of The '90s)
THE CURE: In Between Days (Fiction, Greatest Hits)
THE O'JAYS: Put Your Hands Together (Epic, Love Train)
GENERATION X: Dancing With Myself (Chrysalis, Perfect Hits 1975-1981)
—
THE 5TH DIMENSION: Blowing Away (Arista, The Ultimate 5th Dimension)
LES HANDCLAPS: Black Brick (Handclaps, Sessions: Brooklyn)
STOECKEL & PEÑA: Why (Big Stir, single)
THE MUFFS: Pollyanna (Omnivore, No Holiday)
THE BOYS WITH THE PERPETUAL NERVOUSNESS: I Don't Mind (Kool Kat Musik, Songs From Another Life)
THE RAMONES: Judy Is A Punk (Rhino, Ramones)
FIREKING: So You Say You Lost Your Baby (Blueberry Pie, Double Trouble)
THE BREAKAWAYS: Walking Out On Love (Alive, THE NERVES: One Way Ticket)
—
THE FLASHCUBES WITH MIMI BETINIS: Baby It's Cold Outside (Big Stir, single)
DOLPH CHANEY: My Good Twin (Big Stir, This Is Dolph Chaney)
ALICE COOPER: Clones (We're All) (Rhino, Mascara & Monsters)
TOMMY TUTONE: 867-5309/Jenny (Big Beat, VA: Rockets Of Love!)
BO DIDDLEY: Bo Diddley 1969 (MCA, The Chess Box)
BUDDY HOLLY: Rave On (MCA, The Buddy Holly Collection)
JUSTINE & THE UNCLEAN: Vengeance (single)
THE BEATLES: Every Little Thing (Apple, Beatles For Sale)
—
KISS: Shout It Out Loud (Mercury, Destroyer)