SHUFFLIN' THROUGH THE SIXTIES #45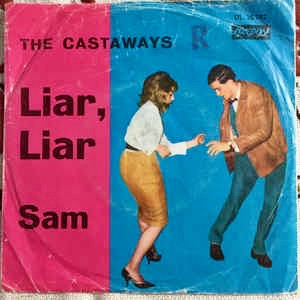 Last week on SHUFFLIN' THROUGH THE SIXTIES with Jason Klaiber, you would've heard a tip of the hi-hat to the late Charlie Watts, the deservedly esteemed drummer of The Rolling Stones, while the show before that closed with a funerary nod to Don Everly, one half of the harmonious duo he and his brother Phil lent their surname.

Included this time around though was a track from The Upsetters, the so-called house band for famous reggae/dub producer Lee "Scratch" Perry – another in the too-long line of recently deceased musical figures of note – as well as songs from The Castaways, The Misunderstood and other acts that started making their marks in the 1960s, whether or not they came to great prominence.

As always, episodes of SHUFFLIN' THROUGH THE SIXTIES premiere at 7 p.m. on Wednesdays, but you can catch each installment again during the following time slots: 3 to 4 a.m. on Thursdays; 11 to midnight on Fridays; 3 to 4 p.m. on Sundays; and 2 to 3 a.m. the ensuing Tuesdays. That's Eastern Time all around.
_____________________________________
Below is the playlist from this week's show (9/08/21):

01. "MAIN THEME FROM DJANGO" • LUIS BACALOV
02. "RETURN OF DJANGO" • THE UPSETTERS
03. "SPEAK HER NAME" • WALTER JACKSON
04. "CRIMSON & CLOVER" • TOMMY JAMES & THE SHONDELLS
05. "SURFER GIRL" • THE BEACH BOYS
06. "BUS STOP" • THE HOLLIES
07. "TOUS LES GARÇONS ET LES FILLES" • FRANÇOISE HARDY
08. "BABY, PLEASE DON'T GO" • PAUL REVERE & THE RAIDERS
09. "GUESS I'M DUMB" • GLEN CAMPBELL
10. "I CAN TAKE YOU TO THE SUN" • THE MISUNDERSTOOD
11. "RIGHT NOW AND NOT LATER" • THE SHANGRI-LAS
12. "ARE YOU GONNA BE THERE (AT THE LOVE-IN)" • THE CHOCOLATE WATCHBAND
13. "MELODY HILL" • THE ARCHIES
14. "LAY YOUR SWEET LOVE ON ME" • BLUES IMAGE
15. "EVERY LITTLE BIT HURTS" • BRENDA HOLLOWAY
16. "LIAR, LIAR" • THE CASTAWAYS
17. "THE WIND CRIES MARY" • THE JIMI HENDRIX EXPERIENCE
18. "ANNA (GO TO HIM)" • THE BEATLES
19. "FAREWELL IS A LONELY SOUND" • JIMMY RUFFIN
20. "DAYDREAM" • THE LOVIN' SPOONFUL