This Is Rock 'n' Roll Radio # 1093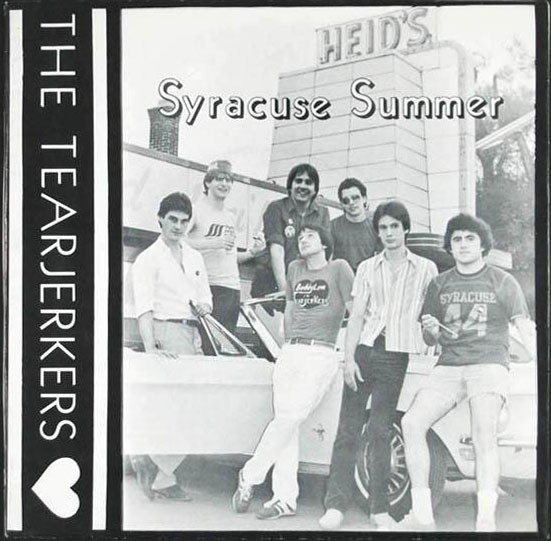 I hate hot weather. Even as I grow older and my bones and thin skin become more susceptible to cold, I still prefer putting on a sweater to, y'know, sweating. Fall is my favorite time of year.
Yet I also retain that perennial sense of sadness as another summer slips away. Labor Day remains the unofficial end of the season, marked by the last day of the New York State Fair, commemorated by memories of lying awake that night, wondering what possibilities or terror a new school year would bring. I recall summer vacations, trips to the beach, fishing, baseball, comic books, records, careening down the Alpine Slide at Song Mountain, gatherings with family and friends. Music. Heartbreak. Romance. Kisses and goodbyes. Tragedy. I remember the good times, baby, and the bad times, too. I can't quite shake the latter. I relish my mind's still-vivid pictures of the former.
It's a Syracuse summer, everybody's under the sun
It's an East coast morning, Syracuse summertime
When it's summer it seems like everybody's under the sun
Oh yeah
I got time to spend
And I can see my friends
I know it's gonna end
But I really love the summertime
"Syracuse Summer" was written by Gary Frenay of the Flashcubes, and it was a single by the Tearjerkers in 1980. It's the greatest record ever made, a timeless tribute to the top of the calendar and the mercurial climate of Central New York. There's lakes and beaches if I get the whim, you know you can't go surfin' but you sure can swim, and you can lay there and look at all those girls that you wanna know. When the sun goes down I head for the town, wanna hear the bands, they're playin' that sound. It's the perfect summer of my dreams and rosier recollections, captured and played back at 45 rpm.

In summers past, I've been across the USA, to Canada, to Europe, to Africa, reveling in the relative freedom that June or July or August can offer. Summer is special; it's always been special, and I expect it always will be. I may have to crank up the AC, sure, but I can crank up the stereo as well.

Seasons change and you live extremes
You've got snowfall covering your sunny dreams
You have to wait, but you want it more when it comes

Here's to you, Summer of 2021, and all the summers before it. Soon the leaves will fall. The temp will drop. Snow will accumulate, but spring will follow. Another summer awaits us, if our fortunes allow us to hang on. Lakes and beaches if we get the whim. Love and music. Seasons change, but you want it more when it comes. This is what rock 'n' roll radio sounded like on a summer Sunday night in Syracuse this week.
This Is Rock 'n' Roll Radio with Dana & Carl airs Sunday nights from 9 to Midnight Eastern, on the air in Syracuse at SPARK! WSPJ 103.3 and 93.7 FM, and on the web at http://sparksyracuse.org/ You can read all about this show's long and weird history here: Boppin' The Whole Friggin' Planet (The History Of THIS IS ROCK 'N' ROLL RADIO). TAX DEDUCTIBLE DONATIONS are always welcome.
The many fine This Is Rock 'n' Roll Radio compilation albums are still available, each full of that rockin' pop sound you crave. A portion of all sales benefit our perpetually cash-strapped community radio project:
Volume 1: download
Volume 2: CD or download
Volume 3: download
Volume 4: CD or download
Waterloo Sunset–Benefit For This Is Rock 'n' Roll Radio: CD or download

PS: SEND MONEY!!!! We need tech upgrades like Elvis needs boats. Spark Syracuse is supported by listeners like you. Tax-deductible donations are welcome at
http://sparksyracuse.org/support/

You can follow Carl's daily blog Boppin' (Like The Hip Folks Do) at
https://carlcafarelli.blogspot.com/
TIRnRR # 1093: 9/5/2021
TIRnRR FRESH SPINS! Tracks we think we ain't played before are listed in bold

THE RAMONES: Do You Remember Rock 'n' Roll Radio? (Rhino, End Of The Century)
—
DIAMOND HANDS: Everybody's Wrong (Kool Kat Musik, Thank You)
DOLPH CHANEY: My Good Twin [original version] (Big Stir, single)
THE BANGLES: Live (Columbia, All Over The Place)
THE LINDA LINDAS: Oh! (single)
THE BOB SEGER SYSTEM: 2 + 2 = ? (Capitol, single)
MICHAEL CARPENTER: Girlfriend (Futureman, VA: Altered Sweet)
—
THE SPEED OF SOUND: Tomorrow's World (Big Stir, Museum Of Tomorrow)
KELLEY RYAN: The Church Of Laundry (single)T
HE MIRACLES: Going To A Go-Go (Motown, Going To A Go-Go)
THE RAMONES: She's The One (Rhino, Road To Ruin)
MIKE BROWNING: Picture Book (n/a, Class Act)
KID GULLIVER: Forget About Him (Red On Red, single)
—
THE CHELSEA CURVE: Inconceivable (Red On Red, single)
MATTHEW SWEET: Sick Of Myself (Zoo, 100 % Fun)
AL ANDERSON: No Place In History (Imprint, Pay Before You Pump)
ARTHUR ALEXANDER: You Better Move On (Razor & Tie, The Ultimate Arthur Alexander)
SORROWS: Play This Song (On The Radio) (Big Stir, Love Too Late…The Real Album)
MARY LOU LORD: Right On 'Till Dawn (Rubric, Speeding Motorcycle)
—
JIM BASNIGHT WITH THE ROCKINGHAMS: Played A Trick (Popaholic Productions, Makin' Bacon)
THE MnM'S: I'm Tired (Burger, Melts In Your Ears 1980-1981)
CAROLYNE MAS: Quote Goodbye Quote (Renaissance, Carolyne Mas)
NEW ORDER: Age Of Consent (Factory, Power, Corruption & Lies)
THE FLASHCUBES WITH MIMI BETINIS: Baby It's Cold Outside (Big Stir, single)
MING TEA: BBC (Hollywood, VA: Austin Powers International Man Of Mystery OST)
—
NICK PIUNTI: Heart Inside Your Head (Jem, single)
THE BEAT: Rock N Roll Girl (Wagon Wheel, The Beat)
HEADGIRL: Please Don't Touch (Lemon, GIRLSCHOOL: The Singles)
THEE HEADCOATEES: Teenage Kicks (Damaged Goods, Punk Girls)
THE REVELATIONS: Why When Love Has Gone (Red River, The Cost Of Living)
FOUNTAINS OF WAYNE: Better Things (Rykodisc, VA: This Is Where I Belong)
—
PSEUDONYM: Before The Monsters Came (n/a, Before The Monsters Came)
HAYLEY & THE CRUSHERS: Jacaranda (Rum Bar, Fun Sized)
KELLY'S HEELS: And Then I Saw Her Lying (Big Stir, single)
OTIS REDDING: You Left The Water Running (Rhino, Otis!)
GREAT BUILDINGS: Hold On To Something (Rhino, VA: Poptopia! Power Pop Classics Of The '80s)
THE PRIMITIVES: Thru The Flowers (RCA, Lovely)
—
ANC4: Everything Turns Blue (Kool Kat Musik, Strange Tide)
THE BROTHERS STEVE: We Got The Hits (Big Stir, # 1)
BILL LLOYD: Satellite (Big Stir, single)
NORMAN'S NORMANS: 9-9-9! (n/a, Music From Ripped!)
STEVIE WONDER: Higher Ground (Motown, The Definitive Collection)
THE MUFFS: Sad Tomorrow (Omnivore, Blonder And Blonder)
—
THE LUNAR LAUGH: Welcome To The World (Big Stir, Nighthawks!)
THE UNDERTONES: Wrong Way (Rykodisc, The Undertones)
IRENE PEÑA: Something In Between (Big Stir, single)
SCOTT WALKER: 30 Century Man (Philips, Scott 3)
JIM TRAINOR: Heaven Descending (Futureman, Staring Down The Sun)
KISS: Detroit Rock City (Mercury, The Very Best Of KISS)
WRECKLESS ERIC: Rags And Tatters (Salvo, Hits, Misses, Rags & Tatters)
—
THE TEARJERKERS: Syracuse Summer (Futureman, VA: This Is Rock 'n' Roll Radio, Volume 3)
THE BEATLES: Here Comes The Sun (Apple, Abbey Road)
CHAMPAGNE: Smile (Rock Indiana, Ready, Steady, Go!)
THE MOODY BLUES: Fly Me High (Deram, Days Of Future Passed)
RICHARD TURGEON: Goodbye To Summer (Kool Kat Musik, Campfire Songs)
THE ROLLING STONES: Get Off Of My Cloud (Abkco, December's Children [And Everybody's])
THE LAST: Every Summer Day (Bomp!, L. A. Explosion!)
PAUL McCARTNEY: Jenny Wren (Capitol, Chaos And Creation In The Backyard)
—
THE MONKEES: You Bring The Summer (Rhino, Good Times!)