This Is Rock 'n' Roll Radio # 1090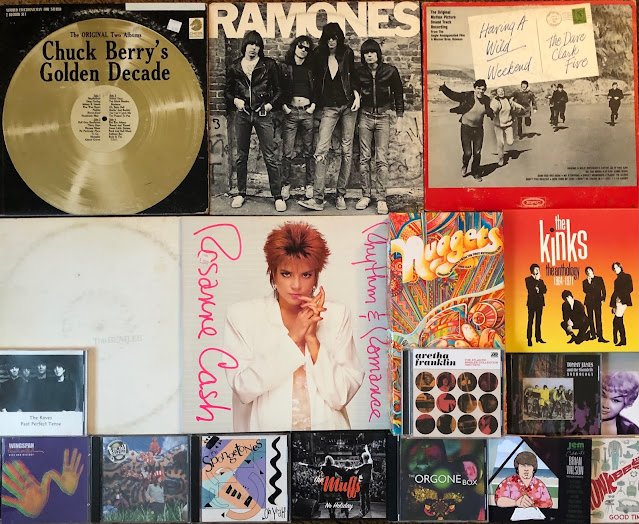 I wrote this for my blog Boppin' (Like The Hip Folks Do) a little over a year ago. Since it relates specifically to whatever it is we do here on TIRnRR, it's worth revisiting here, with minor revisions:
A long, long time ago–I mean, I'm talking way, way back, like really early 2020, in the days before quarantine–a listener asked me about the methodology of This Is Rock 'n' Roll Radio. He was curious about how Dana and I pick which songs to play, how we sequence them, what genres we favor, and what stuff we avoid.

I don't know whether or not others can discern a method to what we do, nor am I 100% certain there even is a method in play. When the shows were live, in those quaint old pre-pandemic years, I played a song, then Dana reacted by playing a song, I responded, Dana responded, and a three-hour show was gone before we knew it. It's all pop music. We each usually had some ideas of songs we wanted to get to that week, and occasionally there were specific sequences, segues, or themes to execute, but we would often just wing it.

Now, of course, we pre-record the show from home each week, and it's a very different process from how we've done things in the past. On Tuesday nights (usually), Dana and I settle the playlist for our next show, the songs chosen in a telephone conversation. Dana Dropboxes me with any individual tracks I don't have on hand. By late afternoon on Wednesdays, the tracks have been assembled, my back-announcements recorded, and the digital file sent to Dana for tinkerin' and tweakin'. The result goes on the air and on the web Sunday night at 9 pm Eastern, and the playlist is posted shortly after the show ends at Midnight.
It's a system, and it works. I don't know when or if we'll return to doing shows live in the studio. Frankly, I'm not in any real hurry to do that. But whether at home or in the palatial WSPJ control room, our tried-and-true method will remain in place: I play a record, Dana plays a record, and that combined effort builds The Best Three Hours Of Radio On The Whole Friggin' Planet.
We're pretty damned proud of the whole thing. Listen, and we think you'll like it, too. This is what rock 'n' roll radio sounded like on a Sunday night in Syracuse this week.
NEXT WEEK: It's HERE! On August 22, join us for THE TENTH ANNUAL DANA'S FUNKY SOUL PIT!
This Is Rock 'n' Roll Radio with Dana & Carl airs Sunday nights from 9 to Midnight Eastern, on the air in Syracuse at SPARK! WSPJ 103.3 and 93.7 FM, and on the web at http://sparksyracuse.org/ You can read all about this show's long and weird history here: Boppin' The Whole Friggin' Planet (The History Of THIS IS ROCK 'N' ROLL RADIO). TAX DEDUCTIBLE DONATIONS are always welcome.The many fine This Is Rock 'n' Roll Radio compilation albums are still available, each full of that rockin' pop sound you crave. A portion of all sales benefit our perpetually cash-strapped community radio project:
Volume 1: download
Volume 2: CD or download
Volume 3: download
Volume 4: CD or download
Waterloo Sunset–Benefit For This Is Rock 'n' Roll Radio: CD or download

PS: SEND MONEY!!!! We need tech upgrades like Elvis needs boats. Spark Syracuse is supported by listeners like you. Tax-deductible donations are welcome at
http://sparksyracuse.org/support/

You can follow Carl's daily blog Boppin' (Like The Hip Folks Do) at
https://carlcafarelli.blogspot.com/
TIRnRR # 1090: 8/15/2021
TIRnRR FRESH SPINS! Tracks we think we ain't played before are listed in bold
THE RAMONES: Do You Remember Rock 'n' Roll Radio? (Rhino, End Of The Century)
—
LIBRARIANS WITH HICKEYS: I Can't Stop Thinking About You (Big Stir, single)
STEVEN PAGE: Indecision (Zoë, Page One)
JELLYFISH: Now She Knows She's Wrong (Charisma, Bellybutton)
CROWDED HOUSE: Inside Out (Concord, Intriguer)
CHUCK BERRY: You Can't Catch Me (MCA, The Anthology)
LULU: Choc Ice (RPM, Shout! The Complete Decca Recordings)
—
RICHARD TURGEON: Goodbye To Summer (Kool Kat Musik, Campfire Songs)
MONDELLO: Heather Martin (n/a, Hello, All You Happy People)
ROSANNE CASH: Pink Bedroom (Columbia, Rhythm & Romance)
NINA SIMONE: Save Me (Bluebird, VA: Flying Funk)
THE RAVES: Every Little Bit Hurts (Hologramophone, Past Perfect Tense)
THE MUSIC EXPLOSION: Little Bit O' Soul (Rhino, VA: Nuggets)
—
MIKE BROWNING: My Back Pages (n/a, Class Act)
THE COOLIES: Yeah I Don't Know (Wicked Cool, Uh Oh! It's…The Coolies)
THE BEARDS: Big Dumb World (Sympathy For The Record Industry, Funtown)
MELANIE WITH THE EDWIN HAWKINS SINGERS: Lay Down (Candles In The Rain) (Buddha, Beautiful People)
THE MUFFS: Sky (Omnivore, No Holiday)
—
THE LUNAR LAUGH: Allegiance (Big Stir, single)
HAYLEY & THE CRUSHERS: Jacaranda (Rum Bar, Fun Sized)
ARETHA FRANKLIN: I Say A Little Prayer (Atlantic, The Atlantic Singles Collection 1967-1970)
HOLE: Heaven Tonight (DGC, Celebrity Skin)
THE 1910 FRUITGUM COMPANY: Please Me, Tease Me (Buddha, The Best Of The 1910 Fruitgum Company)
HOLLY GOLIGHTLY: Mary-Ann (Vinyl Japan, Laugh It All Up!)
—
JIM TRAINOR: Heaven Descending (Futureman, Staring Down The Sun)
WINGS: Junior's Farm (Capitol, PAUL McCARTNEY: Wingspan)
PENELOPE HOUSTON: Scratch (Heyday, Cut You)
GUSTER: Two Of Us (Reprise, Satellite)
THE dB'S: Neverland (Collectors' Choice Music, Stands For Decibels/Repercussions)
PYLON: Weather Radio (New West, Gyrate)
—
THE INCURABLES: Melodies (Big Stir, single)
MATTHEW SWEET & SUSANNA HOFFS: They Don't Know (Shout Factory, The Best Of Under The Covers)
ETTA JAMES: Something's Got A Hold On Me (MCA, 20th Century Masters)
THE ORGONE BOX: World Revolves (Minus Zero, The Orgone Box)
TOMMY JAMES & THE SHONDELLS: Gotta Get Back To You (Rhino, Anthology)
MARY LOU LORD: His Lamest Flame (Sony, Got No Shadow)
—
THE SPONGETONES: Oh Yeah! (Black Vinyl, Oh Yeah!)
THE MONKEES: Me & Magdalena [Version 2] (Rhino, Good Times! [digital version])
STOECKEL & PEÑA: Why (Big Stir, single)
LESLEY GORE: Wedding Bell Blues (Mercury, It's My Party)
TERENCE TRENT D'ARBY: Wishing Well (Columbia, Introducing The Hardline According To Terence Trent D'Arby)
BIG COUNTRY: Prairie Rose (Spectrum, Wonderland)
—
THE JACKLIGHTS: Cold Feet (Red On Red, Drift)
THE CRICKLE: Place In My Heart (ROIR, VA: Garage Sale)
KISS: Then She Kissed Me (Mercury, Love Gun)
HE SMALL FACES: Jump Back (Audio Vaults, Transmissions 1965-1968)
THE ANDERSON COUNCIL: Girl Don't Tell Me (Jem, VA: Jem Records Celebrates Brian Wilson)
SYLVAIN SYLVAIN: It's Love (Wounded Bird, Syl Sylvain & the Teardrops)
THE KINKS: I Took My Baby Home (Sanctuary, The Anthology 1964-1971)
THE RAMONES: I Don't Wanna Walk Around With You (Rhino, Ramones)
—
THE FLASHCUBES WITH MIMI BETINIS: Baby It's Cold Outside (Big Stir, single)
THE LINDA LINDAS: Oh! (single)
ANDREA GILLIS: Leave The Light On (Red On Red, single)
KELLEY RYAN: The Church Of Laundry (single)
THE O'JAYS: For The Love Of Money (Sony, VA: A Tribute To Black Entertainers)
KID GULLIVER: Forget About Him (Red On Red, single)
THE DAVE CLARK FIVE: Catch Us If You Can (Hollywood, The History Of The Dave Clark Five)
THE BEATLES: Revolution 1 (Apple, The Beatles)
—
JAMES BROWN: Papa's Got A Brand New Bag (Polydor, The 50th Anniversary Collection)