This Is Rock 'n' Roll Radio # 1082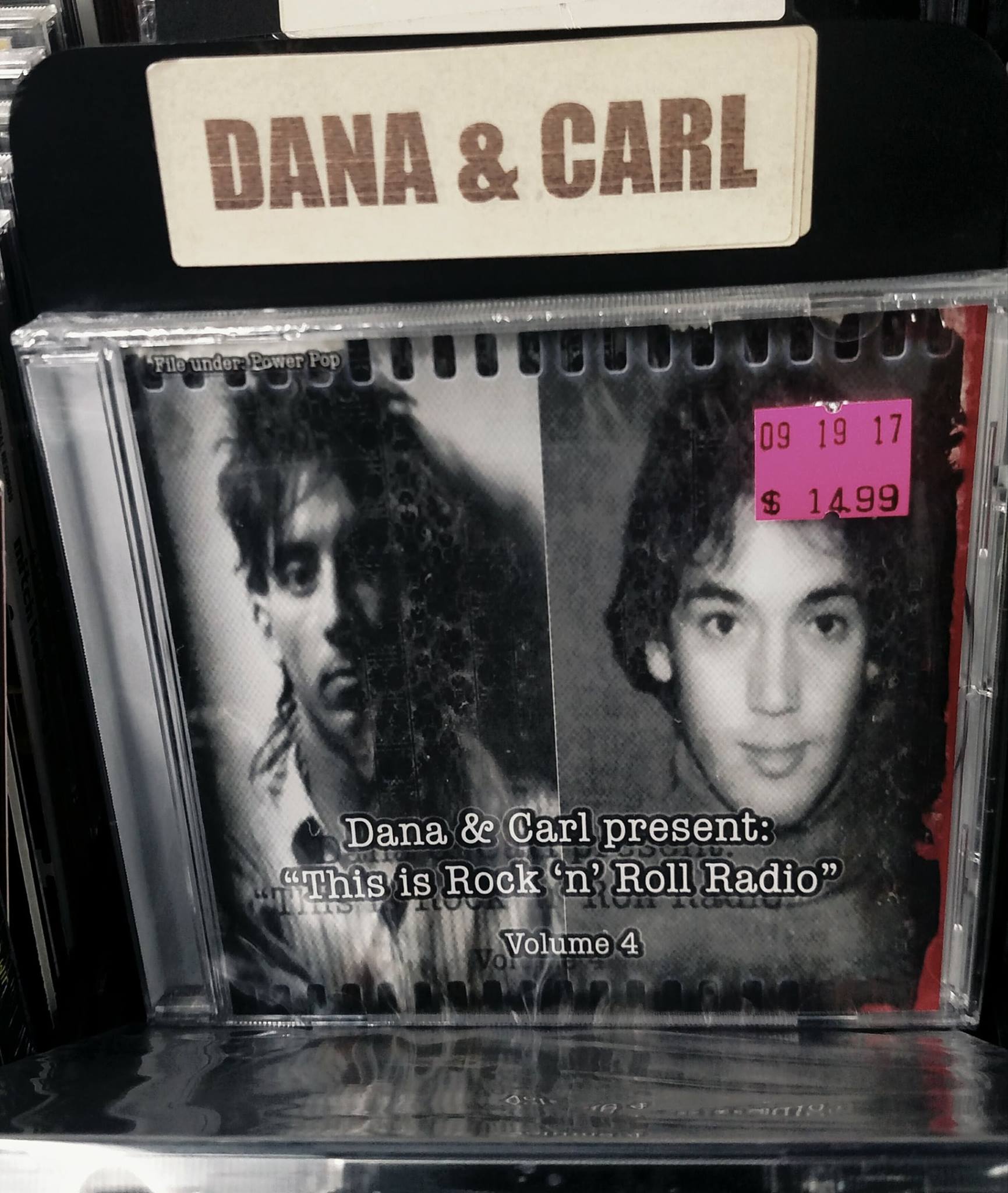 January 2022 will mark the 30th anniversary of the first Dana & Carl radio series, We're Your Friends For Now. This current (and somehow still kickin') This Is Rock 'n' Roll Radio with Dana & Carl gig has pulled off the unlikely feat of surviving for nearly 23 years so far. We're coming up on 1100 shows, we've slapped together four commercially-released–and fantastic–compilation CDs, we were honored by a benefit disc done by talented supporters on our behalf, and, across a span of decades, WE'RE STILL HERE. Are we stubborn? Dedicated? Stupid? Yeah, all three, and more. We're the mutants in charge of this little mutant radio show. We wouldn't have it any other way.
It's work. There's an element of drudgery. And man, it's worth every bit of it. We get to play pop music! We get to connect with other rockin' pop fans. We get to have a radio show. The fun of all that is beyond measure. New and old. Familiar and obscure. The classic and the unexpected. We want it all. We have it all on This Is Rock 'n' Roll Radio.
IN TWO WEEKS: we set off some Fourth of July fireworks with some incandescent favorites representing TIRnRR's journey to date. It's a COUNTDOWN! A unique Countdown of…well, that would be telling. Trust us. We're DJs. We sort of know what we're doing. And this is what rock 'n' roll radio sounded like on a Sunday night in Syracuse this week.
This Is Rock 'n' Roll Radio with Dana & Carl airs Sunday nights from 9 to Midnight Eastern, on the air in Syracuse at SPARK! WSPJ 103.3 and 93.7 FM, and on the web at http://sparksyracuse.org/ You can read all about this show's long and weird history here: Boppin' The Whole Friggin' Planet (The History Of THIS IS ROCK 'N' ROLL RADIO). TAX DEDUCTIBLE DONATIONS are always welcome.The many fine This Is Rock 'n' Roll Radio compilation albums are still available, each full of that rockin' pop sound you crave. A portion of all sales benefit our perpetually cash-strapped community radio project:
Volume 1: download
Volume 2: CD or download
Volume 3: download
Volume 4: CD or download
Waterloo Sunset–Benefit For This Is Rock 'n' Roll Radio: CD or download

PS: SEND MONEY!!!! We need tech upgrades like Elvis needs boats. Spark Syracuse is supported by listeners like you. Tax-deductible donations are welcome at
http://sparksyracuse.org/support/

You can follow Carl's daily blog Boppin' (Like The Hip Folks Do) at
https://carlcafarelli.blogspot.com/
TIRnRR # 1082: 6/20/2021
TIRnRR FRESH SPINS! Tracks we think we ain't played before are listed in bold

THE RAMONES: Do You Remember Rock 'n' Roll Radio? (Rhino, End Of The Century)
—
THE GRIP WEEDS: You're So Good To Me (Jem, VA: Jem Records Celebrates Brian Wilson)
THE PRIMITIVES: Way Behind Me (RCA, Lovely)
THE ISLEY BROTHERS: Twist And Shout (Epic, The Essential Isley Brothers)
CLOCKWORK FLOWERS: Holding On To You (single)
GIRLSCHOOL: 20th Century Boy (Lemon, The Singles)
THE HUMAN JUNGLE: When Will You Happen To Me (Craft Recordings, VA: Poppies: Assorted Finery From The First Psychedelic Age)
—
BRENT SEAVERS: I Wrote A Song (Kool Kat Musik, BS Stands For Brent Seavers)
THE CHEAP CASSETTES: See Her In Action! (Rum Bar, See Her In Action!)
TRACEY ULLMAN: Terry (Rhino, You Broke My Heart In 17 Places)
THE SPRINGFIELDS: Bicycle Song (Slumberland, Singles 1986-1991)
VAN HALEN: Runnin' With The Devil (Warner Brothers, Van Halen)
HUMBLE PIE: Ninety-Nine Pounds (A & M, The Definitive Collection)
—
RICHARD X. HEYMAN: Tell Me When (Turn-Up, Copious Notes)
ASTROPUPPEES: She Can't Say No (Hightone, You Win The Bride)
KID GULLIVER: I Started A Joke (Red On Red, Gimme Some Go!)
AMY RIGBY: So You Know Now (Signature Sounds, Little Fugitive)
P. P. ARNOLD: Treat Me Like A Lady (Sequel, The First Cut)
MERRY CLAYTON: Gimme Shelter (Sony, VA: 20 Feet From Stardom OST)
—
MIKE BROWNING: Picture Book (unreleased)
ROCKPILE: Heart (Columbia, Seconds Of Pleasure)
STOECKEL & PEÑA: Why (Big Stir, single)
THE SHANG HI LOS: Sway Little Player (Rum Bar, Kick It Like A Wicked Bad Habit)
THE SHIRELLES: Will You Love Me Tomorrow (Varese Vintage, 25 All-Time Greatest Hits)
KELLEY RYAN: The Church Of Laundry (single)
—
JOHN LARSON & THE SILVER FIELDS: Perfect Crime (Shiny Fly, The Great Pause)
JOHNATHAN PUSHKAR: Junior's Farm (Jem, Compositions)
ARETHA FRANKLIN: Border Song (Holy Moses) (Atlantic, The Atlantic Singles Collection 1967-1970)
THE LINDA LINDAS: Claudia Kishi (single)
JEBB: Mindy (single)
THE THREE O'CLOCK: Jet Fighter (Frontier, Sixteen Tambourines/Baroque Hoedown)
—
RICHIE MAYER: Sunshine Blues (n/a, The Inn Of Temporary Happiness)
ULTRAVOX: Saturday Night In The City Of The Dead (Caroline, The Island Years)
THE DRIFTERS: There Goes My Baby (Atlantic, All-Time Greatest Hits & More 1959-1965)
TOMMY ROE: Dizzy (Varese Sarabande, VA: Bubblegum Classics Volume Two)
MICKY DOLENZ: Different Drum (7a, Dolenz Sings Nesmith)
TODD RUNDGREN: Couldn't I Just Tell You (Rhino, Something/Anything?)
—
STEPHEN'S RUIN: Runaround (Big Stir, single)
THE STEMS: Never Be Friends (Mushroom, At First Sight Violets Are Blue)
SLADE: Run Runaway (Polydor, Greatest Hits)
TELEVISION: See No Evil (Elektra, Marquee Moon)
HAYLEY & THE CRUSHERS: Jacaranda (Rum Bar, Fun Sized)
RICHARD HELL & THE VOIDOIDS: Love Comes In Spurts (Sire, Blank Generation)
—
RICH CHAMBERS: Sorry Isn't Good Enough (single)
THE PRETTY THINGS: Don't Bring Me Down (Fontana, Get A Buzz)
CHUCK BERRY: Promised Land (MCA, The Anthology)
THE DIODES: Tired Of Waking Up Tired (Epic, Tired Of Waking Up Tired)
THE HARRISONICS: Holly Goes Away (n/a, Love Songs For All Occasions)
THE CREATION: Making Time (Retroactive, Making Time, Vol. 1)
—
THE FLASHCUBES: I Can't Explain (Northside, Flashcubes On Fire)
PETE TOWNSHEND: Tough Boys (Redline, Scooped)
DOLPH CHANEY: My Good Twin (Big Stir, This Is Dolph Chaney)
NANCY SINATRA & LEE HAZLEWOOD: Sundown, Sundown (Paradiso, NANCY SINATRA: Greatest Hits)
STEVIE WONDER: Signed, Sealed, Delivered I'm Yours (Motown, The Definitive Collection)
THE MUFFS: On My Own (Omnivore, No Holiday)
EYTAN MIRSKY: This Year's Gonna Be Our Year (M-Squared, Year Of The Mouse)
JOHN LENNON: Whatever Gets You Thru The Night (Capitol, Walls And Bridges)
—
THE MONKEES: Band 6 (Rhino, Headquarters)