This Is Rock 'n' Roll Radio # 1081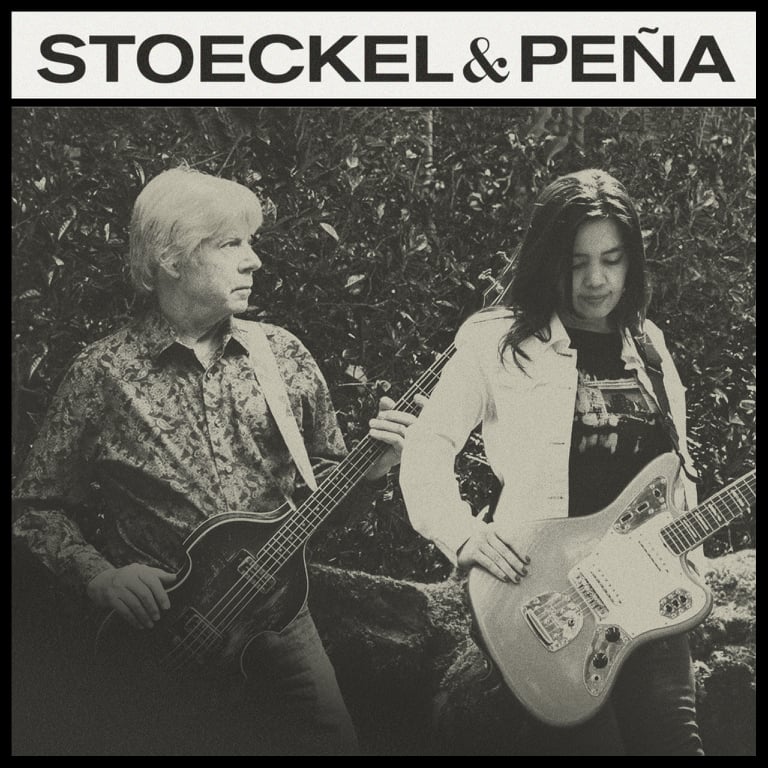 A Spongetone meets America's Sweetheart, and all is right with the world.
This Is Rock 'n' Roll Radio with Dana & Carl is honored to present the world premiere of "Why," the debut single by Stoeckel & Peña, uniting the pop talents of our friends Steve Stoeckel and Irene Peña. If we played even the smallest role in bringing these two together on record, then man, we have justified our claim to being The Best Three Hours Of Radio On The Whole Friggin' Planet.
Go forth, kids. Make us proud. This is what rock 'n' roll radio sounded like on a Sunday night in Syracuse this week.
This Is Rock 'n' Roll Radio with Dana & Carl airs Sunday nights from 9 to Midnight Eastern, on the air in Syracuse at SPARK! WSPJ 103.3 and 93.7 FM, and on the web at http://sparksyracuse.org/ You can read all about this show's long and weird history here: Boppin' The Whole Friggin' Planet (The History Of THIS IS ROCK 'N' ROLL RADIO). TAX DEDUCTIBLE DONATIONS are always welcome.The many fine This Is Rock 'n' Roll Radio compilation albums are still available, each full of that rockin' pop sound you crave. A portion of all sales benefit our perpetually cash-strapped community radio project:
Volume 1: download
Volume 2: CD or download
Volume 3: download
Volume 4: CD or download
Waterloo Sunset–Benefit For This Is Rock 'n' Roll Radio: CD or download

PS: SEND MONEY!!!! We need tech upgrades like Elvis needs boats. Spark Syracuse is supported by listeners like you. Tax-deductible donations are welcome at
http://sparksyracuse.org/support/

You can follow Carl's daily blog Boppin' (Like The Hip Folks Do) at
https://carlcafarelli.blogspot.com/
TIRnRR # 1081: 6/13/2021
TIRnRR FRESH SPINS! Tracks we think we ain't played before are listed in bold
THE RAMONES: Do You Remember Rock 'n' Roll Radio? (Rhino, End Of The Century)
—
STOECKEL & PEÑA: Why (Big Stir, single)
THE BEARDS: All About You (Sympathy For The Record Industry, Funtown)
LESLIE ODOM, JR: Good Times (Abkco, VA: One Night In Miami… OST)
EUGENE CHURCH: Miami (History Of Soul, VA: Singing From My Soul)
THE RAMONES: Do You Wanna Dance? (Rhino, Rocket To Russia)
THE PRIMITIVES: I'll Stick With You [single version] (Cherry Red, Lovely [expanded edition])
—
SUNBOURNE RD.: Scars (Kool Kat Musik, Manners Maketh Men)
BILL LLOYD: I Went Electric [Re-Set 2014 version] (n/a, A Selection Of Power Pop 1985-2020)
POP CO-OP: It Ain't Easy Being A Boy (Silent Bugler, Four State Solution)
JOHNATHAN PUSHKAR: Junior's Farm (Jem, Compositions)
IRENE PEÑA: Pieces Of You (n/a, Trying Not To Smile)
PAUL McCARTNEY: Dance Tonight (Capitol, Memory Almost Full)
—
IRENE PEÑA: Wherever You Are (Curry Cuts, VA: Higher Than A Mountain: The Songs Of Andy Gibb)
THE BANGLES: Hero Takes A Fall (Columbia, All Over The Place)
THE SPONGETONES: Talking Around It (Loaded Goat, Scrambled Eggs)
THE FAMOUS WARD SINGERS WITH MARION WILLIAMS: Got On My Traveling Shoes (History Of Soul, VA: Singing From My Soul)
ARETHA FRANKLIN: Save Me (Atlantic, I Loved A Man The Way I Love You)
THE SMALL FACES: Donkey Rides, A Penny, A Glass (Weton, The Immediate Recordings)
—
STEVE STOECKEL: Heather Gray (unrelreased)
AMY RIGBY: I Don't Want To Talk About Love No More (Signature Sounds, Little Fugitives)
KEVIN ROBERTSON: Love's Blue Yonder (Futureman, Sundown's End)
THEE HEADCOATEES: Ca Plane Pour Moi (Sympathy For The Record Industry, Punk Girls)
IRENE PEÑA: This Cigarette (Big Stir, single)
THE REPLACEMENTS: Alex Chilton (Sire, Pleased To Meet Me)
—
JIM BASNIGHT: Middle Of The Night (Big Stir, single)
BRAM TCHAIKOVSKY: Let's Dance [single version] (Cherry Red, Strange Men, Changed Men)
WYNNE C BLUE: Tryin' Ain't Good Enough (Burger, VA: Out Of The Box: A Global Tribute To The Pandoras)
NANCY SINATRA & DEAN MARTIN: Things (Paradiso, NANCY SINATRA: Greatest Hits)
JAMIE & STEVE: Emily's Ghost (Loaded Goat, English Afterthoughts)
THE CLICK BEETLES: If Not Now, Then When (Futureman, Pop Fossil)
—
WYNNE C BLUE & HER TROUBLEFAKERS: Castle (n/a, Return To The World)
THE COOLIES: Yeah I Don't Know (Wicked Cool, Uh Oh…It's The Coolies!)
MICKY DOLENZ: Little Red Rider (7a, Dolenz Sings Nesmith)
THE CURE: In Between Days (Elektra, The Head On The Door)
POP CO-OP: You Don't Love Me Anymore (Kool Kat Musik, VA: This Is Rock 'n' Roll Radio, Volume 4)
THE DARLING BUDS: Hit The Ground (Columbia, Pop Said…)
—
TIR'N'RR ALLSTARS: Waterloo Sunset (Futureman, VA: Waterloo Sunset–Benefit For This Is Rock 'n' Roll Radio)
THE KINKS: Better Things (Velvel, Give The People What They Want)
P. P. ARNOLD: Angel Of The Morning (Sequel, The First Cut)
LES HANDCLAPS: Trop Tard. (Handclaps, Sessions: Brooklyn)
THE CHELSEA CURVE: Don't Look Down (Red On Red, single)
LEW LEWIS: 1-30, 2-30, 3-35 (Stiff, Saver The Wail)
—
IRENE PEÑA & JEFF COLCHAMIRO: Shimmer Away (single)
MOTÖRHEAD: RAMONES (WTG, 1916)
THE COASTERS: Yakety Yak (Rhino, Yakety Yak)
THE JAM: Art School (Polydor, Direction Reaction Creation)
POP CO-OP: Persistence Of Memory (Futureman, Factory Settings)
JIGSAW: Sky High (Taragon, The Very Best Of Jigsaw)
THE FLASHCUBES: Nothing To Say To You (Northside, Flashcubes Forever)
JOSIE & THE PUSSYCATS: You've Come A Long Way Baby (Rhino Handmade, Stop, Look And Listen)
—
THE CHECKERED HEARTS: My Best Friend's Girl (ChicaneryChick, Joystick)
THE LOLAS: Sticker (Futureman, VA: This Is Rock 'n' Roll Radio, Volume 1)
KID GULLIVER: Forget About Him (Red On Red, single)
THE LINDA LINDAS: Never Say Never (n/a, The Linda Lindas)
THE MUFFS: Sad Tomorrow (Reprise, Blonder And Blonder)
THE MnM'S: I'm Tired (Burger, Melts In Your Ears 1980-1981)
IRENE PEÑA: Must Have Been Good (Kool Kat Musik, VA: This Is Rock 'n' Roll Radio, Volume 4)
THE SPONGETONES: (My Girl) Maryanne (Loaded Goat, Always Carry On)
—
THE SPONGETONES: Goodbye (Black Vinyl, Oh Yeah!)