This Is Rock 'n' Roll Radio # 1078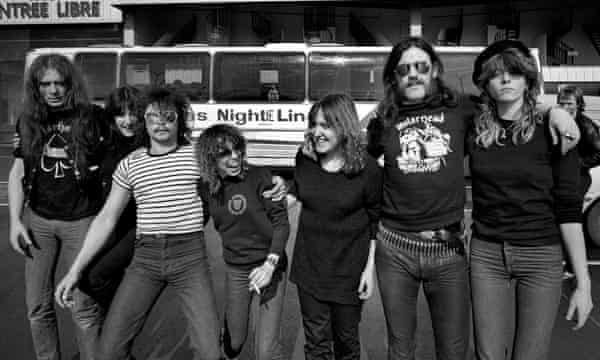 I was going through some material for a writing project, and a reference to the British metal group Girlschool brought me to the realization that we have hardly ever played Girlschool on TIRnRR. I figured we'd remedy that on this week's show; I could track down a copy of their song "Race With The Devil" (the video for which I recall seeing on MTV decades ago) and slap it into the ol' playlist. That was the plan.
But then I started listening to samples of a few more Girlschool numbers, and I wanted to hear more. I'm generally not much of a metal guy, but some of this stuff was squarely within my rockin' pop wheelhouse, and sufficient impetus for me to buy a 2-CD set called The Singles. The deciding factor was a 1981 track, "Please Don't Touch."
I knew the song. It was first done by the great pre-Beatles British combo Jonny Kidd and the Pirates, and subsequently redone by The Pirates (a latter-day version of the late Johnny Kidd's crew) for their 1977 album Out Of Their Skulls. In 1981, the all-female Girlschool combined forces with the all-male Motörhead to become the one-off Headgirl with an irresistibly blistering cover of "Please Don't Touch." It was a hit in the U.K. I never even knew this version existed.
Hearing the Headgirl track for the first time this month, I immediately–immediately–became obsessed with it. Over the May 15th weekend, other than catching shows on SPARK! and watching The Kennedys' weekly YouTube livestream, Headgirl's "Please Don't Touch" was literally the only song I listened to, over and over and over, playing on a loop on my iPod. No other song would do. There was no other song.
Why? 'Cuz. Our pop obsessions don't require analysis or explanation. They only require volume. Please don't touch, unless you're turning it UP. Headgirl kicks off another exercise in The Best Three Hours Of Radio On The Whole Friggin' Planet. Obsess away. We're with you. This is what rock 'n' roll radio sounded like on a Sunday night in Syracuse this week.
This Is Rock 'n' Roll Radio with Dana & Carl airs Sunday nights from 9 to Midnight Eastern, on the air in Syracuse at SPARK! WSPJ 103.3 and 93.7 FM, and on the web at http://sparksyracuse.org/ You can read all about this show's long and weird history here: Boppin' The Whole Friggin' Planet (The History Of THIS IS ROCK 'N' ROLL RADIO). TAX DEDUCTIBLE DONATIONS are always welcome.The many fine This Is Rock 'n' Roll Radio compilation albums are still available, each full of that rockin' pop sound you crave. A portion of all sales benefit our perpetually cash-strapped community radio project:
Volume 1: download
Volume 2: CD or download
Volume 3: download
Volume 4: CD or download
Waterloo Sunset–Benefit For This Is Rock 'n' Roll Radio: CD or download

PS: SEND MONEY!!!! We need tech upgrades like Elvis needs boats. Spark Syracuse is supported by listeners like you. Tax-deductible donations are welcome at
http://sparksyracuse.org/support/

You can follow Carl's daily blog Boppin' (Like The Hip Folks Do) at https://carlcafarelli.blogspot.com
TIRnRR # 1078: 5/23/2021TIRnRR FRESH SPINS! Tracks we think we ain't played before are listed in bold

THE RAMONES: Do You Remember Rock 'n' Roll Radio? (Rhino, End Of The Century)
—
HEADGIRL: Please Don't Touch (Lemon, GIRLSCHOOL: The Singles)
PYLON: The Human Body (New West, Gyrate)
MICKY DOLENZ: Different Drum 7a, Dolenz Sings Nesmith)
THE MONKEES: Sometime In The Morning (Rhino, More Of The Monkees)
THE DWIGHT TWILLEY BAND: I'm On Fire (The Right Stuff, DWIGHT TWILLEY: XXI)
TOM PETTY & THE HEARTBREAKERS: Here Comes My Girl (MCA, The Anthology: Through The Years)
—
LINNEA'S GARDEN: Replacement (Red On Red, single)
THE PRIMITIVES: Run Baby Run (RCA, Lovely)
DONNA SUMMER: Cold Love (Geffen, The Wanderer)
THE B-52'S: Private Idaho (Rhino, Nude On The Moon)
THE SMITHEREENS: Only A Memory (Capitol, Green Thoughts)
THE BEATLES: I'm So Tired (Apple, The Beatles)
—
JOE DILILLO [featuring THE LICKERISH QUARTET]: Loser Girl (single)
BLAINE CAMPBELL & THE CALIFORNIA SOUND: While You Sit At Home And Cry (single)
DIANA ROSS & THE SUPREMES: Love Child (Motown, The Ultimate Collection)
HINDU LOVE GODS: Raspberry Beret (Giant, Hindu Love Gods)
WILSON PICKETT: Take A Closer Look At The Woman You're With (Camden, Take Your Pleasure Where You Find It)
THE BREAKAWAYS: Everyday Things (Alive, Walking Out On Love)
—
NELSON BRAGG: Lost All Our Sundays (Big Stir, single)
CHRIS VON SNEIDERN: Lonely Tonight (Futureman, VA: This Is Rock 'n' Roll Radio, Volume 1)
POP CO-OP: Joe Public (The TM Collective, VA: The Rutles: A Tribute)
THE RUTLES: Doubleback Alley (Rhino, The Rutles)
THE O'JAYS: Love Train (Epic, Love Train)
DAVID BOWIE: Heroes [single version] (Virgin, Best Of Bowie)
—
COLD EXPECTATIONS: Summer Dress (Red On Red, single)
KELLEY RYAN: The Church Of Laundry (single)
SPIRIT: I Got A Line On You (Epic, The Best Of Spirit)
BO DONALDSON & THE HEYWOODS: Who Do You Think You Are (Varese Sarabande, The Best Of Bo Donaldson & the Heywoods)
THE GRIP WEEDS: Rainbow Quartz (Jem, How I Won The War)
THE FLYS: Love & A Molotov Cocktail (Own, Today Belongs To Me)
—
CAROLYN FRANKLIN: Boxer (Kent, Sister Soul: The Best Of The RCA Years 1969-1976)
ERMA FRANKLIN: Don't Wait Too Long (Shout!, Piece Of Her Heart: The Epic And Shout Years)
ARETHA FRANKLIN: Save Me (Atlantic, I Never Loved A Man The Way I Love You)
THE FOUNDATIONS: Build Me Up Buttercup (Sanctuary, The Very Best Of The Foundations)
MARSHALL CRENSHAW: Cynical Girl (Rhino, This Is Easy)
FENWYCK: Mindrocker (Rhino, VA: Nuggets)
—
TAMAR BERK: Skipping The Cracks (n/a, The Restless Dreams Of Youth)
THE FLAMIN' GROOVIES: Shake Some Action [demo version] (Grown Up Wrong, Between The Lines)
THE LEGAL MATTERS: Light Up The Sky (Futureman, Chapter Three)
THE FLEUR DE LYS: Mud In Your Eye (Grapefruit, VA: A Slight Disturbance In My Mind)
MATTHEW SWEET & SUSANNA HOFFS: Back Of A Car (Shout Factory, Under The Covers Vol. 2)
FOOLS FACE: Always The Last To Know (n/a, Fools Face)
—
THE BONGOS: Telephoto Lens (Razor & Tie, Drums Along The Hudson)
TRASH: Priorities (Cherry Red, VA: 1977: The Year Punk Broke)
VINCE MELOUNEY: No Good Without You (VM Music, single)
THE OSCAR BICYCLE: The Room Revolves Around Me (Strawberry, VA: Halcyon Days)
MAD MONSTER PARTY: No Matter What I Do (n/a, Mad Monster Party)
THE BOOTS: But You'll Never Do It Babe (Rhino, VA: Nuggets II)
—
THE NEW YORK DOLLS: Personality Crisis (Mercury, New York Dolls)
THE RAMONES: She's The One (Rhino, Road To Ruin)
THE MYNAH BIRDS: I Got You (In My Soul) (Motown, VA: Motown Unreleased 1966)
THE RATIONALS: I Need You (Rhino, VA: Nuggets)
HOLLY GOLIGHTLY: Time Will Tell (Damaged Goods, Truly She Is None Other)
FOUNTAINS OF WAYNE: Better Things (Rykodisc, VA: This Is Where I Belong)
KID GULLIVER: Forget About Him (Red On Red, single)
THE MUFFS: Happier Just Being With You (Omnivore, No Holiday)
—
THE KINKS: You Really Got Me (Sanctuary, The Ultimate Collection)
THE VITAMINS: New Town (Cherry Red, VA: 1978: The Year The UK Turned Day-Glo)