This Is Rock 'n' Roll Radio # 1074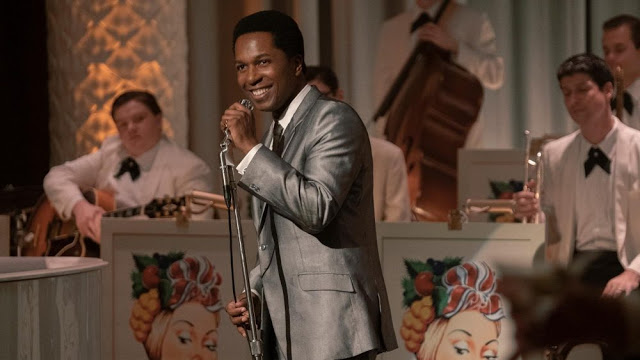 Actor Leslie Odom, Jr.'s Oscar-nominated portrayal of Sam Cooke in the film One Night In Miami… has inspired us to put Cooke's own records into regular rotation on TIRnRR the past few months. Counter-programming the Oscars this week, we decided to open the show with a set of six songs from movies, commencing with Odom's beguiling rendition of Cooke's "Good Times," followed by The Beatles (from A Hard Day's Night), The Carrie Nations (from Beyond The Valley Of The Dolls), The Dave Clark Five (from Having A Wild Weekend), Tina Turner (from Tommy), and Harry Nilsson (from Midnight Cowboy). Four of those six films received Oscar nominations. The other two did not. That's okay. We're a radio show. All we care about are the sounds.
And this week's sounds also included a brand-new single from long-time TIRnRR Fave Rave Micky Dolenz. Micky's album Dolenz Sings Nesmith is due in May, and it finds Mr. Mick covering songs written by his Monkees cohort Michael Nesmith. The album is expertly produced and arranged by Christian Nesmith, I believe–I'm a believer!–members of The Monkees' crack touring band provide support (including exquisite backing vocals by Circe Link and Coco Dolenz), and it is all so, so immediately appealing and irresistible. This past Friday's release of the digital single "Different Drum"/"Propinquity (I've Just Begun To Care)" demonstrates all of the above with phantasmagoric splendor. We played "Different Drum" this week. "Propinquity" will follow next week.
You still want more? Awrighty! New music from Rooftop Screamers, John Larson and the Silver Fields, The Chickenbackers, Orbis Max, and Super 8, TIRnRR debuts of the latest singles from Irene Peña and Evie Sands, a freshly-shined 1966 track from Vince Melouney, and all sortsa yesterday-'n'-today delights from The Kinks, Andrea Gillis, Stevie Wonder, Kevin Robertson, Iggy Pop, Kelley Ryan, Fishbone, Dolph Chaney, The Sex Pistols, The Forty Nineteens, Aretha Franklin, and a cast of dozens. It all begins with Leslie Odom, Jr. at the movies. We're ready for our close-up. Lights! Camera! This is what rock 'n' roll radio action sounded like on a Sunday night in Syracuse this week.
This Is Rock 'n' Roll Radio with Dana & Carl airs Sunday nights from 9 to Midnight Eastern, on the air in Syracuse at SPARK! WSPJ 103.3 and 93.7 FM, and on the web at http://sparksyracuse.org/ You can read all about this show's long and weird history here: Boppin' The Whole Friggin' Planet (The History Of THIS IS ROCK 'N' ROLL RADIO). TAX DEDUCTIBLE DONATIONS are always welcome.The many fine This Is Rock 'n' Roll Radio compilation albums are still available, each full of that rockin' pop sound you crave. A portion of all sales benefit our perpetually cash-strapped community radio project:
Volume 1: download
Volume 2: CD or download
Volume 3: download
Volume 4: CD or download
Waterloo Sunset–Benefit For This Is Rock 'n' Roll Radio: CD or download
PS: SEND MONEY!!!! We need tech upgrades like Elvis needs boats. Spark Syracuse is supported by listeners like you. Tax-deductible donations are welcome at
http://sparksyracuse.org/support/
You can follow Carl's daily blog Boppin' (Like The Hip Folks Do) at
https://carlcafarelli.blogspot.com/
TIRnRR # 1074: 4/25/2021
TIRnRR FRESH SPINS! Tracks we think we ain't played before are listed in bold

THE RAMONES: Do You Remember Rock 'n' Roll Radio? (Rhino, End Of The Century)
—
LESLIE ODOM, JR.: Good Times (Abkco, VA: One Night In Miami… OST)
THE BEATLES: A Hard Day's Night (Apple, A Hard Day's Night)
THE CARRIE NATIONS: Come With The Gentle People (Harkit, VA: Beyond The Valley Of The Dolls OST)
THE DAVE CLARK FIVE: Catch Us If You Can (Hollywood, The History Of The Dave Clark Five)
TINA TURNER: The Acid Queen (Polydor, VA: Tommy OST)
HARRY NILSSON: Everybody's Talkin' (RockBeat, VA: The Wrecking Crew)
—
ROOFTOP SCREAMERS: Couldn't Ask For More (n/a, Next Level)
UNIPER: Boys! Boys! Boys! Boys! Boys! (Confidential Recordings, Juniper)
CAROLYN FRANKLIN: Boxer (Kent, Sister Soul: The Best Of The RCA Years 1969-1976)
HOLLY GOLIGHTLY: Too Late Now (Damaged Goods, Singles Round-Up)
SCOTT KEMPNER: (Just Like) Romeo And Juliet (Razor & Tie, Tenement Angels)
MARY LOU LORD: Western Union Desperate (Work, Got No Shadow)
—
JOHN LARSON & THE SILVER FIELDS: I Don't Want To Hear Their Names Anymore (Shiny Fly, The Great Pause)
IGGY POP Five Foot One (Arista, New Values)
ANDREA GILLIS: Leave The Light On (Red On Red, single)
LES HANDCLAPS: Shake Your Tailfeather (Handclaps, Ouh Ouh Ah!)
SAM COOKE: Sugar Dumpling (Abkco, Portrait Of A Legend)
KIM WESTON: Take Me In Your Arms (Rock Me A Little While) (Motown, VA: Hitsville USA)
—
IRENE PEÑA: You're My Medicine (Big Stir, single)
THE MUFFS: Outer Space (Omnivore, Happy Birthday To Me)
EVIE SANDS: The Truth Is In Disguise (R-Spot, Get Out Of Your Own Way)
RICHARD HELL & THE VOIDOIDS: I Can Only Give You Everything (Omnivore, Destiny Street Complete)
FISHBONE: It's A Wonderful Life (Gonna Have A Good Time) (Columbia, The Essential Fishbone)
THE ENGLISH BEAT: What's Your Best Thing? (IRS, Special Beat Service)
—
THE CHICKENBACKERS: I Can't Make It (Kool Kat Musik, Yeh Right Yeah!)
THE GANTS: I Wonder (Rhino, VA: Nuggets)
STEVIE WONDER: Higher Ground (Motown, The Definitive Collection)
ICICLE WORKS: Birds Fly (Whisper To A Scream) (EMI, VA: Living In Oblivion: The 80's Greatest Hits Vol. 5)
SUGAR SNOW: She Goes On (n/a, Woodface Reimagined)
CROWDED HOUSE: Don't Dream It's Over (Capitol, Crowded House)
—
SUPER 8: All My Worries (single)
BOB FENSTER & THE WINDOWS: You're Doing It Wrong (Whirled Music, The Whole In The Pieces)
THE KINKS: The Village Green Preservation Society (Universal, The Village Green Preservation Society)
THE JAM: So Sad About Us (Polydor, Direction Reaction Creation)
VINCE MELOUNEY: No Good Without You (VM Music, single)
THE BEE GEES: Spicks & Specks (Festival, Brilliant From Birth)
—
ORBIS MAX: On The Radio (single)
SCREEN TEST: Sound Of The Radio (JAM, VA: This Is Rock 'n' Roll Radio, Volume 2)
THE FORTY NINETEENS [with TONY VALENTINO]: Late Night Radio (Big Stir, New Roaring Twenties)
ELVIS COSTELLO & THE ATTRACTIONS: Radio, Radio (Rykodisc, This Year's Model)
CHRIS POPE & CHORDS UK: Listen To The Radio (Big Stir, single)
THE SELECTER: On My Radio (EMI, Greatest Hits)
—
MICKY DOLENZ: Different Drum (7a, Dolenz Sings Nesmith)
TOMORROW: My White Bicycle (Rhino, VA: Nuggets II)
THE RULERS: I Want My Ramones Records Back (Futureman, VA: This Is Rock 'n' Roll Radio, Volume 4)
THE LA DE DAS: How Is The Air Up There? (Rhino, VA: Nuggets II)
DOLPH CHANEY: My Good Twin (Big Stir, This Is Dolph Chaney)
THE SMALL FACES: My Mind's Eye (Deram, The Anthology 1965-1967)
—
KEVIN ROBERTSON: Love's Blue Yonder (Big Stir, single)
KELLEY RYAN: The Church Of Laundry (single)
THE MOBERLYS: I Return (Precedent, First Album)
THE SEX PISTOLS: EMI (Virgin, Kiss This)
GRAHAM PARKER & THE RUMOUR: Mercury Poisoning (Spectrum, The Very Best Of Graham Parker and the Rumour)
NICK LOWE: I Love My Label (Yep Roc, Jesus Of Cool)
ARETHA FRANKLIN: Chain Of Fools (Atlantic, The Atlantic Singles Collection 1967-1970)
THE BEATLES: Chains (Apple, Please Please Me)
THE TREND: Electric Chair (Hate, Batman Live At Budokan)