This Is Rock 'n' Roll Radio # 1066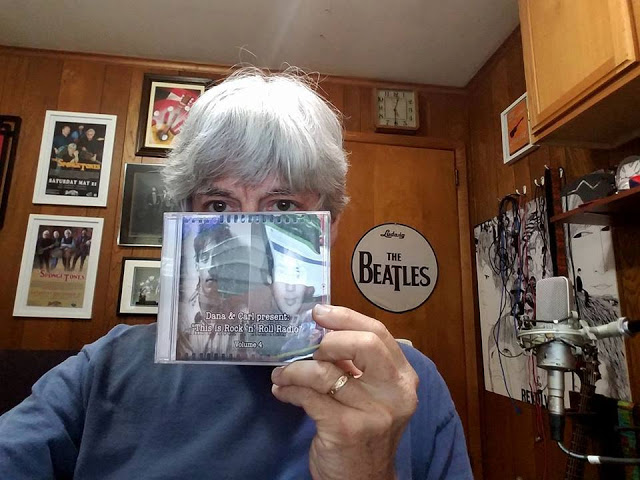 Neither Dana nor I have ever met Steve Stoeckel. We hope to remedy that some day. In the mean time, we already regard him as a friend. We've been corresponding with Steve for years, and we have been delighted to make the acquaintance, even from afar.
And, of course, we've been fans of Steve's music for years before that.
It started with The Spongetones. My God, we love The Spongetones, an accomplished quartet of British Invasion enthusiasts channeling their love of all things Fab into Something New. Beat Music! We began long-distance kibbitzing with 'Tones guitarist Jamie Hoover in the '90s, and connected with our lad Steve some time thereafter. And the hits just kept on coming, through The Spongetones and Jamie and Steve, Jamie solo and with Stepford Knives, Steve with Pop Co-Op and This Is Rock 'n' Roll Radio Allstars. They make 'em, we play 'em, and all is right with the world.
Music makes friends. A shared love of pop music can bring people together, across miles and formats, eras and fads. Sunday nights on the radio, we gather with a few of our friends, and we listen to some records. Steve is one of those friends. And, more often than not, Steve is playing on one of the records we spin. At his own remote location, he also has his bass guitar out, ready to accompany Stevie Wonder and The Beatles as their majestic sounds play on the air. A friend and a fan, and the feeling is mutual. We opened this week's show with three in a row by our friend Steve. Happy Birthday, Steve Stoeckel. This is what rock 'n' roll radio sounded like on a Sunday night in Syracuse this week.
This Is Rock 'n' Roll Radio with Dana & Carl airs Sunday nights from 9 to Midnight Eastern, on the air in Syracuse at SPARK! WSPJ 103.3 and 93.7 FM, and on the web at http://sparksyracuse.org/ You can read all about this show's long and weird history here: Boppin' The Whole Friggin' Planet (The History Of THIS IS ROCK 'N' ROLL RADIO). TAX DEDUCTIBLE DONATIONS are always welcome.The many fine This Is Rock 'n' Roll Radio compilation albums are still available, each full of that rockin' pop sound you crave. A portion of all sales benefit our perpetually cash-strapped community radio project:
Volume 1: download
Volume 2: CD or download
Volume 3: download
Volume 4: CD or download
Waterloo Sunset–Benefit For This Is Rock 'n' Roll Radio:  CD or download

PS: SEND MONEY!!!! We need tech upgrades like Elvis needs boats. Spark Syracuse is supported by listeners like you. Tax-deductible donations are welcome at
http://sparksyracuse.org/support/
You can follow Carl's daily blog Boppin' (Like The Hip Folks Do) at 
https://carlcafarelli.blogspot.com/
Hey, Carl's writin' a book! The Greatest Record Ever Made! (Volume 1) will contain 165 essays about 165 songs, each one of 'em THE greatest record ever made. An infinite number of songs can each be the greatest record ever made, as long as they take turns. Updated initial information can be seen here, and you can see my weekly GREM! video rants in my Greatest Record Ever Made! YouTube playlist.

TIRnRR # 1066: 2/28/2021TIRnRR FRESH SPINS! Tracks we think we ain't played before are listed in bold

THE RAMONES: Do You Remember Rock 'n' Roll Radio? (Rhino, End Of The Century)
—
POP CO-OP: It Ain't Easy Being A Boy (Silent Bugler, Four State Solution)
THE SPONGETONES: (My Girl) Maryanne (Loaded Goat, Always Carry On)
TIR'N'RR ALLSTARS: Waterloo Sunset (Futureman/Kool Kat Musik, VA: Waterloo Sunset–Benefit For This Is Rock 'n' Roll Radio)
BOW WOW WOW: Radio G-String (Cherry Red, Your Box Set Pet)
DAN FOGELBERG: The Language Of Love (Epic, The Essential Dan Fogelberg)
THE THORNS: Thorns [Sunset session] (Columbia, The Thorn [Sunset Session Edition]
—
IRENE PEÑA: I Won't Budge (Big Stir, single)
KELLEY RYAN: The Church Of Laundry (single)
TINA TURNER: The Acid Queen (Polydor, VA: Tommy OST)
THE JAM: Get Yourself Together (Polydor, Extras)
CHARLEY PRIDE: More To Me (Legacy, The Essential Charley Pride)
THE YACHTS: I.O.U. (In The Oddments Drawer) (Cherry Red, Suffice To Say)
—
THE SAILS: Best Day (Kool Kat Musik, BANG! The Best Of The Sails 2006-2020)
THE SAINTS: This Perfect Day [single version] (Raven, Wild About You)
THE JAYHAWKS: I'm Gonna Make You Love Me (Columbia, Smile)
BIG COUNTRY: Prairie Rose (Spectrum, Wonderland)
STEVIE WONDER: I Was Made To Love Her (Motown, The Definitive Collection)
GENERAL PUBLIC: Tenderness (Shout Factory, …All The Rage)
—
BRIAN BRINGELSON: Madonna Inn (Kool Kat Musik, Burning Backwards)
THE GOLD NEEDLES: Billy Liar (Jem, What's Tomorrow Ever Done For You?)
THE KNICKERBOCKERS: Lies (Rhino, VA: Nuggets)
AMY RIGBY: Dancing With Joey Ramone (Signature Sounds, Little Fugitives)
JOAN ARMATRADING: Romancers (A & M, Walk Under Ladders)
GREGG YETI & THE BEST LIGHTS: My Narcoleptic Sara (Eskimo Kiss, Heart Palpitations Of The Rich And Famous)
—
HAYLEY & THE CRUSHERS: Kiss Me So I Can (Rum Bar, Fun Sized)
KID GULLIVER: Beauty School Dropout (Red On Red, single)
THE THREE O'CLOCK: Jet Fighter (Frontier, Sixteen Tambourines)
THE SINGLES: He Can Go, You Can't Stay (Rainbow Quartz, Better Than Before)
THE BEATLES: I Don't Want To Spoil The Party (Apple, Beatles For Sale)
WANDA JACKSON: Let's Have A Party (Metro Select, First Lady Of Rockabilly)
—
THE PERMANENT GREEN LIGHT: Silver Girls (Hypnotic Bridge, single)
COCKEYED GHOST: About Jill (Big Deal, Keep Yourself Amused)
LESLIE ODOM, JR.: Good Times (Abkco, VA: One Night In Miami… OST)
KENNY HOWES & THE YEAH!: Sheila, She (TallBoy, Until Dawn)
D. W. DUNPHY: Mallory Told Me (Introverse Media, Charm Offensive)
MING TEA: BBC (Hollywood, VA: Austin Powers: International Man Of Mystery OST)
—
DOLPH CHANEY: My Good Twin (Big Stir, This Is Dolph Chaney)
THE CHARMS: Top Down (Red Car, Charmed. I'm Sure)
THE VICKSBURGS: Drive Faster (Play-Tone, VA: That Thing You Do! OST)
THE KINKS: Ev'rybody's Gonna Be Happy (Sanctuary, The Anthology 1964-1971)
THE SMITHEREENS: Sorry (Entertainment One, Smithereens 2011)
KLAATU: Sub Rosa Subway (Klaatunes, 3:47 EST)
—
THE HARRISONICS: Holly Goes Away (harrisonics.bandcamp.com, Love Songs For All Occasions)
BEAT ANGELS: Go Your Way (Epiphany, Red Badge Of Discourage)
EVIE SANDS: Another Night (R-Spot, Get Out Of Your Own Way)
JACKIE WILSON: Please Stick Around (Not Now Music, The Very Best Of Jackie Wilson)
THE RAMONES: Carbona Not Glue (Rhino, Leave Home)
THE ANDERSONS!: From The Get-Go (Lime Vinyl, Separated At Birth)
—
CHRIS CHURCH: Smile (Big Stir, Game Dirt)
THE CRICKLE: Place In My Heart (ROIR, VA: Garage Sale)
THE LEGAL MATTERS: Light Up The Sky (Futureman, Chapter Three)
HOLLY GOLIGHTLY: It's All Over Now (Vinyl Japan, Laugh It All Up!)
SAM COOKE: Little Red Rooster (Abkco, Portrait Of A Legend)
IKE AND TINA TURNER: Too Hot To Hold (Acrobat, So Fine)
THE MONKEES: What Am I Doing Hangin' 'Round? (Rhino, Pisces, Aquarius, Capricorn & Jones, Ltd.)
THE MUFFS: On My Own (Omnivore, No Holiday)