This Is Rock 'n' Roll Radio # 1064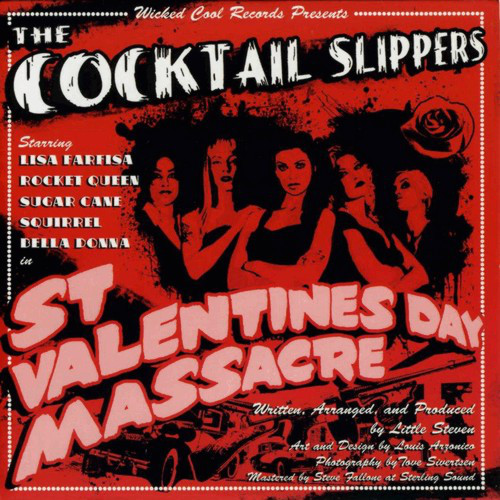 Love can be a fragile thing. We hear of hearts breaking, lovers parting, paths diverging, bitterness, tears. Regrets. We've had a few. We've all had a few.
Love can also be more resilient than it seems. Knowing we can be tough and strong doesn't mean we will be tough and strong, but…it's possible. Not always, but sometimes. In A Farewell To Arms, Hemingway writes that "the world breaks everyone and afterward many are strong at the broken places." It seems a nice, hopeful quote. But then he adds, "But those that will not break it kills. It kills the very good and the very gentle and the very brave impartially. If you are none of these you can be sure it will kill you too but there will be no special hurry."
Unsentimental bastard, that Hemingway.
Valentine's Day doesn't quite reach that level of drama. Well, at least it shouldn't. It's just a day set aside to celebrate love, to embrace, to delight in mutual affection. It's a marketing gimmick, sure, but it's relatively benign. Some will enjoy it more than others. Some will regret its perceived slights and omissions. Some will feel the pain of exclusion. Some won't care about it either way.
In our quarantine scene, even those who are into this idea of Valentine's Day have limited options to pursue it. And that's just a minor skirmish waging within a much, much larger battlefield. We're tired of masks, we're tired of distancing…but we're smart enough and, God willing, strong enough to keep on doing these things that we have to do. For our own good, and for the greater good, the good of all we love and hold dear. Yeah, even if the "holding" part is figurative. We acknowledge the limitations of what we can do. Is there no life without love? Perhaps. There is definitely no love without life.
Love endures, to the extent that it can endure. We endure to the extent we can endure. That effort is larger and stronger than the delicate nature of red hearts scrawled in a datebook.
It has to be.
Am I still penciled in on your calendar?
Am I still the late night call when you've got nothing to say?
I know it's New Year's Eve and you say you love me
But who'll be the last lover standing come Saint Valentine's Day?

We open the show with Cocktail Slippers. We raise a glass, with a wish for you and yours. This is what rock 'n' roll radio sounded like on a Sunday night in Syracuse this week.
This Is Rock 'n' Roll Radio with Dana & Carl airs Sunday nights from 9 to Midnight Eastern, on the air in Syracuse at SPARK! WSPJ 103.3 and 93.7 FM, and on the web at http://sparksyracuse.org/ You can read all about this show's long and weird history here: Boppin' The Whole Friggin' Planet (The History Of THIS IS ROCK 'N' ROLL RADIO). TAX DEDUCTIBLE DONATIONS are always welcome.
The many fine This Is Rock 'n' Roll Radio compilation albums are still available, each full of that rockin' pop sound you crave. A portion of all sales benefit our perpetually cash-strapped community radio project:
Volume 1: download
Volume 2: CD or download
Volume 3: download
Volume 4: CD or download
Waterloo Sunset–Benefit For This Is Rock 'n' Roll Radio:  CD or download

PS: SEND MONEY!!!! We need tech upgrades like Elvis needs boats. Spark Syracuse is supported by listeners like you. Tax-deductible donations are welcome at
http://sparksyracuse.org/support/
You can follow Carl's daily blog Boppin' (Like The Hip Folks Do) at 
https://carlcafarelli.blogspot.com/
Hey, Carl's writin' a book! The Greatest Record Ever Made! (Volume 1) will contain 165 essays about 165 songs, each one of 'em THE greatest record ever made. An infinite number of songs can each be the greatest record ever made, as long as they take turns. Updated initial information can be seen here, and you can see my weekly GREM! video rants in my Greatest Record Ever Made! YouTube playlist.

TIRnRR # 1064: 2/14/2021
TIRnRR FRESH SPINS! Tracks we think we ain't played before are listed in bold
THE RAMONES: Do You Remember Rock 'n' Roll Radio? (Rhino, End Of The Century)
—
COCKTAIL SLIPPERS: St. Valentine's Day Massacre (Wicked Cool, Saint Valentine's Day Massacre)
THE HOLLIES: Bus Stop (EMI, Clarke, Hicks & Nash Years)
JOAN ARMATRADING: I Wanna Hold You (A & M, Walk Under Ladders)
HOLLY GOLIGHTLY: Time Will Tell (Damaged Goods, Truly She Is None Other)
THE SUPREMES: Automatically Sunshine (Motown, Floy Joy)
IKE & TINA TURNER: Shake A Tail Feather (Passport, So Fine)
—
THE BOYS WITH THE PERPETUAL NERVOUSNESS: I Don't Mind (Kool Kat Musik, Songs From Another Life)
THE LEMON DROPS: I Live In The Springtime (Cicadelic, Sunshine Flower Power)
IAN HUNTER: All Of The Good Ones Are Taken (Columbia, All Of The Good Ones Are Taken)
HARMONIC DIRT: Blue Moon Atlas (harmonicdirt.com, Rhode Island Street)
LESLIE ODOM, JR: Good Times (Abkco, VA: One Night In Miami… OST)
EDDIE FLOYD: Knock On Wood (Atlantic, VA: The Complete Stax/Volt Singles 1959-1968)
—
COLD EXPECTATIONS: Two Blueberries (Red On Red, single)
THE SMALL FACES: My Mind's Eye (London, Decca Anthology)
BOBBY SUTLIFF: Griffin Bay (Not Lame, Bitter Fruit)
THE YACHTS: Box 202 [single version] (Cherry Red, Suffice To Say)
SAM COOKE: Win Your Love For Me (Abkco, Portrait Of A Legend)
TOM PETTY: You Don't Know How It Feels (Warner Brothers, Wildflowers & All The Rest)
—
THE GOLD NEEDLES: I Get The Pressure (Jem, What's Tomorrow Ever Done For You?)
THE JAM: And Your Bird Can Sing
(Polydor, Extras)THE BEATLES: Every Little Thing (Apple, Beatles For Sale)
AMY RIGBY: Stop Showing Up In My Dreams (Koch, The Sugar Tree)
HONEY CONE: Want Ads (Rhino, VA: Can You Dig It?)
MATTHEW SWEET & SUSANNA HOFFS: Care Of Cell # 44 (Shout Factory, Under The Covers, Vol. 1)
—
MATERIAL ISSUE: International Pop Overthrow (Mercury, International Pop Overthrow)
THE BEAT: Work-A-Day World (Wagon Wheel, The Beat)
THE RAMONES: I Don't Want You (Rhino, Road To Ruin)
THE BANGLES: Tell Me (Columbia, All Over The Place)
BUCK OWENS & HIS BUCKAROOS: Tall Dark Stranger (Rhino, 21 # 1 Hits)
THE 13th FLOOR ELEVATORS: You're Gonna Miss Me (Rhino, VA: Nuggets)
—
JUSTINE & THE UNCLEAN: Scorpion Bowl To Go (Red On Red, single)
TRAVIS RAMIN: Right Hot Dog Wrong Bun (Rum Bar, VA: If It Ain't Rum Bar It Ain't Worth The Shot Vol. 2)
WILD KISSES: 14th Street (Wild Kisses, Wild Kisses)
THE MUFFS: Weird Boy Next Door (Burger, Whoop Dee Doo)
EVIE SANDS: Another Night (R-Spot, Get Out Of Your Own Way)
THE LEARS: The Byrd That Couldn't Fly (Not Lame, VA: Full Circle)
—
HAYLEY & THE CRUSHERS: Jacaranda (Rum Bar, Fun Sized)
DR. FEELGOOD: She Does It Right (Parlophone, Down By The Jetty)
THE MONKEES: Valleri (Rhino, Music Box)
THE KINKS: Autumn Almanac (Essential, Something Else)
GRETCHEN'S WHEEL: Can't Shake The Feeling (Futureman, Such Open Sky)
THE PRETENDERS: Talk Of The Town (Sire, The Singles)
—
BRIAN BRINGELSON: Losing Train Of Thought (Futureman, Desperate Days)
THE TROGGS: Our Love Will Still Be There (Fontana, Archeology)
THE SHANG HI LOS: Sway Little Player (Rum Bar, Kick It Like A Wicked Bad Habit)
THE GANTS: I Wonder (Rhino, VA: Nuggets)
DION: Runaround Sue (Buddah, VA: Dick Clark 20 Years Of Rock N' Roll)
THE GROOVIE GHOULIES: Carly Simon (Lookout, VA: Lookout! Freakout!)
—
JOHN DUNBAR: A Sentimental Heart And A Skeptical Mind (Kool Kat Musik, Oh Wellness)
THE ONLY ONES: Another Girl, Another Planet (Rhino, VA: DIY: Teenage Kicks)
KID GULLIVER: Forget About Him (Red On Red, single)
LES HANDCLAPS: Trop Tard (Handclaps, Sessions: Brooklyn)
DOLPH CHANEY: My Good Twin (Big Stir, This Is Dolph Chaney)
WIRE: Mannequin (Pinkflag, Pink Flag)
THE EQUALS: Baby Come Back (Ice, First Among Equals)
BIG STAR: September Gurls (Ardent, # 1 Record/Radio City)