This Is Rock 'n' Roll Radio # 1063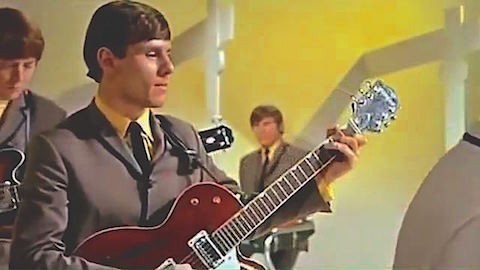 Guitar.
The late Hilton Valentine played guitar for The Animals. That means Valentine's playing was the very first thing most of us heard when we were introduced to The Animals' music: the distinctive, bluesy lick that opens "The House Of The Rising Sun," The Animals' first hit in these American colonies in the British Invasion year of 1964.
It was a traditional folk song, dating back to at least the early 1900s. The Animals rearranged it into a powerful, mesmerizing rock 'n' roll record, a ballsy move that particularly impressed Bashful Bob Dylan. The Animals' take on "The House Of The Rising Sun" was (along with The Beatles) among the key influences upon Dylan's eventual act of ignoring folk purists' ignorant catcalls of JUDAS! as he went electric himself. Animals keyboardist Alan Price took the lucrative credit for the song's arrangement–that's a rant for another day–but it had been a group effort, and a group execution. Price's swirling play propels the record, the rhythm section of bassist Chas Chandler and drummer John Steel lock into an authoritarian groove, and the incredible lead singer Eric Burdon wails like the possessed soul he was. Hilton Valentine plays guitar. He hooks you first, and keeps you hooked, bound, helpless, boarding a train for New Orleans to wear that ball and chain. The House of the Rising Sun. It's been the ruin of many a poor boy. And God, you know you're one.
I was fortunate enough to see Hilton Valentine perform on a few occasions. He came to Syracuse a couple of times to participate in BeatleCuse, a wonderful concert series captained by local musician Paul Davie. Valentine seemed friendly and easy-going, secure in his position within the history of our beloved beat music. In the early '80s, I got to see The Animals themselves–Eric, Alan, Chas, John, and Hilton–and that was a dream come true.
I've been a fan of The Animals even longer than I've been a fan of The Kinks or The Rolling Stones. As a senior in high school, I expressed my dissatisfaction with the state of pop music circa '76 and '77 by scrawling a desperate WHERE IS ERIC BURDON NOW THAT WE NEED HIM? on the underside of an office cabinet. I, Rebel. Sort of. The stated plea was for Burdon, but it was a wish for The Animals. Eric, Alan, Chas, John, and Hilton. Vocals, organ, bass, drums…and guitar. Hilton Valentine played guitar. One foot on the platform, the other foot on the train. Play it, Hilton. And Godspeed.
This is what rock 'n' roll radio sounded like on a Sunday night in Syracuse this week.
This Is Rock 'n' Roll Radio with Dana & Carl airs Sunday nights from 9 to Midnight Eastern, on the air in Syracuse at SPARK! WSPJ 103.3 and 93.7 FM, and on the web at http://sparksyracuse.org/ You can read all about this show's long and weird history here: Boppin' The Whole Friggin' Planet (The History Of THIS IS ROCK 'N' ROLL RADIO). TAX DEDUCTIBLE DONATIONS are always welcome.
The many fine This Is Rock 'n' Roll Radio compilation albums are still available, each full of that rockin' pop sound you crave. A portion of all sales benefit our perpetually cash-strapped community radio project:
Volume 1: download
Volume 2: CD or download
Volume 3: download
Volume 4: CD or download
Waterloo Sunset–Benefit For This Is Rock 'n' Roll Radio:  CD or download

PS: SEND MONEY!!!! We need tech upgrades like Elvis needs boats. Spark Syracuse is supported by listeners like you. Tax-deductible donations are welcome at
http://sparksyracuse.org/support/

You can follow Carl's daily blog Boppin' (Like The Hip Folks Do) at 
https://carlcafarelli.blogspot.com/
Hey, Carl's writin' a book! The Greatest Record Ever Made! (Volume 1) will contain 165 essays about 165 songs, each one of 'em THE greatest record ever made. An infinite number of songs can each be the greatest record ever made, as long as they take turns. Updated initial information can be seen here, and you can see my weekly GREM! video rants in my Greatest Record Ever Made! YouTube playlist.

TIRnRR # 1063: 2/7/2021
TIRnRR FRESH SPINS! Tracks we think we ain't played before are listed in bold

THE RAMONES: Do You Remember Rock 'n' Roll Radio? (Rhino, End Of The Century
—
THE ANIMALS: The House Of The Rising Son (Abkco, Retrospective)
R.E.M.: Love Is All Around (Tag Recordings, VA: I Shot Andy Warhol)
JOAN JETT & THE BLACKHEARTS: Love Is Pain (Blackheart, I Love Rock 'n' Roll)
THE YACHTS: I Couldn't Get Along Without You (Cherry Red, Suffice To Say)
SAM COOKE: That's Where It's At (Abkco, Portrait Of A Legend)
THEE HEADCOATS: We're Gone (Sub Pop, Heavens To Murgatroyd, Even! It's Thee Headcoats! [Already])
—
LESLIE ODOM, JR: Good Times (Abkco, VA: One Night In Miami OST)
LOVE: Gimi A Little Break (Tag Recordings, VA: I Shot Andy Warhol)
POP CO-OP: It Ain't Easy Being A Boy (Silent Bugler, Four State Solution)
HOLLY GOLIGHTLY: Use Me (Damaged Goods, God Don't Like It)
THE ROMANTICS: Keep In Touch (Nemperor, The Romantics)
THE ZOMBIES: Tell Her No (Big Beat, Zombie Heaven)
—
THE BROTHERS STEVE: Beat City (Futureman, VA: Action Now: 20/20 Re-Envisioned)
MICHAEL CARPENTER: That's Alright By Me (Not Lame, VA: Full Circle)
PAUL McCARTNEY: Singing The Blues (Capitol, Unplugged [The Official Bootleg])
WILCO: Burned (Tag Recordings, VA: I Shot Andy Warhol)
THE FOUR TOPS: Shake Me, Wake Me (When It's Over) (Motown, The Ultimate Collection)
ANY TROUBLE: Playing Bogart (Stiff, Where Are All The Nice Girls?)
—
KID GULLIVER: Beauty School Dropout (Red On Red, single)
LETTERS TO CLEO: Cruel To Be Kind (Ace, VA: Girl Go Power Pop!)
JEREMY: So You Want To Be A Rock 'n' Roll Star (JAM, Living The Dream)
SIOUXSIE & THE BANSHEES: Hong Kong Garden (Verve, VA: Marie Antoinette OST)
THE GRASS ROOTS: Things I Should Have Said (Rhino, Anthology 1965-1975)
THE LA DE DAS: How Is The Air Up There? (Rhino, VA: Nuggets II)
—
HAYLEY & THE CRUSHERS: Jacaranda (Rum Bar, Fun Sized)
ROXY MUSIC: Pyjamarama (Reprise, Street Life)
JAMIE HOOVER: Watchin' You Stumble (Loaded Goat, Coupons Questions And Comments)
THE REPLACEMENTS: Another Girl, Another Planet (Reprise, All For Nothing/Nothing For All)
THE PIPETTES: We Are The Pipettes (Chrysalis, we Are The Pipettes)
THE JAM: Smithers-Jones [single version] (Polydor, Direction Reaction Creation)
—
THE HOLLIES: I Can't Let Go (EMI, Clarke, Hicks & Nash Years)
MATTHEW SWEET & SUSANNA HOFFS: The Kids Are Alright (Shout Factory, Under The Covers, Vol. 1)
STEVIE WONDER: Higher Ground (Motown, The Definitive Collection)
THE ROYAL FINGERS: Go Royal Fingers Go (Del-Fi, Wicked Eleki Deluxe)
EMPEROR PENGUIN [featuring LISA MYCHOLS]: Planet Of Love (Kool Kat Musik, Corporation Pop!)
THE FALL: Victoria (Beggars Banquet, 50,000 Fall Fans Can't Be Wrong)
—
FIREKING: Just Like Sunday (Blackberry Pie, Double Trouble)
THE MnM'S: I'm Tired (Burger, Melts In Your Ears 1980-1981)
THE KINKS: Tired Of Waiting For You (Sanctuary, The Anthology 1964-1071)
SQUEEZE: Farfisa Beat (A & M, Argybargy)
IRENE PEÑA: Must've Been Good (Kool Kat Musik, VA: This Is Rock 'n' Roll Radio, Volume 4)
THE BEATLES: It's Only Love (Apple, Help!)
—
DOLPH CHANEY: My Good Twin (Big Stir, This Is Dolph Chaney)
THE MUFFS: Pollyanna (Omnivore, No Holiday)
SLY & THE FAMILY STONE: Everyday People (Epic, Greatest Hits)
BUFFALO SPRINGFIELD: Sit Down I Think I Love You (Rhino, Buffalo Springfield)
IN DEED: What Once Was (Big Stir, Everest)
HOLLY & THE ITALIANS: Tell That Girl To Shut Up (Wounded Bird, The Right To Be Italian)
—
MIKE BROWNING: We're Hangin' Out (n/a, Never Too Late)
THE SLAPBACKS: Make Something Happen (Futureman, VA: This Is Rock 'n' Roll Radio, Volume 4)
KELLEY RYAN: The Church Of Laundry (single)
MARY LOU LORD: Right On 'Till Dawn (Rubric, Speeding Motorcycle)
THE MOTIONS: For Another Man (Rhino, VA: Nuggets II)
X-RAY SPEX: The Day The World Turned Day-Glo (Sanctuary, Germfree Adolescents)
THE GOLD NEEDLES: What's Tomorrow Ever Done For You? (Jem, What's Tomorrow Ever Done For You?)
THE BEVIS FROND: He'd Be A Diamond (Rubric, New River Head)
THE RAMONES: Swallow My Pride (Rhino, Leave Home)
THE SPONGETONES: Have You Ever Been Torn Apart? (Black Vinyl, Beat & Torn)
LESLIE ODOM, JR: Chain Gang (Abkco, VA: One Night In Miami OST)
THE MONKEES: Papa Gene's Blues (Rhino, The Monkees)