This Is Rock 'n' Roll Radio # 1062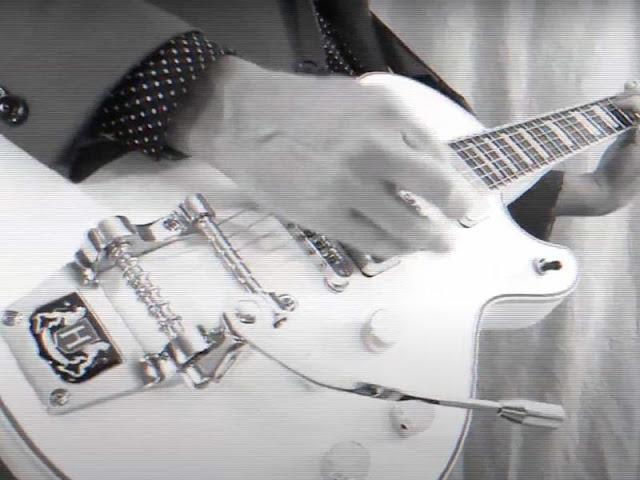 One of This Is Rock 'n' Roll Radio's oft-stated beliefs is that great records don't care what year it is. We're not the only ones who feel this way. There are many, many wonderful independent radio programmers out there who understand that, and who use the knowledge to create superior radio shows. But so many formats insist–insist–that radio must be one thing or the other, contemporary or classic, current or oldies, and never the twain to meet, greet, 'n' dance to the beat.
See, we think that's wrong.
To Dana and me, and to so many of our friends who love radio (from either side of the microphone), it's obvious that we should willfully disregard the useless partition between oldmusic and new music. Blending the then with the now is a rewarding approach for community radio, independent radio, internet radio, satellite radio, and by God, I think it could work out just ducky for an adventurous commercial station.
I mean, c'mon. Not all fans of, say, classic rock have closed their minds to hearing anything other than the tried and true; some still wanna hear something they might dig, but just don't know yet. Radio can remedy that. Every favorite tune starts out as a song you haven't heard yet. And if a radio show plays some new (or new to you) potential Fave Rave alongside the stuff you already love–The Beatles, The Isley Brothers, The Shangri-Las, The Ramones, whatever–that gives you the rockin' pop context you crave. You open your ears, and expand your stash of delight. That's the sound of radio doing its freakin' job.
So listen. New or old. It all plays great together. This is what rock 'n' roll radio sounded like on a Sunday night in Syracuse this week.
This Is Rock 'n' Roll Radio with Dana & Carl airs Sunday nights from 9 to Midnight Eastern, on the air in Syracuse at SPARK! WSPJ 103.3 and 93.7 FM, and on the web at http://sparksyracuse.org/ You can read all about this show's long and weird history here: Boppin' The Whole Friggin' Planet (The History Of THIS IS ROCK 'N' ROLL RADIO). TAX DEDUCTIBLE DONATIONS are always welcome.The many fine This Is Rock 'n' Roll Radio compilation albums are still available, each full of that rockin' pop sound you crave. A portion of all sales benefit our perpetually cash-strapped community radio project:
Volume 1: download
Volume 2: CD or download
Volume 3: download
Volume 4: CD or download
Waterloo Sunset–Benefit For This Is Rock 'n' Roll Radio: CD or download
PS: SEND MONEY!!!! We need tech upgrades like Elvis needs boats. Spark Syracuse is supported by listeners like you. Tax-deductible donations are welcome at
http://sparksyracuse.org/support/
You can follow Carl's daily blog Boppin' (Like The Hip Folks Do) at
https://carlcafarelli.blogspot.com/
Hey, Carl's writin' a book! The Greatest Record Ever Made! (Volume 1) will contain 165 essays about 165 songs, each one of 'em THE greatest record ever made. An infinite number of songs can each be the greatest record ever made, as long as they take turns. Updated initial information can be seen here, and you can see my weekly GREM! video rants in my Greatest Record Ever Made! YouTube playlist.
TIRnRR # 1062: 1/31/2021TIRnRR FRESH SPINS! Track we think we ain't played before are listed in bold

THE RAMONES: Do You Remember Rock 'n' Roll Radio? (Rhino, End Of The Century)
THE BUSBOYS: Minimum Wage (Rattlesnake Venom, The Best Of The BusBoys)
WALTER LURE & THE RAMONES: Street Fighting Man (Jungle, JOHNNY THUNDERS & THE HEARTBREAKERS: Down To Kill)
ARIELLE EDEN: Sagittarius (single)
MATTHEW SWEET: Sick Of Myself (Zoo Entertainment, 100 % Fun)
—
KID GULLIVER: Beauty School Dropout (Red On Red, single)
KATRINA & THE WAVES: Walking On Sunshine (Bongobeat, The Original Recordings 1983-1984)
CHAD & JEREMY: A Summer Song (Rhino, VA: The British Invasion: The History Of British Rock, Vol. 2)
THE ROLLING STONES: No Expectations (Abkco, Singles Collection: The London Years)
VAN HALEN: Dance The Night Away (Warner Brothers, Van Halen II)
THE CURE: In Between Days (Elektra, Head On The Door)
—
ALLAN KAPLON: One Big Parade (n/a, Notes On A Napkin)
IGGY POP: Five Foot One (Arista, New Values)
RAY CHARLES: Hit The Road Jack (Castle, The Collection)
SYLVAIN SYLVAIN: Without You (Wounded Bird, Sylvain Sylvain)
THE BEATLES: Norwegian Wood (Apple, Rubber Soul)
KELLY WILLIS: Drive South (Rhino, VA: Love Gets Strange–The Songs Of John Hiatt)
—
THE CHEAP CASSETTES: Get Low (Rum Bar, All Anxious, All The Time)
XTC: Into The Atom Age (Virgin, White Music)
THE SHANG HI LOS: Saturday In The Park (Rum Bar, Kick It Like A Wicked Bad Habit)
THEE HEADCOATS: Mantrap (Sub Pop, Heavens To Murgatroyd, Even! It's Thee Headcoats! [Already])
THE SUPREMES: I Hear A Symphony (Motown, DIANA ROSS & THE SUPREMES: The Ultimate Collection)
HOLLY GOLIGHTLY: Overtaking (Damaged Goods, God Don't Like It)
—
DOLPH CHANEY: My Good Twin (Big Stir, This Is Dolph Chaney)
THE BREAKAWAYS: Working Too Hard (Alive, Walking Out On Love: The Lost Sessions)
JEBB: Super Snail (single)
THE JAM: Move On Up (Polydor, Direction Reaction Creation)
THE EQUALS: I'm Gonna Dance All Night (Ice, First Among Equals)
THE SOUL SEEKERS: Something's Got A Hold Of Me (History Of Soul, VA: Singing From My Soul)
—
POPDUDES: O-o-h Child (Big Stir, single)
DEAR STELLA: Time Machine (dearstellamusic.com, Time Zones)
STEVIE WONDER: Signed, Sealed, Delivered I'm Yours (Motown, The Definitive Collection)
SYLVAIN SYLVAIN: Emily (Wounded Bird, Sylvain Sylvain)
PINK FLOYD: See Emily Play (EMI, The Best Of Pink Floyd: A Foot In The Door)
THE ZOMBIES: A Rose For Emily (Big Beat, Zombie Heaven)
—
KELLEY RYAN: The Church Of Laundry (single)
MARTHA & THE MUFFINS: Echo Beach (Virgin, Metro Music)
JIM BASNIGHT: Good Thing (Precedent, Jokers, Idols & Misfits)
THE SHANGRI-LAS: Give Him A Great Big Kiss (Mercury, The Best Of The Shangri-Las)
EVIE SANDS: Another Night (R-Spot, Get Out Of Your Own Way)
THE SMALL FACES: Sha-La-La-La-Lee (Deram, The Anthology 1965-1967)
—
THE LONG RYDERS: 17 Ways (PolyGram, The Long Ryders Chronicles)
X-RAY SPEX: Let's Submerge (Sanctuary, Let's Submerge)
THE DAVE CLARK FIVE: Doctor Rhythm (Hollywood, The History Of The Dave Clark Five)
THE SEEDS: Can't Seem To Make You Mine (GNP, The Seeds)
THE RAMONES: Listen To My Heart (Rhino, Ramones)
BLONDIE: Rip Her To Shreds (Chrysalis, Blondie)
—
EVEN: (I'm Always Touched By Your) Presence, Dear (Cheersquad, Down The Shops)
THE DICTATORS: Baby Let's Twist (Dictators, Bloodbrothers)
THE MONKEES: Look Out (Here Comes Tomorrow) [TV version] (Rhino, More Of The Monkees)
RONNIE LANE & SLIM CHANCE: Ooh La La (Island, Ooh La La)
THE KINKS: Set Me Free (Essential, Kinda Kinks)
DAVID BOWIE: Andy Warhol (Virgin, Bowie At The Beeb)
THE ISLEY BROTHERS: Twist And Shout (Epic, The Essential Isley Brothers)
THE MUFFS: Sad Tomorrow (Reprise, Blonder And Blonder)