This Is Rock 'n' Roll Radio # 1054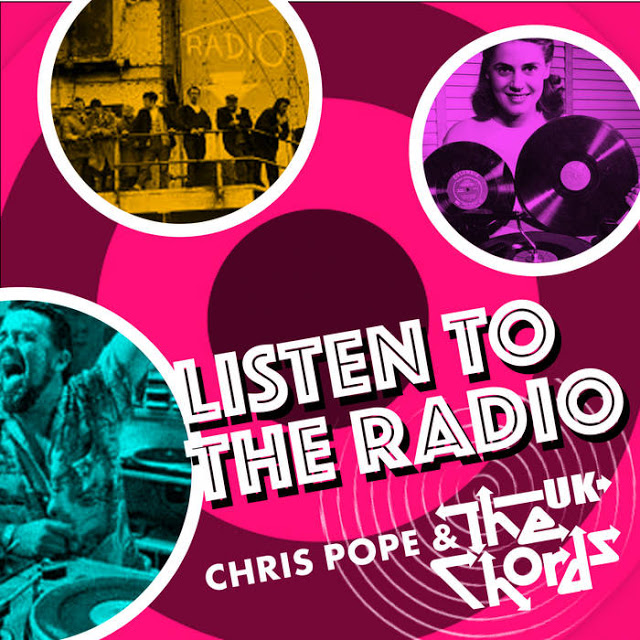 And now the calendar's just one page. While you can count me among those eager to jettison 2020 as quickly as we can, it remains important to take delight in whatever we're able to enjoy along the way. I won't try to offer a fancier spin than that, at least not today. Today, we'll follow the advice of an ace new single from Chris Pope and the Chords UK:
Listen to the radio.
Listen. Delight in it. Enjoy. I know I will.
NEXT WEEK: on 12/13/2020, it's the last regular TIRnRR of the year (as if anything about 2020 could be considered "regular").
IN TWO WEEKS: on 12/20/2020, The 22nd Annual This Is Rock 'n' Roll Radio Christmas Show
IN THREE WEEKS: on 12/27/2020, THE COUNTDOWN!!
This is what rock 'n' roll radio sounded like on a Sunday night in Syracuse this week.
This Is Rock 'n' Roll Radio with Dana & Carl airs Sunday nights from 9 to Midnight Eastern, on the air in Syracuse at SPARK! WSPJ 103.3 and 93.7 FM, and on the web at http://sparksyracuse.org/ You can read all about this show's long and weird history here: Boppin' The Whole Friggin' Planet (The History Of THIS IS ROCK 'N' ROLL RADIO). TAX DEDUCTIBLE DONATIONS are always welcome.The many fine This Is Rock 'n' Roll Radio compilation albums are still available, each full of that rockin' pop sound you crave. A portion of all sales benefit our perpetually cash-strapped community radio project:
Volume 1: download
Volume 2: CD or download
Volume 3: download
Volume 4: CD or download
Waterloo Sunset–Benefit For This Is Rock 'n' Roll Radio: CD or download
PS: SEND MONEY!!!! We need tech upgrades like Elvis needs boats. Spark Syracuse is supported by listeners like you. Tax-deductible donations are welcome at
http://sparksyracuse.org/support/
You can follow Carl's daily blog Boppin' (Like The Hip Folks Do) at
https://carlcafarelli.blogspot.com/
Hey, Carl's writin' a book! The Greatest Record Ever Made! (Volume 1) will contain 165 essays about 165 songs, each one of 'em THE greatest record ever made. An infinite number of songs can each be the greatest record ever made, as long as they take turns. Updated initial information can be seen here. My weekly video series The Greatest Record Ever Made! on YouTube has posted my rants about The Ramones' "Do You Remember Rock 'n' Roll Radio?," Badfinger's "Baby Blue," Baron Damon and the Vampires' "The Transylvania Twist," Chuck Berry's "Promised Land," Dusty Springfield's "I Only Want To Be With You," The Sex Pistols' "God Save The Queen," and Elvis Presley's "Heartbreak Hotel."
Now: on with the show!
TIRnRR # 1054: 12/6/2020TIRnRR FRESH SPINS! Tracks we think we ain't played before are listed in bold.
THE RAMONES: Do You Remember Rock 'n' Roll Radio? (Rhino, End Of The Century)
—
CHRIS POPE & THE CHORDS UK: Listen To The Radio (Big Stir, single)
THE GOLD NEEDLES: Cold Turkey/Hey Bulldog (Jem, VA: Jem Records Celebrates John Lennon)
DEAR STELLA: Time Machine (dearstellamusic.com, Time Zones)
THE TUBES: White Punks On Dope (A & M, T.R.A.S.H. Tubes Rarities And Smash Hits)
THE CHAMBERS BROTHERS: I Can't Stand It (Columbia, Time Has Come)
WINGS: Again And Again And Again (Capitol, Back To The Egg)
—
TERRY DRAPER: A Walk In The Park (Magentalane Music, Lost)
THE CHARLATANS: The Only One I Know (Beggars Banquet, Some Friendly)
THE FOUR TOPS: Baby I Need Your Loving (Motown, The Ultimate Collection)
PEE WEE CRAYTON: Do Unto Others (Capitol, Pee Wee's Blues)
THE LAST: She Don't Know Why I'm Here (Bomp!, L.A. Explosion)
DIVINYLS: Bless My Soul (It's Rock-N-Roll) (Virgin, Divinyls
—
THE LAST: Lies (Backlash, Look Again)
SUBURBAN LAWNS: Gidget Goes To Hell (Suburban Industrial, single)
THE DIXIE CUPS: Iko Iko (Varese Sarabande, The Complete Red Bird Recordings)
LARRY WILLIAMS & JOHNNY GUITAR WATSON (WITH THE KALEIDOSCOPE): Nobody (Okeh, Two For The Price Of One)
JIM BASNIGHT: This Is Where I Belong (Precedent, Jokers, Idols & Misfits)
PAUL COLLINS' BEAT: The Kids Are The Same (Columbia, The Kids Are The Same)
—
DAVE CARUSO: A Piece Of The Action (davecaruso.bandcamp.com, Radiophonic Supersonic)
THE TOURISTS: Blind Among The Flowers (RCA Camden, Greatest Hits)
THE BAY CITY ROLLERS: I Only Want To Be With You (Arista, The Definitive Collection)
THE KINKS: (Wish I Could Fly Like) Superman (Velvel, Low Budget)
THE ISLEY BROTHERS: It's Your Thing (Epic, The Essential Isley Brothers)
ROXY MUSIC: Over You (Warner Brothers, Street Life)
—
IRENE PEÑA: It Must Be Summer (Big Stir, single)
THE TEARJERKERS: Syracuse Summer (Futureman, VA: This Is Rock 'n' Roll Radio, Volume 3)
THE BEACH BOYS: Girl Don't Tell Me (Capitol, Today!/Summer Days [And Summer Nights!!])
THE SENSATIONAL ALEX HARVEY BAND: Midnight Moses (Vertigo, Framed)
THE FALSE POSITIVES: Closed Circuit TV Romance (thefalsepositives.bandcamp.com, single)
PULSALLAMA: The Devil Lives In My Husband's Body (Modern Harmonic, Pulsallama)
—
PAUL KELLY & THE MESSENGERS: Before Too Long (A & M, Gossip)
BOW WOW WOW: C30 C60 C90 ANDA! (Cherry Red, Your Box Set Pet)
THE JANGLE BAND: So Long (joealgieri.bandcamp.com, The Metro Hotel EP)
THE KINGSMEN: Gimme Some Lovin' (Kingsmen International, The Best Of The Kingsmen)
KID GULLIVER: Forget About Him (Red On Red, single)
AMY RIGBY: You Get To Me (Koch, The Sugar Tree)
—
THE DAHLMANNS: American Heartbeat (Pop Detective, American Heartbeat)
DAVE EDMUNDS: Queen Of Hearts (Rhino, Anthology 1968-1990)
THE SHANG HI LOS: Sway Little Player (Rum Bar, single)
PATTI SMITH: Redondo Beach [demo] (Arista, Land)
THE HOLLIES: Postcard (EMI, Clarke, Hicks & Nash Years)
MARY LOU LORD: Lights Are Changing (Sony, Got No Shadow)
—
BILL BERRY: 1-800-Colonoscopy (Kool Kat Musik, VA: For The Record–A Tribute To John Wicks)
THE MUFFS: On My Own (Omnivore, No Holiday)
ORBIS MAX WITH EMPEROR PENGUIN: Talk To Me (single)
THE BEVIS FROND: He'd Be A Diamond (Rubric, New River Head)
THE SPINNERS: I'll Be Around (Rhino, The Very Best Of The Spinners)
THE O'JAYS: Love Train (Epic, Love Train)
HOLLY GOLIGHTLY: Time Will Tell (Damaged Goods, Truly She Is None Other)
VAN HALEN: Dance The Night Away (Warner Brothers, Van Halen II)
JOHN LENNON: Goodnight Vienna (Capitol, Anthology)
GEORGE HARRISON: I Live For You (Apple, All Things Must Pass)