This Is Rock 'n' Roll Radio # 1045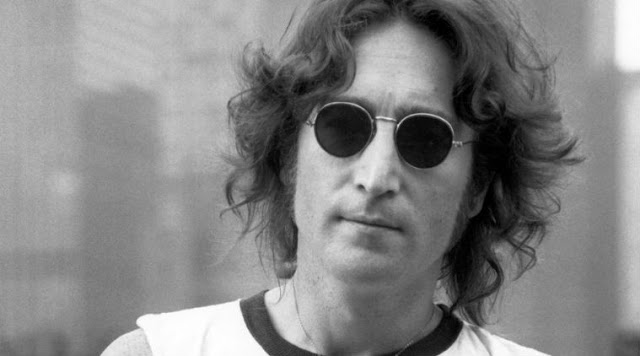 80 years old. He would have been 80 years old this week. A nowhere man with a gun ended that journey nearly forty years ago. John Lennon was already 23 when The Beatles invaded America. He was killed when he was 40. He's now been gone more than twice as long as we knew him to begin with.
When writer John M. Borack was putting together his wonderful book John Lennon: Life Is What Happens, he contacted various pop pundits for personal reminiscences of what Lennon meant to us. This was my contribution:
I was four years old when The Beatles first visited America. On paper, that means I was too young to have been a Beatles fan at the time, but who are we kidding? In 1964, EVERYone knew The Beatles, even a four-year-old suburban kid, and especially a four-year-old suburban kid with teenaged siblings. The Beatles were everywhere, on TV and on the radio (AND HOW on the radio!), on bubblegum cards, magazine covers, posters and a million miscellaneous Fabmania products–I had a Beatles wallet. When A Hard Day's Night opened later that year, I was there at the North Drive-In in Cicero, NY to see The Beatles' cinematic debut–and all the girls in all the cars (including ours) were screaming at the screen. COOL!, I thought.

Media exposure–and it never did seem like overexposure–made The Beatles a part of our everyday lives, delivered by their movies, their TV appearances, their press conferences and their Saturday morning cartoon TV series (a show that had no actual Beatle involvement, sure, but which nonetheless reinforced our already-formed public caricatures of John, Paul, George, and Ringo). John was indisputably the leader, the wiseass, Beatle # 1. Even as time wore on, as The Beatles broke up into four less-interesting solo acts, my teenaged rock 'n' roll fantasy was to one day be in a band with John Lennon, dueting on a version of "Come Together" before a frenzied, sold-out crowd at the Onondaga County War Memorial. Our group, of course, would just be an interim thing, before The Beatles' own inevitable reunion.

In late 1980, I was a recent college graduate, working at McDonald's, trying to write, and playing as a ringer with some college buds on their co-ed intramural broomball team. On December 8th, a couple of teammates had convened at my apartment a little before midnight for some beers prior to a 1:00 am playoff game. The phone rang–my pal Jay, calling from Albany.  "Carl," Jay asked, "are you watching television right now?"
Learning of Lennon's murder was a weird sensation I still can't properly articulate. Didn't seem real–nothing is real, and nothing to get hung about. We turned on the radio, which by now was only playing Lennon records. We trudged off to the game, feeling…well, "weird" is still gonna have to suffice. The game itself turned out to be a particularly rough, physical contest, and dirty play on the part of one of our opponents resulted in our goalie Christie breaking her collarbone. Christie left the game in an ambulance, but play resumed; I recall that I brought a new level of untapped anger to my own play, lashing out, furious, with my girlfriend imploring me to stop, to let it go. We lost, and adjourned to join Christie at the hospital, where we stayed with her until 6 am. And then I was off to work.

I worked through my shift, consumed by a mood that defied description. Sullen? Sad? Pissed off? Sure. During a break, I grabbed a piece of paper and began writing out the lyrics to a song from the only John Lennon solo album I owned:
            The dream is over What can I say?            The dream is over            Yesterday            I was the dreamweaver            But now I'm reborn            I was the walrus            But now I'm John            And so, dear friends            You'll just have to carry on            The dream is over.

Christ, you know it ain't easy.
This Is Rock 'n' Roll Radio with Dana & Carl airs Sunday nights from 9 to Midnight Eastern, on the air in Syracuse at SPARK! WSPJ 103.3 and 93.7 FM, and on the web at http://sparksyracuse.org/ You can read all about this show's long and weird history here: Boppin' The Whole Friggin' Planet (The History Of THIS IS ROCK 'N' ROLL RADIO). TAX DEDUCTIBLE DONATIONS are always welcome.The many fine This Is Rock 'n' Roll Radio compilation albums are still available, each full of that rockin' pop sound you crave. A portion of all sales benefit our perpetually cash-strapped community radio project:
Volume 1: download
Volume 2: CD or download
Volume 3: download
Volume 4: CD or download
Waterloo Sunset–Benefit For This Is Rock 'n' Roll Radio: CD or download
PS: SEND MONEY!!!! We need tech upgrades like Elvis needs boats. Spark Syracuse is supported by listeners like you. Tax-deductible donations are welcome at
http://sparksyracuse.org/support/
You can follow Carl's daily blog Boppin' (Like The Hip Folks Do) at
https://carlcafarelli.blogspot.com/
Hey, Carl's writin' a book! The Greatest Record Ever Made! (Volume 1) will contain 165 essays about 165 songs, each one of 'em THE greatest record ever made. An infinite number of songs can each be the greatest record ever made, as long as they take turns. Updated initial information can be seen here.
TIRnRR # 1045: 10/4/2020
TIRnRR FRESH SPINS! Tracks we think we ain't played before are listed in bold.
THE RAMONES: Do You Remember Rock 'n' Roll Radio? (Rhino, End Of The Century)–THE BEATLES: Revolution [promo video version]JOHN LENNON: Whatever Gets You Thru The Night (Capitol, Walls And Bridges)THE BEATLES: The Ballad Of John & Yoko (Apple, Past Masters)THE BEATLES: Everybody's Got Something To Hide Except Me And My Monkey (Apple, The Beatles)JOHN LENNON: Power To The People (Capitol, The John Lennon Collection)THE BEATLES: Nowhere Man (Apple, Rubber Soul)–THE WYLD OLDE SOULS: For What It's WorthPAUL COLLINS' BEAT: The Kids Are The Same (Columbia, The Kids Are The Same)THE WEEKLINGS: Baby You're Rich Man (Jem, 3)AMY RIGBY: Stop Showing Up In My Dreams (Koch, The Sugar Tree)ARTHUR ALEXANDER: Every Day I Have To Cry Some (Razor & Tie, The Ultimate Arthur Alexander)DAVID BOWIE: Janine (Parlophone, The Mercury Demos)–THE RUTLES: Number One (Rhino, The Rutles)THE BOZOS: Weekend Girl (Cherry Red, VA: 1978: The Year The UK Turned Day-Glo)IRENE PEÑA: It Must Be Summer (Big Stir, single)WRECKLESS ERIC: Whole Wide World [acoustic version]MICHAEL CARPENTER: I'll Get You (Big Radio, S.O.O.P. # 1)THE NERVES: Walking Out On Love (Alive, One Way Ticket)–CHUCK BERRY: You Can't Catch Me (MCA, The Anthology)THE JAM: David Watts (Polydor, Direction Reaction Creation)JOHNNY JOHNSON & THE BANDWAGON: Blame It (On The Pony Express) (Kent, Breakin' Down The Walls Of Heartache)THE DIRTY MAC: Yer Blues (Abkco, VA: The Rolling Stones Rock And Roll Circus)GENERATION X: Gimme Some Truth (Chrysalis, Perfect Hits [1975-1981])THE CURE: Grinding Halt (RSO, VA: Times Square OST)–JARED LEKITES: Looking For A Diamond (Kool Kat Musik, Looking For Diamonds X)
SHOES: Tomorrow Night [first version] (Ace, VA: Come On Let's Go!)THE ROLLING STONES: I Wanna Be Your Man (Abkco, The Singles: The London Years)HARRY NILSSON: Subterranean Homesick Blues (RCA, Pussy Cats)THE BOOKENDS: She's Got It (Jem, Calliope)THE SMALL FACES: You Better Believe It (Audio Vaults, Transmissions 1965-1968)–THE SMITHEREENS WITH ANDY WHITE: Love Me Do (single)JOHN LENNON: Watching The Wheels (Capitol, Acoustic)THE SILKIE: You've Got To Hide Your Love Away (Rhino, VA: The British Invasion: The History Of British Rock Vol. 6)CROSBY, STILLS, NASH & YOUNG: Deja Vu (Atlantic, Deja Vu)PRINCE: When You Were Mine (Warner Brothers, The Hits/The B-Sides)EDISON LIGHTHOUSE: Love Grows (Where My Rosemary Goes) (Varese Sarabande, VA: The Voice Of Tony Burrows)–DEL SHANNON: From Me To You (Rhino, Greatest Hits)JOSIE COTTON: Jimmy Loves Maryanne (Ace, VA: Girls Go Power Pop)THE SPONGETONES: (My Girl) Maryanne (Loaded Goat, Always Carry On)THE VELVET UNDERGROUND: Who Loves The Sun (Polydor, Peel Slowly And See)TAVARES: Free Ride (BMG, The Greatest Hits)THE YARDBIRDS: Little Games (Rhino, Ultimate!)–LIQUOR GIANTS: Beatles Please Come Back (Futureman, VA: Something Special For The Kids)THE MONKEES: Sometime In The Morning (Rhino, More Of The Monkees)AL GREEN: I Want To Hold Your Hand (The Right Stuff, Green Is Blues)THE WHITE STRIPES: Fell In Love With A Girl (Sympathy For The Record Industry, White Blood Cells)HARRY NILSSON: You Can't Do That (Ace, Beatlemaniacs!!!)THE MnM'S: I'm Tired (Burger, Melts In Your Ears 1980-1981)–WINGS: Let Me Roll It (Capitol, Band On The Run)BIG STAR: September Gurls (Ardent, # 1 Record/Radio City)THE HUDSON BROTHERS: So You Are A Star (Varese Sarabande, So You Are A Star)GEORGE HARRISON: All Those Years Ago (Warner Brothers, Best Of Dark Horse 1976-1989)PAUL McCARTNEY: Here Today (Capitol, Tug Of War)THE KENNEDYS: And Your Bird Can Sing (Futureman, VA: This Is Rock 'n' Roll Radio, Volume 1)THE FLAMIN' GROOVIES: Thanks John (National, Rock Juice)JOHN LENNON: I'm The Greatest (Capitol, John Lennon Anthology)