This Is Rock 'n' Roll Radio # 1043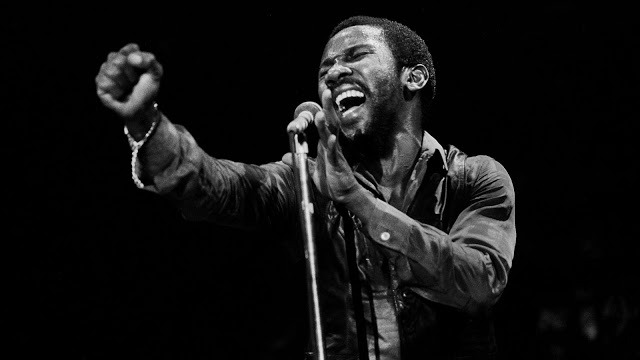 I first became aware of Toots and the Maytals by name only. The group was mentioned in Rolling Stone and Playboy in the late '70s, cited by folks like Linda Ronstadt as a then-current Fave Rave sound. I recall the Maytals' Funky Kingston and Reggae Got Soul LPs being mentioned specifically. I was a college student in my late teens. Toots and the Maytals? Reggae Got Soul? I had no idea what these people were talking about.
That situation would not change for quite some time thereafter. I knew the Maytals' song "Pressure Drop" via a cover version by The Clash. I have no idea when I finally got around to hearing any actual Maytals music. I remember seeing Toots and the Maytals on a TV show called Viva Variety in 1997, performing a smokin' rendition of "54-46 Was My Number." It seems inconceivable that I hadn't heard the Maytals somewhere before that…but I dunno.
I do know that I got a copy of a Toots and the Maytals best-of CD around that time. I was in touch with a small reissue label, which was sending me some of its product as part of a conversation about getting me to oversee a power pop compilation. Though nothing ever came of that project, I asked about maybe getting the label's Maytals set. The label's rep responded, "I didn't know you were into reggae!" I replied, "Man does not live on skinny-tie white boy pop music alone."
It would be wrong to say I ever became a huge reggae fan, or an avid Maytals supporter. But man, I liked this stuff immediately and whole-heartedly. We played Toots and the Maytals on the very first This Is Rock 'n' Roll Radio in December of 1998. Our first Maytals spin was a cover of John Denver's "Take Me Home Country Roads," which was actually a mistake; I meant to play "Pressure Drop," but miscued. Cool consolation choice though, and I think we played "Pressure Drop" on our next show. We've played it many times over the years. It's an irresistible track, and it earns its own chapter in my eventual book The Greatest Record Ever Made! (Volume 1).
This week, I won't pretend to match the sorrow of reggae fans and Maytals fans as we bid farewell to the late, great Toots Hibbert. But I know enough to recognize greatness when I see it, when I hear it. When I dance to it. When I play it on the radio. Reggae got soul. This Is Rock 'n' Roll Radio joins the faithful in mourning the passing of one of music's true legends. Now, no one else has that number.
We also say goodbye to Edna Wright of The Honey Cone, and we offer new music from The Morning Announcements and Kid Gallahad alongside the cherished treasures we already love. It is you, oh yeah. This is what rock 'n' roll radio sounded like on a Sunday night in Syracuse this week.
This Is Rock 'n' Roll Radio with Dana & Carl airs Sunday nights from 9 to Midnight Eastern, on the air in Syracuse at SPARK! WSPJ 103.3 and 93.7 FM, and on the web at http://sparksyracuse.org/ You can read all about this show's long and weird history here: Boppin' The Whole Friggin' Planet (The History Of THIS IS ROCK 'N' ROLL RADIO). TAX DEDUCTIBLE DONATIONS are always welcome.
The many fine This Is Rock 'n' Roll Radio compilation albums are still available, each full of that rockin' pop sound you crave. A portion of all sales benefit our perpetually cash-strapped community radio project:
Volume 1: download
Volume 2: CD or download
Volume 3: download
Volume 4: CD or download
Waterloo Sunset–Benefit For This Is Rock 'n' Roll Radio: CD or download
PS: SEND MONEY!!!! We need tech upgrades like Elvis needs boats. Spark Syracuse is supported by listeners like you. Tax-deductible donations are welcome at
http://sparksyracuse.org/support/
You can follow Carl's daily blog Boppin' (Like The Hip Folks Do) at
https://carlcafarelli.blogspot.com/
Hey, Carl's writin' a book! The Greatest Record Ever Made! (Volume 1) will contain 165 essays about 165 songs, each one of 'em THE greatest record ever made. An infinite number of songs can each be the greatest record ever made, as long as they take turns. Updated initial information can be seen here.
TIRnRR # 1043: 9/20/2020
TIRnRR FRESH SPINS! Tracks we think we ain't played before are listed in bold.
THE RAMONES: Do You Remember Rock 'n' Roll Radio? (Rhino, End Of The Century)
—
THE BANGLES: Live (Columbia, All Over The Place)
BIG STAR: September Gurls (Ardent, # 1 Record/Radio City)
DEL AMITRI: Not Where It's At (A & M, Some Other Sucker's Parade)
ULTRAVOX: Saturday Night In The City Of The Dead (Spectrum, The Island Years)
TOOTS & THE MAYTALS: 54 46, That's My Number (Island, Time Tough)
THE ENGLISH BEAT: Save It For Later (Shout Factory, Keep The Beat)
—
KID GULLIVER: Carousel (kidgulliver1.bandcamp.com)
DR. FEELGOOD: Roxette (Rhino, I'm A Man)
THE ROYAL GUARDSMEN: The Return Of The Red Baron (One Way, Anthology)
THE PRIMITIVES: Crash (RCA, Lovely)
EDDIE COCHRAN: Somethin' Else (Razor & Tie, Somethin' Else)
THE TEXTONES: Vacation (Big Beat, single)
—
THE KINGS: This Beat Goes On/Switchin' To Glide (Griffin Music, Unstoppable)
THE KINKS: Australia (Essential, Arthur)
HAROLD MELVIN & THE BLUE NOTES: Don't Leave Me This Way (Epic, The Ultimate Blue Notes)
TELEVISION: Elevation (Elektra, Marquee Moon)
—
MATT SPRINGFIELD: Haunted (Akamusic, Erase All Data)
THE CLASH: Police On My Back (Epic, Clash On Broadway)
THE ROLLING STONES: Not Fade Away (Abkco, Singles Collection: The London Years)
GRAHAM PARKER & THE RUMOUR: Discovering Japan (Spectrum, The Very Best Of Graham Parker & the Rumour)
THE WELL WISHERS: We Grow Up (thewellwishers.bandcamp.com, Shelf Life)GREGG YETI & THE BEST LIGHTS: My Narcoleptic Sara (Eskimo Kiss, Heart Palpitations Of The Rich And Famous)
—
THE HONEY CONE: One Monkey Don't Stop No Show [Part 1] (Varese Saraband, VA: Soulful Pop)
RUFUS "HOUND DOG" THOMAS: Bear Cat (The Answer To Hound Dog) (Varese Vintage, VA: Sun Records: 25 Blues Classics)
THE BLACKBYRDS: Walking In Rhythm (Rhino, VA: Can You Dig It)
BILLY (THE KID) EMERSON: Red Hot (Varese Vintage, VA: Sun Records: 25 Blues Classics)TOOTS & THE MAYTALS: Reggae Got Soul (Island, Time Tough)
ROSCO GORDON: The Chicken (Dance With You) (Varese Vintage, VA: Sun Records: 25 Blues Classics)—
TOOTS & THE MAYTALS: Pressure Drop (Island, Time Tough)
THE BEATLES: Two Of Us (Apple, Let It Be…Naken)
SOFT CELL: Tainted Love [7″ version] (Mercury, The Very Best Of Soft Cell)
THE FIRST CLASS: Beach Baby (Varese Sarabande, VA: The Voice Of Tony Burrows)
POP CO-OP: Catching Light (Futureman, Factory Settings)
BUFFALO SPRINGFIELD: Sit Down I Think I Love You (Rhino, Buffalo Springfield)
—
THE MORNING ANNOUNCEMENTS: Don't Leave Recess In Pieces (themorningannouncements.bandcamp.com)
THE 1910 FRUITGUM COMPANY: Simon Says (Buddha, The Best Of The 1910 Fruitgum Company)
DEVO: Whip It (Rhino, Pioneers Who Got Scalped)
THE SHIVVERS: Teen Line (Big Beat, VA: Come On Let's Go!)
JIMMY SILVA & THE GOATS: Weight Of The Wind (ESD, Heidi)
THE TOMS: Better Than Anyone Else (Big Beat, VA: Come On Let's Go!)
—
JOE GIDDINGS: If I Don't Have Love (Kool Kat Musik, Better From Here)
THE MOODY BLUES: I Really Haven't Got The Time (Deram, Days Of Future Passed)
THE MONKEES: Birth Of An Accidental Hipster (Rhino, Good Times!)
THE RAMONES: Sheena Is A Punk Rocker (Rhino, Rocket To Russia)
CHUCK BERRY: Promised Land (MCA, The Anthology)
THE JAM: In The City (Polydor, Direction Reaction Creation)JUSTINE & THE UNCLEAN: Fourth Love (Rum Bar, VA: Somebody Out There Is Having A Party Vol. 2)
THE LEARS: The Byrd That Couldn't Fly (Not Lame, VA: Full Circle)
WHISTLESTOP ROCK: Queen Of The Drive-In (whistlestoprock1.bandcamp.com)
THE MERRYMAKERS: I'll Feel A Whole Lot Better (Not Lame, VA: Full Circle)THE PARTRIDGE FAMILY: Singing My Song (Razor & Tie, The Partridge Family Album)
THE MUFFS: Rock And Roll Girl (Sympathy For The Record Industry, Hamburger)