This Is Rock 'n' Roll Radio # 1041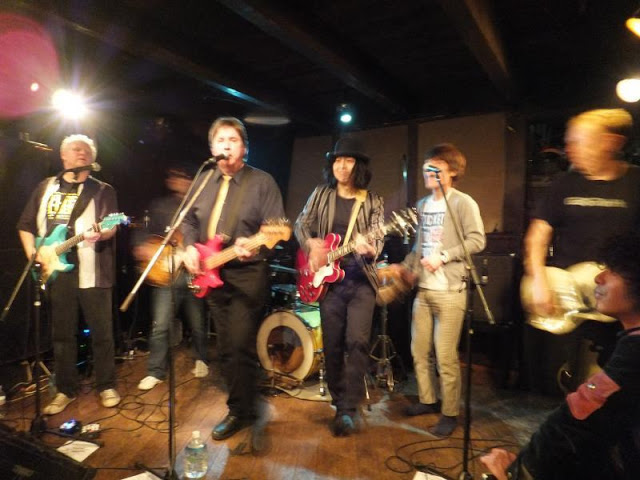 It's a great big small world after all. When Syracuse's own power pop powerhouse The Flashcubes played in Japan in 2002, they met the members of a fantastic Japanese pop group called The Mayflowers. Connections were made, and hijinks did what hijinks do. 18 years later, The Mayflowers have a fab new single called "Sunflower Girl," co-written by Osamu Satoyama of The Mayflowers and Gary Frenay of The Flashcubes. It's not their first time working together, but it is further evidence of how small this big world can be. In one sense, it boggles the mind that there's a co-creation accomplished by the bassist for a great local group I witnessed at punk rock shows in the late '70s and a member of another combo located in Kyoto, half a world away; in another sense, it's just another day at the office circa 2020. Hands across the water.

Or hands across technology, really. Things like the internet and the increasing availability of tools that enable remote meetings of mind and talent can turn the globe into a village, a community. On this show, we understand it from our own POV, as we slap together songs and banter each week for an audience scattered across the country and elsewhere; many listeners chat with us in real time during the show via our Facebook group. Last year, we were the recipient of the lovely gift of "Waterloo Sunset," an amazing collaboration created by some of the talented musicians we know, many of whom have never met us or each other. Hell, in our present-day quarantine scene, Dana and I prepare each TIRnRR from our homes, the playlist determined over a weekly telephone conversation, the tracks assembled on my computer (using Dropbox for whatever individual tracks I need from Dana), my back announcements recorded on my phone, the whole thing then Dropboxed to Dana for finesse, editing, his additional commentary, and a final coat of sonic semi-gloss. Since we're currently not even allowed to visit the studio, Dana controls all of the station's programming from his house.

Hands across the impossible.

It's a great big small world after all. Artists create. Writers write. Musicians play. Collaborations continue. We listen, and we share. This is what rock 'n' roll radio sounded like on a Sunday night in Syracuse this week.
This Is Rock 'n' Roll Radio with Dana & Carl airs Sunday nights from 9 to Midnight Eastern, on the air in Syracuse at SPARK! WSPJ 103.3 and 93.7 FM, and on the web at http://sparksyracuse.org/ You can read all about this show's long and weird history here: Boppin' The Whole Friggin' Planet (The History Of THIS IS ROCK 'N' ROLL RADIO). TAX DEDUCTIBLE DONATIONS are always welcome.

The many fine This Is Rock 'n' Roll Radio compilation albums are still available, each full of that rockin' pop sound you crave. A portion of all sales benefit our perpetually cash-strapped community radio project:

Volume 1: download
Volume 2: CD or download
Volume 3: download
Volume 4: CD or download
Waterloo Sunset–Benefit For This Is Rock 'n' Roll Radio: CD or download
PS: SEND MONEY!!!! We need tech upgrades like Elvis needs boats. Spark Syracuse is supported by listeners like you. Tax-deductible donations are welcome at
http://sparksyracuse.org/support/
You can follow Carl's daily blog Boppin' (Like The Hip Folks Do) at
https://carlcafarelli.blogspot.com/

Hey, Carl's writin' a book! The Greatest Record Ever Made! (Volume 1) will contain 165 essays about 165 songs, each one of 'em THE greatest record ever made. An infinite number of songs can each be the greatest record ever made, as long as they take turns. Updated initial information can be seen here.

TIRnRR # 1041: 8/23/2020
TIRnRR FRESH SPINS! Tracks we think we ain't played before are listed in bold.

THE RAMONES: Do You Remember Rock 'n' Roll Radio? (Rhino, End Of The Century)
—
THE MAYFLOWERS: Sunflower Girl (TuneCore, single)
BASH & POP: Anything Could Happen (Fat Possum, Anything Could Happen)
IAN HUNTER: Soul Of America (Jerkin Crocus, Shrunken Heads)
THE BANGLES: Live (Columbia, All Over The Place)
TOWER OF POWER: So Very Hard To Go (Rhino, VA: Can You Dig It?)
LULU: The Boat That I Row (Rhino, From Crayons To Perfume)
—
NICK FRATER: Let's Hear It For Love (Big Stir, Fast & Loose)
THE PRETTY THINGS: Talking About The Good Times (Cherry Red, VA: Looking At The Pictures In The Sky)
WHISTLESTOP ROCK: Queen Of The Drive-In (whistlestoprock1.bandcamp.com)
THE ON AND ONS: 9 Days (theonandons.bandcamp.com, Menacing Smile)
EARTH, WIND & FIRE: Shining Star [alternate version] (Rhino, The Eternal Dance)
LES HANDCLAPS: Trop Tard (Handclaps, Session: Brooklyn)
—
THE POPTARTS: I Won't Let You Let Me Go [alternate version] (PlumTone, Fresh…Out Of The Toaster)
THE GO-GO'S: Head Over Heels (IRS, Talk Show)
THE GO-GO'S: Club Zero (single)
HOLLY GOLIGHTLY: You Ain't No Big Thing (Damaged Goods, My First Holly Golightly Album)
T BONE BURNETT: Jellico Coal Man (Columbia, VA: Johnny Cash: Forever Words)
JEFFERSON AIRPLANE: It's No Secret (RCA, The Worst Of Jefferson Airplane)
—
SLD: 12 To 5 (Kool Kat Musik, Lost)
PAUL McCARTNEY & WINGS: Junior's Farm (Capitol, Wingspan)
IRENE PEÑA: I Won't Back Down (Futureman, single)
THE WHO: I Can't Explain (MCA, My Generation)
FOOLS FACE: Always The Last To Know (n/a, Fools Face)
THE ARGONAUTS: Ten Feet Tall (Acid Jazz, VA: Sugar Lumps)
—
THE WELL WISHERS: My Desire (thewellwishers.bandcamp.com, Shelf Life)
THE JAM: Town Called Malice (Polydor, Direction Reaction Creation)
THE MARVELETTES: I'll Keep Holding On (Motown, The Ultimate Collection)
THE CHORDS: Maybe Tomorrow (Captain Oi, So Far Away)
DOLPH CHANEY: It's OK (Big Stir, Rebuilding Permit)
BRAM TCHAIKOVSKY: Strange Man, Changed Man (Cherry Red, Strange Men, Changed Men)
—
ROSETTA STONE: Drive On (Wizzard In Vinyl, Retrospective Roller)
PETE DONNELLY: This Is Pop (Futureman, VA: Garden Of Earthly Delights)
THE MONKEES: I'll Be Back Up On My Feet (Rhino, The Birds, The Bees & The Monkees)
THE MOODY BLUES: Don't Let Me Be Misunderstood [BBC session] (Deram, Days Of Future Passed)
POP CO-OP: Persistence Of Memory (Futureman, Factory Settings)
THE ZOMBIES: Care Of Cell 44 (Big Beat, Zombie Heaven)
—
JASON BERK: Stranger (Big Stir, single)
THE PALEY BROTHERS & THE RAMONES: Come On Let's Go (Big Beat, VA: Come On Let's Go!)
CHUCK BERRY: All Aboard (MCA, Blues)
THE HOLLIES: King Midas In Reverse (EMI, Clarke, Hicks & Nash Years)
SPARKS: I Like Girls (Rhino, Profile)
THE BEATLES: It's Only Love (Apple, Help!)
—
THE PERSIAN LEAPS: PRN (Big Stir, single)
THE PANDORAS: Hot Generation (Voxx, It's About Time)
CORNELIUS BROTHERS & SISTER ROSE: Too Late To Turn Back Now (Rhino, VA: Can You Dig It?)
THE LA'S: There She Goes (Rhino, VA: Children Of Nuggets)
THE LIKE: Release Me (Geffen, Release Me)
THE NERVES: Walking Out On Love (Alive, One Way Ticket)
—
THE VIEWERS: It's My Time (Big Stir, single)
THE RASPBERRIES: I Wanna Be With You (RPM, Power Pop Volume One)
THE FLASHCUBES: I Wanna Stay All Night (Northside, Brilliant)
THE KINKS: Shangri-La (Essential, Arthur)
ANDY WILLIAMS: A Fool Never Learns (Columbia, single)
THE PRETENDERS: Talk Of The Town (Sire, The Singles)
THE BOOKENDS: Chasing Time (Jem, Calliope)
THE MUFFS: Pollyanna (Omnivore, No Holiday)