This Is Rock 'n' Roll Radfo # 1029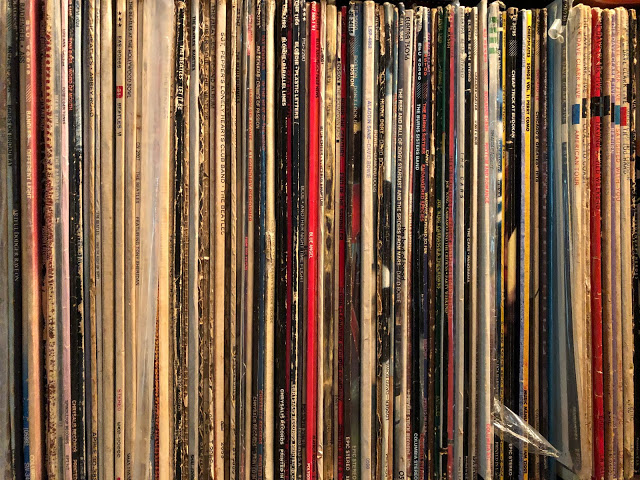 It occurs to me that I'm not really a record collector anymore. I still love the music, of course, and I still prefer to own physical copies of the songs I love, rather than grasping at digital air. But I very rarely buy vinyl, and I rarely re-buy a song or an album that I already have on CD. I haven't picked up any of the 50th anniversary Beatles reissues. I skipped the Rhino Handmade deluxe reissues of the first two Monkees albums. I'm not at all dismissive of the desire many fans have for these things; on the contrary, I kinda wish I retained my formerly-fervent interest in them. But that specific passion isn't really there. I'm no longer the collector I used to be.

This conclusion is nothing new for me. I was thinking about it again in the aftermath of some things I posted on my blog last week in memory of Central New York retail legend Bill Gerber, who passed away in May. I wrote about how much Gerber Music meant to me as a beginning record collector, I wrote a spotlight on five 45s I bought at Gerber, and I even concocted a fake TIRnRR playlist comprised of songs I purchased at Gerber in that mid '70s-early '80s timeframe. And the feeling dovetails with an earlier piece about my recent efforts to thin my sprawling book collection. I love books and music; I'm sure I always will. And I love surrounding myself with the physical artifacts that make those obsessions corporeal, real. But I only have so much space in my house, and I have a finite amount of time to enjoy these things I so adore. I'm still buying books, I'm still buying CDs, and I'm still digging the thrill I get from each. I still love bookstores and record stores, and I patronize them whenever I can. I'm not a collector anymore, but I'm still a fan. 

And I owe myself a trip to the record store. Soon. I betcha I can make a little more room here. Somewhere.

This week's invigmoratin' edition of This Is Rock 'n' Roll Radio makes room for great new music from Gary Ritchie (new album Head On A Swivel) and Empty City Squares (new Big Stir single "Parmenides"). We didn't receive Pop Fossil, the fab new album from The Click Beetles, in time for this week's prerecording, but we knew it was coming, so we made sure to include the one Pop Fossil track we had on hand: "If Not Now Then When?," which appeared on the 2019 compilation Waterloo Sunset—Benefit For This Is Rock 'n' Roll Radio. The Click Beetles' Pop Fossil is now available from Futureman Records. Radio's job is to sell records. Whether you collect them or not, you get the joy of listening to them again and again. Worthy goal. This is what rock 'n' roll radio sounded like on a Sunday night in Syracuse this week.

 Collect them all.
This Is Rock 'n' Roll Radio with Dana & Carl airs Sunday nights from 9 to Midnight Eastern, on the air in Syracuse at SPARK! WSPJ 103.3 and 93.7 FM, and on the web at http://sparksyracuse.org/ You can read all about this show's long and weird history here: Boppin' The Whole Friggin' Planet (The History Of THIS IS ROCK 'N' ROLL RADIO). TAX DEDUCTIBLE DONATIONS are always welcome.

The many fine This Is Rock 'n' Roll Radio compilation albums are still available, each full of that rockin' pop sound you crave. A portion of all sales benefit our perpetually cash-strapped community radio project:
PS: SEND MONEY!!!! We need tech upgrades like Elvis needs boats. Spark Syracuse is supported by listeners like you. Tax-deductible donations are welcome at 
http://sparksyracuse.org/support/
You can follow Carl's daily blog Boppin' (Like The Hip Folks Do) at 
https://carlcafarelli.blogspot.com/

Hey, Carl's writin' a book! The Greatest Record Ever Made! (Volume 1) will contain 134 essays about 134 songs, each one of 'em THE greatest record ever made. An infinite number of songs can each be the greatest record ever made, as long as they take turns. Updated initial information can be seen here.
TIRnRR # 1029: 6/14/2020
TIRnRR FRESH SPINS! Tracks we think we ain't played before are listed in bold.

THE RAMONES: Do You Remember Rock 'n' Roll Radio? (Rhino, End Of The Century)
—
GARY RITCHIE: Maybe It'll Be Tonight (Fancy Two/Tone, Head On A Swivel)
THE ONLY ONES: Lovers Of Today (Rhino, VA: DIY: Anarchy In The UK)
DIANA ROSS & THE SUPREMES: Love Child (Motown, The Ultimate Collection)
THE FLAMIN' GROOVIES: Let Me Rock (Grown Up Wrong, Between The Lines)
LET'S ACTIVE: Blue Line (IRS, Cypress)
GAME THEORY: Forget All About It (Omnivore, Across The Barrier Of Sound)
—
EMPTY CITY SQUARES: Parmenides (Big Stir, single)
ASTROPUPPEES: Little Chick Tsunami (Manatee, Little Chick Tsunami)
SHAUN CASSIDY: Hey Deanie (Curb, Greatest Hits)
TOMMY JAMES & THE SHONDELLS: Hanky Panky (Rhino, Anthology)
THE KATYDIDS: The Boy Who's Never Found (Reprise, Shangri-La)
DR. FEELGOOD: I Don't Mind (Rhino, VA: Classic Punk)
—
THE CLICK BEETLES: If Not Now Then When? (Vandalay, Pop Fossil)
LES HANDCLAPS: Let's Go To The Beach (Handclaps, Sessions: Brooklyn)
DEEP PURPLE: Highway Star (Warner Brothers, Fire In The Sky)
SWEET: Fox On The Run (Capitol, The Best Of Sweet)
CHUCK BERRY: Maybelline (MCA, The Anthology)
XTC: This Is Pop? (Rhino, VA: DIY: Teenage Kicks)
—
THE FORTY NINETEENS WITH TONY VALENTINO: Late Night Radio (Big Stir, single)
ELVIS COSTELLO & THE ATTRACTIONS: Radio Radio (Rykodisc, This Year's Model)
GLADYS KNIGHT & THE PIPS: I've Got To Use My Imagination (Curb, Greatest Hits)
HOLLY GOLIGHTLY: I Can't Stand It (Damaged Goods, My First Holly Golightly Album)
PATTI SMITH: Because The Night (Arista, Land)
RACHEL SWEET: B.A.B.Y. (Rhino, B.A.B.Y.)
—
THE LOVELESS: The Return Of The Ex-Girlfriend (n/a, A Tale Of Gin And Salvation)
THE BEATLES: I've Just Seen A Face (Apple, Help!)
WILD KISSES: Feels So Fine (wildkisses.bandcamp.com, Wild Kisses)
GAME THEORY: Door Into Summer (Omnivore, Across The Barrier Of Sound)
THE FLASHCUBES: She (Northside, Flashcubes Forever)
THE MUFFS: On My Own (Omnivore, No Holiday)
—
JUNIPER: Best Kept Secret (Confidential Recordings, Juniper)
THE STONE PONEYS: Different Drum (Rhino, LINDA RONSTADT: Greatest Hits I & II)
PRINCE: When Doves Cry (Warner Brothers, The Hits/The B-Sides)
THE RAMONES: Little Bit O' Soul (Rhino, Subterranean Jungle)
THE VOGUES: Five O'Clock World (Varese Sarabande, The Best Of The Vogues)
JAN & DEAN: Bucket T (EMI, All The Hits: From Surf City To Drag City)
—
POP CO-OP: Catching Light (Futureman, Factory Settings)
SHOES: Tomorrow Night (Big Beat, VA: Come On Let's Go!)
VEGAS WITH RANDOLPH: N.S.A. (vegaswithrandolph.bandcamp.com)
THE HEARTBREAKERS: Love Comes In Spurts (Cleopatra, Yonkers Demo + Live 1975/1976)
BILL BERRY: 1-800-Colonoscopy (Kool Kat Musik, VA: For The Record–A Tribute To John Wicks)
THE GREAT SOCIETY: Someone To Love (Sundazed, Born To Be Burned)
—
THE MONKEES: Birth Of An Accidental Hipster (Rhino, Good Times!)
THE KINKS: Misty Water (Universal, The Village Green Preservation Society)
NICK PIUNTI & THE COMPLICATED MEN: Upper Hand (Jem, Downtime)
MAKIN' TIME: Feels Like It's Love (Big Beat, Rhythm!)
LITTLE RICHARD: Good Golly Miss Molly (Specialty, The Georgia Peach)
THE FLATMATES: I Could Be In Heaven (Cherry Red, Potpourri)
THE CORNER LAUGHERS: The Accepted Time (Big Stir, Temescal Telegraph)
MARY LOU LORD: Driven Away (Rubric, Speeding Motorcycle)
THE ROMANTICS: When I Look In Your Eyes (Nemperor, The Romantics)
THE NASHVILLE RAMBLERS: The Trains (Big Beat, Come On Let's Go!)
THE JAM: In The City (Polydor, Direction Reaction Creation)
SHAKESPEARE-King Lear act 4 scene 6
BACH-Brandenburg Concerto # 2