This Is Rock 'n' Roll Radio # 1024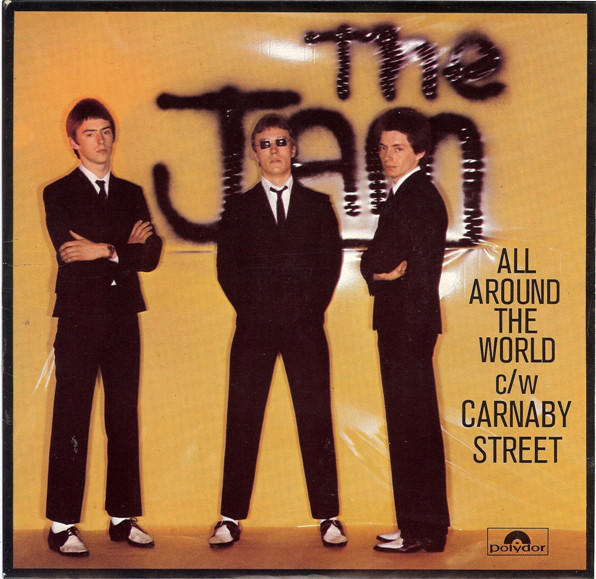 Hey. How's everyone holding up out there?

This week's show was already completed when news broke that the legendary architect of rock 'n' roll Little Richard had left us. Dana was able to attach Little Richard's performance of "Tutti Frutti" (from the Alan Freed film Don't Knock The Rock) to the end of the show, and we'll play a few more Little Richard tunes next week. We'll also play some covers of Little Richard songs performed by other artists, and at least one sincerest-flattery tribute track that would never have existed if Little Richard hadn't first provided its blueprint. In the mean time, I invite you to read the Little Richard chapter from my book The Greatest Record Ever Made! (Volume 1): "The Girl Can't Help It" We were privileged to live in a time when Little Richard walked among us mortals.
We still had some farewells to tend to this week, as we said goodbye to Patrick Potts of The Drysdales, ska-pop pioneer Millie Small, and The Stranglers' keyboardist Dave Greenfield. We mourn by celebrating, exulting in the musical gift that each artist left for us. This show was a party, loud and enthusiastic, embracing our shared history and shared love of rockin' pop music, from "Hound Dog" by Willie Mae "Big Mama" Thornton in 1952 through The Grip Weeds' new 2020 shelter-in-place cover of The Monkees' "For Pete's Sake," retitled "For Pete's Sake (Stay At Home!)." We had new gems from The On And Ons, Honeywagen, It's Karma It's Cool, Brad Marino, and Cupid's Carnival, mingling freely with everything from The Ramones, The Temptations, Mandy Moore, The Kinks, Herman's Hermits, Prince, Buffalo Springfield, The Jam, The Who, The Mynah Birds (with Rick James and Neil Young), The Partridge Family, R.E.M., Tommy James and the Shondells, The Monochrome Set, Neil Diamond, and Culture Club through The Muffs, Pop Co-Op, The Corner Laughers, Justine and the Unclean, Wild Kisses, Pete Donnelly, and The Monkees' new live album. Old and new. The party rages on.

So. How are you holding up out there? It's tough. We have a soundtrack for you. Raise your glass. Raise your fist. Raise your eyes to see the prize. This is what rock 'n' roll radio sounded like on a Sunday night in Syracuse this week.

A wop bop a loo bop a wop bam boom.
This Is Rock 'n' Roll Radio with Dana & Carl airs Sunday nights from 9 to Midnight Eastern, on the air in Syracuse at SPARK! WSPJ 103.3 and 93.7 FM, and on the web at http://sparksyracuse.org/ You can read all about this show's long and weird history here: Boppin' The Whole Friggin' Planet (The History Of THIS IS ROCK 'N' ROLL RADIO). TAX DEDUCTIBLE DONATIONS are always welcome.

The many fine This Is Rock 'n' Roll Radio compilation albums are still available, each full of that rockin' pop sound you crave. A portion of all sales benefit our perpetually cash-strapped community radio project:
PS: SEND MONEY!!!! We need tech upgrades like Elvis needs boats. Spark Syracuse is supported by listeners like you. Tax-deductible donations are welcome at 
http://sparksyracuse.org/support/
You can follow Carl's daily blog Boppin' (Like The Hip Folks Do) at 
https://carlcafarelli.blogspot.com/

Hey, Carl's writin' a book! The Greatest Record Ever Made! (Volume 1) will contain 134 essays about 134 songs, each one of 'em THE greatest record ever made. An infinite number of songs can each be the greatest record ever made, as long as they take turns. Updated initial information can be seen here.
TIRnRR # 1024: 5/10/2020
TIRnRR FRESH SPINS! Tracks we think we ain't played before are listed in bold.

THE RAMONES: Do You Remember Rock 'n' Roll Radio? (Rhino, End Of The Century)
—
THE GRIP WEEDS: For Pete's Sake (Stay At Home!)
THE ON AND ONS: Menacing Smile (theonandons.bandcamp.com, Menacing Smile)
THE MYNAH BIRDS: It's My Time (Ace, VA: You Heard Them Here First)
THE WHEELS: Kicks (Cherry Red, VA: A Slight Disturbance In My Mind)
WILLIE MAE "BIG MAMA" THORNTON: Hound Dog (Sony, VA: Nowhere Boy OST)
THE ZOMBIES: Tell Her No (Big Beat, Zombie Heaven)
—
HONEYWAGEN: All The Little Things (Rock O Plane, Halfdog)
DIRTY LOOKS: Let Go (Big Beat, VA: Come On Let's Go!)
MANDY MOORE: I Could Break Your Heart Any Day Of The Week (Storefront, Amanda Leigh)
LOOSE ENDS: Tax Man (Cherry Red, VA: A Slight Disturbance In My Mind)
THE MONKEES: The Door Into Summer (Rhino, The Mike & Micky Show)
R.E.M.: Radio Free Europe (Warner Brothers, Part Lies Part Heart Part Truth Part Garbage 1982-2011)
—
THE DRYSDALES: Deep Of The Ocean Blue (Time Warp, The Drysdales)
ROCKPILE: Heart (Columbia, Seconds Of Pleasure)
THE BEATLES: No Reply (Apple, Beatles For Sale)
THE TOMCATS: Paint It Black (Cherry Red, VA: A Slight Disturbance In My Mind)
CULTURE CLUB: Church Of The Poison MInd (EMI, VA: Living In Oblivion: The 80's Greatest Hits Volume Two)
XTC: Making Plans For Nigel (Virgin, Upsy Daisy Assortment)
—
PETE DONNELLY: This Is Pop (Futureman, VA: Garden Of Earthly Delights)
THE ON AND ONS: 9 Days (theonandons.bandcamp.com, Menacing Smile)
PRINCE: I Could Never Take The Place Of Your Man (Warner Brothers, The Hits/The B-Sides)
LES HANDCLAPS: Trop Tard (Handclaps, Sessions: Brooklyn)
THE POLICE: Message In A Bottle (A & M, Every Breath You Take)
TOMMY JAMES & THE SHONDELLS: Mirage (Rhino, Anthology)
—
IT'S KARMA IT'S COOL: Woke Up In Hollywoopd (Kool Kat Musik, Woke Up In Hollywood)
THE YARDBIRDS: Over Under Sideways Down (Rhino, Ultimate!)
POP CO-OP: No Man's Land (Futureman, Factory Settings)
THE MINDBENDERS: The Morning After (Cherry Red, VA: A Slight Disturbance In My Mind)
RICH FIRESTONE: If The Sun Doesn't Shine (thememusictribute.bandcamp.com, THE TM COLLECTIVE: Green Thiougfhts)
MILLIE SMALL: My Boy Lollipop (Caroline, The Best Of Millie Small)
—
BRAD MARINO: What's My Scene (Rum Bar, False Alarm) 
ELVIS COSTELLO & THE ATTRACTIONS: You Belong To Me (Rykodisc, This Year's Model)
HERMAN'S HERMITS: A Must To Avoid (EMI, Singles Collection +)
THE SEARCHERS: Have You Ever Loved Somebody (Sequel, 30th Anniversary Collection)
HOLLY GOLIGHTLY: Time Will Tell (Damaged Goods, Truly She Is None Other)
THE MUFFS: On My Own (Omnivore, No Holiday)
—
CUPID'S CARNIVAL: I Got It Wrong (Cherry Red/Kool Kat Musik, Color-Blind)
THE STRANGLERS: 96 Tears (A & M, Peaches)
THE TEMPTATIONS: (I Know) I'm Losing You (Motown, Gold)
NEIL DIAMOND: The Boat That I Row (Columbia, Classics–The Early Years)
THE FLASHCUBES: She's Leaving (Northside, Bright Lights)
THE NERVES: Walking Out On Love (Alive, One Way Ticket)
—
WILD KISSES: Feel So Fine (wildkisses.bandcamp.com, Wild Kisses)
BUFFALO SPRINGFIELD: Sit Down I Think I Love You (Rhino, Buffalo Springfield)
THE PARTRIDGE FAMILY: I Woke Up In Love This Morning (Arista, The Definitive Collection)
MARY LOU LORD: Right On 'Till Dawn (Rubric, Speeding Motorcycle)
JUSTINE & THE UNCLEAN: Vengeance (Rum Bar, single)
THE BOOBYTRAPS: Sha Lala (Off The Hip, The Boobytraps)
—
THE RAMONES: I Don't Want To Grow Up (Radioactive, ¡Adios Amigos!)
THE LEAVES: Too Many People (Rhino, VA: Nuggets)
THE CORNER LAUGHERS: The Accepted Time (Big Stir, Temescal Telegraph)
THE MONOCHROME SET: He's Frank (Slight Return) (Cherry Red, VA: Harmony In My Head)
THE KINKS: You Can't Stop The Music (Velvel, A Soap Opera)
THE JAM: All Around The World (Polydor, Direction Reaction Creation)
THE SMITHEREENS: Sorry (Entertainment One, Smithereens 2011)
THE WHO: Substitute (MCA, The Ultimate Collection)
THE TWEAKERS: Super Secret Mystery Track (Futureman, VA: This Is Rock 'n' Roll Radio, Volume 3)
LITTLE RICHARD: Tutti Frutti [from the film Don't Knock The Rock]